10 Awesome Landing Page Features You May Not Know About
You might not know about, and how they can improve conversions…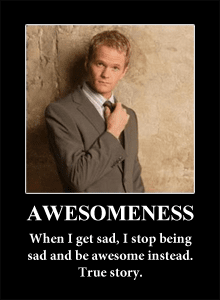 Unbounce (The DIY Landing Page Platform) let's you easily and quickly build, publish and A/B test landing pages without I.T. – lovely. However, I just noticed that our "Features" section has grown a little out of date.
With that in mind, here are 10 awesome things that Unbounce does (that you might not know about).
Either because we forgot to add it to the Features section, or because it was so awesome it gave you temporary amnesia when you first read about it (#TrueStory).
Check out the list below – I'm pretty sure there's something awesome on the list that you didn't know you could do with Unbounce.
If you agree that these are awesome features you can
» Tweet about it by clicking this link «
---
1. Email Lead Notifications
The feature
Get a notification emailed to you (and any list of other recipients) the second you receive a new lead.
Why it's awesome
As marketers, we all love to mash the refresh button to see if we have any new leads or stats.
This feature keeps you up to date without having to log in to your account, and increases your speed of contact (which has a direct impact on your conversions).
It also means you get to say "Cha-Ching" no matter where you are (we know that all marketers check their email on their phones every 5 minutes).
---
2. Fullscreen Background Images
The feature
With just a little snippet of custom CSS you can create fullscreen (dynamically stretching) background images for your landing page. Examples: AskAHippo.com, Blog Contest.
Why it's awesome
It's a great way to create a more immersive visual experience, and, well it looks awesome! It's perfect for simple fun or viral pages that do nothing but convey a simple message and ask the visitor to share it around.
Here's another fun example: Squint Eastwood.
---
3. Let Visitors Download a File from a Form Confirmation Page
The feature
Add a button to your form confirmation dialogue window, and you can upload a file (such as a report, eBook, whitepaper, mp3 etc.) that visitors can download after they complete your lead gen form.
Why it's awesome
If you're doing B2B lead gen, you want to exchange your documents for user information. With the process in Unbounce, you get to show the link only after the form is completed.
Bonus Tip: Use the confirmation page to ask them to follow you on your social network of choice – and maybe add in a link to another free document as a bonus.
---
4. Live Chat with Your Customers
The feature
It's easy to embed live chat widgets directly on your page to gather feedback at the point of conversion.
Read about how to embed Olark Live Chat on your landing page (instructions at end of the post).
Why it's awesome
By presenting a live human interaction point, you will help more visitors convert and the feedback you get from talking to them can inform design and copy changes for future A/B tests and optimization.
---
5. Add Incoming Parameters to Hidden Form Fields
The feature
Set up hidden fields on your lead gen forms and they will be pre-populated with incoming URL parameter data.
Why it's awesome
Cool examples include passing in Google Analytics UTM codes, and link URL parameters passed from your inbound email links.
---
6. Trigger Email Drip Campaigns
The feature
With our direct email integrations to MailChimp, AWeber and Constant Contact, you can gather leads on your landing pages, push them through to your email provider and trigger a series of autoresponders (a drip campaign) to set your leads on a guided marketing path. See your email service provider for autoresponder instructions and check out our partners page to learn how to connect Unbounce to MailChimp, AWeber and Constant Contact.
Why it's awesome
Studies by some smart people somewhere often state that it can take up to 7 interactions before you build the visibility, trust and desire to turn a prospect (lead) into a customer. With a drip campaign – a set of structured emails automatically sent over a period of time – you can stay top of mind and increase your conversions.
---
7. Track Facebook "Like" Conversions
The feature
If you have a Facebook "Like" widget on your landing pages you can track it as a conversion goal with this crafty little script.
Why it's awesome
Facebook conversion tracking is an elusive little bugger. Unlike Twitter (conversion tracking coming soon for that), there's no public stream for you to see the effect of social sharing on Facebook. Someone clicks like and your page appears on their Wall (but you can't see it). Now you can at least track how many times the like button was clicked on your social media landing pages.
---
8. Integrate Unbounce with (almost) Anything!
The feature
Use our webhook feature to integrate with pretty much any external system. Create a script page that processes your lead data and inserts it into systems such as SalesForce (an example SalesForce webhook is presented here).
Why it's awesome
If you use an email service provider, CRM, marketing automation system (or you own internal systems) that we haven't built a direct integration with yet, the webhook lets you direct all of your lead data wherever you want it to go.
It's like a baby API (sort of, kinda, not really, maybe…).
---
9. Add Social Demographic Data to Your Leads with RapLeaf
The feature
If you are capturing the email address of your leads, you can enable the Rapleaf feature to automatically append the age, sex and location to your lead data.
Why it's awesome
Free information! You can understand your customers better, and if you upload the data into your email provider, you can start segmenting by demographics. Cool!
You can learn more about social media conversions and how RapLeaf fits into the picture in this blog post with infographic – The 7 Secrets of Social Media Conversion. (Note – in step 7, replace Flowtown with RapLeaf).
---
10. Mobile Landing Page Templates!
The feature
We have a new feature in Unbounce Labs that you an enable to unlock 4 mobile-ready templates. Note: They are still in pseudo beta mode (hence being in the Labs) but they should work great on iPhones – and if you do a little tweaking with the text boxes you should be fine on Android too (just remember to test 'em out).
Why it's awesome
Mobile, mobile, mobile! We even have a we script you can pop on your regular sized version to send people to your mobile page if they are on a phone.
---
Hopefully there were a few nice surprises in there for you, and you'll be able to make better pages and be even more successful.
Happy marketing!
Oli
---