Effin Amazing, an analytics and growth agency in Orlando, Florida, champions a "relentless focus on measurement, analytics and testing."
On the surface, that data-driven approach doesn't quite square with the notoriously soft science of content marketing. But this is starting to change. And marketing agencies like Effin Amazing are leading the way.
In 2015, Chupa Mobile, a marketplace for buying and selling source code, reached out to Effin Amazing with the goal of filling their marketing funnel with qualified leads and nurturing those leads into customers. The challenge Chupa Mobile faced in achieving their goal is the sheer saturation of the mobile app market. They just weren't getting noticed.
So Effin Amazing came up with an ambitious content strategy, leaning on data and the simplicity and power of Unbounce landing pages to transform traffic into new sales for their client… and it worked.
First off, Effin Amazing conducted keyword and content research and determined that ASO (app store optimization) was a hot topic in high demand among its client's target "appreneur" audience. They built a content calendar and distribution strategy around this theme, and before long, Effin Amazing had increased Chupa Mobile blog traffic by 35%.
But increased traffic wasn't the objective. To get Chupa Mobile's new blog visitors to start providing their email addresses (so that they could be nurtured), Effin Amazing worked with the brand to create an ebook about ASO. Then they started using Unbounce landing pages to distribute this new content asset.
Effin Amazing's designer, Mark Bunker, whipped up a simple landing page for the ebook using one of Unbounce's lead gen landing page templates and linked to the page using a visual CTA at the bottom of Chupa Mobile's blog posts, leveraging the growing blog traffic. "It started converting at that level overnight," says Mark, when asked about the 44% conversion rate the brand saw out of the gate. "I took the template and did very little to be honest!"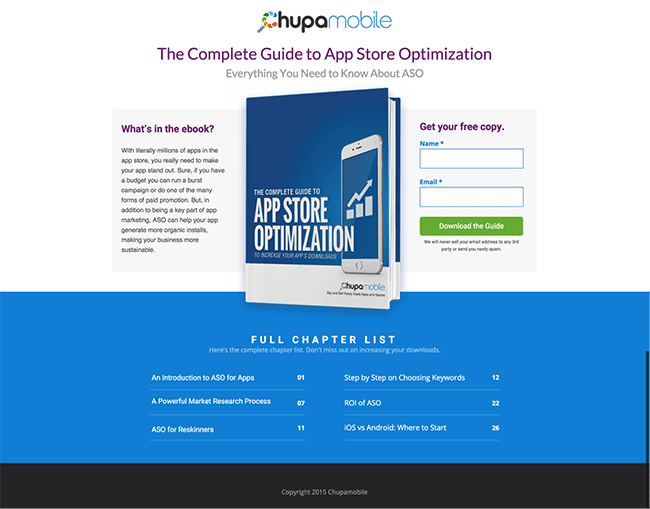 Effin Amazing ran with the success of this first campaign and went above and beyond to empower their client. They taught Chupa Mobile's in-house content marketers how to build Unbounce pages on their own, using their first high-converting campaign as a template.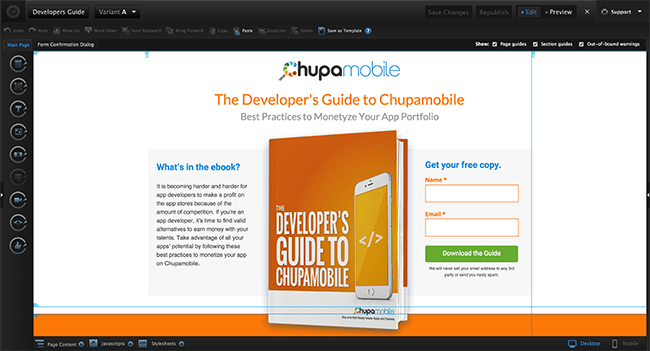 "The key to happy customers is putting knowledge in their hands," explains Daniel Sosa, Director of Marketing. "The more we can give clients the knowledge, the more successful they're gonna be and the more successful we're going to be."
From Chupa's perspective, giving its content team the ability to build landing pages for their own marketing campaigns is huge, freeing up Chupa's own developers to focus on other projects, like developing mobile app templates for customers.
By empowering their client with both the tactics and the tools to carry them out on their own, Effin Amazing created not just a successful campaign but a whole new marketing strategy that can transform their business. Indeed, 2.5% of apps published in the App Store already come from Chupa templates, according to Paulo, so the opportunity is enormous.
In the end, combining content creation with lead gen landing pages and email marketing automation allowed Effin Amazing to expand its service offering, while providing extra value to its client at no additional cost.
"You can feed a man a fish or teach him for a lifetime… whatever that expression is that I just totally butchered!" Mark says, laughing.
"It could have saved me a lot of headache and time if we used [Unbounce] before", without the need of interrupting "the IT team [and] other milestones [when we needed to make changes], causing delays."

Paulo de Santis

Co-Founder at Chupa Mobile