Campaign Monitor converted 271 abandoning visitors into leads in just one month by offering their email marketing guide to users just as they are about to leave the page.
"We haven't had to create any new content or pages," said Shamita Jayakumar, Senior Marketing Manager at Campaign Monitor. "Instead, we're leveraging the content we already have and getting it in front of marketers who can use it. It really has been a case of creating something from nothing."
For Finge, this was all part of the plan. As CEO of ConversionLab, he was already working with Campaign Monitor to improve their conversion rates using Unbounce landing pages.
So when Unbounce announced its support for creating targeted popups on any webpage, Finge knew exactly which client he wanted to work with first.
"Campaign Monitor is a true leader in the email marketing space, and that includes their content." said Finge. "Most of the people who end up on Campaign Monitor's website are naturally interested in email marketing. Just because the page they landed on wasn't exactly what they were looking for doesn't mean they can't convert. They just need an offer more relevant to their state of mind.
ConversionLab and Campaign Monitor tested several exit popups promoting their Modern Guidebook to Email Marketing. This guide was most likely to appeal to visitors interested in solving their email marketing pains, but who weren't yet ready to make the commitment of signing up.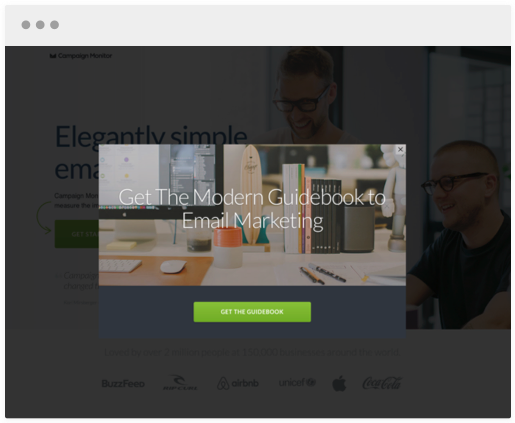 The top-performing popup converted at 10.8%, and the popup campaign enabled Campaign Monitor to capture 271 new leads in just one month. All without creating a single piece of new content.
And because popups are built using the same customizable builder as Unbounce landing pages, they were able to design, publish, and start seeing results within hours.
"We already use Unbounce to build our landing pages," Finge continued, "so it was extremely fast to set up our first popup using the same drag and drop builder." He's now testing new popup designs to iterate and grow the conversion rate even more.
As exciting as the results so far are for Shamita, she's even more excited about what the future holds. "ConversionLab is already helping to grow our signups and lower our cost-per-acquisition using Unbounce landing pages. Popups have given us a new way to engage with our audience, provide them with valuable content, and turn them into Campaign Monitor customers."