If you Google "Content is king," here's what you'll find: More than 37 million Google results that justify how important content is online. It's a tired phrase, but it's true.
Every once in a while, you hear a story about someone who uses content to earn new customers and new revenue. And, they make it seem pretty easy (like "Why didn't I think of that?").
Nick Heim, the Director of Inbound Marketing at Hotjar, has done just that. He offered website visitors an ebook at just the right time and in just the right way by using a popup.
Unbounce popups allow you to show relevant offers to specific users at the perfect time, making them less likely to leave your website without converting.
By implementing a popup into his campaign, Nick isn't just bringing in new leads, he's actually turning website visitors into paying Hotjar users. So how's he doing it?
Let's start from the beginning
Hotjar implemented a new popup on their pricing page. The popup offered visitors an ebook, The Hotjar Action Plan, in exchange for their first name and email address.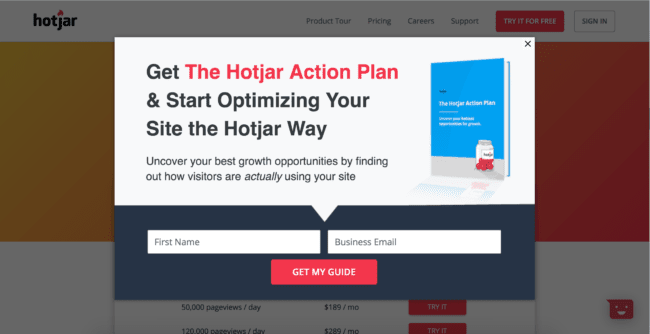 The popup converted 408 visitors in the first three weeks, 75% of which were not existing Hotjar customers.
Once a visitor converted on the popup they received an email from Hotjar right away. Non-customers received an email with the ebook as a PDF, along with an offer to try out Hotjar for an extended period of time.
Nick explains:
For non-users, we sent them a quick instant thank you email followup that contained the asset and offered a 30 day trial of the Hotjar Business Plan. This is double the trial length a new user would usually receive by signing up through our site.
Here's what the actual email looks like: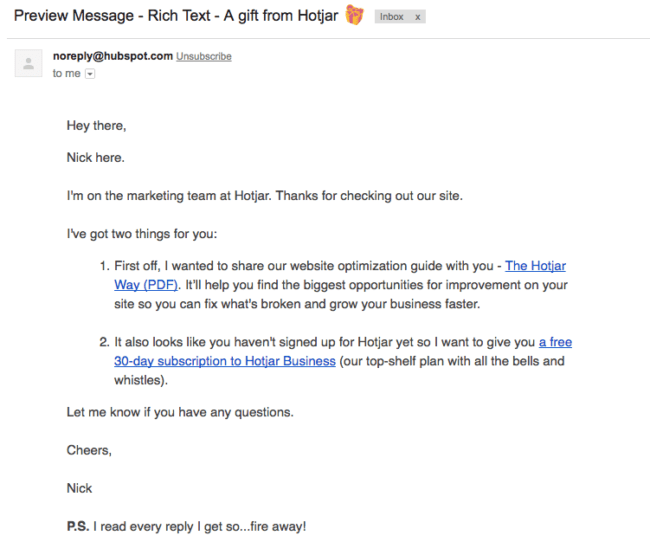 Hotjar makes good use of the email they sent to preexisting customers, too. That variation contains the ebook as well as a simple question about what type of content they'd like to see — allowing Hotjar to continue delivering value to their customers.
The popup strategy
The popup Nick built was set to appear only to first-time visitors who are exiting the Hotjar pricing page.
According to Nick,
This was more of a visitor experience decision than anything. We didn't want to come off as badgering visitors in the research phase [of the buying process].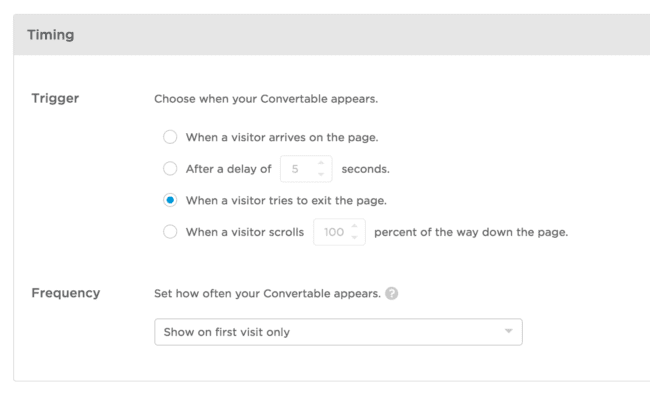 Setting trigger rules in the Unbounce builder.
So, did it work?
"Absolutely, we're getting 60-70 new users per month as a result of the popup," said Nick.
From the popup, about 3% of page visitors convert on the page.

Of those that converted on the popup, 75% were not current Hotjar customers and about 19% of the non-users who received their follow-up email with the PDF have become new Hotjar customers.
Experimenting the Hotjar Way
Nick explained that his team at Hotjar hadn't implemented popups into their lead gen strategy before: "This was a total experiment. We wanted to be able to nurture the new leads coming from different channels and bring them back."
Nick pointed out that, "these things [popups] can be used really wrong. You need to be careful and consider the human on the other end. Think about the entire process."
For their experiment, Nick said, "[we didn't have] hard goals, but we wanted to prove whether there was a case for using popups." Nick pointed out that it can be difficult to measure the negative effects of user experience — especially without a baseline to measure your results against.
"We wanted to see if the risk was worth the reward. We did get the quantitative results — which for us, measure better than industry standards."