Breather, a company that offers on-demand meeting and workspaces across ten cities, were already using some landing pages in their campaigns. But it was difficult for Breather to get new pages up and running for without running into delays.
As Natasha Sirois, Digital Ads Manager at Breather put it, "Before Unbounce, launching new pages required resources from both the development and content teams. We had amazing campaign ideas that we could shape on the ad side but we were never really satisfied with where people landed afterwards."
Natasha wanted to make it possible for a single marketer on her team to create custom landing pages for their own campaigns without having to worry about development resources being available.
To do that, she enlisted Breather's senior web designer Thiago Costa. Using the drag and drop Unbounce builder, Thiago created custom landing page templates that exactly match the look and feel of Breather's existing website. "My first time using Unbounce, I was able to perfectly recreate my Photoshop mock-up in under an hour."
As fast as it is for Thiago to build templates, it's even faster for Breather's marketers to use them. By simply editing the template's text and uploading a few images, any member of the team can now build a campaign-ready landing page in minutes.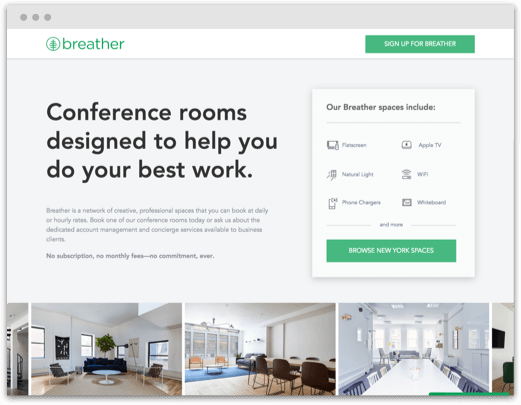 Breather has offices in 10 cities across three continents, each running their own unique campaigns — which presented unique problems for Natasha. "We have marketing people in each city where we have spaces and they all have different needs, and before we couldn't fulfill every request."
Now a single marketer can create new pages using the templates we've created. It's enabled us to create unique end-to-end experiences for each of our campaigns."

Natasha Sirois

Digital Ads Manager at Breather