Mark at Chair 10 Marketing is a PPC expert. He's built Chair 10 into a 20+ person agency over 12 years and is now servicing both local accounts and large national brands. The team at Chair 10 strive for excellent customer service and results that leave clients awestruck. And they succeed! But until recently, the customer onboarding process always started as an uphill battle. Here's what it looked like…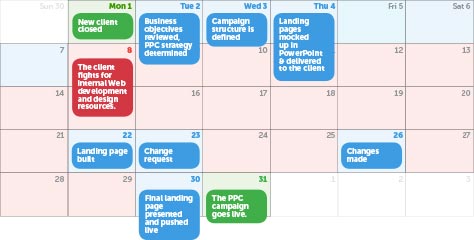 This may be a story you're familiar with: A new client is closed, a PPC strategy is created, keywords and ad groups are set up and mockups of the landing pages that need to be created are delivered to the client.
And then time seems to stand still as the client fights an internal battle with their I.T. department. A week goes by, then two, then a month. During that month-long battle, no leads were generated, no value was proven and the client is now grizzled from war. Not an ideal way to start a relationship.
Something had to be done about this campaign setup process! Mark heard about Unbounce's landing page platform and decided to see what it could do for him. Unbounce allowed his team to create the landing pages themselves with minimal effort from the client and most importantly, without involving the client's IT department.
Chair 10 now avoids the battle and delivers results quickly. It takes less than a week for their clients to start receiving leads.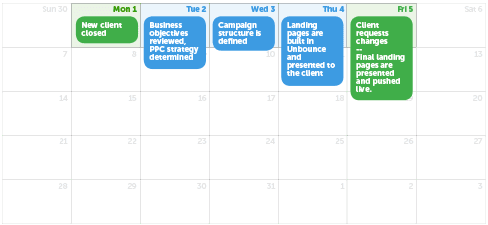 For PPC agencies, creating landing pages with Unbounce means:
Shorter lead times
"We've gone from an average of a month of pay-per-click setup time to about a week. We pull key branding and imagery from existing client web pages, coordinate with the client for other creative assets and strategic direction, and then use Unbounce to create several targeted landing pages for pay-per-click.
Clients love it because they don't have to use precious web development resources on marketing landing pages, and time to launch is faster. By shortening our setup time, it accelerated our incoming revenues."
More effective PPC campaigns
"With Unbounce pages, when we come up with a new pay-per-click strategy we want to implement, we can go and try it immediately. There is no time lost in finding web development resources – we just do it ourselves. This results in more pay-per-click testing, which drives better ROI for our pay-per-click clients."
Cost Savings
"Through time-savings and reduced use of outside Web development contractors, we save on average $400 per new client pay-per-click setup by using Unbounce for landing page creation."
When asked if he would recommend Unbounce to other PPC agencies, Mark responded:
"If you're not using a landing page platform for your clients, you're doing them a disservice, because you're not optimizing that part of the PPC advertising process to the fullest extent. You're also leaving money on the table that you could be bringing them by testing and optimizing landing pages. Unbounce is a platform that's easy to use, easy to setup and really effective at creating best practice landing pages that drive performance."

Mark Kelly

Founder & CEO of Chair 10 Marketing