Social Media & Conversion

Learn how to use Google Analytics 5 to measure social media ROI and the relationship between social media referral traffic and conversions.

How can you leverage the power of pins to your advantage? Keep reading to find out how corporations, small businesses and everyday users are doing it, and how & why you should be using Pinterest to your marketing advantage. Acupuncture works…

If only there existed a social network where fellow marketers, business leaders, passionate students, and high-profile investors could easily engage with one another beyond a casual Tweet or LinkedIn connection! Oh wait, there is… Quora

What is the number one skill you'll need to master if you want to get the most "bang for your buck" out of your social media landing page campaign? Crafting a spectacular headline! Read on for examples….

Google+ users have known for months that this was a better social network for businesses than Facebook, but if you need convincing here's why Google+ rules and why you need to get a Google+ profile fast.

Google+ has two excellent features that are worth paying attention to: Sparks and Ripples. Learn how to use them to expand your social network with this set of practical tips.

Critics say Google+ is merely a copycat attempting to dethrone Facebook as the king of social media. But it has a few tricks up its sleeve that set it apart from the pack. Here are a few ways to use Google+ to give your marketing a kick in the pants that Facebook didn't see coming.

If you think Google+ is a fad or a failure like Buzz/Wave etc. then you've got your head in the sand. This time they got it right. Get your business on board immediately! Google's position as the leader in search positions them as a marketing tool that you can't ignore. Get started with Google+ TODAY.

I'll show you how I created & optimized a socially viral landing page for an eBook using ThemeForest, PayWithATweet, Qualaroo and Unbounce, and how you can do it in just a few hours, without writing any code.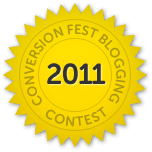 After six weeks of great content, social sharing, conversation, network building and some seriously fierce battling from the contestants, the 2011 Conversion-Fest Blogging Contest has come to a close. Check out the winners and get the inside scoop on how they promoted their posts via social media.
More blog posts: