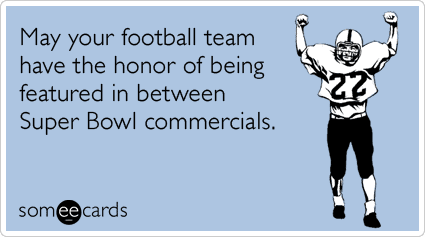 Imagine paying $4 million for a 30-second ad spot. Even for the Pepsis and Budweisers of the world, this kind of investment isn't chump change — it's one of the single most important branding events of the year.
Why the Super Bowl? Why Social Media?
According to Venables Bell & Partners, Americans love Super Bowl ads, and more than half of them will seek them out before the big day on Facebook, YouTube, brand sites, and other media sources. During the game, they'll be talking via text, Facebook, and Twitter. It doesn't stop there — 40+ million will re-watch or share ads after the game.
Super Bowl XLVII isn't just prime time for sports. It's prime time for food, events with friends with family, community, great stories, and passionate energy. So why wouldn't you join the conversation?
Don't let the $4 million number scare you. Just because you don't have a huge marketing budget doesn't mean you can't leverage the Super Bowl for your own business or clients:
Small niche business can build a community around the super bowl, on almost zero budget
Your product or service doesn't have to be connected to sports in order for you to use it to market or engage your audience
User-generated content allows your customers to speak for your brand and maybe better than you ever could
Social media is invaluable to the marketing mix. Here's how loved brands —big and small— are making their voices heard.
1. CopyKat: Build a Close-Knit Community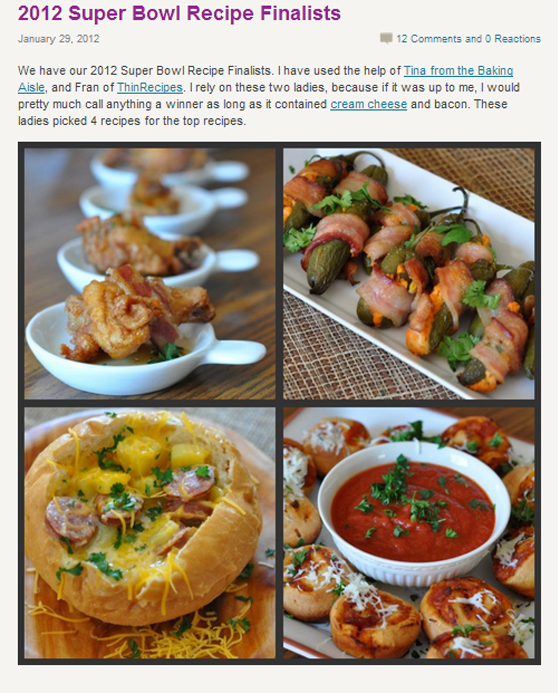 Stephanie Manley of CopyKat Recipes has been hosting an annual Super Bowl recipe contest for several years. The idea is simple: submit your own, unpublished original recipe for a chance to win an awesome home-cooking prize — in this case, it's a programmable crock pot.
Manley's business model is highly contingent on the community of food lovers that she is able to build — and her Super Bowl food contest is very much in line with that objective. Fellow cooking enthusiasts love cooking communities and the ability to get creative with new food ideas. And the Super Bowl? Well, it's not like you're preparing for your typical evening dinner — this type of party cooking only happens once a year.
Among her community, Manley is positioning her website as a place where cooking creatives can do two things — teach and learn. She's establishing her niche site as a go-to resource for creative recipes. She runs a quality control check by selecting finalists, so you know that the ideas you'll see are top-notch. Last year, she even recruited the help of her blog's readers to participate in the voting.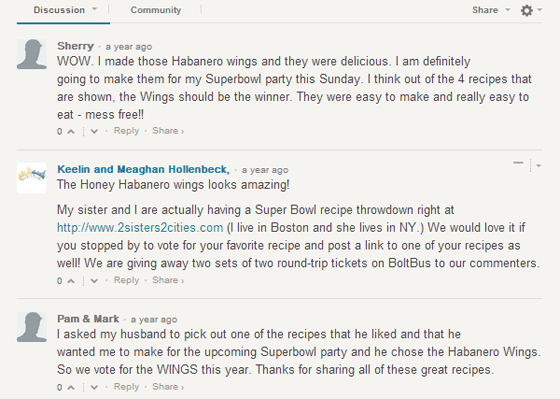 Even as a small niche brand, Manley is able to leverage the Super Bowl to build a strong community where everyone — existing readers, new readers, cooking novices, expert chefs, and contest participants can find value. All for the cost of a crock pot.
Key takeaways
Embrace the spirit of the Super Bowl season to build upon your business's existing brand. Get your customers involved and integrated. Encourage an initiative that establishes your brand as a leader while adding value to your subscribers' lives. It doesn't take $4 million. All you really need is something as simple as a home cooked meal.
2. AMC's 'Walking Dead': Build an Audience Early
AMC, in true network television fashion, is already building suspense around their upcoming Super Bowl ad for 'Walking Dead.' The show is currently on a mid-season hiatus, but it's coming back on February 10th. Sounds like optimal timing for one of those expensive Super Bowl ads, right?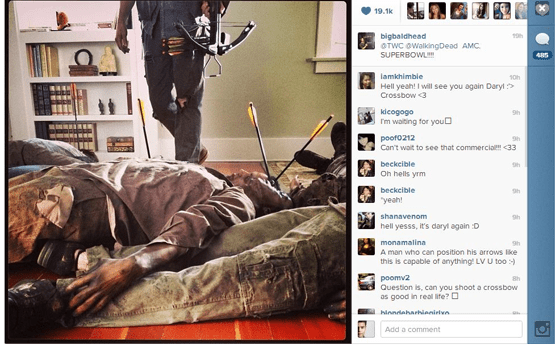 Obviously, AMC wants the show's comeback to be really big. To do that, they can't rely on a 30-second commercial spot. Suspense and energy take time to build, and a simple advertisement is nowhere near enough to create maximum awareness around what the network is hinting will be the mega-moment of the season — Rick vs. Governor.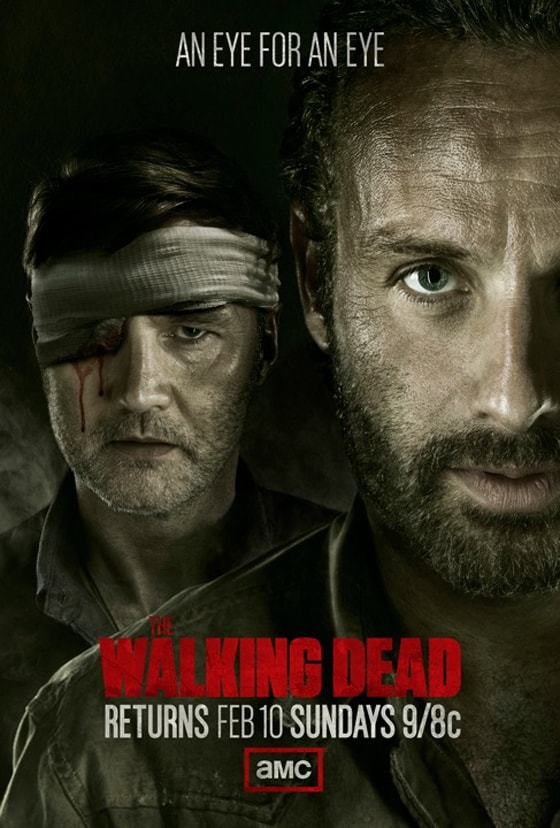 So, AMC is making the most of its multi-million dollar investment by starting early —on the peer-driven Internet communities of Pinterest and Instagram. To 'Walking Dead' fans, this sneak peak is absolute awesome. A month is a long time to wait for your favorite show, and AMC knows this. So, they're leveraging the Super Bowl to keep their audience engaged and interested.
So what do zombies have to do with the Super Bowl and football? Nothing. Absolutely nothing. And AMC could have easily taken a way different spin to this marketing message (think: zombies + football = no thanks). Instead, they're tastefully embracing the power of conversation, audience-building, and timing.
Key takeaways
If you can't find a football-related angle to marketing for the Super Bowl, you don't need to give up altogether. If you're working on timing the launch for a new product, for instance, you can utilize your Super Bowl audience to build momentum. Keep in mind though, that you'll be venturing into a competitive audience space, so you'll need to have a solid game plan and start way early.
3. Pizza Hut: Anyone Can Be a Star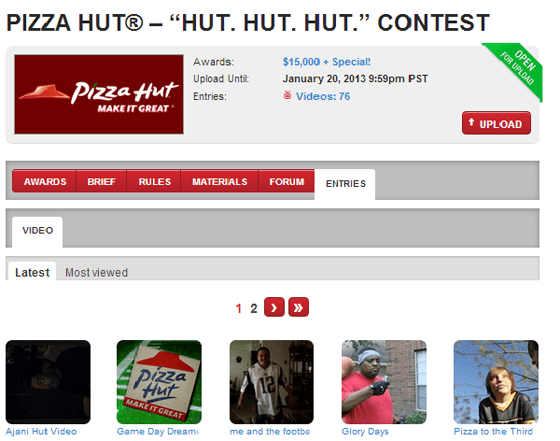 Pizza Hut's Super Bowl campaign is hands-down awesome. This year, they're asking their fans to submit creative videos of themselves in hilariously cool moments saying "Hut. Hut. Hut." The connection to football all comes down to a semantic play on words (but let's not be fooled, there will be plenty of pizza consumed on game day).
Pizza Hut fans have just under a week to submit their videos — the deadline is January 20th. The winners with the 'best' videos will become the stars of a Pizza Hut ad that runs right before Super Bowl kickoff.
According to Pizza Hut's Chief Marketing Officer Kurt Kane:
"Consumers love to be involved with the expansion of social media," he said in a quote for USA Today. "Smartphones and hand-held cameras have made it easier to video yourself. Everyone has become a hip-pocket creative."
The campaign is creating social media momentum that truly feeds on itself. People create videos to engage with the brand and then share with their friends — which means free advertising for Pizza Hut. Furthermore, Pizza Hut is giving their customers an opportunity to help in defining the brand — people powered marketing at its finest.
If you want to see entries as they're uploaded, click here.
Key takeaways
Not sure what your brand strategy should be? Give your customers an opportunity to help define it through social media. This user-generated marketing technique isn't limited to established big brands. If you are a small business, you can just as easily engage your customers and replicate something similar within your smaller community.
---
There's plenty happening for the Super Bowl this year. What else should be on this list? What are some examples — positive and negative — of campaigns that you've seen? We'd love for you to continue the conversation in the comments below.

---
---