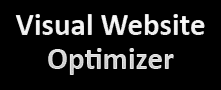 Take a pinch of WYSIWYG landing pages, a handful of MVT, sprinkle in a few more unnecessary acronyms and what does that spell?
A feature-rich visual marketing toolset combo
Together these two platforms allow you to create, publish and test (A/B & Multivariate) your landing pages in a visual environment – enabling marketers and conversion optimizers to do their work unimpeded by technical bottlenecks.
Watch the video  |  Get started now and combine Unbounce and VWO
What are the benefits?
Landing pages help your PPC, social media, banner and email marketing campaigns convert better – and with the extra power of multivariate testing and heatmaps, you're optimization potential is even higher.
Unbounce: Lets you create and A/B test landing pages in a visual editor using templates that were designed for conversion (or you can use a blank canvas). You can also publish and test your pages without having to talk to anyone in IT. Bonus.
Visual Website Optimizer (VWO): Lets you run multivariate (MVT) tests on existing web pages with a visual interface to remove the complexities of Google Website Optimizer. It also includes heatmaps and clickmaps to let you see how your customers are interacting with your pages. Double rainbow.

Just add fries scripts…
You can get started easily by dropping the VWO scripts onto your pages as follows:
Adding VWO to your Landing Pages
Adding the multivariate and heatmap power of VWO to your landing pages is simple. Just cut and paste the 2 little scripts into the Unbounce "Scripts" widget (as shown in the video). For click through pages or lead gen pages that direct new leads to an external page (perhaps your website homepage), you'll need to drop the scripts on that site too.
Sign up to combine Unbounce and VWO
Here's the landing page I used as the example in the video: http://try.unbounce.com/and-vwo