What is a Call to Action?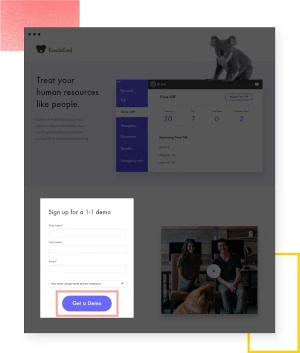 Every landing page needs a call to action (CTA)—a short phrase that guides visitors to take a desired action. While the body copy reflects your unique value proposition (you know, all the juicy benefits to the visitor), your CTA is the site of conversion, with one focused, action-oriented button.
It may only require a few words, or it could be a phrase, but your CTA should be clear about how to convert and what users can expect by converting.
Let's say you want more sign-ups for your yodeling class. "Register for a yodeling class" clearly indicates that by clicking the button, users will register for a yodeling class. Plain and simple. With a clear and direct CTA, everyone wins. You turn interested prospects into paying yodelers, and they become the coolest cats on the block.
Why is a Call to Action Important?
Your call to action is an essential part of your landing page. You may express your value proposition well, but to actually convert your prospect, there needs to be an action for them to take. Imagine your landing page without a CTA—your prospects would float around the rim of your marketing funnel with nowhere to go! CTAs provide clear, easy direction on how to convert.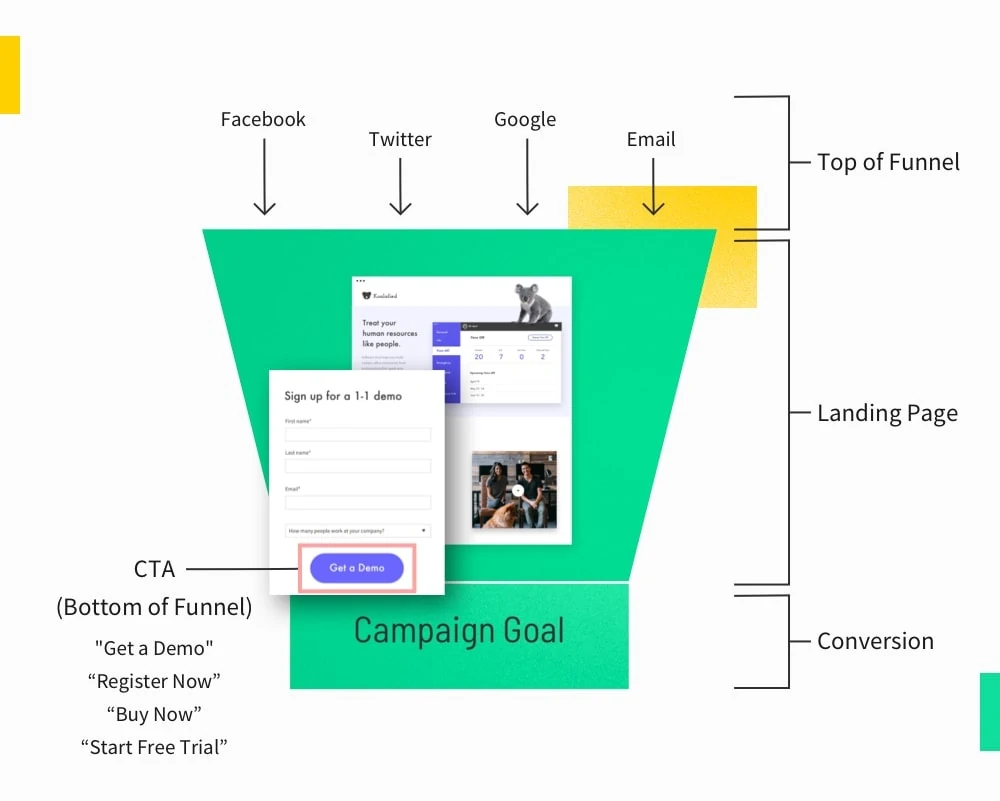 How a Call to Action Supports Your Conversion Goal
Whatever your conversion goal may be, the purpose of CTAs is to support the act of converting.
That being said, you can't just throw a big, shiny button on your landing page and expect your conversion rates to soar. Your CTAs will vary for every campaign. So in order to maximize conversions each time, you need to define your goal first.
Defining Your Conversion Goal
A conversion goal is a measurable objective based on the action you want users to take on your landing page. Depending on your campaign and industry, some common conversion goals may be:
Increasing sales
Attracting high-quality leads
Acquiring new members
Gaining subscriptions
Booking consultations
Increasing registrants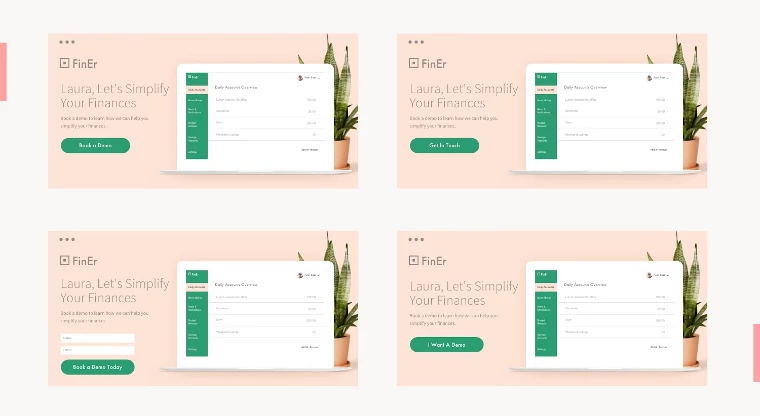 Get the gist? Once you define your objective, it'll be much easier to write copy and design a button that supports your goal. For some inspo, it wouldn't hurt to take a look at these CTA examples—to see what exactly you gotta do to score some clicks.
Q: Why is my landing page not converting?
Is your CTA not performing the way you'd hoped? Maybe it doesn't reflect your conversion goal properly.
A common mistake is using top-of-funnel CTAs for bottom-funnel prospects.
We see 'em all the time—"get in touch," "show me more," and "read on"—so they must work, right? Well, there's a time and a place for them. If you're targeting cold prospects or a new audience (who are unfamiliar with your brand), guiding them to more info makes sense. You're warming them up to eventually convert.
But if you want to turn interested visitors into customers, they're sitting at the bottom of the marketing funnel ready to be swept off their feet. They don't need to "learn more"—so why give them time or reasons to change their mind?
A CTA, as its name suggests, is about getting people up off their butts to help achieve your campaign goal. If you're a professional dog walker and seeking more clients, "see my rates," would be a top of funnel CTA, whereas "book a walk" would be suitable for bottom-funnel prospects. See the difference? A question you should constantly ask yourself is: will this CTA inspire the action that I actually want them to take? If it's to see your rates, that's great! But if you want to book the walk, you gotta talk the right talk.
How to Write the Perfect Call to Action
To write a strong call to action, the ask is actually pretty simple: write with intention. Many marketers overlook this task because it's usually only a few words. While that's true ("Sign up for our noon-hour webinar to hear about 2021 marketing tactics" doesn't really have a ring to it) let's make sure it's not too simple—to the point of ambiguity. Make every word count towards your conversion goal.
When you read CTA buttons such as "get started" and "try now," are you also leaning in expecting another word or two? Get started with what? Try…what? By the time your audience reaches the CTA, they should have no more questions—they're so close to converting you could smell it! But if you leave room to question what they're committing to, you also leave room for them to bounce.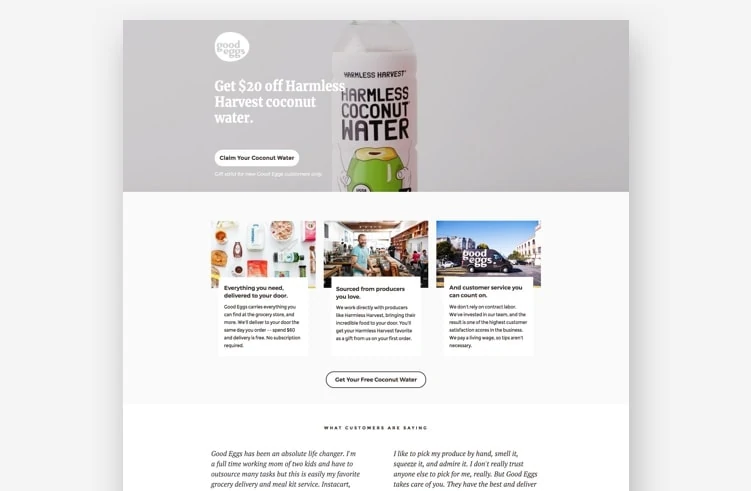 We know CTAs ain't easy to piece together in a few words. To help you check off the boxes, consider these questions:
Does my CTA reflect my value proposition?
Does my CTA include the action needed to convert?
Can a visitor easily convert with my CTA?
Is it clear what the users are committing to by clicking my CTA?
Does my CTA align with my conversion goal?
Copywriting Tip: Using first and second-person pronouns—words such as "me" and "my" or "you" and "yours"—helps the audience envision themselves buying or using your product. Get them excited before they've even purchased it!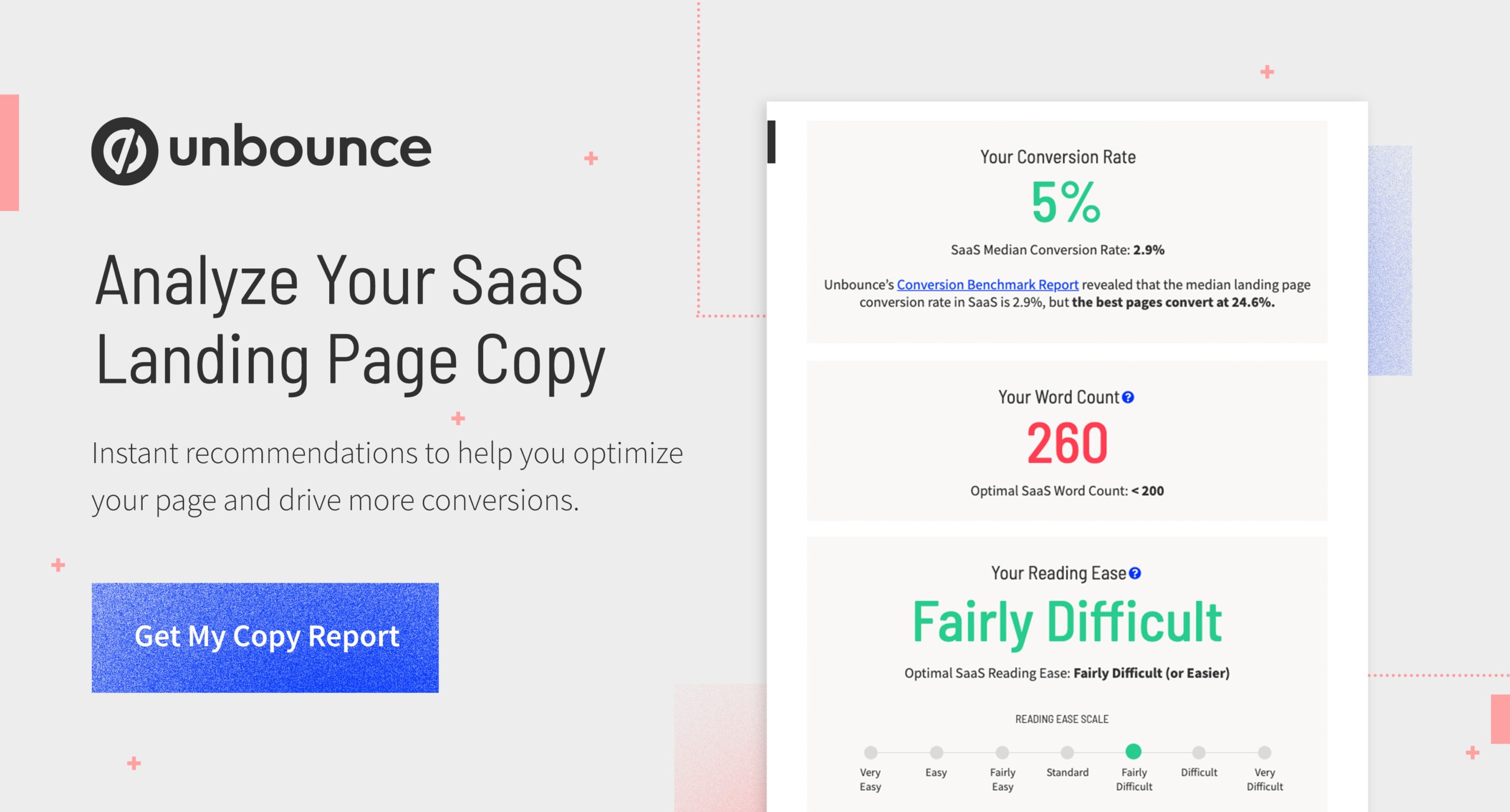 And hey—if you're in the SaaS industry and lookin' for a second opinion, it doesn't hurt to plug your landing page in the Unbounce Copy Analyzer. If your copy needs some sprucing up, it'll provide instant recommendations—that includes how to create a higher-converting CTA.
What's a CTA Button?
A CTA usually comes in the form of a clickable button. Why? It streamlines the action required to convert. "Click here to sign up." (That's it—really!) No fuss, no muss. Once clicked, it carries your leads through the marketing funnel and transforms them into valuable conversions.
The purpose of CTA buttons is to draw the reader's attention to the CTA and entice users to convert by clicking it. So when you start designing your landing page, think about how you can highlight the button. This may also mean toning down other elements, so it doesn't have to compete with them.
Design Tip: When it comes to CTA buttons, no need to get fancy. Stay true to the basics and make sure:
They have a defined shape or border.
They are a different, contrasting color from the background.
They have intentional, action-oriented copy on them.
The link works! (Seriously, this is important.)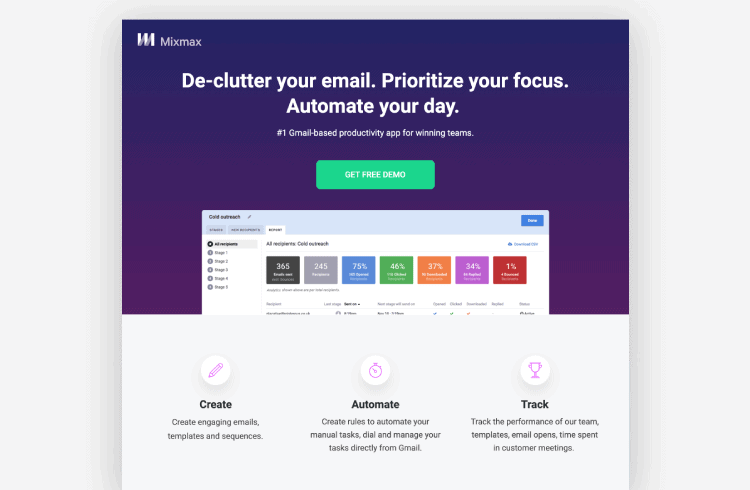 Use simple tactics to attract the user's gaze—like Mixmax does here. To stand out, Mixmax simply puts a bright green button against a plain dark background to really draw attention to its CTA. Or if it's a text CTA, make sure the hyperlink is a contrasting color so visitors know it's clickable.
Q: Is a CTA always in the form of a button?
Your CTA doesn't necessarily need to be a button—it could be anchor text or an image, for example. But here's why we recommend 'em: what they are (and what they represent) is familiar to most visitors. This is one area of your landing page that doesn't need to be super creative!
Where to Position Your CTA Buttons
When positioning your CTA button(s), consider how users will consume and scroll through your content, and place it somewhere that's convenient for them to click. Following standard reading flow, it's safe to assume that most users will continue down the page. So for your landing page, it makes sense to have one at the top (near your headline), as well as at the bottom of your landing page. If your landing page is long, peppering them throughout doesn't hurt. Repeating yourself is totally okay here.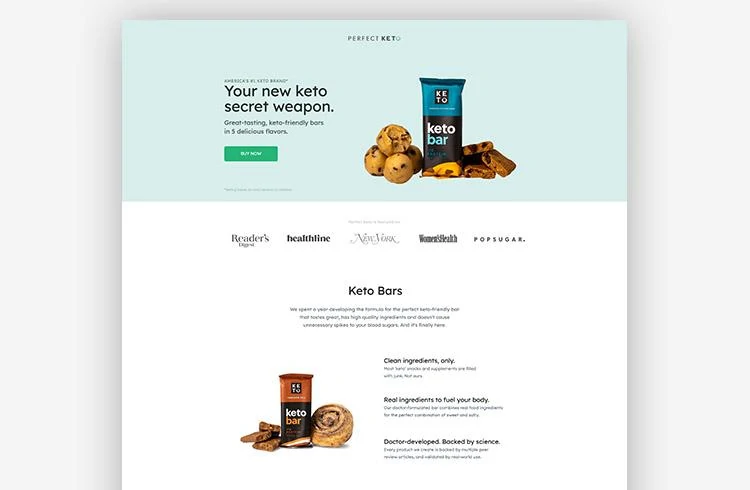 Q: Can I include multiple CTA buttons on one landing page?
Yes, absolutely. But these CTA buttons—even if they're worded differently—should still reflect one conversion goal.
Like your landing page, your call to action should also be focused. Incorporating several CTAs that reflect different conversion goals may distract or deter your audience from converting the way you want them to.
Imagine you just made a killer pitch for your dog walking service—so persuasive that your prospects are ready to leave their doggo in your hands! They scroll to the bottom and see "book a walk," AND "view my rates." Perhaps they would've committed right away. By offering more information on pricing, though, they'll likely take a look at that first. And if the price isn't what they had in mind, they might bounce before even giving your service a chance.
Humans are indecisive creatures. Offering more choices might bite you (and your conversion rate) in the behind.
How to Optimize Your Call to Action
Once you've mastered the basics, it's time to explore CTA optimization. You've done all the legwork—why not squeeze all the conversions you can get out of it? Plus, if you're paying for traffic, the effectiveness of your CTA could also play a huge role in lowering the cost-per-lead or sale.
In marketing, optimization is the process of making improvements to your content so more visitors take action and you get more conversions—in a cost-efficient way. What changes can be made to optimize your CTA to increase conversions?
That's a great question, hey? But the answer can be very different for each campaign. We recommend doing some A/B testing to uncover your path to optimization. However, instead of testing two buttons on the same landing page, create different variants of your landing page so you can isolate each CTA you test. This'll give you a clearer understanding as to which one is performing the best.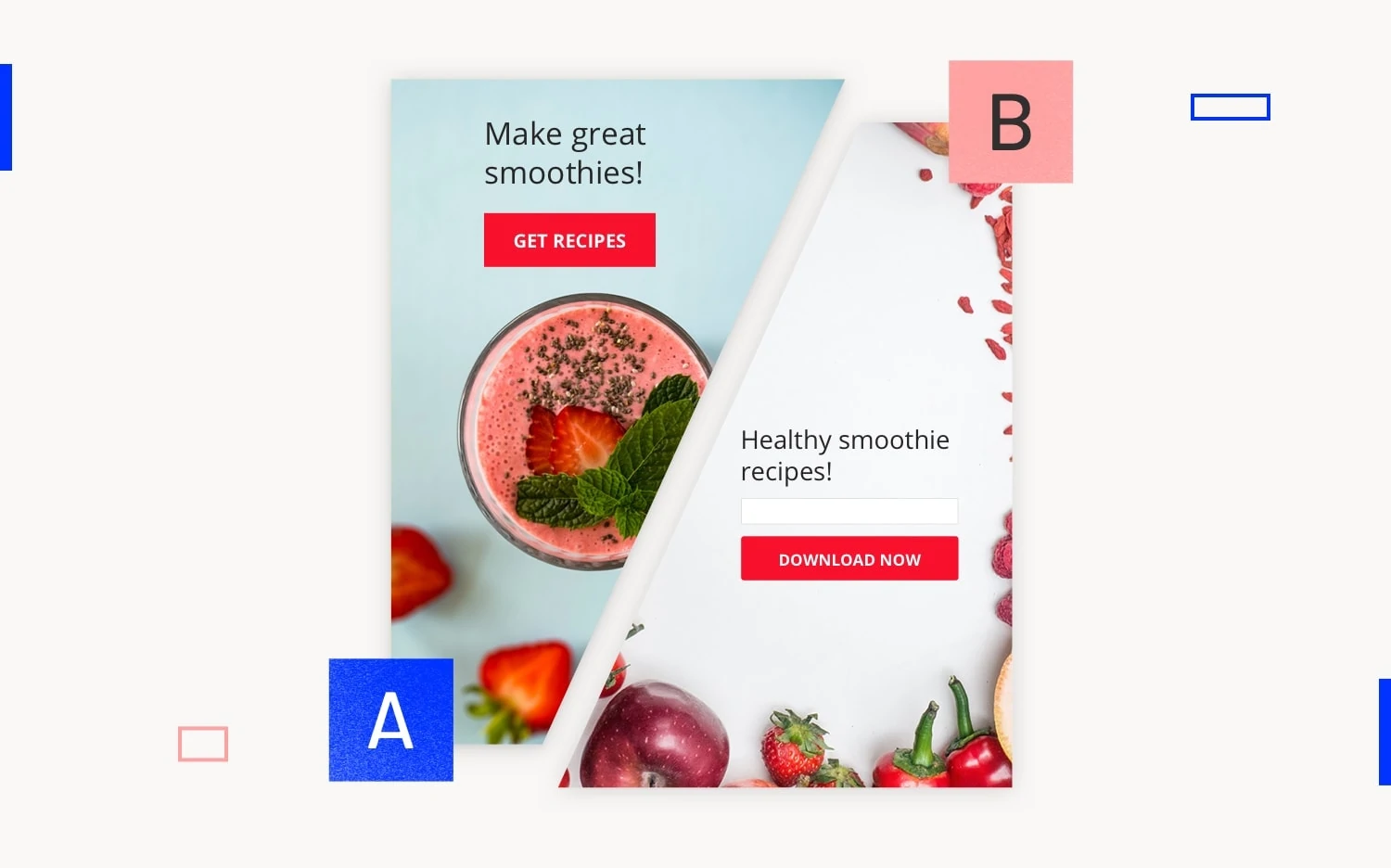 What exactly should you be testing?
Copy: Believe it or not, there's a lot of ways you can tell someone to make a purchase in a few words. Play around with different pronouns, verbs, fonts and sizes to see how you can inspire the most action!
Color: Bright, contrasting colors are great for your CTA button. But oh, the options! Red? Green? Yellow? Orange? Heck, try 'em all and see what's attracting clicks.
Shape and size: Changes to shape and size may not be as grand as a color swap, but trialling different options is worthy to explore. You want to make sure it stands out from the rest of the copy and design. Don't forget to see how it looks on mobile!
Click triggers: Although these may not actually be on the CTA button itself, it's worth testing the surrounding copy and design as well. Calling attention to limited supplies or timed offers, for example, are two copywriting tactics to get people to click right away.
Tracking tip: You can also monitor your visitors' interaction with your landing page using a heat map software. Are people gravitating towards your CTA or skipping right past it? This is a great tool for tracking your visitors' experience and discovering sections of your landing page that need some fine-tuning.
AI-Powered Optimization
If you're really looking to uncover your conversion potential, kick your optimization efforts up a notch using Unbounce's Smart Traffic feature. Using machine learning, it'll send the right landing page variant to the right visitor, according to their preferences. You can create variants with different CTAs, and Smart Traffic ensures your visitors see the one most likely to convert. No more lengthy testing to find a "one-size-fits-all" champion landing page.