We Have 1.06 Products.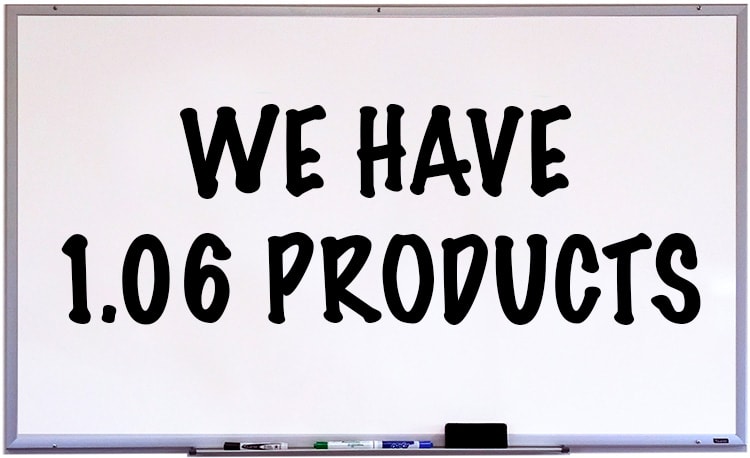 I wrote that statement on a whiteboard at the start of a website brainstorm session.
What does 1.06 products mean?
1.06 sums up my frustration at the adoption rate of our new products. Yup, Unbounce is now more than just a landing page builder. We released two new products, namely "overlays" and "sticky bars", and we grouped them together under an umbrella term "Convertables".
The number 1 represents our flagship industry-leading landing page product (100% of our customers have adopted it), and the .06 represents the tragic adoption rate of our new products (6%).
And yes, you'd be correct if you noted that "Convertables" isn't a real word, but then neither is Unbounce, so we went with it after a notable amount of company-wide polling, and general corporate groupthink. More on that later.
So, how does this scenario result in me writing 30 blog posts about our products?
Rewind to October 5th: I was in a meeting with fellow co-founders Rick, Carl, and Carter, openly expressing my frustration with the adoption numbers, and Carter interrupted me to ask, "Okay, fine, but what are you going to do about it?".
Then this video happened…
Awesome, right?! Yeah, it is, until the moment I realized it's been exactly 301 days since I last wrote a blog post (I've been focusing on public speaking), making this level of bravado a tad audacious at best. Aaand, yes I realize I was a little intoxicated in the video.
But, I've learned over the years, that being a bit ridiculous in my promises is the only way I really know how to get shit done. When I tell everyone that I'm doing something big, the self-imposed peer pressure is what motivates me to make sure I complete my mission.
Enter Product Awareness Month (PAM)
This brings me to our blog. We've never written much about our products on the blog, in fact, we've actively avoided it to let the content speak for itself as an educational pillar of the community, and to remain non-salesy.
I've realized though, that it doesn't make much business sense to be that overtly humble in all marketing communications. There has to be a way to balance exposing people to your product without it detracting from the experience.
It's my fault in many ways. When I started our blog back in 2009, I had a mission to be different from our competitors, to not come across as a salesperson, and just to provide value and entertaining content that stood out.
We dominated the realm of conversion content for many years, but in an increasingly competitive SaaS martech space, our content is no longer number one, and it's time that we change our approach.
Which is why we're doing a blog takeover for the whole of January.
Our goal is to explore a blog topic we've not covered before, but also to expose a transparent window – transparency is one of our six core values at Unbounce – into our journey as a company, as a marketing team, and myself personally, to become better at marketing our new products.
For me, it's the first time I've ever been involved in product marketing, which will make it a fascinating personal journey reinventing myself as a different kind of marketer.
I'm also cutting the number of speaking gigs I do in 2018 in half, because let's be honest, in this moment, the success of Unbounce can be more rapidly impacted by me staying home than being on the road.
Transparency
Along the way, I'll be opening up the Unbounce vault to share our core metrics with you. This will include our churn and product adoption metrics, which we hope to be able to lift in a big way throughout this 30-day experiment. There will be data check-ins throughout, with a halfway report, and then a full "Results Show" at the end.
I'll also be digging into our analytics to see what the engagement and attribution looks like for every one of the 30 blog posts.
Some of the content will revolve around the learnings and experiences of becoming a better product marketer, and the rest will be an exploration of the ways we're trying to rethink what our products are, what they mean to our customers, and how we can do a better job communicating their benefits (with some case studies and new ways of thinking – I hope).
I say "I hope" because I'm writing this as you read it. That's what tends to happen when you commit to something as absurd as 30-in-30.
Follow Along << Mid-Post CTA
I encourage you to follow along by subscribing to our weekly update emails at the bottom of the page. I'm really keen to have our community (that's you) help us explore how to do this properly, and hopefully, we'll all learn how to do a better job of marketing our products.

This is a screenshot of the subscribe form at the bottom of the post. Thought you should know.
You can also subscribe by clicking here to launch a popup (using the on-click trigger feature) which contains the subscribe form. << product marketing much?
Aaand I've configured it so you'll see an exit popup when you leave this page. Note, that I'm doing this to show the product in a relevant and hopefully useful manner.
Unbounce Product Adoption Metrics
How do we measure adoption at Unbounce? To understand, it helps to explain a little about how we define a customer. In the old days, a customer was any signup, someone who started a trial. Over time we learned we should be measuring a little deeper into the customer lifecycle, and decided a customer was someone who paid us twice; after the trial, and again after sixty days.
In 2017 we modified this further to someone who pays us three times, giving us a much better sense of true churn numbers.
To be considered a customer who has adopted our products, we have an additional set of app usage criteria:
For landing pages adoption means: a customer who has built and published one or more pages, has set up a custom domain, configured an integration with another tool, and has paid us three times.
For "Convertables" (Overlays & Sticky Bars) adoption means: a customer who has built and published a popup or sticky bar, installed our one-line global Javascript on their website, received at least 10 conversions, and has paid us three times.
Full transparency: 6% adoption for a new product sucks.
So what went wrong? Why was adoption so low?
Well, first, and most importantly, product marketing is really hard.
We also made a few (well intended) mistakes, namely…
Mistake #1: We called a popup an overlay.
Mistake #2: We created a fictitious umbrella term "Convertables" for only two child products, and for a few months, only one child product.
Mistake #3: We assumed that people would find and use these two products, hidden behind said umbrella term in the app.
Mistake #4: We assumed that the functional user of our landing page product would be the same person who needs to use popups and sticky bars.
How do we un-f*** this problem?
The first thing we're doing is removing public-facing mentions of the term "Convertables". This has excited the marketing team because it's much easier to market something when you know how to describe it, and a multi-product value prop is much harder than a single-product value prop.
Beyond that, the approach I'm taking is a combination of four primary tenets:
First, is a concept I call "Productizing Our Technology" or POT for short. This is about discovering new and novel ways that our platform can be used, that people either haven't imagined or simply didn't know was possible.
Second, is exploring the entire Unbounce ecosystem, from the app, to the website, our content channels, and our community, to see how we could do a better job of exposing the benefits of our products to those who can benefit from them.
Third, is using the Product Awareness Month blog takeover to create interactive demonstrations right here on the blog – the goal of which is to reduce the Time to Value (TTV) by creating more obvious ah-ha moments.
Fourth, understanding who the various target personas and functional users of the different products are, and adjusting our targeting and marketing communications to find and speak to those potentially different users.
In regards to #3 the blog takeover, if you take a look at the top of the screen, you'll see a header bar like this:


Or this one, if you have scrolled down the page:


If you look at the hierarchy of information from left to right, you see: 1) Who we are: logo, 2) What we do: value prop, 3) How to take action: the three big orange buttons.
This is hugely different to the rest of the blog, which retains the navigation of the whole site (I've thought that was incongruent for a long time).


My hope is that the new header bar helps more people know what we do, and how our products can help. I'll be tracking engagement with the 3 CTAs and comparing these 30 posts against our other blog content in terms of its ability to get people to sign up.
Productizing Our Technology: Landing Pages, Popups, & Sticky Bars
I had my own ah-ha moment when I started imagining all the ways that I could hack/modify/extend the ways the Unbounce conversion platform can be used. We have 3 core pieces of product technology (not including our AI/Machine Learning efforts that will power our technology in the future): landing pages, popups, and sticky bars.
By taking our core tech, combining the available features, with new jQuery scripts, CSS, and some 3rd-party integrations, it's possible to create a plethora of new "mini-products" that if embraced by the community, might inform future product direction.
Take a look at the spreadsheet below. This is my POT matrix. The complete sheet currently houses over 120 new product ideas.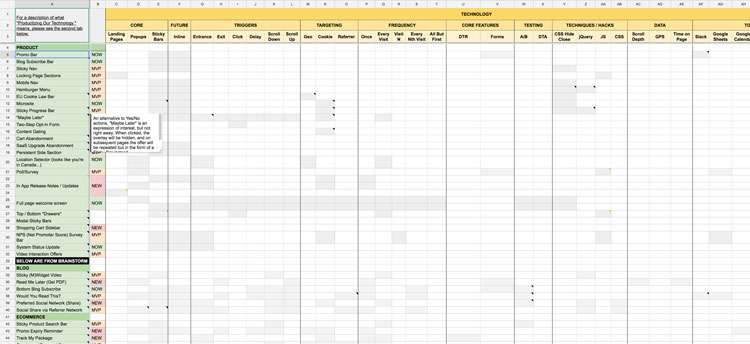 (Click image for full-size view)
Across the top (in yellow) are the core products, their features (such as targeting, triggers, display frequency), and the different hacks, data sources, and integrations, that can be combined to produce the new products listed in green in the first column.
Each product is flagged as being in one of three states:
NOW: These products are possible now with our existing feature set.
MVP: These products are possible by adding some simple scripts/CSS to extend the core.
NEW: These products would require a much deeper level of product or website development to make them possible. These are the examples that came from "blue sky" ideation, and are a useful upper anchor for what could be done.
I'll be explaining these use cases in greater detail as the month progresses, and I'll be building some of them directly into these blog posts as I write them. << FTR this will involve me reverting to my long-extinct coding background to hack the shit out of the blog to show you what I'm talking about.
Please Follow Along
That's the intro, that's what happened, and what we're going to do to try and fix it. Subscribe to the weekly email updates, join the discussion in the comments, and chat directly with me on Twitter.
There is also a calendar at the bottom of every post that will link to all 30 PMM topics as they roll out.
What's coming on day 2 of PMM?
Tomorrow's post is called "50 Creative Ideas Your Marketing Team Can Use to Improve SaaS Product Adoption & Awareness". It's based on the results of rapid-fire brainstorms which exposed quick-win tactics all product marketers can use to expose your products in small and simple ways, to build to a critical mass of awareness.
This should be very relevant to anyone in marketing, and doubly so to those working for a SaaS business.
Here's to kicking off 2018 in a blaze of product marketing glory.
Cheers,
Oli Gardner
p.s. Please jump into the comments below to let me know what products you're currently trying to take to market.