I'm not talking about your home page. Sure that gets the most traffic, but notice the qualifier in the post title; highest-traffic "lowest-converting".
But why would you care about a low converting page? Because chances are, it's not converting because you forgot to add a call to action (CTA).
I'm sure you know about some pages like this on your website, but you're using one of the following excuses to do nothing about it:
I don't have the bandwidth to deal with it.
It's not my responsibility.
I don't know what to do with it.
I'll get to it later.
The last excuse is the absolute worst. Because you never will "get to it".
It's 2018 – Stop Wasting Time Ignoring This Page
Don't start this year with yet another failed attempt to go to the gym. Commit one day to optimizing just one page.
For Unbounce, that page is "What is a landing page?". We've held the #1 spot in Google for this term since early 2010, and guess what? We haven't updated it since early 2010.
Every time we look at Google Analytics, we see this:

10,000 unique visitors every month to that page. And 84.15% of them are NEW visitors. That's an incredible amount of value.
What does the page look like?
It was embarrassing, to say the least. Spoiler alert I updated it last night. But here's a screenshot of the abomination that was our previous 8 years of letting visitors down.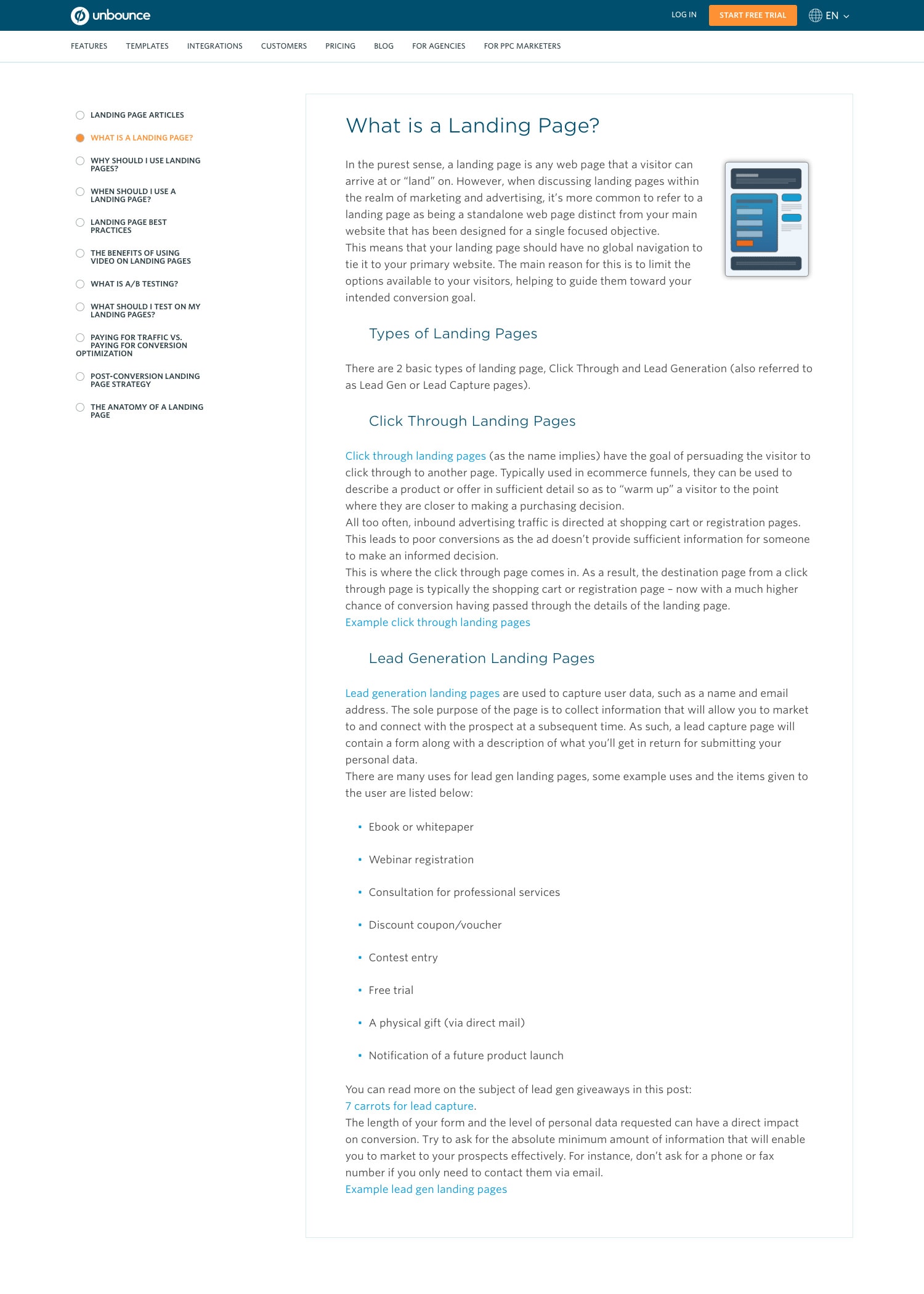 A few observations
The content is ancient, and has a lot of useless information. Some of which is fundamentally wrong.
The CSS is all broken making the layout and reading experience terrible.
It links to a bad blog post I wrote in 2010 that has a photo of Miley Cyrus wearing a carrot costume.
You read that right. Miley Cyrus in a carrot costume is the call to action on the highest traffic page on our website (aside from our homepage). #facepalm
How to Convert Top-of-Funnel (TOFU) Traffic
"What is a Landing Page?" is the most TOFU page on our website, which means we need to choose carefully when we ask people to do something.
I decided to go with three options in a choose-your-own-adventure format, as a learning exercise so we can study what these visitors are actually looking for.
Option 1: "I'm new to landing pages, and want to learn more."
CTA >> [ Watch The Landing Page Sessions Video Series ]
Option 2: "I have a landing page, but I'm not sure how good it is."
CTA >> [ Grade Your Page With The Landing Page Analyzer ]
Option 3: "I need to build a landing page."
CTA >> [ Try The Unbounce Builder in Preview Mode ]
The New "What is a…" Page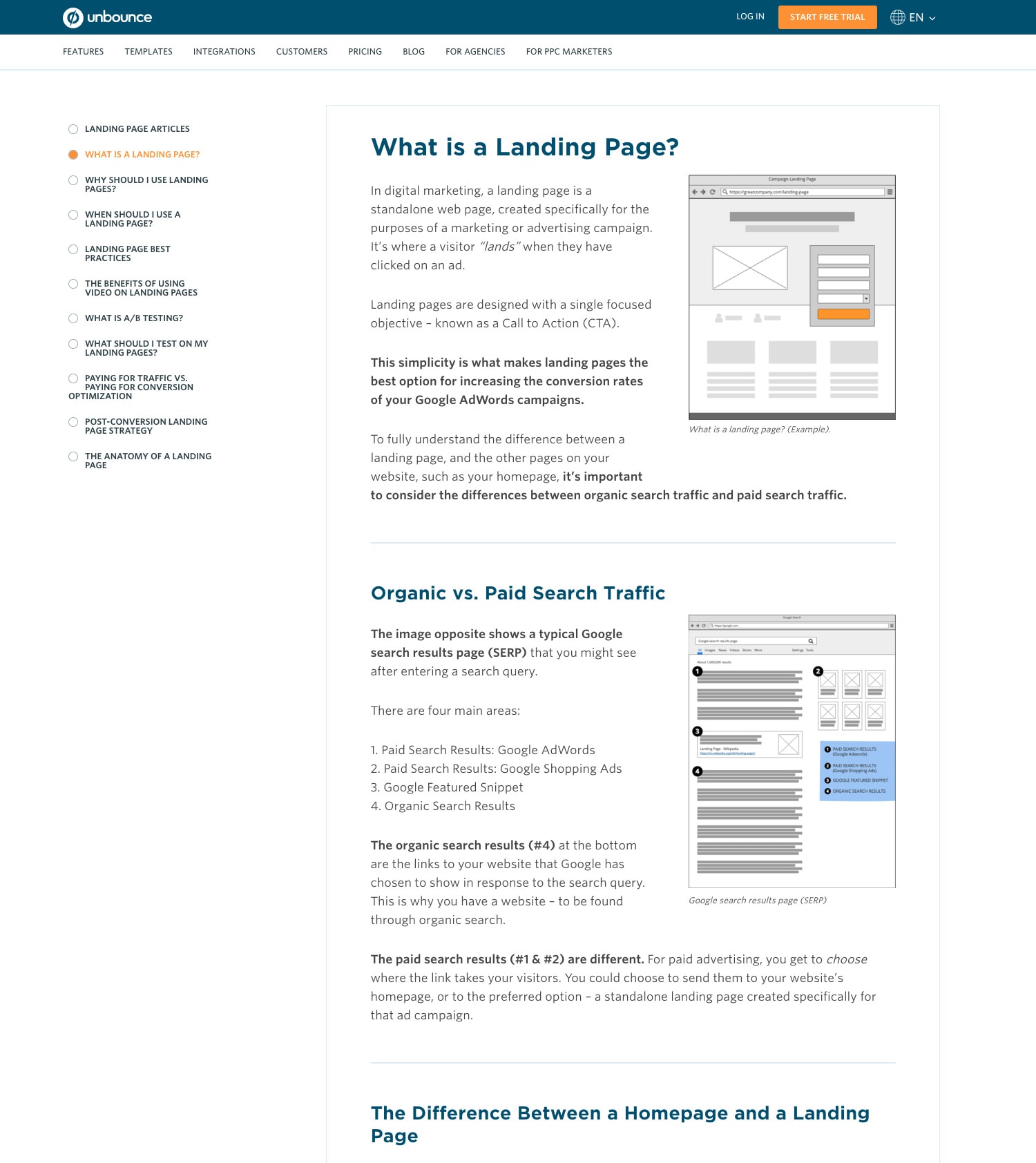 (Click to see the full-length page in a scrolling lightbox.)
High-Traffic, Yes. High-Converting? We'll see.
I'll be looking at the analytics (Hotjar click and scroll heatmaps), Google Analytics (changes in basic behavior), KISS Metrics (changes in signups), and I'll report back with the results later in Product Awareness Month.
Find your highest-traffic lowest-converting page, now
Do it.
Cheers
Oli Gardner
p.s.