Facebook has over 1.28 billion daily active users.
To have more than a billion prospects in one place, literally at your fingertips, is a marketer's dream (thanks, Mark Zuckerberg!). But turning those prospects into customers… well that's another story.
As marketers, we know that a stellar Facebook campaign is made up of a lot more than clever copy, snazzy design and a hefty PPC budget. In a constantly changing environment of new features, products and ad units, it can be tricky to stay ahead of the pack — let alone stand out.
Facebook's granular targeting makes it more possible than ever to reach the right person, in the right place, at the right time. But only marketers who are committed to making connections with real people and then maintaining those relationships will come out on top.
If there's one person that knows this best, it's Mari Smith.
Named Forbes' #4 "Top Social Media Power Influencer," Mari is one of the world's leading social media thought leaders and educators in the world of marketing. Her knowledge of Facebook runs so deep that she was personally hired by the folks at Facebook to teach SMBs throughout the US at the Boost Your Business series of events.
Mari's speaking at our Call to Action Conference this June, and here's a quick word from the Facebook Queen herself.
Want to attend CTAConf 2018?
For a limited time, get 10% off the 2 for 1 rate (just $269.10 a ticket)! Enter the code BLOG2FOR1TREAT
here
.
Despite her packed schedule, Mari recently took the time to sit down with Unbounce Marketing Educator Christie Pike to reveal some of her best kept Facebook advertising secrets. In this interview, you'll get Mari's actionable tips and insights into:
Some of the biggest missed opportunities for marketers advertising on Facebook.
Companies that are crushing it in the social advertising space and what you can learn from them.
The next big thing on the horizon that Facebook marketers should be preparing for and investing in.
Christie Pike: You've been active on Facebook long enough to see its evolution from social media network to a performance tool not unlike AdWords. How has this changed the way that marketers run Facebook campaigns?
Mari Smith: The main thing to consider is the enormous amount of data that Facebook gathers, not only on the platform itself but in partnership with data companies. So every time you use your credit card, every time you make a purchase, surveys that you complete, any information that's out there is moved into a kind of personal dossier that then gets matched with your Facebook ID. Because of all of this, people get scared and freaked out, Big Brother and all that, but it's all anonymized and encrypted, so from a user standpoint I always say, "caveat emptor", just recognize that in today's day and age of privacy, everything is out there.
From a marketer's or advertiser's standpoint, it's an unprecedented time that we're in.  It's a paradigm shift in terms of being able to reach the exact person that you want with Facebook's granular targeting. Down to zip code, down to propensity to possibly make a certain purchase, from going on a cruise in the next six months, buying a BMW in the next three months, income, the number of kids you have, what you do for a career — all of this is just extraordinary.
So, we really do have to think of Facebook as a platform in which to get our message, our products and our services in front of our target market, but done so in a very relationship-oriented way. I think the businesses that are really standing out are the ones that can make us laugh or cry or go "awwww" and tear at the heartstrings — you know, create something that has viral shareability as opposed to how some business send a message that says "Hey, sign up for our stuff," "Buy our stuff."  It's a cold market, you know.
CP: What are some of the biggest changes you've seen on the ad platform itself?
MS: I would say that a big change is in terms of ad units, which initially were just a link and some basic visuals, but over the years they have a much, much, much more visual emphasis. I especially love the carousel ads you can swipe. I think Amazon is one of the best at doing retargeted multi-product ads. I remember seeing one of its ads that had about 32 cards on the carousel that you could swipe and I asked myself, "How did they know I like all this stuff!?"
And then what they call slideshow, which is really just images made into a video, but definitely the prevalence of video is key. One of Mark Zuckerberg's favorite words is "immersive," and so the introduction of more immersive type of content like canvas ads has huge importance in the current ad space.
I worked directly with a video creation company, and they shared a great case study from Brussels Airlines that pull up a canvas ad advertising flights to Mumbai in India. They got something like 27 times more time on site after doing this beautiful canvas ad, whereas their previous Facebook campaigns led to an average of three seconds on site. The reason behind this was because back in the day, ads were just a link with a tiny wee thumbnail, and then they got bigger and turned into GIFs, slideshows, animations, interactive content and full-screen content.
So, between (1)  the ad products (2) the placement and (3) the targeting, I would say those are the three key areas where there are the biggest changes. Placement being whether it's Instagram, mobile news only or if it's right rail (which still has its place), but users are on mobile more than anything else.
CP: Who is doing Facebook advertising particularly well? What do you like about their ad campaigns? Can you provide some examples?
MS: My favorite video ad that I include in almost every single one of my presentations is by a fun company called Chatbooks. It's a simple app (a subscription service) that takes your Instagram and Facebook photos and prints them in a book format, it's really clever.
They worked with a really good PR/creative agency and hired a professional actress/comedian. From there, they created this three minute and forty-second ad. The ad was first put out on their Facebook page, which had just over 100,000 fans (now over 200, 000). And when I last checked, that video ad had 69 million views and almost 500,000 shares.
This is what I love to teach — when you can craft your content to be visually appealing (ideally video). When people are engaged with it, they'll share it with others.
I've never found a better example than Chatbooks. In fact, I originally saw it in my News Feed as a shared organic post by a friend of mine, and after I watched the full three minutes and forty seconds, I was ready to sign up and buy the subscription!
Another great example is from our friend Rand Fishkin from Moz,  who I know is speaking at CTA Conference this year.
Rand is doing these really great video ads called Whiteboard Fridays. I see the most recent one from April has over 4,600 views and 15 shares.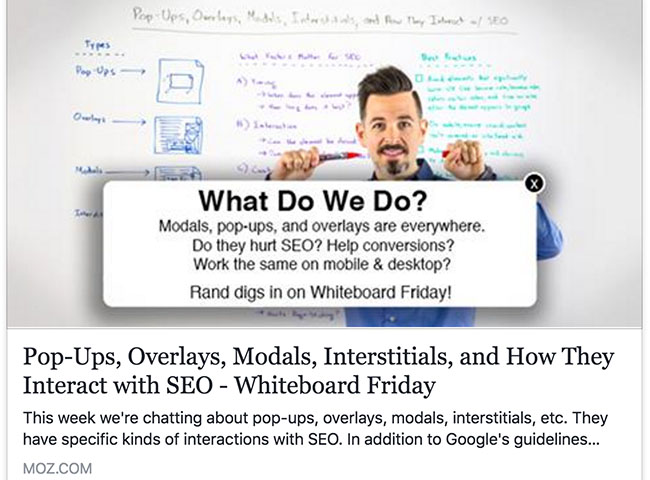 Whiteboard Fridays. Image source:
Moz
.
It's so good because it's educational and it's the kind of video ad that you can stop and watch or at least save and watch later. It's really cool what he's doing because he's not saying, "Hey everybody, sign up for Moz, see what we can do for you!" Instead, he's like, "Hey here's some education on SEO," and it's the kind of stuff that people will stop and save and consume.
One last shout out to my good friend Ezra Firestone and his company called Smart Marketer. He does really amazing stuff with video ads and lead gen.
CP: Unbounce cofounder Oli Gardner estimates that
98% of AdWords campaign traffic
is not being sent to a dedicated landing page. If you had to guess, what percentage of Facebook marketers do you think are sending their traffic to mobile optimized landing pages? Do you see this as a missed opportunity?
MS: I would have said it's probably a lot lower. My guess is that 65% is going to a dedicated landing page on Facebook — I get the sense that Facebook advertisers, for the most part, are a little savvier. They realize you can't spend all this money and have a captive audience and then just send them away to figure it out for themselves.
But to Oli's point, I do see a missed an opportunity — especially when marketers are not really thoroughly checking and having a small test group. It's important to invest a small amount — about $60 – $100 dollars — towards some A/B testing to see which ad gets better conversions. Doing the pixel and tracking the standard events, all of these components are key.
The second part is mobile optimized websites/landing pages. If someone's clicking through and it's too wide for the phone,  or the pop-up appears and you can't find the 'X' on it — it takes less than a second and they're outta there.
CP: Are you seeing good examples of Facebook campaign landing pages? 
MS: I think my good friends over at AdEspresso – they were recently acquired by Hootsuite, a fellow Vancouver company —  they're doing some really good stuff. I love their blog. In fact, they quote you there.
I'd have to think really hard to narrow down a specific landing page example, but in terms of components, or landing page elements, less is always more, something simple that's really congruent with the ad itself.
The job of an ad and the job of an email is to get people to a landing page, and the job of a landing page is to convert, whether I'm asking for your email or I'm asking for you to make a purchase. And the beautiful thing about Facebook pixels is if someone doesn't decide right then and there, you're able to do some retargeting campaigns to refine further.
CP: Are there certain verticals that are more successful with Facebook advertising than others?
MS: I was just speaking at Marketo's conference last week and they are, as you know, almost exclusively B2B, and so my talk was very geared towards the B2B audience.
I think Facebook has a reputation for being known to perform better for B2C, but I always like to say that businesses are running as "people to people."
In terms of verticals, it's probably easier to say what verticals are more difficult to reach, which are the highly regulated ones like insurance or finance —  but otherwise, with every conceivable small business and niche or industry, there's a market that can take advantage of generating leads on Facebook.
CP: When we talk Facebook ads, what are some missed opportunities?
MS: This comes back to the subject that's close to my heart, which is really that relationship component: customer care, really engaging well when people are actually commenting and engaging on your ad.
I think what happens — especially with marketers that do the dark ads — is these ads can be very effective and you can be really selective in who you're reaching without populating your wall, but then what often happens is out of sight, out of mind.  I've seen many major household brands where people are posting negative comments on the ad. There's spam, people are asking questions about their products, and nobody is responding or acknowledging. I see that as a massive missed opportunity.
I think that's one of the best investments that companies can make is having trained, qualified, passionate social customer care moderators. I always like to say that technology is moving at warp speed and it's hard to keep up — but human beings, we're not changing that much, and we want to know that we're important, that we matter.
CP: What's on the horizon?
MS: Right around the corner is Facebook television and that's launching next month. Mark Zuckerberg is absolutely adamant that they're not a media company, but just watch — just watch that space, they're absolutely moving into that.
In the United States, the TV advertising industry is worth about $70 billion — it's over $200 billion globally. And so Facebook now has licensed/paid for original content to be aired on video. And remember, they also have that app that they brought out not long ago that you can stream through your Apple TV or Amazon Fire.
So what's coming next month are full one-hour shows that are highly professionally produced and then also small episodes — three to 30 minutes that will refresh every 24 hours, from what I've read.
For advertisers and marketers, we have to be thinking about quality video ads because that's where Facebook's next monetization horizon is (monetizing this digital streaming video with mid-roll ads). They swear they're not going to do pre-roll, so let's hope they stick to that.
It's all about being in that frame of mind — somebody's watching a show they're really engaged in and all of a sudden, just like television, it interrupts and your ad comes in.  So when it comes to video, it's about how can you make it quirky, or fun, or entertaining, or emotional — I don't think those things will ever go away as long as we're human.
At the F8 conference, within the first 30 seconds, Zuckerberg was talking about camera, and camera platform and developing for the camera. I saw some really cool augmented ads by Nike, and they were incredible.
Facebook is also really pushing live and they're also deploying a lot of resources to combat fake news. They also announced two weeks ago that they're they're going to hire 3,000 more employees to make a team of 7,500 employees dedicated to watching for fake news plus anything untoward happening on Facebook live.
Really the key is for businesses and marketers is really education. I can't stress that strongly enough. That's why I just I love that you guys are doing this conference — you can't get enough quality education.