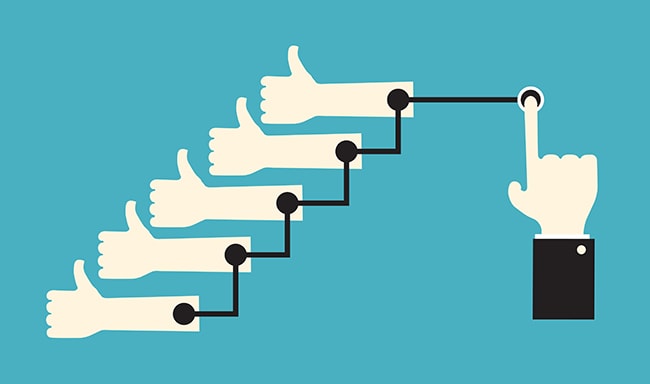 One share from an influencer can massively impact your traffic. Image via
Shutterstock
.
Here's a bombshell: All that well-written, well-optimized content you've been developing probably won't give you the business boost you're looking for.
Behind the most impressive online success stories, you won't find a pithy blog. Instead, you'll find smart, strategic influencer outreach.
A recent Tomoson poll revealed that "[b]usinesses are making $6.50 for every $1 spent on influencer marketing." Not only that, marketers rate influencer marketing as their fastest-growing online customer-acquisition method, above organic search and email marketing.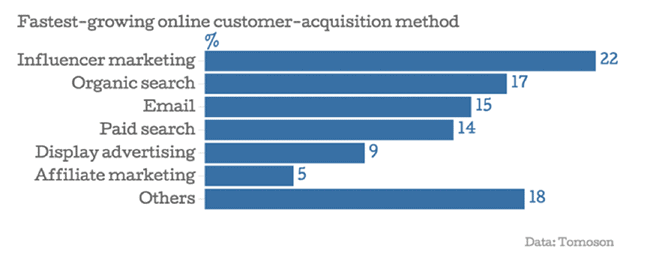 Influencer marketing is the fastest growing customer-acquisition method among online marketers.
It makes sense when you review the benefits…
One share from an influencer can massively impact your traffic. I've seen it happen with posts on the Crazy Egg blog. And on my own blog, a post that cites 16 experts has received double the traffic of the next-most-popular blog post, thanks to those experts' shares.
Participation from just one big-name influencer can give your roundup post, podcast or interview series a ton of traction. Suddenly, other industry leaders are eager to contribute. After all, they want to be seen in the same "category" as Big Name Influencer.
And finally, having a personal relationship with influencers can significantly boost your own credibility. Which means you can get more subscribers and followers with less effort.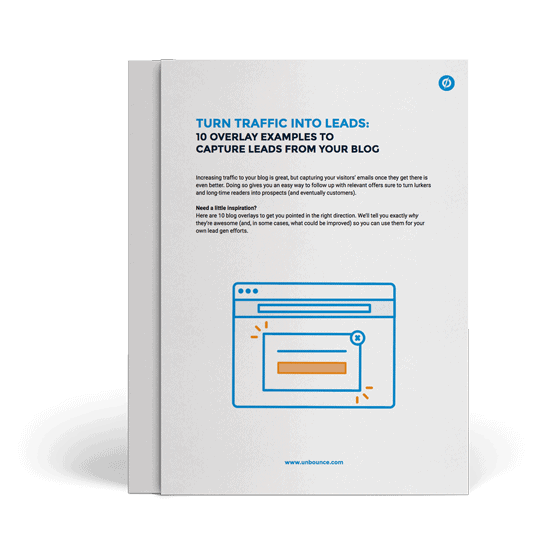 You've got the traffic — now how do you convert it?
Here's a little inspiration: 10 overlay examples to turn your blog traffic into leads.
By entering your email you'll receive weekly Unbounce Blog updates and other resources to help you become a marketing genius.
There's just one problem: Influencers are busy — and notoriously hard to reach. You have just one chance to reach out to them in a way that opens doors instead of slamming them shut.
Blow it, and you may never get another opportunity to connect with them.
Outreach matters, obviously. But it's critical to do it right. So I asked PR expert Dmitry Dragilev, founder of JustReachOut.io, to share his five-step process.
Dmitry used PR and content marketing to grow his business from 0 to 3,500 customers in the first year and generate $100,000 revenue in just nine months. His product, JustReachOut, was designed specifically for this type of work, helping you find and pitch relevant journalists and bloggers by searching keywords, competitors, niches, publications and more.
The key is to understand that outreach isn't about getting what you need as quickly as possible. It's about taking the time to turn big-name influencers into long-term friends. In a moment, we'll review Dmitry's process for doing just that. But first…
Why influencer outreach matters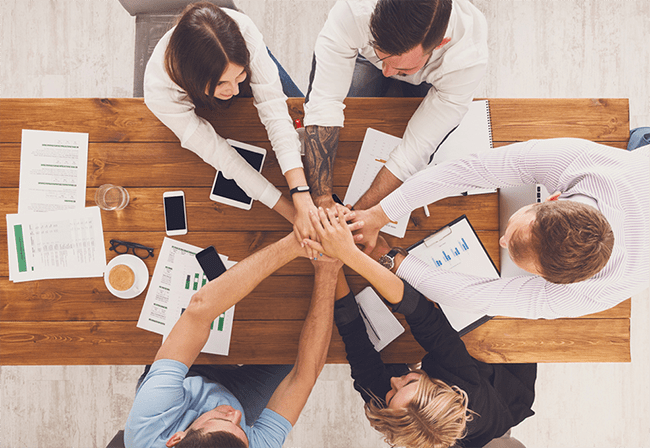 Relationship building is key to influencer outreach.
According to Dmitry, two overriding principles guide influencer outreach: value in advance and relationship building.
Interestingly, these are the words we use most often when talking about marketing. We tend to think that's what we're doing when we offer free content such as lead magnets, webinars or video training.
And in the link building emails I get, I'm sure the sender thinks his compliment in the opening line is a value-add that gets my attention.
But when it comes to outreach, Dmitry recommends a more personal approach. Most people, when doing outreach, focus on their own needs. They don't want to take time to build relationships by providing value up front.
Dmitry says,
That's a huge mistake. It's a relationship that will get you the results you want and keep getting you mentions and links in the future.
You have to slow the pace so you can build a deeper, more authentic relationship — which, in the long run, will benefit you more.
Dmitry is emphatic that you shouldn't ask for or expect a quick transaction. Remember, whether you're asking for a link,coverage or a mention, that person doesn't know you at all.
When you're drafting your outreach email, ask yourself, "Would I actually say this to a person if I saw them at a conference? Would I walk up to a person I don't know and make an immediate pitch?"
The key to influencer outreach is to begin the virtual relationship in the same way you would a live relationship: start with common ground, talk about them, let them tell you what they need.
By giving value before you ask for anything in return, you've got a much higher chance of getting what you want.
Now let's look at the framework Dmitry uses when he does influencer outreach.
1. Your why
Always start with a goal in mind. What action would you like the influencer to take? Why do you want to connect with him or her?
You won't necessarily start the conversion with your goal, but you need to have a legitimate reason for reaching out.
2. Finding influencers
The type of person you choose to reach out to depends on your goals. If you want publicity, look for a journalist. If you want a product review, look for a content marketer or blogger who does reviews. For a celebrity mention, find a celebrity who is involved in your industry or respected within your niche.
Where do you find these people?
The quickest path is through a tool designed for the purpose. JustReachOut is one choice. I've played around with Mailshake (formerly ContentMarketer.io) and Ninja Outreach and can recommend them as well.
But if you're budget is tight, you can search for influencers manually in forums such as Reddit and Quora, or through HelpAReporter, Twitter or ProfNet queries.
Once you've identified an influencer, you need to do some research. Learn as much as you can about what they're doing and look for ways to help them.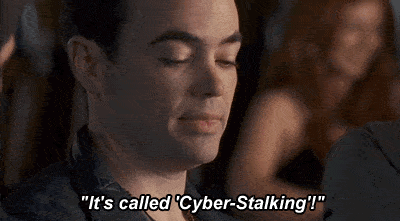 Except we don't call it stalking. We call it following.
Image via
Giphy
.
As an example, Dmitry wanted to see if he could get an interview with Ashton Kutcher for his speaker series.
He began by trying to figure out what Ashton's motivations might be. Knowing he's trying to break into the startup world and start investing, Dmitry guessed the actor was trying to network and learn as much as he could.
Dmitry also began following Ashton's work, including his speaking engagements and social media activity. The goal? To identify the people he's quoting or talking about.
Next, he developed a strategy for his outreach. He identified some experts whom Ashton seemed to admire, reasoning, "if I have maybe a quarter of those people on my speaker series maybe I can reach out and say, 'I have these other people lined up. Would you be willing to speak as well?'"
It worked like a charm. After scheduling those experts for his speaking series, Dmitry finally reached out to Ashton, and the answer was gracious. "Yeah, I really do admire a lot of people you have on your guest list." The actor connected Dmitry with his assistant and they've been in touch ever since.
Notice that Dmitry actively looked for a point of intersection, so his email would feel authentic and credible.
3. Contacting influencers
Most outreach emails follow a word-for-word template.
Big mistake!
Is it any wonder those emails get deleted? In many cases, the influencer has seen that template hundreds of times already.
To get an influencer's attention, you need to be human. Be yourself. And before hitting "send," review your email carefully to be sure it sounds authentic. Here's what Dmitry recommends:
I think there is something to be said for just reading your email as if someone sent it to you. Is it interesting or overly pushy?

Then test it out on your readers or your friends. How did they feel by the time you asked for a sale? Did you provide enough value upfront?
But before trying to craft your email, you need to clarify two things:
Your value offer. What's in it for them? Make sure you offer more value than you ask in return.
Your pitch. Find a point of intersection, then add credibility. Your offer has to be meaningful to them.
As an example, look at the email Dmitry first sent to me. The subject line was "your mention of ContentMarketer, I'm friends with founder." And the email read:
Hey Kathryn, 
My name is Dmitry Dragilev and I am the founder of JustReachOut.io. I help startups and entrepreneurs hack pitching and getting press mentions weekly without the help of PR firms.  
I stumbled across your article today, remember this? 
https://mirasee.com/blog/promotion-guidelines/
You mentioned ContentMarketer.io in the article, I love the service, I'm old friend of Sujan Patel the founder actually, we write articles on Forbes together actually.
I'm a regular contributor to Entrepreneur, TechCrunch, HuffPo, Mashable, TNW, Inc, FastCo and many others.
I grew the last startup I worked on from 0 to 40M+ pageviews through PR outreach and we got acquired by Google, I automated the same PR outreach process to build JustReachOut.io algorithm, we have 2K+ startups currently paying and using us to pitch press.
I am not here to brag I promise! I simply want to connect with you :)
Two things:
I have some PR hacks I wanted to share with you, maybe you could use them in your next article.
I thought you might be interested in learning about JustReachOut.io. I will be very happy to give you a special extended trial for a test run.
I respect your schedule and will completely understand if don't have the time. No hard feelings. But you will miss the chance to make my day and to learn how to get press on the biggest outlets in the world.
Have an awesome Friday. 
-Dmitry 
Let's look at the structure he follows:
Introduce yourself. Tell them who you are
Identify a point of intersection. Something you've both said or someone you both know. You can be creative, but it needs to be genuine.
Add a bit of credibility. In other words, why you're worth talking to about this topic.
Make an offer. It should be something that adds value to the recipient, so they feel comfortable responding.
4. Following up (the right way)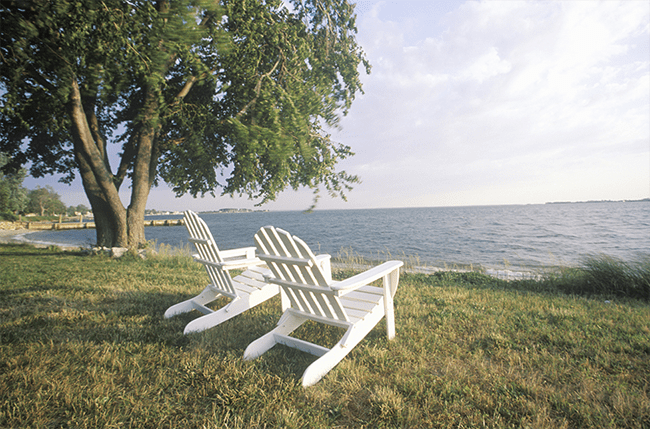 Relax. Follow-up takes time. Don't rush it.
Dmitry has found that moving too fast can derail your efforts. Take it slow, he says, and you'll get better results.
Don't be aggressive.
Don't lose patience.
Don't push for immediate results.
Your focus should be on adding value over time, not immediately achieving your goal.
It's critical to slow down your time frame so the relationship can evolve naturally. You need to hold off asking for anything until you've built trust and reciprocity.
For example, Dmitry still hasn't been able to schedule that interview with Ashton Kutcher, but there's no reason to rush. They continue to correspond about three times a year.
5. Adopting a value-first mindset
Influencer outreach isn't easy. It takes patience and perseverance — and a commitment to giving at least as much as you receive. Dmitry says the key is to start now, before you need an influencer, so the value exchange is already in your favor.
If you wait until the last minute to begin your outreach campaign, you've put yourself in the position of needing results quickly. Then you'll do everything wrong.
That being the case, don't tack outreach onto the end of your campaigns or content promotion. You need to be building and nurturing relationships all the time.
The bottom line
Too often as content marketers, we're focused on creating quality content, scheduling social media and doing a lot of technical tasks for promotion. In many cases, moving quickly from one task to another is how you get results.
Influencer outreach is just the opposite. For success, you need to slow your pace, focus on the people you're contacting and help them reach their goals.
It may look like a distraction or a low-ROI activity. In reality, it's an investment that can pay huge dividends down the road.
What are your biggest outreach challenges? Share in the comments below.