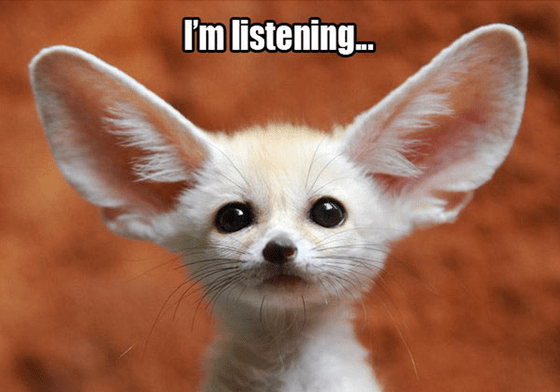 Gathering user feedback is one of the most powerful steps in forming a hypothesis and testing new ideas. It makes more sense too than simply using the ideas from internal company resources who are already familiar with your brand.
For Marketers, user feedback is pure gold for A/B testing, and ultimately making the changes needed to throw fence-sitters off their heinie and down on through your conversion funnel.
Here are 11 recent posts to help you connect with your customers, design landing page experiences based on their needs and help conversions:
User Feedback Tips & Tactics
Noupe kills it here with their list of 47 User Feedback tools & services. They've broken them down into 7 different categories too, from process level feedback to crowdsourcing. Yeah, I just had to start with this one. If you're looking for tools, look no further.
Our usability testing friends at Loop11 recently held a webinar with the folks at rapid wireframing software, Baslamiq. Watch the 30 min video presentation and see how you can reduce development time and cost by user testing your wireframes.
The "feedback geeks" at Opionionlab offer up a nice little solution to a big problem. Listen to the data to show you where to jump into your conversion funnel and get right in front of your customers when they need you most, and before they exit your site.
What kind of user feedback do you think you'll get if your user experience is horrible? In this post Crazy Egg lays out the foundation for creating great customer experiences using personas. This is a good place to start, begin collecting feedback, and test the changes.
Now here's a novel idea, ask your customers what they want! Some love to tell you exactly what they want, for the others, there's clever & hella painless surveys. Check out how these 4 companies do it, and do it well.
Interesting idea right, putting users in direct contact with developers through error message feedback? There are definitely arguments for both sides, check out the HackerNews thread and the following post (and comments) exploring the idea more.
If you're gathering user feedback but feel that IM chats are intrusive, pop-up surveys are annoying and feedback apps are inefficient, then here's an alternative. KISSmetrics suggests what they've found to be the best solution.
User Feedback Thinking-Cap
From one of my personal favorite sources online, The Next Web, this post highlights the sheer importance of user feedback. Two recent examples have magnigified the need for companies to stay engaged with users even when their services lose their luster.
Remember the Facebook Timeline backlash? Maybe you were even among the haters. It's proven, for the most part we hate change, and if you're responsible for collecting user feedback after a redesign, you know this all too well. This post is a super interesting look at the psychology, you might even glean how to take a beating if you have some upcoming changes, too.
Since the popular user feedback tool KISSinsights was acquired by CatchFree, CEO, Sean Ellis set out to find the service a new name, not an easy task. He even tweets about it–wait for it–asking for feedback. Despite your opinion of the name (which by the way, has recieved plenty of positive feedback) it's great to see companies involve their community in the decision making process in the wild.
Why is it that so many businesses fail at providing their customers with a positive experience? Bryan Eisenberg promises "Where there is friction there is opportunity"… There is definitely a lesson in here for your company. This one is worth its weight.
---
Have you read any other great user feedback posts lately that I've missed? I too, am open to feedback :)