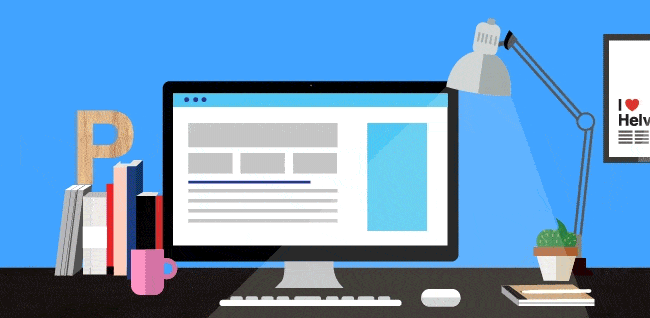 If you create display ads for your job, you're already well aware of how hard it is to get prospects to click.
Unlike search ads, display ads aren't typically served up to an audience who is actively on the hunt for something specific, so there's even more pressure to stand out.
Think about it: when was the last time you clicked on a display ad?
On our quest to find out what makes for click-worthy ads, we interviewed the marketers and designers at Indochino, Wistia, Webistry and Unbounce to see what inspires their display ad designs.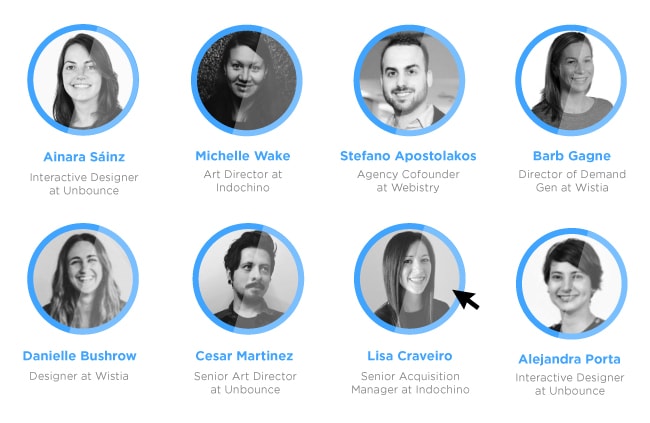 Turns out that many of them draw inspiration from the very ads that entice them to click.
Picasso originally said it best:
Good artists copy; great artists steal.
To help you get your creative juices flowing, we've gathered the most interesting takeaways from our interviews with the marketers and designers at these companies. This post will cover:
"In the wild" examples of display ads that marketers and designers admire
How real marketers and designers translate their inspiration into their own ads and landing pages for higher-converting campaigns
Helpful resources that experienced designers use to create more clickable ads (that you can use too)
Ready to be inspired?
Indochino: K.I.S.S – Keep it simple, stupid
The fine folk at Indochino are masters of seamless design. Their handsomely designed ads and corresponding landing pages are as perfectly tailored as their custom made-to-measure suits. ;)
When we spoke to Indochino to see where they find inspiration, we learned that they look to brands like Harry's, Casper and Everlane: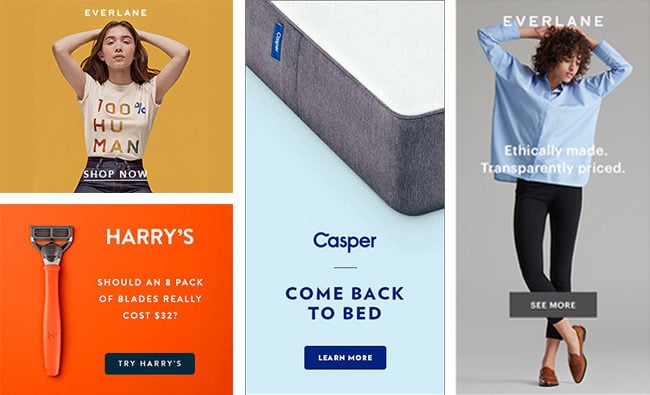 Michelle Wake, Art Director at Indochino, explained to me what she finds striking about these ads:
The biggest design takeaway here is simplicity. All three ads are clear and to the point. The designs are clean and bright with minimal text. Casper, Harry's and Everlane feature their product in the ad, but in an understated way that does not overwhelm the space.
Or as Lisa Craveiro, Senior Acquisition Manager put it succinctly:
How Indochino translates design inspiration into a real-life campaign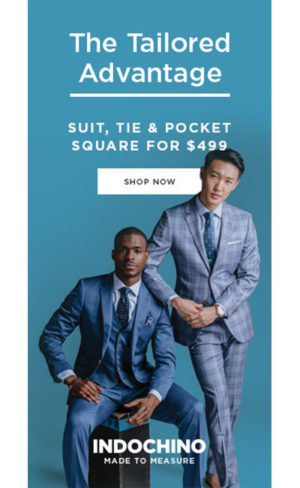 Indochino translates the same rule of simplicity from the Harry's, Casper and Everlane ads into their own ad designs.
Take their "Tailored Advantage" display ad on the left for example.
Although the ad canvas is limited, the design elements are minimal which means that Indochino can feature the product in the design without over-crowding the space.
Also, notice that the white front contrasts well with the darker, solid background. Michelle explained that this is a conscious decision to make the ad pop:
Consider where the ad will be seen. If the image does not have a full bleed background, then we often place products on a colored background.
When visitors click Indochino's "Tailored Advantage" ad, they're taken to the following campaign landing page: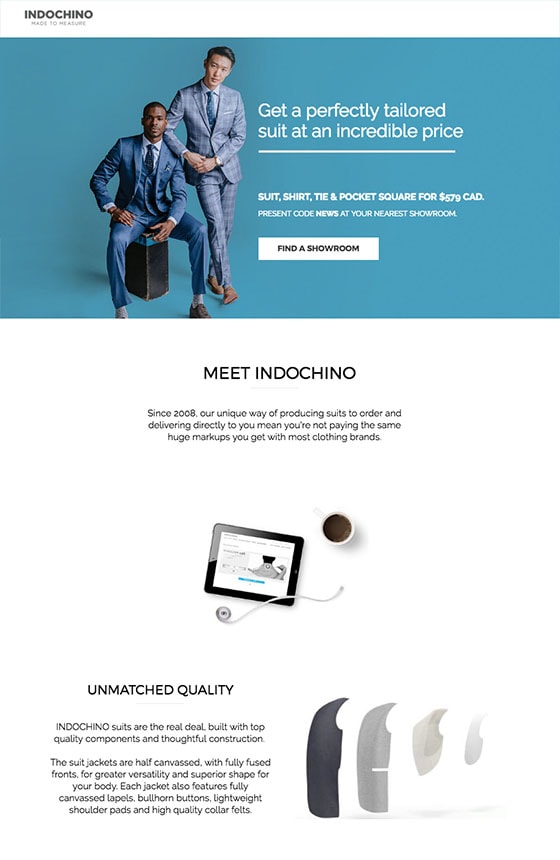 Unbounce customer Indochino sends traffic from their "Tailored Advantage" campaign to this landing page. Click to view full-length page.
There are clear benefits to having a minimal, straightforward ad leading to a landing page with flawless design match: this page converts at 7.8%.
Not too shabby.
Wistia: Take design risks in your ads (And let landing pages do the heavy lifting)
Meet Wistia, "your friendly neighborhood video platform."
Wistia looks to other B2B subscription-based companies like MailChimp and Slack for design inspiration: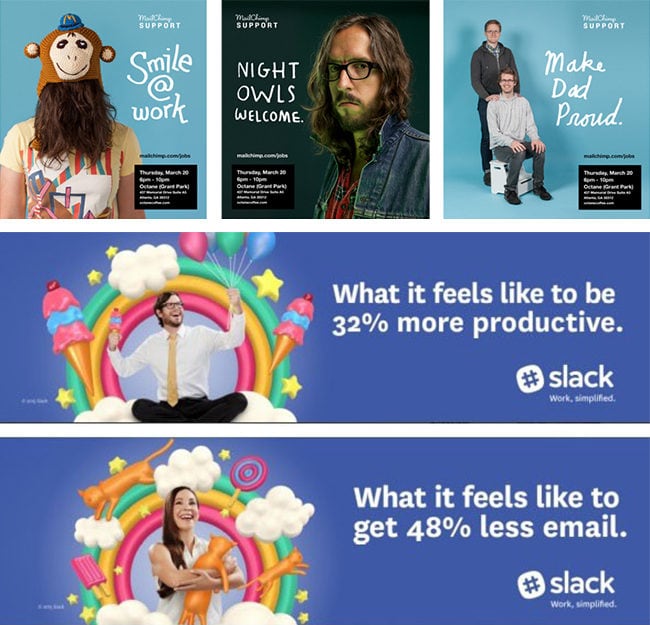 Danielle Bushrow, a designer at Wistia, explained to me what she liked about the ads:
I love MailChimp's ads. Their work is consistently unique, delightfully surprising, and – even when it appears to diverge stylistically – is always on-brand through personality or mission. Challenging the preciousness of style guidelines allows them to take more creative risks, and it pays off.
In other words, these companies do a good job of staying on brand but they're not afraid to take quirky design and copy risks.
For example, the MailChimp ads use a clever play on words by incorporating copy that sounds like MailChimp in order to grab prospects' attention: MailShrimp, KaleLimp and JailBlimp.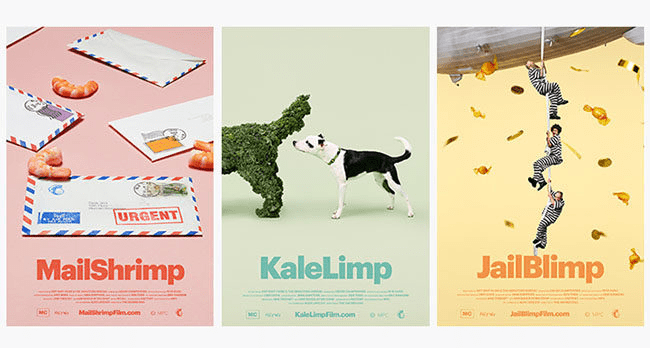 As Danielle explained to me, if your ad does its job of standing out from the sea of other ads, you can then let your landing page do some of the heavy lifting:
One thing that stands out about these examples is that they commit to one direction, spark interest by connecting with a feeling, and let their linked landing page do the rest.
How Wistia translates design inspiration into a real-life campaign
In April 2017, Wistia launched a series of ads for a campaign that was centered around the concept that "all businesses can communicate more creatively."
By pulling upon creative inspiration from brands like Slack and MailChimp, Wistia created a set of ads with a strongly branded yet playful theme.
The ads sparked interest with unique design (motivating prospects to click):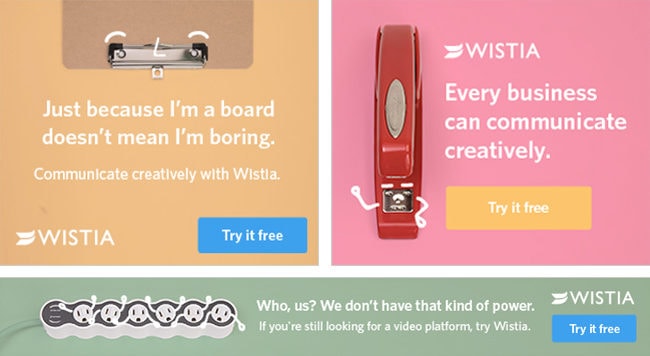 And then they let their corresponding campaign landing page do the rest of the work by explaining the offer in great detail. It included a persuasive video, testimonials, strong copy and a break down of all the benefits: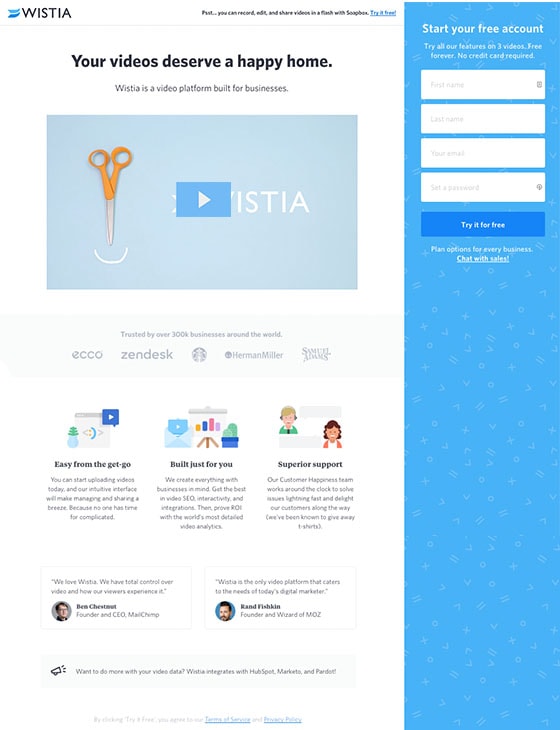 Unbounce customer Wistia sends campaign traffic to this dedicated landing page. Click to view full-length page.
It's an approach that has worked well for them; this landing page currently converts at a healthy 13%.
Webistry: Appeal to your audience's emotions
Montreal-based digital agency Webistry is a small team with big ideas.
When searching for ad design inspiration, agency cofounder Stefano Apostolakos looks to Netflix, Airbnb and Chipotle: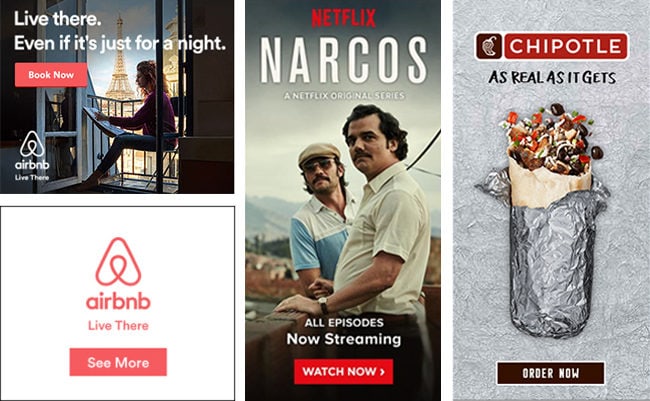 Stefano explained that the ads that really get his attention are those that tug on his heartstrings (or get him to laugh with a dash of humor).
He explained to me that when you play on your audience's emotions, they feel more connected to your brand and product. The closer the connection, the more likely prospects are to click.  
Have a look at how the Airbnb ad paints a beautiful, sentimental picture of what it'd be like to book a space through them for your next vacation. (Tell us you don't have travel #fomo after seeing these ads!)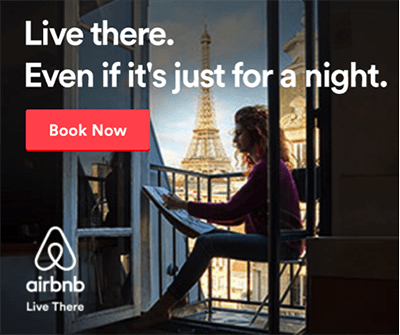 How Webistry translates design inspiration into a real-life campaign
An image of a puppy can stir emotion in just about anyone.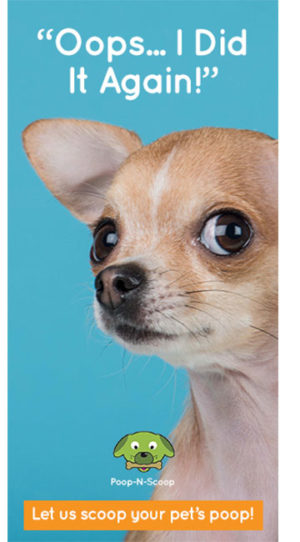 So when Webistry set out to help their client Poop-N-Scoop run an advertising campaign, they knew that an emotional approach was the way to go.
(If this pup's adorable face appeared on your screen, you'd be hard pressed not to click.)
But Stefano and his team took things a step further by creating animated banner ads, using a very simple HTML5 banner tool: Google Web Designer.
Stefano explained his reasoning behind creating more dynamic ads for his client:
Animated HTML5 display ads (when done correctly) should provide an additional layer of engagement from your viewers. Overly animated ads could actually hurt your CTR (click-through-rate) so, like everything, test!
The campaign ran as a seasonal promotion; the ads and landing page were active over the spring period (their peak season) when snow starts to melt. 💩
The adorable ads pointed to an equally-adorable landing page: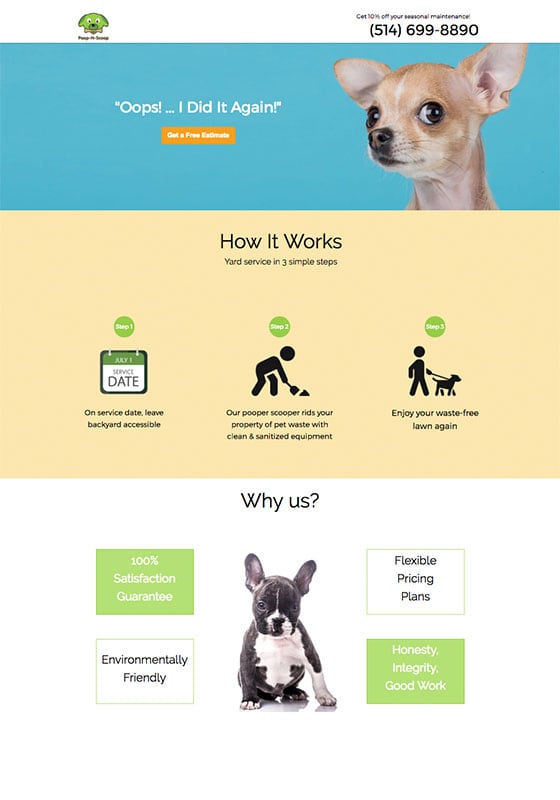 Click to view full-length landing page.
So how'd the campaign fare?
For the 60 day period that this campaign was live, The Poop-N-Scoop ads had over 155,000 impressions with a click-through rate of 0.3% to the campaign's landing page, which converted at 5.9%.
Hot dog!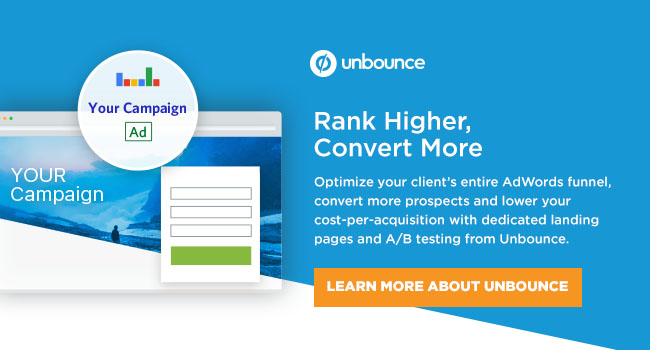 Unbounce: Have a clear and legible typographic hierarchy
Unbounce's designers and marketers also look to their feeds to find inspiration for display ads. Specifically, our team has been inspired by other SaaS companies like Intercom, Zendesk and Asana: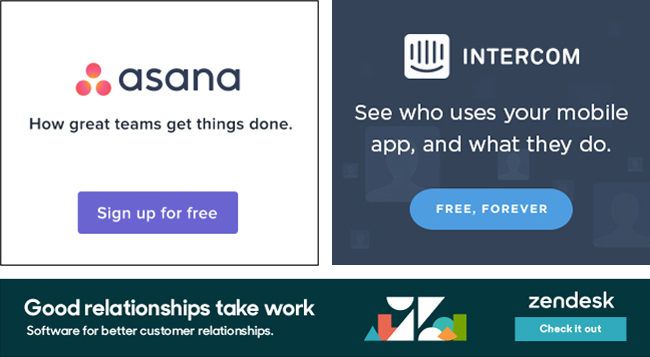 Unbounce designer Ainara Sáinz explained to me that it's the typography in these that ads really make 'em pop:
The most important thing to have is a clear and legible typographic hierarchy. It doesn't matter if you have amazing visuals — if your audience can't read or understand your message, they won't click on your ad.
This means that key elements should appear prominently and be emphasized visually with bold copy. That'll allow users to quickly scan the ad copy for key information.
How Unbounce translates design inspiration into a real-life campaign
In May 2017, we launched a set of display ads to encourage prospects to sign up for a '30 day trial' with Unbounce: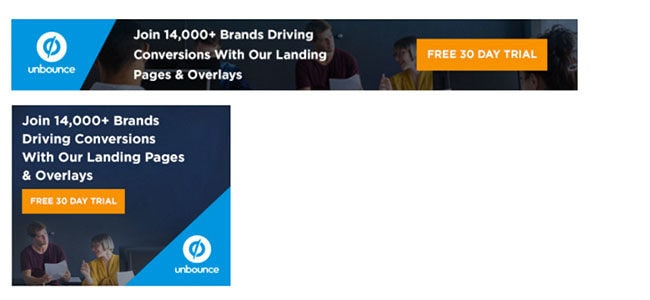 Inspired by the companies listed above, we included an understated company logo. Instead of relying heavily on imagery, we emphasized the ad copy that spoke to the services we offer and the action we wanted prospects to take (try a 30 day trial).
This is the campaign landing page users land on after the click: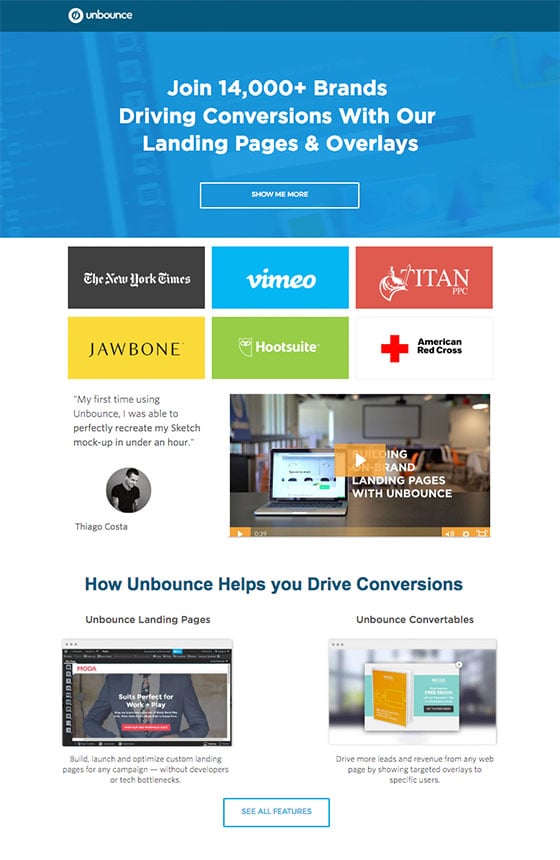 Click to view full-length landing page.
The purpose of the landing page is to get prospects to check out more features or go to the pricing page to sign up. Since launching the campaign a little over two months ago, we continue to see conversions increase significantly over time. The ads have a click-through rate of about 0.3% while the click-through rate of the landing page is currently sitting at 22%.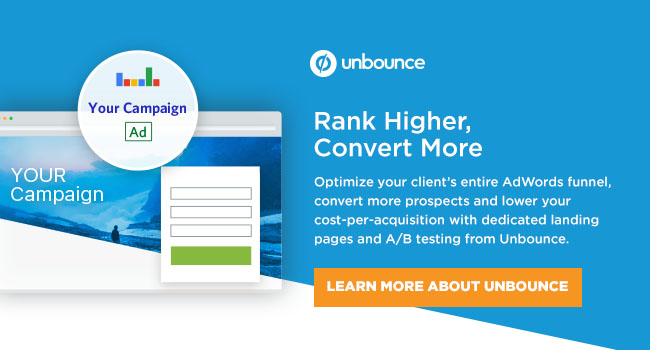 Turn ad design inspiration into action
Now that you've learned how brands like Indochino, Wistia, Webistry and Unbounce have mastered the art of ad design, we hope that we've equipped you with the creative inspiration you need to take your display ads to the next level.
But before we send you on your merry way, we thought we'd share some resources for sourcing (stealing) design ideas for future PPC campaigns. We asked the designers in this article where they grab inspiration — here were their top picks:
And finally, one last thing.
In exchange for our advice on how to steal display ad ideas, we only ask one thing of you.
When looking to other brands for inspiration, make sure that the concepts you "steal" are translated into your ad designs in a way that speaks to the true uniqueness of your brand.
As the Senior Art Director at Unbounce, Cesar Martinez, put it:
Be true to your brand. Learn the difference between what it is to Steal, Copy & Imitate — and stand out authentically without trying too hard.