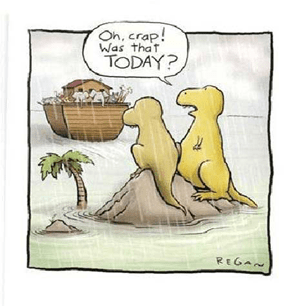 I'm exposed to a lot of online businesses that aren't optimizing their conversions using lifecycle emails.
With paying customers and real revenue, sending the right email at the right time can improve your sales dramatically. As an example, a recent customer increased their total sales by 10% using a single, cleverly placed, automated email.
To help you achieve this goal yourself, I've compiled a list of three email remarketing tactics you can implement today that will start driving conversions almost immediately that you're otherwise missing out on.
1. Setup an Educational Email Course
If you run an online business, you may have heard of The Buyer's Journey. It describes the various psychological 'phases' a customer goes through before they are ready to pay for your product.
Some customers who visit your landing page will know all about the problem your product solves and will sign up straight away. Others will not yet have a good understanding of the problem and why your solution matters.
An education email course is a great way to coax potential customers through the stages from 'acknowledging pain' to selecting you as their vendor of choice.
Sending out 6-10 emails over the course of approximately one month is a great way to educate users about the problem you are solving and why you are the best solution out there. As Jason Fried, founder of 37Signals, has said many times before: teaching by sharing is one of the best forms of marketing.
An email course builds your credibility and slowly brings your customers to the point of purchase.
At Vero, we have our own email marketing course. Less than 20% of those who subscribe to our course will sign up for a free trial immediately.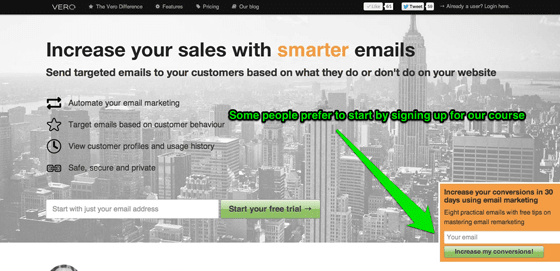 In other words – people who are ready to use Vero, will sign up for the product right away, while people who want to learn more about email marketing before making a decision, will sign up for the email course.
Why? These are the customers who are earlier in the buying cycle.
We don't have time here to delve into the exact copy you should send in your educational course, but here are two recent resources that do a better job than I could anyway.
Patrick McKenzie's Lifecycle Email Marketing Course, featuring hours of video education on lifecycle emails based on his real-world experiences and consulting work.
Kareem Mayan, Co-Founder of SocialWOD's post on his success with an educational email course.
Action items for you
Set up a campaign with a series of 5-8 emails that go out over the course of a month. Make the copy educational in your specific field and don't talk about your product(s).
Add a slideout or something similar on your landing page to get signups. Use software to track the effect this has on your signups and activation metrics.
Pro tip
Drive traffic to a dedicated landing page as a really successful means of getting signups for your course. A/B test the pages and consider offering an incentive (e.g. a free eBook) to get people to subscribe.
2. A/B Test Your Most Profitable Campaign
As Unbounce readers, I expect you should all be big A/B testers like me!
A/B testing newsletter campaigns is a fairly common practice these days, but A/B testing transactional and remarketing campaigns is pretty rare. Ironically it's just as, if not more, important.
One of our customers, Flightfox.com, recently doubled the conversion rate on their most important remarketing email using A/B testing. That's a crazy lift in sales (thousands of dollars) for what was essentially a few hours of work.
Here's an example of their winning email copy:
—–
Hi there,
I'm Lauren, a co-founder of Flightfox. Just getting in touch because I noticed you didn't launch your flight contest.
Q. Why on earth would you pay for flight search?
A. Because our Experts,
Save 27% on average for international flights
Know all the tricks of the flight industry
Can answer any question you've ever wondered about flying
Q. What if the Experts don't beat the best price you've already found?
A. We refund the fee if our experts can't beat your best price. Not only your best price, but your best price less the finder's fee.
Q. Can't you find the best flights yourself?
A. Maybe, if you've spent years in the flight industry. Otherwise, you'll be amazed at what our experts can do. Many use tools and systems otherwise unknown to the general public. They can even save you thousands if you are fully flexible.
Launch Your Contest (links directly to their contest)
If you still have any questions or concerns, just reply to this email.
Happy Travels :)
Lauren & The Flightfox Team
If your inbox is overflowing, you can unsubscribe.
—–
Through A/B testing, Flightfox were able to ascertain the three key things that make this email work:
Be personal: This email is from one of the founders.
Educate the user: Flightfox customers were concerned about putting their card details down because they weren't exactly sure of how the 'flight contests' worked. This email let's customers know they only pay if they get real value.
Offer them the chance to get in touch if they have questions: This is hugely valuable, and based on the responses Flightfox got, makes customers extremely happy.
Action items for you
Set up a single A/B test on your most effective email. Change the copy dramatically and see what happens; alter the subject line, change the from address.
Wondering which email is your most effective?
Find the point in your funnel where you have the biggest drop-off in conversions. This could be activation, it could be getting users to upgrade to a paid tier, it could be keeping customers for a 7th month subscription.
Your most effective email is the email you use to drive people to convert at this step.
Pro tip
Brennan from Planscope (a project management tool for contractors) sends a great email to customers before their free trial ends. It's so good it was blogged about: check it out for another example of copy that works.
3. Prompt Users to Pay More When the Time is Right
This is a super quick win.
If you have multiple payment tiers or annual pricing, then prompting users to upgrade to a higher tier or upgrade to an annual plan is a no-brainer.
Analyze your current metrics and determine which segment of users are already upgrading to higher tiers or annual plans and send an automated email to prompt all users who fall into this segment.
This is a good strategy for all good email remarketing: once you discover the behavior driving the outcome you want (e.g. upgrades to higher plans), implement an email that pre-empts this action and asks customers to do it. They will often respond to a call-to-action.
If you know that customers who have used a certain product or service 20 times and have been a paying customer for 5 months, they are more likely to convert to paying annually. Send them an email and ask them to do so, explaining they'll get slightly better rates or some other offer that works for you.
Rand Fishkin, CEO + founder of SEOmoz, discussed how WPEngine.com employs this to great effect when he received WPEngine's 'upgrade to annual billing' email himself. The email used by WPEngine is clear, addresses customers' key questions and let's them upgrade with one click.
For a great example of this tactic in practice, you don't need to search any further.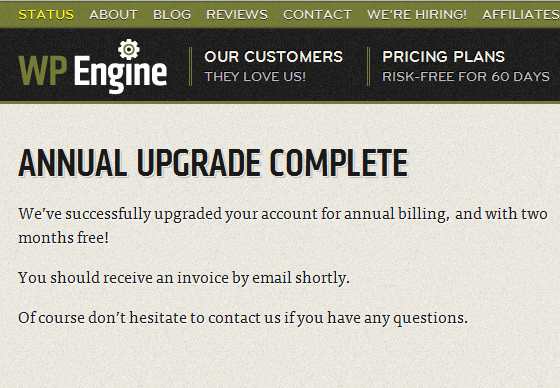 As part of that blog post, Jason (a founder of WPEngine) shares that about 3% of customers were upgrading to annual billing in August 2012. Although that number would likely have risen since then, even a 3% conversion to annual billing leads to a huge boost in cash flow. This is extremely useful for any company that is ramping up customer acquisition and growing quickly.
Action items for you
Look at your analytics and identify the most common attributes of customers who upgrade to a certain tier or annual subscription. Setup an email to one of these segments and measure the results on upgrades.
These emails generally pay for themselves with the first two or three extra conversions, so you have nothing to lose!
Pro tip
You don't even need tiers or annual packages to do this. This is just a form of up-selling.
If you run an e-commerce store you should track as many behaviors and attributes as you can for customers who complete checkout. For example, you might find that users who buy a 55″ LED LCD TV are the most likely to come back and buy a Blu-ray player. If so, send an email that pre-empts this and ask everyone who buys a 55″ LED LCD TV 14 days later with a deal on Blu-ray players. Instant up-sell.
Conclusion
I hope these three suggestions have given you some ideas on what you can do to improve your own email marketing.
Investing even a few hours in lifecycle email marketing can have immediate and long-lasting effects, so hop to it.
---