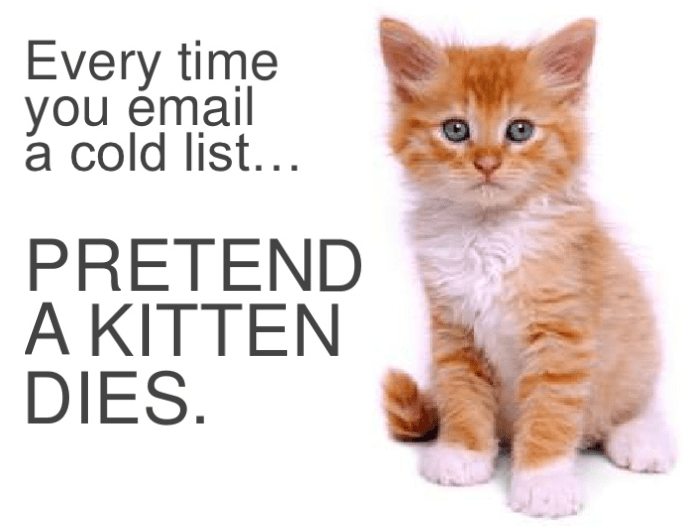 Email Marketing is pretty darn serious business. I'm sure you've all experienced the fear of the "send click" – once you hit that button all of your typos and glaring mistakes are finalized. Not to mention having to grow your list, segment like a champ, build-out smart campaigns, write killer content, use top notch images, test deliverability…
If you're the person responsible for clicking that big red "send" button, our list of the 33 best Email Marketing posts to be released in recent months is just what you need before you lick that virtual stamp and send your message on its merry way.
Managing & Building Your Email List
One-size certainly does not fit all when it comes to email marketing. You wouldn't treat a window shopper the same way you would a long-time patron, would you? Hubspot lays out the 4 different types of email opt-ins ; Subscribers, Prospects, Leads & Customers, and how to treat them right
AWeber put together a handy reference of email programs, each with instructions for adding to your address book, safe sender list or whitelist. This'll make sure your email campaigns are never accidentally marked as spam, inform your subscribers.
If  you're making people jump through hoops to get off your list, I've got some choice words for you… Here are some nice ideas for how to handle it when someone just isn't that into you anymore.
This is a concise recap of how Amanda Gagnon went from 3 to 700 email subscribers in a year. I love the "Get it working, get it working right, get it working fast." mantra, oh and you know I stand by the idea of conversion testing your web forms.
Because we both know you're not a jerk, and that everyone needs a reminder sometimes; here's a couple reasons why you should never ever buy or rent email lists. "Every time you email a cold list… PRETEND A KITTEN DIES." Nuff said.
Yup, it's time to stop neglecting your blog subscribers; they're a massively important list too. 20 pretty killer ideas in this list, personal favorite, creating a separate web form using a landing page (bonus points if you A/B test it, up next..).
A/B Testing your web form is a great and oft neglected way to increase the size of your list. How many signups are you not getting because subscribe form isn't cutting it? Here are a few ideas of what to test.
Email Copy & Content
Striking the right balance between (free) quality content while also persuading your subscribers to buy, it's not always so simple. How do they do it over at Copyblogger?  "Infotainment". Use these 3 quality techniques to improve the value of your emails and your list.
Oh so sad but true. This MarketingExperiments test proves what Steve Krug has been telling us for some time, and it's true of email too. Here's that extra ammo you needed to convince your boss or client. Less is more, people.
Looking for an edge with your email content? Bloggers and web content writers have known it all along; trending topics, seasonal focus and hot news have higher click rates and open rates.
Do you know what goes into the most successful emails? The next time you sit down to write a newsletter, make sure you've got this guideline handy. From subject lines, actionable language, relevancy and more. An Email Marketing must read.
Email Design
The first 2 seconds when someone opens your email are all about the design, this post does a good job of laying out how not to go wrong and get your email trashed in the third. Design do's are important, but using this as a don'ts checklist can't hurt.
Looking to be a little moe adventurous with your emails? Let's get to the good stuff, shall we? Here's some nice email design examples from Hubspot for your inspiration.
There are too many in here to count, honestly. I've grabbed the entire Email Design category from Listrak here, it covers all types of email styles; retailers, publishers, lists and oh so many more.
If you truly want to dig into building an email template yourself (DIY FTW), this post does a wicked job of laying the steps out for you. Once you've mastered the one in her example, I have no doubt your creative juices will be flowing.
Isn't it super disappointing when you opt-in to a new list and the first email is an eye sore? It takes everything in me not to hit reply and offer help. Seriously, write a great CTA, easy does it on the images and for the love of mobile — test and optimize your emails. Scared yet? Read this post.
Email Frequency & Timing
This is one of the things EVERYONE wants to know. and in this post the "Email Genome Project" scanned over a billion emails to identify general trends. The observations and some suggestions are summarized nicely for you. Pay attention.
The best time to send an email depends on your audience (geography, demographics, workplace environment etc), so this post should help you understand it a bit better based on the differences of open anc click-through rate for B2C and B2B customers.
It's free, 25 pages long, and packed with stats – that's all you need to know. Just read it.
Tips & Tools for Better Email Marketing
A little bit of trickery can really ease your workload. Here, MailChimp show you how you can use your blog content to generate emails so that you can double-dip and get the most mileage from your content marketing efforts.
Some great insider knowledge from marketing celeb Chris Brogan, including tips from his own email newsletters. He suggests you sign up of course to really get the full experience, but why not, right?
A nice back to basics approach to email marketing that everyone should read to remember how it *should* be done. These 6 elements of a successful campaign are pulled from a session Jay Baer ran at Blog World NYC, so they're bound to be good.
Personalized emails are a big part of successful campaigns, and in this post Hubspot talk about a process for making them more touchy-feely. Starting with developing a persona so you understand properly who you are marketing to.
This is a little pot o' gold. It's a new set of mobile email templates from MailChimp designed to let you create mobile-ready emails and test them before you send them. Hella useful.
The Golden Girls (you heard me – Betty White included) bring you 5 tips on a better newsletter. I wouldn't trust them personally, but as it's a metaphor, I'm all for it.
Email Conversion, Segmentation & Science
Using dynamic "tags" in your emails makes them oh so much more personal, which, not surprisingly, has an important and positive psychological effect. Here's 33 ways to connect with your readers on a more personal level and improve that all-important click rate.
Testing email subject lines is one of the most important things you can do as an email marketer. This post has an hour long video explaining the ins and outs. If subject lines are an art that escape you, this is an hour very well spent.
Segmenting your list can have a huge impact on your email marketing success. This short post gives some stats to help you understand just how powerful of segmentation can be, and there's another link below that digs deeper.
Managers, bosses, c-suite types – they all want metrics. Here is a list of 8 of the more important ones that you should be measuring, including: spam percentage, open rate click-through rate, bounce rate, complaint rate, unsubscribe rate and the number of unsubscribers you get per campaign.
Segmentation = gooder email marketing. Here's some stats for ya: 39% of email marketers that practice list segmentation see better open rates; 28% see lower opt-out and unsubscribe rates; and 24% see better email deliverability, increased sales leads, and greater revenue. Get reading.
Building Better Email Campaigns
Ooh, one of our own posts! This is a case study from SlideDeck that shows you from start to finish how you should lead up to a product launch or update using email marketing. You should definitely read section 3 which lays out the story you're telling your customers.
Curation is unselfish, which is why it's a great content and email marketing strategy. You find blogs, articles, videos, photos and more that you know your subscribers will love. Then compile your hand-picked links in a weekly email newsletter or split them up into bite-sized daily doses.
Email remarketing campaigns are a great way to re-engage your customers or prospects. These 7 tips will give you some ideas of how you should communicate with folks you might not have talked to in a while and get them coming back to buy more from you.