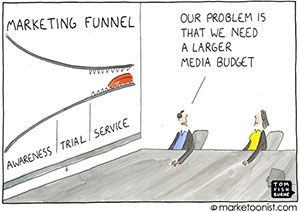 How often do you sign up to try a new marketing platform or service but never actually use it? Or use it once and then forget all about it?
With so many options out there it's very easy for people to become overwhelmed when they first try out a product on their own. And if they don't enjoy the experience, they won't come back. It's that simple.
There are many ways to "activate" a new user. You can schedule an online demo or a meeting but everyone is busy and before you know it, the free trial period might come to an end before you've had the chance to connect.
What you need to do is empower the user – and one of the best ways to reach them during the trial period is through their inbox. This post will teach you how to harness the power of email marketing to increase your customer activation rates.
What is customer activation?
If you work in the SaaS (Software-as-a-Service) industry, your goal as a marketer might be to drive as many new free trial starts as you can. The problem most companies face is that not all free trial users will become paying customers.
In fact, you can only expect roughly 15-20% of your free trial users to actually become paying customers – and even that percentage will drop off after 90 days.
Typical conversion rates from visitor to free trial in SaaS are 2%. This means that if you have 10,000 web visitors, 200 of those visitors will become free trial users and the best you can hope for is that 30 of those new users will eventually become paying customers.

Your goal is to get the free trial users to engage with your product and to see how it can benefit them. But before they start using your product, you need to activate them. Activating new users will allow them to get the best value they can from their free trial.
Here are a few examples of activation in different verticals:
Web analytics: A user needs to install the tracking script
CRM: A user needs to import customer data
Project Management Software: A user needs to create a project
In short, activation is the step where you get the user to actually start using the product
So how do you get more customers to use your product or service?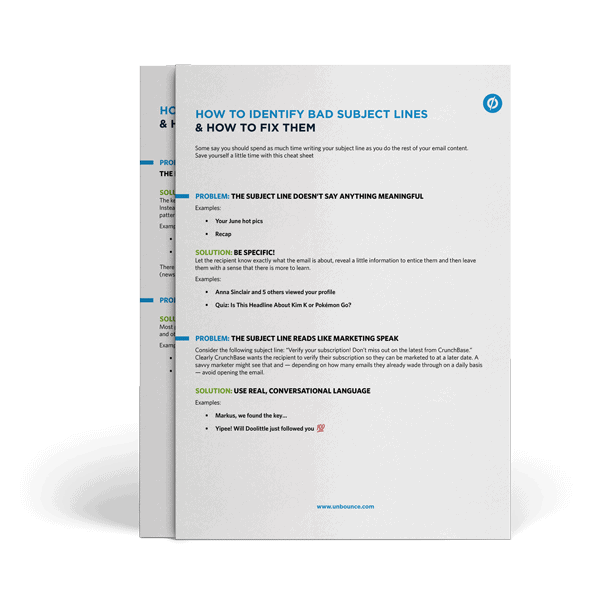 Write a winning subject line every time
Download our FREE Cheat Sheet to learn how to use subject lines to convert free trail users into customers.
By entering your email you'll receive weekly Unbounce Blog updates and other resources to help you become a marketing genius.
Email marketing. Using email to engage and educate new users with content is the best chance you have to activate them. But according to MarketingSherpa, only 26% of SaaS companies use email marketing to activate new users and turn them into paying customers.
Returning to the 10,000 web visits example above, even if your 2% sign-up rate from visit to free trial conversion remains the same, even a small improvement in activation rate will increase the number of paying customers.

Here are 8 email marketing techniques that will increase your customer activation rates by keeping new users engaged throughout the free trial period. For each technique, I've included an example of how a kick-ass SaaS company has executed it in the real world. Let's get started…
1. Deploy the first email to your new user immediately
Research by SeeWhy suggests that you have a window of 90 minutes before the lead goes cold. Send your email as soon as they hit "sign up for free trial" and you will already have a better chance of converting them into a customer. You can set this up by using either marketing automation software or autoresponders that are triggered as soon as a new user has signed up for a free trial.
Real world example
When you sign up for Get Response they send you an email immediately: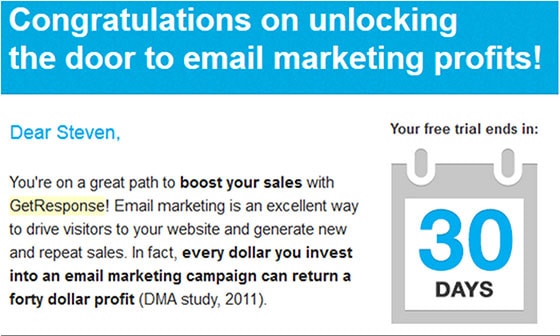 2. Provide clear instructions on how to get started
You want your customer to start using your product as soon as they have access to it. Unfortunately, not all products are intuitive, so you will need to give them basic instructions to help them get started.
For example, having free trial access to a CRM is great but if you do not have any customer data imported, then you won't be able to see the benefits immediately.
Real world example
CrazyEggs' instruction email is sent within two hours of sign-up and provides a step-by-step plan on how you can get started:

3. Personalize your emails
You should be personalizing every email you send to a new user. By personalize, I mean address them by name and sign off on the email with your signature, contact information, email and Twitter handle.
This is a much better way to build a relationship with your customer than an automatically generated email that includes a receipt.
Real world example
Better yet, show your customer that they're important to you by sending the email from someone they will recognize. When you sign up for Unbounce you get an email from none other than Rick Perreault, Unbounce's CEO: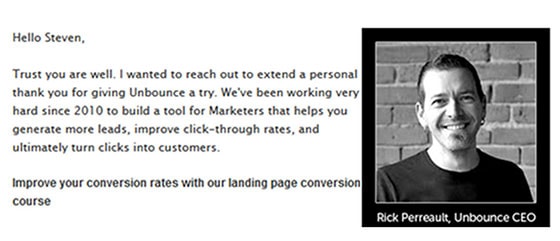 4. Have a clear call to action
Remember that the goal of your email marketing is to activate the customer. This means prompting them to log in and use your product or service as often as possible within the free trial period.
Each time you send out an email, make your call to action clear.
Real world example
Cloud accounting company FreshBooks makes it easy for you to take action with a big bright green CTA that encourages you log in to your account.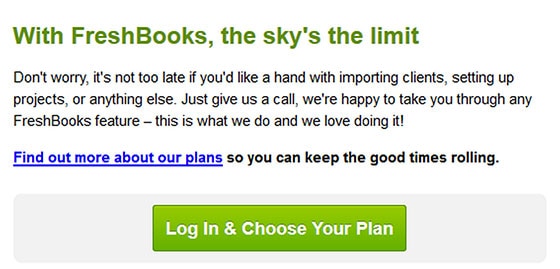 5. Send more than one email during the trial period
Don't just send one email to someone who has just signed up for a free trial. For a 30-day free trial, it's totally cool to send 2-3 emails within the first week, and then maybe one email per week for the rest of the period.
You can also send a reminder that the free trial is ending, and even one post-trial email asking for feedback. So long as you're adding value to the customer experience through compelling content you can send as many emails as you like! For example, Kingspoint's conversion rate crash course delivers 8 emails in 14 days and has an enviable open rate of 65% and a killer click-through rate of 31%.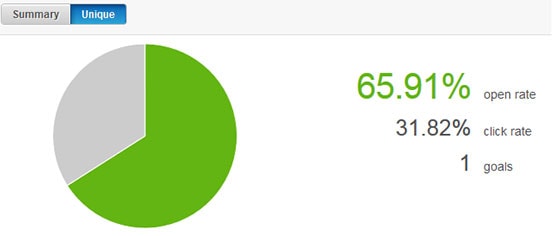 Real world example
Get Response sets expectations early by informing you that you will receive great educational content to help you grow your email marketing database and sales:

6. Create a monthly webinar
Once you start seeing your free trial list grow, you can host a monthly webinar and invite new users to join. Make the webinar available at a convenient time and then follow it up with a link to the presentation and video so those who couldn't make it can still benefit. This is a great way to show potential customers that you take your community seriously and that you'll continue to serve them with great content once they've joined for real.
Real world example
Ducksboard invites all new users to a monthly webinar to help them get started. It's free to register and the webinar only takes 20 minutes:

7. Extend free trial periods for users that are engaged
If the user has been actively using your software or is just started to use it, it's perfectly fine to extend their free trial period if they're not quite ready to buy. Just send them an email to let them know.
The goal of this email is to renew their interest. Have you recently launched a new feature? Do you have any data on how other marketers benefit from using the service or statistics on new sign-ups during the last month? Share it with them!
When sending this email, look at your users' login history. If a new user hasn't logged in during the free trial period, then this email probably isn't going to persuade them. But if they've logged in several times and started kicking the tires, then it's worth extending their trial and giving them a gentle nudge with an email.
Real world example
Having used up my free trial period at Freshbooks, they offered me a two-week extension on my free trial as they saw I was engaging with the product. It definitely caught my attention!

8. Ask new users for feedback
If only 15-20% of free trial users become paying customers, you have an opportunity to understand why 80% choose not to become a customer. Survey these customers via email to find out how to improve the free trial experience. Ask questions like, "What stopped you from becoming a customer?" or, "Was the product easy to use?"
Send this survey immediately following the trial period. Collecting feedback is a great way to keep the user engaged and any response you receive can be used to counter the reason that stopped them from becoming a paying customer. At the very least, it will help you retain customers like them next time around.
Real world example
As soon as your trial ends at Visual Website Optimizer, you receive this email that requests feedback on why they stopped using the tool and how they can make it better:

It's all about ROI
Turning web visitors into free trial users is no longer the success metric we're measured by as marketers. We need to demonstrate the ROI of our email marketing, which ultimately means getting more customers and generating sales.
By emailing relevant content throughout the trial period you can guide people toward not only using your product, but getting value out of it.
Once your new users see the value in what you're marketing, the rest is easy.
How do you turn free users into paying customers through email marketing? Let me know in the comments below.