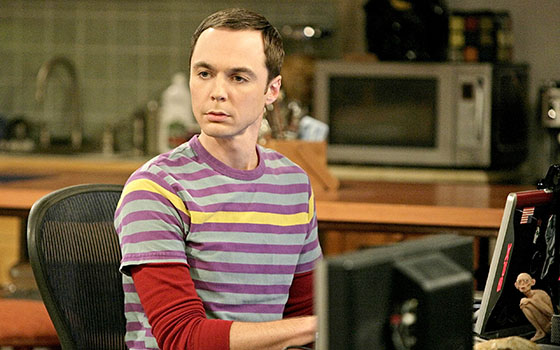 How Dr. Sheldon Cooper would send an email – bazinga! (
Image Source
)
Imagine if you KNEW your email was going to convert before you hit send?
If you're tracking the success of each individual email you'll already know that email is a great marketing channel to test ideas and an even better channel to drive real conversions.
Email marketers are always aware that they don't want to bombard their customers with emails (there is a limit) and they always want to know what to write.
These five strategies are rock-solid ways to gather data that will let you make an informed decision about which email you should send next and to have confidence it'll perform better than your last email.
1. Ask A Question
Ask a question, get an answer. If you've got even a trickle of traffic or a few engaged users this tactic works a treat.
Here's a Qualaroo we ran over at Vero after the successful webinar we did with Unbounce: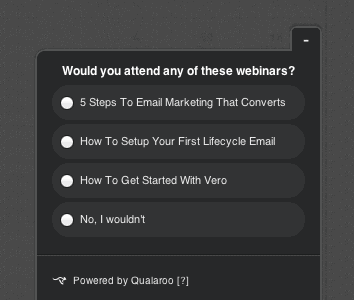 We wanted to schedule our own webinar and we wanted to know people were going to respond to our invite email. One sure-fire way of gauging what people were going to respond to was to ask.
…and now know that people are super excited for a webinar on "5 Steps To Email Marketing That Converts". What's brilliant is that we have already validated with hundreds of answers what people are hoping to learn! That means we can send an email with better copy, a better call to action and run a webinar that will actually have attendees.
Pro-tip:
If someone says they'd attend a webinar: get their email. Qualaroo allows you to create 'flows'. Here what you can ask if someone hits any of the above answers: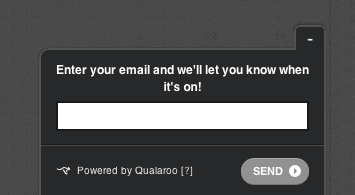 This is a great way to get a lot of emails and pre-fill your marketing list.
A second example of this in action is to ask customers "why didn't you convert?". Here's an example from a SaaS signup page: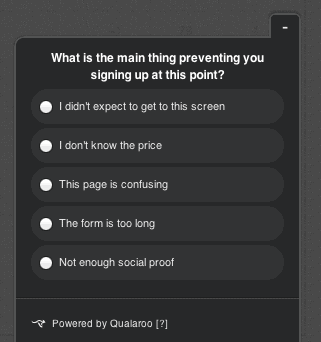 With this information you could do SO many things. You could work out the subject line and core copy to craft an offer email that people will actually respond to. You could work out the copy of the first email in an educational email drip campaign that gets people to respond because it addresses their core fears. You could also learn more about the email you should send users who start a trial but don't end up subscribing.
As they say: "Ask and ye shall receive."
2. Use Twitter, Facebook and others
You're not on social media for nothing. You can learn so much from social interaction.
Take StyleRocks, an custom jewllery eCommerce store. They regularly package product specials for their customers to help them make a decision: designing your own ring gives so much choice after all!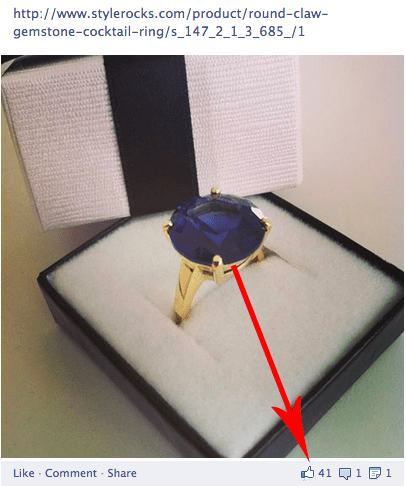 Rather than fly blind, StyleRocks uses social media to find out what customers respond to. Posting images of their jewellery combinations on their Facebook page, StyleRocks can really easily see which products get a lot of 'likes': a good sign that their audience is keen to buy.
Soludos is a shoe retailer that uses it's Facebook and Instagram profiles heavily. Not only do they post engaging and 'inspirational' content that their fans love but they use the platform to share new products and to gain an understanding of which combinations and patterns are popular amongst their wide range: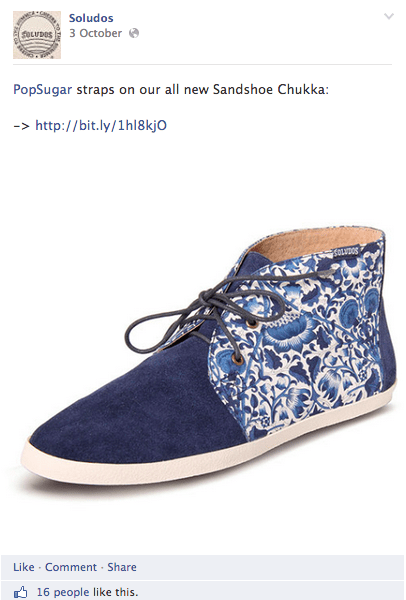 Just like StyleRocks, Soludos can use this information to make informed decisions about content to include in their next campaign, what to feature on their homepage and to make a data-driven decision about what products are hot right now.
3. Use Your Support Desk
Support is more important than ever. Many companies set the bar pretty low when it comes to selling online so being better takes some time and care but can really set you ahead o the pack.
Going over closed tickets in your support desk is a great way to understand your customes' (and potential customers') key concerns.
This great example of a triggered email from Flightfox uses this exact principle. Analyzing the top questions they were asked on a day-to-day basis, Flightfox send this email a day after customers begin the checkout process on their store.
By addressing specific customer concerns they have been able to lift conversion rates on this funnel by 10%, which is pretty impressive for a single email.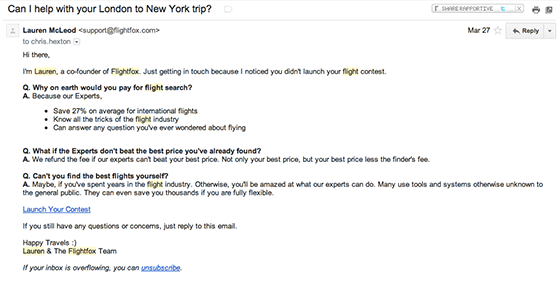 Click for full-size image
A cool example of a similar strategy comes from Olark who ran a survey back in August 2012 and shared the very clear questions and answers with their customers via email: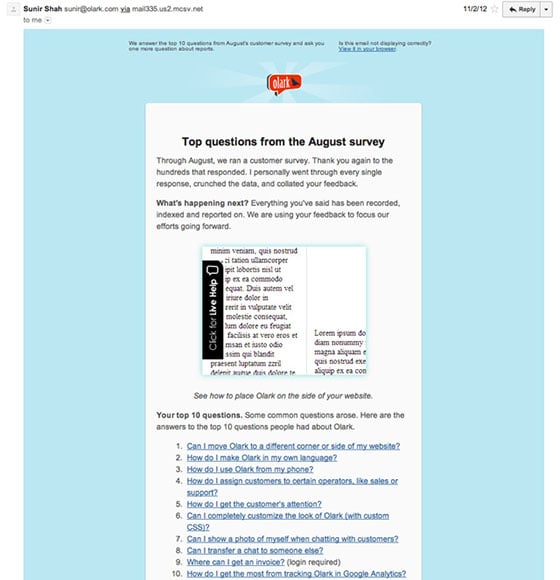 Click for full-size image
This sort of email is gold for getting current users more engaged and converting new ones. By conducting the survey first they were able to send an email that they knew actually addressed real customer concerns.
THAT is how you drive conversions.
4. Use Your Landing Page
You should be using landing pages to collect email marketing subscribers that are targeted and at a much faster rate.
If you're smart, you're probably A/B testing a bunch of landing pages per marketing campaign. This can teach you a lot about what the prospective subscribers will respond to.
Lets say you are running two different landing pages with very different messages: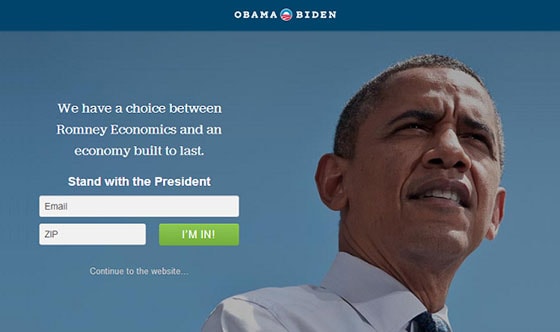 Click for full-size image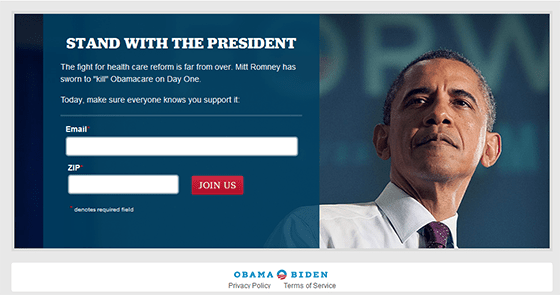 Click for full-size image
If variation B absolutely crushes variation A then there is a fair liklihood that your customers will respond to an email about XYZ. If a customer signs up for variation A it's fairly clear that they will respond to a different message to those who come through variation B. You can use this knowledge to your advantage when emailing these customers.
Similarly, if you A/B test a video on your homepage then you should try a video in your welcome or setup email: there is every chance your audience will learn what they need to know faster this way, particularly as you have already noticed they respond well to video.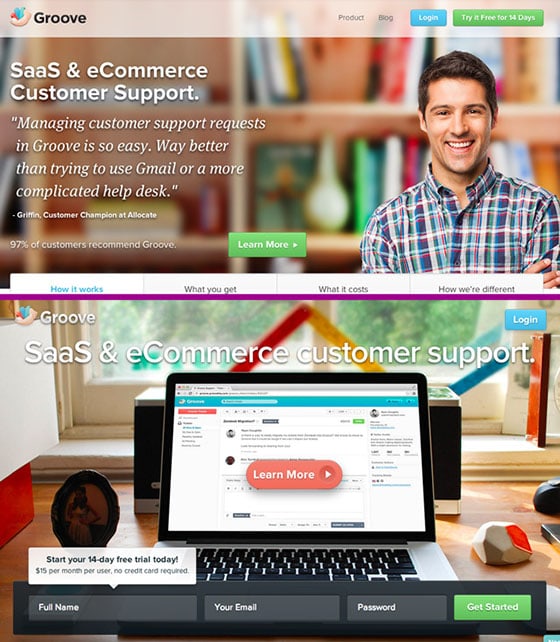 Click for full-size image
Wistia is obviously all about video but they found that their newsletters converted much more effectively when using video. This might not come as a surprise for a video company, but it proves the point!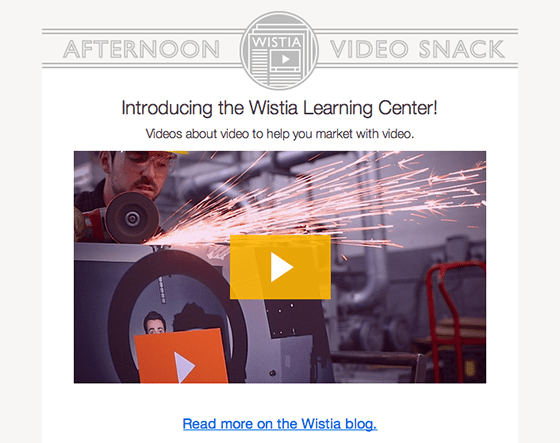 Click for full-size image
5. Segment like crazy
Segmentation is the number one things you can do to increase email marketing conversions.
It's not about volume: Would you rather send an email to 100 people and have 3 convert or to 20 people and have 5 convert?
By sending the right newsletter to the right group of customers you can increase it's effectiveness.
In this recent study on MarketingSherpa, the Denver Center for the Performing Arts was about to see a 738% ROI from a reactivation campaign by segmenting out a list of 40,000 customers (from a total of 750,000) that were highly likely to purchase again.
By segmenting like this they were able to deliver a message that had a click-rate over 200% more than usual. This is amazing for a re-activation campaign.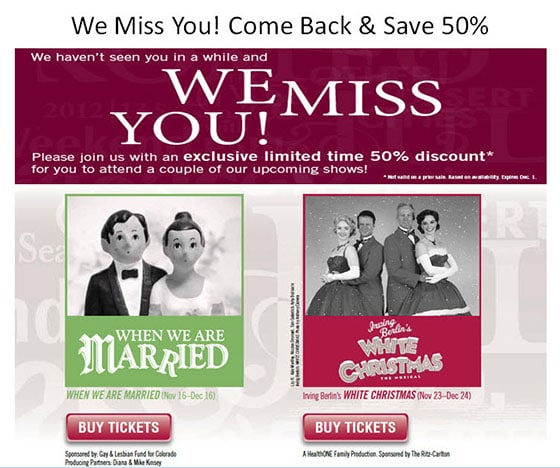 Click for full-size image
Similarly, Vero recently ran a special offer and used segmentation to target customers that were likely to engage with the deal.
With a simple strategy targeting customers that had previously signed up for a trial and not subscribed this campaign was much more successful than a batch-and-blast to our blog list, current customers or others.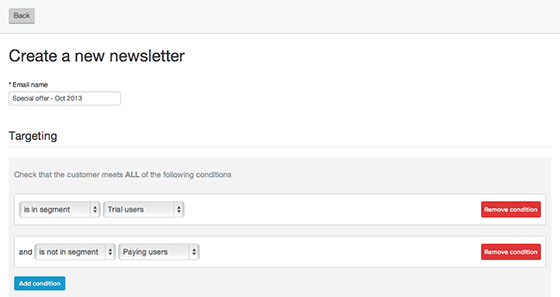 Click for full-size image
You can create similar segments by tracking your customers' actions. Track purchase prices, previous checkouts, features used and the lifetime of a customer to produce meaningful segments that you can test against at any time.
Use data and get ahead
Each of these tactics lets you get data ahead of time that gives you the power to create emails that will convert.
Being informed is better than shooting in the dark and will give your emails power and make you more successful.
Here's what you should do next:
Think of one data-source you can use to make your email copy or segmentation more targeted and exact. Try this next time you send a campaign.
Sign up for the free Marketer's Email Conversion Course. These seven emails over 30 days teach you the power of segmentation for making informed decisions and sending emails that convert, plus it's free!
---