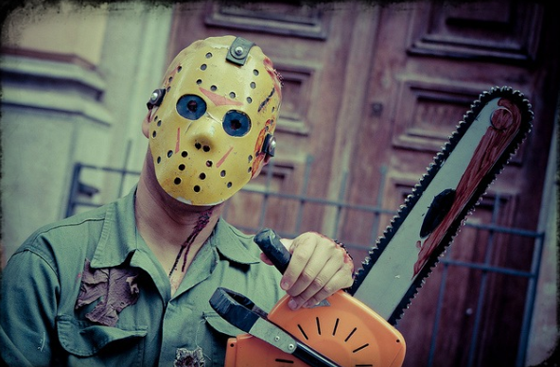 Today, Chris Hexton, founder of targeted email marketing software, Vero, is going to look at 5 email conversion killers and teach what you can do not to make the same mistakes.
Better yet, Chris is going to be the special guest on our free webinar next Tuesday, September 24th entitled: 5 Steps to An Email Campaign That Converts.
Watch and learn as we take a look at some common mistakes that can really put a dampener on your conversions and what you can do about it. In tomorrow's webinar Chris will cover even more examples like this and provide you with a plan on how to structure your email marketing campaign lifecycle to produce a conversion machine.
1. Do You Overuse Images?
HTML-rich emails are here to stay. They have a place in every email marketers arsenal and can provide some dramatic results.
…but it's all too easy to forget that up to 60% of customers have images disabled and that many customers will be viewing your emails on small, mobile devices.
You don't want your email to look like this: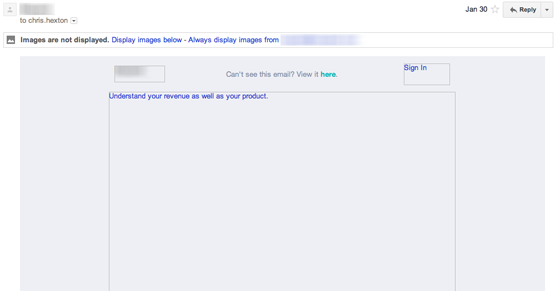 Click for full-size image
Having a single image with a poor ALT tag could literally mean you're cutting out half of your audience. If you are an eCommerce store or find that HTML-heavy emails convert really well then it can be hard to avoid this situation but you can start to work around it by including descriptive ALT tags that at least give the customer a good idea of what the email is about and why they should view it in full: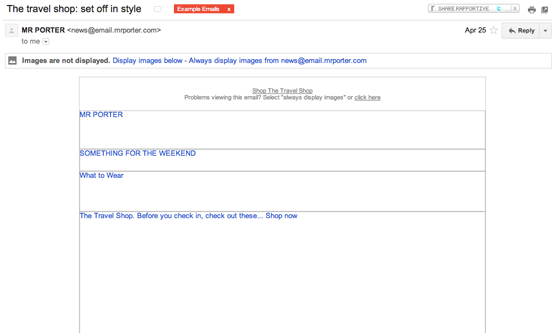 Click for full-size image
The above is a great example from Net-a-Porter, who make over 1 million pounds a year from their email campaigns alone, but for a world-class example, check out this campaign from photography site 500px: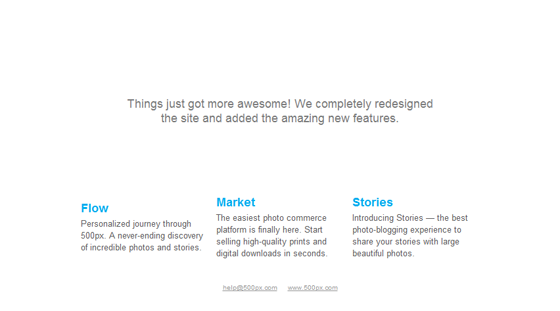 With images disabled (Click for full-size image)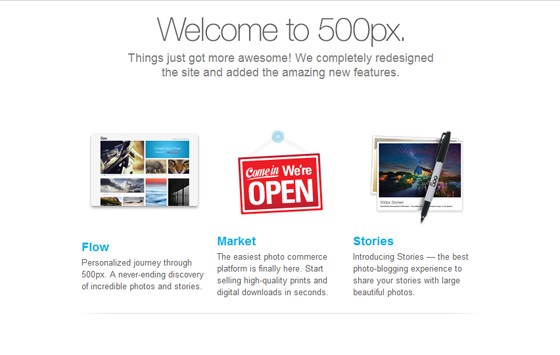 With images enabled (Click for full-size image)
This example is simple and equally as clear (and potentially appealing) when images are disabled.
2. Did You Segment Your Email List?
Segmentation, segmentation, segmentation! By using technology to make each outgoing email category-specific, Totes Isotoner (an online retailer) was able to lift email revenue by 7000%. No, you didn't read that wrong.
Using the data available to you is what sets a good campaign apart from a bad one. Technology now allows you to send one-to-one emails. Take this campaign from American airline jetBlue:

A fantastic example of a re-activation campaign, the personalization here is an example of truly modern segmentation.
MailChimp broke down some of their customers' data and found that, on average, customers that segmented (i.e. used data they had related to customer profiles) had click-through rates that were 21% higher than the norm. That's a strong case for segmentation.
3. Do You Provide Too Many Choices?
If you're going to have a call to action: have a single call to action. Too often email campaigns have multiple offers, 10 different images to click, multiple links or different buttons that push readers down conflicting paths.
As with landing page, a single, dedicated call-to-action is the most powerful way to maximize your conversions. Repeating this call to action is even better.
Here's an example of a busy campaign: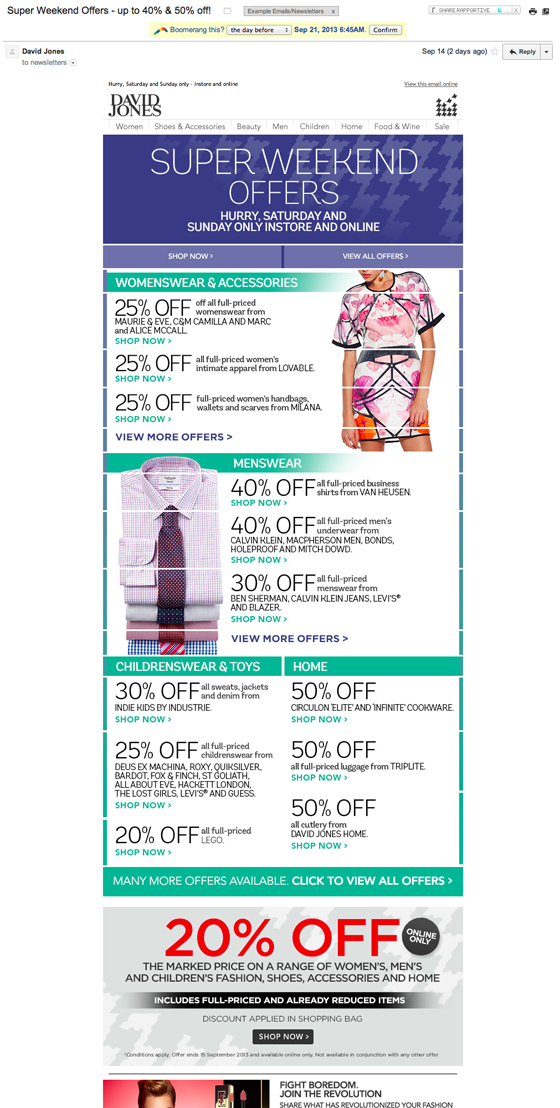 Click for full-size image
The links in the header, the multiple different offers and the conflicting imagery will, more often than not, create confusion and drive down your conversions. This may seem illogical, as you might think it 'caters to everyone' but this is rarely the case.
Here's an example of a similar campaign with a single call to action: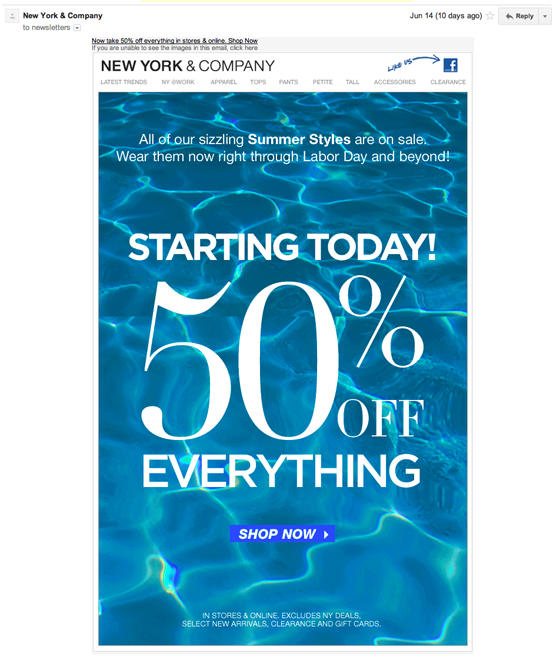 Click for full-size image
…and this isn't just true for HTML emails. Take this example from KISSmetrics advertising a webinar. You'll notice they repeat the CTA in the body and again in the footer: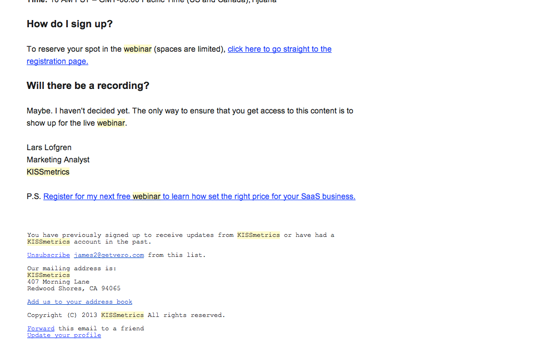 Click for full-size image
Another example, with a lot of data to support it, comes from this case-study by Help Scout. Rather than sending the three most recent articles in their blog newsletters they A/B tested a new template with a single call to action and lifted the conversion rates by 17%. Not bad for cutting out some content:

Click for full-size image
If you're freaking out, remember that segmentation doesn't have to be complex: it can start as simply as understanding the most important attribute about your customers. ASOS proves this with a simple, unobtrusive subscribe form that gets the most important segmentation done in an instance:

4. Do You A/B Test Your Emails?
Online marketers spend hours and hours tweaking and testing every element of their landing pages and funnels. As an Unbounce reader you're no-doubt data-driven so you should be but, all too often, marketers forget to run even simple A/B tests on their emails!
Dan from WPCurve recently sent over a great example of a simple subject-line test that yielded an increase in 28% in clicks from variation A to variation B, all just by changing the subject!

Click for full-size image
The great thing is that it's easy to run an A/B test and there are a lot of things you can test including: your signature, the from address, the subject line, HTML vs. plain text, the primary image, responsive templates and the wording your call to action and so on.
This example from Litmus showed how Tsubo was able to A/B test a new responsive template and lift conversions by 10%: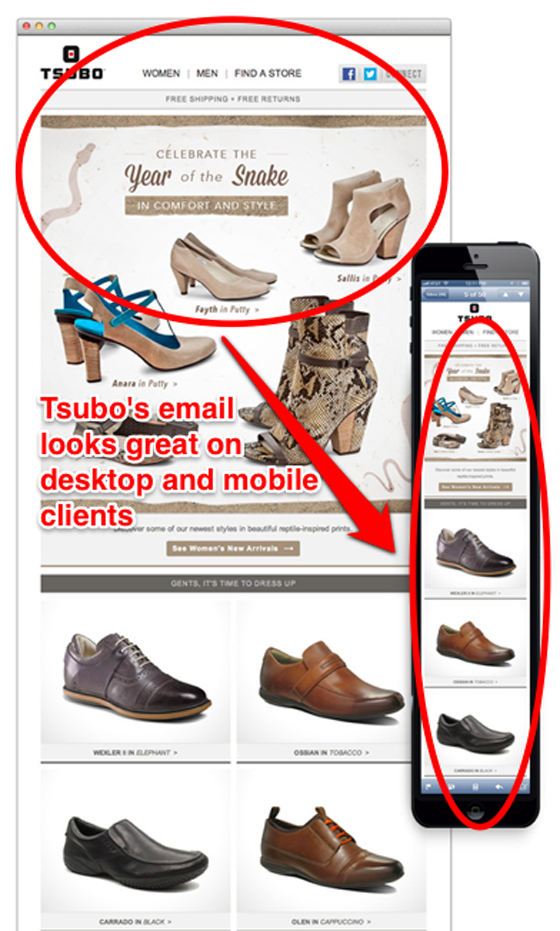 So, next time you've crafted one of your awesome email marketing campaigns, sit back and walk through the following five steps to test something new:
How could I re-write my subject line to inspire curiosity, greed or fear?
Could I test a different CTA using a button, different copy or new colours?
Have I tried a simpler, rich-text version of this email before?
What other imagery could I use to better convey my message?
Could I make my content shorter, longer or more succinct?
Often setting up an A/B test is part of the 'home stretch': the last 10% of your email marketing campaign setup. It can however be the 10% that leads to an 80% increase in your results – so give it a try!
5. Do You Only Send One Single Email?
No matter what industry you're in, 9 times out of 10 you're not sending enough emails!
A SaaS business that sends one welcome email? Missing out on conversions.
An eCommerce store that sends just one cart abandonment email? Missing out on conversions.
A blog that sends a single campaign to introduce their area of expertise? Missing out on conversions.
It's easy to assume that sending more email means sending spam but this is rarely the case. If you have your customers' permission and a focus on valuable concert you should embrace series campaigns to increase your conversions.
Rules of thumb:
Focus on education whenever you can.
Send up to 3 emails per week, spaced a few days apart.
Link your emails together: build momentum.
When you nail series campaigns, here are the sorts of results you can achieve. In this example you'll notice that Kareem's open rates climb with every email he sends and, by the last, the click-rate has soared to 25%. Imagine if Kareem had sent just a single email!

Kareem used this tactic to educate customers about his area of expertise and increase trial signups for his only product SocialWOD.
For an entirely different example, Amazon are the masters of series campaigns. Take a look at the emails one customer received after searching for DVDs:

Each email will be different, some featuring specific offers based on what the customer browsed:
…and others featuring educational content: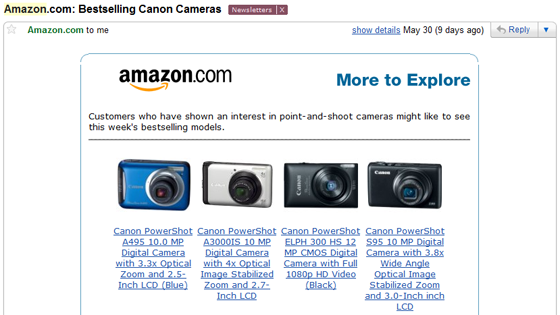 Click for full-size image
If you want to learn how you can structure better series campaigns then tomorrow's webinar is for you: we'll be going over how to use targeted landing page to capture engaged leads and what a series of educational emails can mean for your conversions.
---
So there you have it: 5 things that you should avoid if you want to maximize your email marketing conversions.
To see more examples and grab more tips to put you ahead of the pack, check out our free webinar on 5 Steps to An Email Campaign That Converts.
See you tomorrow,
— Chris Hexton
---