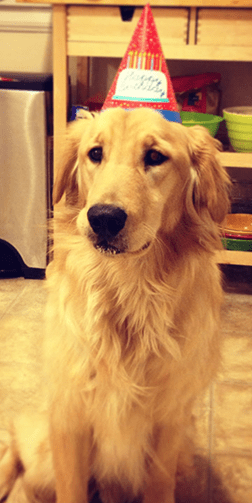 Dear email marketer, permit me to take a minute of your time for a simple mental exercise. Imagine this: You, the sole marketing executive of a small business, fell critically ill for a week.
Because of this, you were unable to send out the weekly email newsletter and arrived back at work on Monday thinking no one noticed. Instead, a flood of emails greeted you when you opened your inbox, most of them going something like this:
Hi Daniel,
I was rather upset that I did not receive this week's newsletter. I really hope that this newsletter is not closing down, I love it so much! Please, if you can, send me two issues this week instead of the usual one. Thanks!
Regards,
Your True Fan
You got me – this is a 100% fictional scenario. You can stop laughing now!
Call me an optimist, but I believe this is actually 100% possible to achieve. Consider Seth Godin's experience with one of his email newsletters, the Daily Candy:
I got a note from a Daily Candy reader the other day. He was upset because for three days in a row, his Daily Candy newsletter hadn't come. That's permission.
I know what you're thinking – "but that's Seth Godin! I'm just little ol' me." Well, consider this stat from a study by ExactTarget:
27% of consumers were more likely to say their favorite companies should invest in more email.
Not convinced? There's more:
77% of consumers prefer to receive permission-based marketing communications through email.
Asking permission
How about that – your subscribers want you to send them more email!
The caveat lies in the keyword "permission." Permission marketing was a term popularized by Godin, and was also the title of one of his bestsellers.
Put simply, permission marketing is "the privilege (not the right) of delivering anticipated, personal and relevant messages to people who actually want to get them."
The question is this: How can an email marketer go about earning that permission?
The answer lies in the very definition of permission marketing, which is that the emails must be perceived as anticipated, personal, and relevant to the recipients.
Forget about buying email lists or spamming your prospects – the way to your readers' hearts is by making emails personal again.
More specifically, email marketing personalization works if you can make it:
Attention-grabbing: Engage the reader right off the bat
Efficient: Get quickly to the point of what your reader wants to consume
Timely: Meet your reader at the right time, in the right place
Here's how to achieve these qualities, and make your emails personal again.
Attention-grabbing: Personalize the subject line
Reports from market research firms Constant Contact and Chadwick Martin Bailey reveal that about 64% of email recipients open an email because of the subject line.
The debate over whether personalizing the subject line works, or is just plain gimmicky, has been raging for a long time now.
MailerMailer's 13th Edition Email Marketing Metrics Report revealed recently that, contrary to what it found in the previous edition (published in July 2012), personalizing email subject lines generated a surprising increase of 8.8% in open rates over the last year.
Marketing Sherpa research also showed that personalization of the subject line yielded a 17.36% higher average clickthrough rate. Clearly (as of now, in any case), personalizing the subject line is the way to go for email marketing.
Here are some copywriting tips for your subject line personalization:
Be specific as to why your email might be relevant to the reader, and include a clear call-to-action. But don't be too salesy or pushy about it. Including phrases such as "how to" or "respond now" works – in moderation.
If possible, reference the location of the reader in the subject line. For example, "50% off All Items for Our Users in Sydney" works better than just, "50% of All Items".
Adding your company name in the subject line lends authenticity to the email. Litmus reported that 82% of consumers open emails from companies. We also found this to be the case in our email marketing campaigns; when we added our company name to the subject line we noticed an 8.2% higher click rate.
Efficient: Get straight to the point by segmenting based on buyer personas
Being immediately relevant – or efficient – is a key factor in email personalization, especially so in the email-verse, where there's an 84% chance that the next email coming in is spam.
Add on the fact that the average online consumer spends a mere 51 seconds scanning over your email newsletter (according to a study of email newsletter usability by Nielsen Norman Group), and it's clear that quickly demonstrating your email's value to the reader is paramount.
What better way to do so than by segmenting your email database according to the respective buyer personas you have (hopefully) developed, and creating relevant and enticing content specifically tailored for them?
In fact, a HubSpot study reveals that marketers with only one email list generated a lower average click-through rate (7.3%) than marketers who segmented their email database into 2 to 6 lists (8.3%).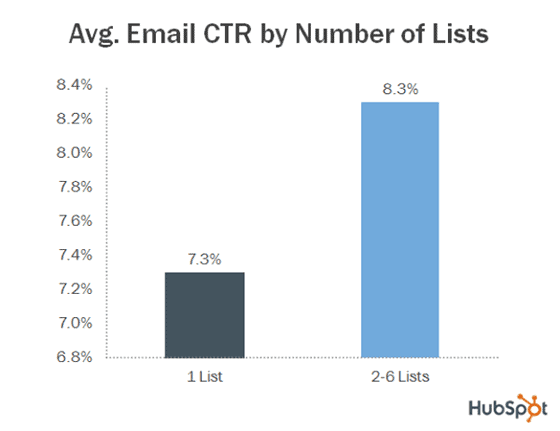 Here are some details to take note of when segmenting your lists:
Humans are not one-dimensional, so make sure to make a well-rounded inference of their interests by taking into account multiple factors, such as their current industry, their job function, their seniority level, and so on. Here's an example taken from Hubspot Academy:

Click for full-size image

Make sure to send the right type of content to the relevant segments. If you observe that a certain segment of your database tends to open emails containing infographics, it might be worth the effort to turn your blog articles into infographics, or to make them more visually appealing and deliver them to that segment specifically.
Take note of the time zones in which your respective consumers live, especially if they're spread out across the globe. It would be rather silly to send your newsletter to a segment of your database that lives in Singapore based on New York time.
What are some features of your product/service that your customers have or have not used? Sending customers who haven't touched your product for a while a gentle reminder with information on what other fantastic features you have to offer is a great way of re-engaging this "lost" segment of your database.
Here's an example of an email we send to customers who have not tried out some of our features:
Hey there!
It has been 5 days since you joined Zopim. We thought it would be a good time to introduce you to 3 of our features. The features are conceptually simple but can be extremely powerful.
We go on to explain how to use the customization and trigger features of our chat widget, and their benefits to the customer.
Timely: Automating your campaigns
Customer lifecycle marketing is all the rage today, and for good reason. When done correctly, your customer is provided with the exact information they "need" right at that point of time, depending on where they are along the customer journey.
According to a Marketing Sherpa case study, pet product purveyor Doggyloot saw a stunning 750% increase in its clickthrough rate by sending an email wishing the customers' dogs a happy birthday!
Likewise, a "cart abandonment" email, which is sent to shoppers who add products in their shopping cart and then bounce before buying, helped them add an additional day of revenue each month.
Here are some tips on how to get started with making your emails more timely:
Identify your customer's journey pathway, and choose touchpoints at which you want to "meet" them. The "cart abandonment" email campaign works because it makes the customer second-guess his/her initial decision not to buy.
Identify your most active customers and reward them. After all, everybody loves to be praised.
For example, here's the beginning of an email we send to customers who have used all our top features:
Hey there!
Seems like you're really putting Zopim to good use. Just 2 days have passed and you have already embedded the widget, had conversations with visitors, and even customized your widget. This puts you in the top 5% of our user base in terms of proficiency. You deserve a raise!
This email performed better than our other on-boarding emails, with a 30% increased open-rate and 75% more replies.
In defense of personalization
Some have questioned the effectiveness of email marketing personalization, claiming that generic attempts to personalize email (such as simply including the reader's name in the subject line) seem superficial and have become too commonplace to stand out.
But if you customize every aspect of your email campaign based on a well-rounded, accurate profile of your customer and ensure that your campaigns are attention-grabbing, efficient and timely, the data is clear: You will see results.
The key is to always be testing and optimizing in order to stay relevant to your customers.
After all, they've given you permission to send messages straight to their hallowed inboxes. You owe them that much.
---