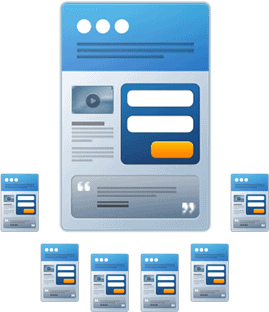 A lot of articles entitled "20 best this…" or "50 greatest that…" have a lot in common. The main thing being that they're all about what works.
So here's what I'm not going to do. I'm not going to give you 20 landing pages that work – although some do – or 20 pages that don't work – even though some of them do indeed 'suck.' No, I'm going to give you a mix of the good, the bad and the in between.
Because sometimes it's just as important to know what not do, as what to do.

---
The criteria
There are three easy criteria against which a landing page can be judged, even for those of you who aren't landing page gurus:
A landing page should clearly articulate what the consumer is going to get
A landing page should make it clear how the consumer is going to get it
A landing page should make it easy for the consumer to get what they want
Of course, if the landing page wants to do a few more things along the way, that's fine with me, but these three maxims should form the cornerstone of any well-structured, well-defined landing page.
---
Landing pages = opportunity
Landing pages give marketers an excellent opportunity to start a conversation with the consumer. Why excellent? Because they've already made the effort to click on the advert, email link or QR code to get to your landing page, so they can be considered somewhat prequalified, or inclined toward your brand or product. This is no longer a cold lead, so marketers shouldn't let that opportunity get away from them. At this point, the effectiveness of the landing page becomes paramount.
So, without any further ado, here are 20 of the best… and the worst… landing pages, I hope you can learn something from the critique. Please jump into the comments to argue or agree.
1. Google Engage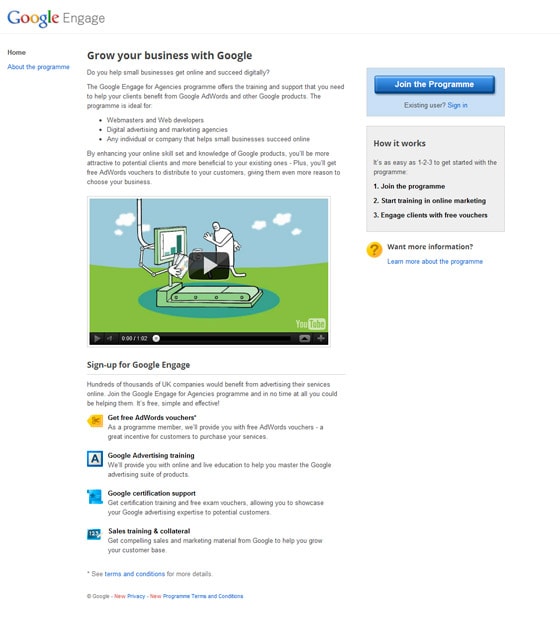 Google Engage is a program to train and support for agencies in the use of Google products, with a focus on Adwords.
What I like
It has a clear call to action, supported by a clever '1-2-3' call-out box that tells you what to expect next
Explanation – the main paragraph clearly explains what Google Engage is. The inclusion of a video makes it more effective.
Bullet Points – the bullet points that provide more information on the product details help to structure the text, making the page easier to scan and highlighting the important details.
Things I'd change or test
2. IBM DB2
Another big brand, but not quite the same level of quality. IBM's landing page for its DB2 and Power System campaign suffers from a real lack of direction.
What I like
Nothing, this is a stinker of a page.
Things I'd change or test
Call to action – the page hides its CTA's in the left and right-hand columns. It's not clear what IBM wants you to or how they want you to do it. It should be much clearer.
Typography – having a grey headline, but black text, makes the sub-headline recede into the page. Typography should be hierarchical, so that the eye can quickly pick out what elements of the page are most important.
Colour use – there are a few examples of poor colour use on this page. First, using white text on colours like yellow or green makes it very hard to read when the text size is smaller – this should be avoided. IBM has tried to introduce social media links, but by having all the icons in a pale grey, they are lost on the page and unlikely to be found. Social Media icons are recognizable to a large number of users, the familiarity of the Facebook 'F' and the Twitter 'T' growing every day, but colour forms a part of that familiarity. If you are going to use these icons, use them in colour for maximum impact.
3. Shopify
Shopify provides its customers with the ability to create online shops, complete with cart and payment options. This landing page is designed to get new users on board with the service.
What I like
Video – the use of video really strengthens a brand's proposition. It's a great way to communicate a lot of information quickly and clearly.
Positive language – Rather than providing lots of copy to ready through, Shopify has created five bullet points. The language used (and the iconography) is all designed to give the user confidence. Phrases such as 'Easy to use', 'Secure' and '20,000+ Store' breed confidence in the user (as does the tick icon).
Clear CTA – the CTA is clearly positioned and concise – there are only three fields to complete, lowering barrier to entry and making it more likely that the user will complete sign-up.
Supporting information – their supporting information is comprehensive, but delineated from the main sign-up area, so as not to cause confusion or draw the user away from the sign-up process.
Things I'd change or test
Shop URL – the inclusion of the shop URL might cause issues. What is it? What do I enter? There's no explanation as to what is expected from the user. It may be better to include this field later in the sign-up process.
4. UKFast
UKFast are a hosting company that offers cloud services.
What I like
Social Media sharing – getting users to share a page they like is good practice, but you have to be careful how you do it. If these links distract users from the process of signing up, you're damaging the effectiveness of your page.
Things I'd change or test
Structure – the page contains a lot of information, and all of it is competing for the user's attention. Simplifying the structure would help the user to understand what they should be reading and in what order.
Remove navigation – the navigation at the top and bottom of the page is superfluous to requirements. One or both should be removed, so that the user is less distracted.
Merging Part 1 and Part 2 – the link to sign-up for Part 2 is included at the bottom of the page as an afterthought. If you have more than one thing to offer your user, make it easy for them to select all the ones they want as part of a single sign-up process.
5. PaloAlto
PaloAlto creates hardware firewalls and this landing page allows consumers to download the Gartner Magic Quadrant report for that industry segment.
What I like
Clarity – the page is structured clearly, with good use of colour to separate the sections and indicate information hierarchy.
Things I'd change or test
Call to action – although it's clear what the user has to do, it's misleading. It appears the report will be immediately available when you click the button, but this is not the case. It may be better to be transparent up front.
Copy – the copy is clear about what the Gartner report says, but it focused on the company, not the user. Self-serving copy is a turn-off for users. Make sure you tell users how they will benefit to ensure a positive response.
6. Imperva
Imperva provides data protection services for their customers, but this landing page tries its best to stop consumers from knowing it.
What I like
Nothing hidden – the only good thing about the Imperva landing page is that everything is simple and up-front. Consumers know exactly what they will get and what they have to do to get it.
Things I'd change or test
Supporting information – if you are offering information on a subject, you have to position yourself as an authority in that area. Although the simplicity of the form is helpful in some ways, there's nothing here that tells us who Imperva are or what they do. Some supporting information would be useful when making the decision to download the report.
Mandatory and non-mandatory information – it's not clear what the minimum requirements are when completing the form. Some companies will not want to give away information such as revenue, so make sure you let them know it's not a deal-breaker for getting the report. Make sure your mandatory fields are clearly marked.
7. Wix Pages
Wix helps its users create Flash-based websites and Facebook pages easily through template solutions.
What I like
Process – as with the Google Engage page, Wix has shown the process that follows sign-up. This helps the user to understand what is expected of them.
Examples – the Wix service is based around templates, so by providing a series of examples, potential customers can see the quality of what to expect.
Things I'd change or test
Expanded examples – not all customers are the same, having a constantly refreshed set of examples, or the ability for the user to choose to see examples from different industries would help them to understand what the service could offer them.
Better explanation of additional features – there are 'tons' of features, but only six listed. More information here would help the user understand the depth of the service.
8. eMusic
eMusic is in a very competitive area – digital music – so it needs to make an impact up-front to get customers through the door. The key for them is to get users on to a trial plan.
What I like
Repeated messaging – repeating the 25 songs message leaves the user in no doubt as to what they will receive.
Things I'd change or test
MP3 players – although users are fairly savvy, there's a lot of people who equate iTunes with digital music. eMusic could make more of this area of the page, as with eMusic there is no perceived 'lock-in'.
9. LightCMS
LightCMS is a service that enables users to create online stores and manage the inventory behind them.
What I like
Multiple Sign-up buttons – having buttons at the top and the bottom of the page means that the CTA is always available, whether the user reads all the supporting information or not. For long landing pages, where the top of the page disappears when you scroll, having multiple buttons is a must.
Video – as we've seen before, video is a killer feature for landing pages right now. LightCMS puts its video top of the page as the main interaction point for new users.
10. Formstack
Formstack allows users to create web forms and surveys and then embed them in their sites.
What I like
The supporting links next to the second CTA – Formstack have realized that if a user has read all the way to the bottom, they're still in the process of making a decision (otherwise they would have clicked the first link). To help them make that decision, they've added two additional links next to the second CTA. By allowing the user to 'learn more' and 'see examples', they're effectively buying a second chance to persuade the user if they're not sure about proceeding to sign up. By keeping them simple, they're not distracting the user from the path they actually want them to take.
Testimonials – testimonials can be dull and boring if they are used in the wrong way. Formstack has placed their testimonials right next to the decision making point of the page to encourage sign-ups. By keeping them simple and personal (no corporates here), they feel more genuine and friendly.
Things I'd change or test
Pricing – there's no pricing information – at all – it just mentions 'paid plans'. It could be misread as having something to hide. I'd test a version with some indicative pricing information to see if it made users more confident in what they were entering into.
11. Squarespace
SquareSpace is an online website creation tool and content management system.
What I like
The ability to rotate through the product features – landing pages don't have to be long and unwieldy. By providing these controls they can cram a lot of information into a small space and get the user interacting and exploring the page.
Copy – this site has great copy. It's simple – there are only six pieces of information required to get across the essence of the service.
Things I'd change or test
Auto-rotate – although the rotator is great, it's static, and although the copy is great, there is more. There are some more great and possibly deal-clinching features hidden away, which could really do with being brought forward in some fashion, so I would test whether the three features shown are the ones in which the users show the most interest.
12. Unum
Unum sell income protection, which is a tough sell. But I've got to say that this is one of the best financial services landing pages I've seen. Rather than take the numbers route (this % interest, this is what you could earn, etc), they've concentrated on being accessible
What I like
The Call to Action is advice – income protection is a long-sell, so can't be rushed. By not asking consumers to register Unum is playing the long game. CTAs don't always have to be direct and data led.
Social Media links – Unum have understood that the best place for a conversation with consumers isn't necessarily the corporate website. By pushing consumers to Facebook they're putting them in a much more relaxed setting. As a result they have over 13,000 likes on their Facebook page, and the demographic information they get from that data will help them to target their follow up marketing.
13. Zoho Invoice
Zoho Invoice is a web-based time-sheeting and invoicing system.
What I like
Screenshots – the product isn't the most exciting in the world, but it does do a lot. In this case, a picture really is worth a thousand words, showing a user what's on offer can be much more effective than talking about it.
Things I'd change or test
The horrible '5 million users' quote – it looks as if it's been put there by accident. It's a different font from the rest of the page and the white on apricot just doesn't work. If it is important, make something of it. If it isn't, don't waste the page space.
14. SiteSpect
SiteSpect specialise in website optimization. This landing page offers a free whitepaper on multivariate testing.
What I like
Simple and structured – not everyone is going to know what multivariate testing is, so it breaks it down into three easy stages, without getting overly heavy on the copy. First it tells you what you what the whitepaper is about, then it tells you what the benefit of optimizing your website is, and then finally it goes into detail.
Things I'd change or test
Sample content preview – Making more of the content of the whitepaper, by using imagery or sample copy, would help the users to gauge the usefulness and make the page more engaging.
15. Ion Interactive
Editor's Note (Oli): I'm jumping in on this one.
What I like
Contrast: The action area used the design principle of encapsulation to make it really stand out.
Form heading: The form header clearly states what you'll get and has subtext that offers a complete bonus library which helps to balance the "size of the prize" with the request for information strongly in the users favour.
Trust factors: The customer logos provide a strong sense of endorsement which helps establish Ion as a thought leader.
Things I'd change or test
Copy – the heading doesn't really talk about the purpose of the white paper – which is to use content marketing to increase conversions. This could be made clearer.
Preview – If your content is worth having – show this by offering a "try before you buy" option in the form of a preview (first 3 pages or Chapter 1 etc). This lets people see how smart you are and make you appear more trustworthy.
16. Marketo
Marketo provide B2B marketing services. As a result, they really should know better; once again, landing page experts have let themselves down.
Things I'd change or test
Removing the up-front registration – this is a real issue for me. Why should a consumer give you their details without knowing what they are getting return, it's madness. Much better to allow the user to browse the available content, then ask them for their details at the point of transaction. Being overly aggressive about your data collection makes users uncomfortable.
17. Red Rocket Media
Red Rocket Media are a content marketing firm.
What I like
The contact details – but only because you will need them after reading this page.
Things I'd change or test
Single CTA – there's too much going on with this page. Be clear about what you want your user to do. In this case is the white paper download or the free consultation?
Tabs and Buttons – the 'Build an audience' bar looks like a button, but isn't. If something isn't serving a purpose, it should be removed. In this case there is also overlap in the styling of the tabs and buttons – styling page elements in a similar fashion leads the user to believe that they behave in the same way. If they then don't, it's confusing.
18. ESPN
ESPN is a sports broadcaster, this is the sign-up page for their newsletter.
What I like
Opt-out option – it takes guts to have the 'No thanks' button top right, it's one of the first things the user sees. But by having it there, it also puts the user at ease. Unlike the Marketo example, this has a less aggressive edge.
Simplicity – two fields is all that is asked for. The simpler the sign-up form, the more likely it is that it will be completed.
Things I'd change or test
Imagery – a simple page like this gives the opportunity to play with the imagery. By rotating different images from different sports (a baseball changing room or an American football changing room) the reaction from users may be different. Changing the image dependent on the location of the user might also help, as different sports are popular around the world.
19. American Airlines – The Individual
American Airlines' The Individual is an attempt to differentiate the airline.
What I like
Branding – although it's an American Airlines landing page, the focus is on the campaign identity, not the brand. Using copy in this way hammers home the message of individuality, from the repeated 'The Individual' phrase to the quote.
Things I'd change or test
Call to Action – although we've seen that landing pages aren't all about collecting data, they do still have to be clear. Unum gave the user two clear and differentiated choices; here there are five choices and it's not clear if they are pages or videos. The answer: some of them are videos, some are just the same page with a different image and copy and one of them is a different page. In actual fact, the 'Travel Options' link is the actual CTA, taking the user to a booking page, but it really isn't clear. I'd test a version with a clearer CTA that doesn't look as if it was part of the bottom navigation.
20. Adobe Business Catalyst
Adobe Business Catalyst allows users to create and deploy web forms with a full database backend.
What I like
Clear pricing – the table of prices at the bottom makes sure that the user has all the information they need to make an informed choice. Adobe is a big corporate, so challenging pre-conceptions on price is important.
Good use of imagery to make sections distinct – Adobe has used three images to be representative of the copy in each section. Using images to introduce section makes it easy for the user to scan the page.
---
Not all landing pages are created equal
So, there you have it, a real mixed bag of landing pages. Big companies, small companies, different industries and different offers. Have you got a favorite landing page? Or one that has made you throw your hands up in despair?
Share them with us in the comments.