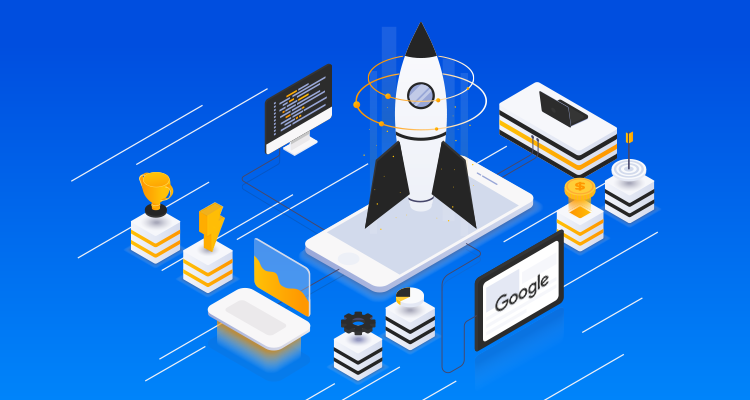 Page speed matters.
We've been hearing it for years, though any one of us would be forgiven for letting it slide.
There are other priorities, after all. Marketers have been busy ensuring content is GDPR compliant. We've installed SSL certificates, made sure that our pages are mobile-responsive, and conducted conversion optimization experiments.
Some of us have had kids to raise. (And others, dogs.)
But Google has been sending some serious signals lately that suggest sluggish loading is a problem you can no longer sleep on.
In fact, if we look at Google's actions, it's undeniable that 2019 will be the year of page speed, the year of the lightning bolt. It's the year when the difference between fast and slow content becomes the difference between showing up in the search results (whether paid or organic) or disappearing completely.
If you've been putting off improvements to your landing page performance until now, chances are that slow content is already killing your conversions. But in 2019, slow content will kill your conversions… to death.
Not convinced? Let's explore the evidence together.
Google has been saying speed matters since forever
One of the reasons marketers aren't taking Google's latest messaging about page speed as seriously as they should is that the company has been asking us to speed up for at least a decade.
Way back in June of 2009, Google launched its "Let's make the web faster" initiative, which sought to realize co-founder Larry Page's vision of "browsing the web as fast as turning the pages of a magazine."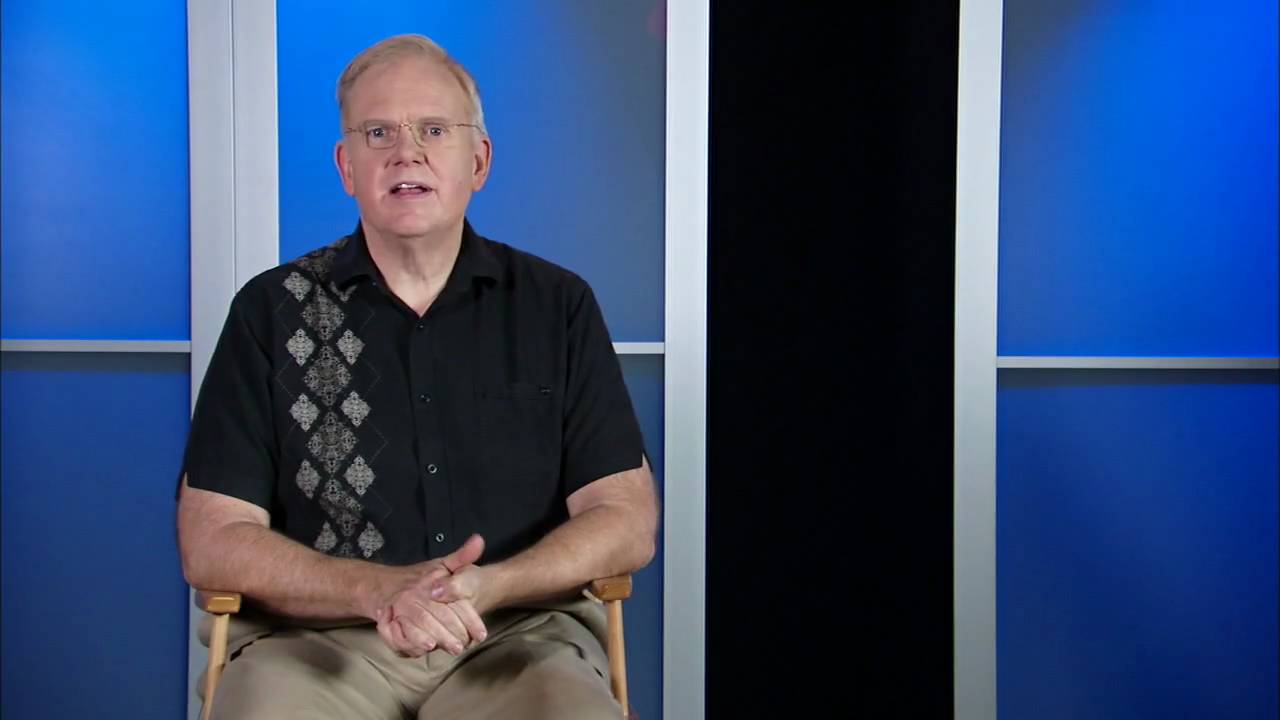 "Let's make the web faster" video posted on June 22, 2009 (via
YouTube
)
As part of this initiative, Google made a number of commitments, but they stressed that better speed wasn't something they could achieve alone. On the same day, a post called "Speed Matters" on the Google AI blog contained a similar message:
Because the cost of slower performance increases over time and persists, we encourage site designers to think twice about adding a feature that hurts performance if the benefit of the feature is unproven.
These weren't just empty words. The publication of the "Let's make the web faster" and "Speed Matters" posts signaled a burst of activity from Google. This included:
making speed a ranking factor for desktop searches (2010)
releasing PageSpeed tools for Firefox (2009) and Chrome (2011)
adding the capacity to preload the first search result to Chrome (2011)
But that was nearly ten years ago, and Google followed it with… almost nothing.
Digital marketers and web devs thought they were safe to focus on other things.
Then, in February of 2017, Google returned to the subject of speed in a big way, publishing an industry benchmark report that's been widely shared ever since.
You may have seen some of the results: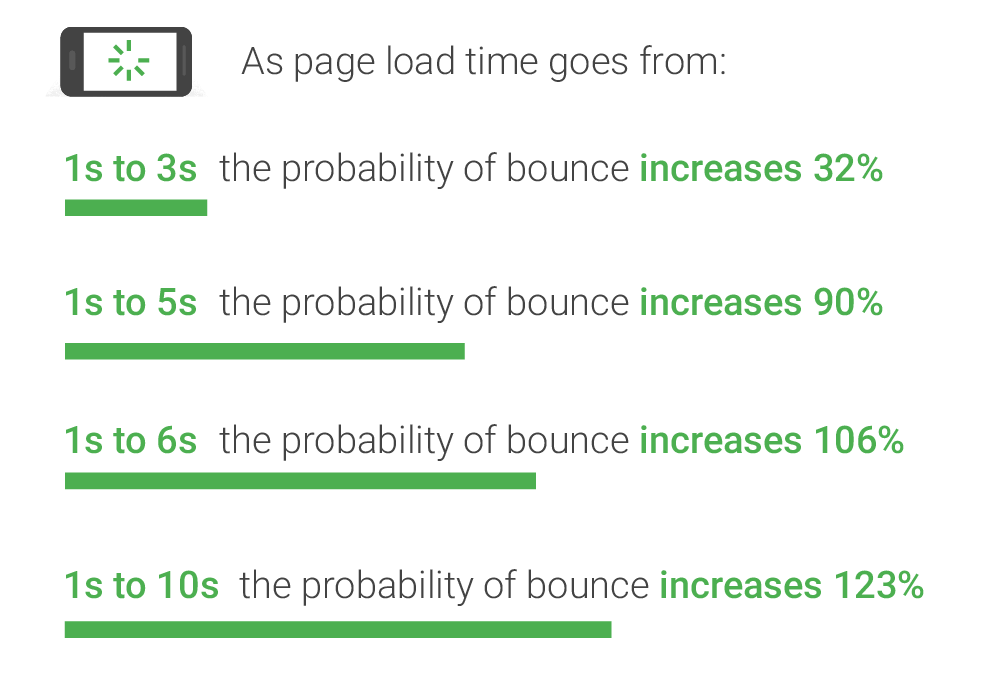 Google's benchmark revealed that as load times get longer, the probability of bounce increases significantly (via
Think with Google
).
The first version of the benchmark found that the average mobile landing page was taking 22 seconds to load. This average came down to 15.3 seconds in 2018, but it's still a significant concern.
(If you'd like a visceral reminder of why a 15-second average wait is still a major problem, hold your breath for that long.)
While the core message that "speed matters" was the same in 2009, in the report Google was now warning that "consumers are more demanding than ever before. And marketers who are able to deliver fast, frictionless experiences will reap the benefits."
The benchmark report sounded an alarm. And the 2018 update dialed up the volume: "Today it's critical that marketers design fast web experiences across all industry sectors."
Google and Page Speed: A Timeline
Much like "Let's make the web faster," the 2017 benchmark preceded a flurry of activity from Google, this time laser-focused on mobile page speeds. Here are a few of the more significant moments that should concern you:
May 2017:
Google introduces AMP landing pages to AdWords
This update to AdWords (now Google Ads) makes it possible for advertisers to point their mobile search ads to Accelerated Mobile Pages (AMP), an ultra-light standard for web pages that is designed to load in less than a second on a mobile device. It's the strongest indicator yet that Google wants you to get behind AMP in a big way.
---
June 2017 to February 2018:
Google makes its tools more insistent
In this period, performance tools like PageSpeed Insights and "Test My Site" began making more forceful claims about speed improvements. In February, Google even announced two new tools. The Mobile Speed Scorecard lets you measure your domain's load time against up to ten of your competitors. And the Impact Calculator produces an estimate of the revenue impact you'd see by speeding up your site. (They're done with being subtle.)
---
July 2018:
Google's "Speed Update" drops
While speed has been a ranking factor in desktop search results since 2010, the "Speed Update" applies stronger standards to mobile searches. Alongside mobile-first indexing, this places renewed pressure on site creators to ensure their mobile landing page experiences are speedy and engaging.
---
July 2018:
Mobile Speed Score is added to Google Ads
Though Mobile Speed Score doesn't (yet) have a direct impact on your cost-per-click (CPC), loading times already factor into your Quality Score because they determine landing page experience. By isolating mobile load times, Google Ads now makes it "easier to diagnose and improve your mobile site speed." Hint, hint.
Google is making mobile page speed mandatory…
It's not a drip, it's a monsoon. Looking at the full timeline of announcements, launches, and product updates reveals that Google has been more active than in 2009—and that this initiative is ongoing. Take a look:

Want a better view of this timeline? Click above to open a larger version.
Since 2009, one of the ongoing arguments that Google has been making—through releasing tools and metrics like PageSpeed Insights, Lighthouse, "Test My Site," the Speed Scorecard, Impact Calculator, and Mobile Speed Score—is that speed matters.
Since 2017, though, that argument has gotten much louder. And while no single action or announcement on this timeline should send you into a tizzy just yet, it's worth remembering that Google's gentle reminders tend to become more or less mandatory.
The search engine's previous drips about mobile responsiveness or, say, web security both manifested in concrete changes to their browser and search engine that forced marketers to prioritize.
In 2016, for instance, you could have safely put SSL certification on your "nice-to-have" list because all Google promised was a small boost to encrypted sites in the search rankings. Nice, to have, but not critical. In 2018, Google Chrome began actively flagging non-HTTPS sites as "Not Secure."
That's how Google encourages change: first a carrot, then the stick.
…but what are marketers doing about it?
Unbounce wanted to know what, if anything, digital marketers are doing to meet Google's new performance standards. So in the "Inside Unbounce" tent at this year's Call to Action conference, we conducted an informal survey of attendees.
Participants could choose any landing page they wanted. (A majority of these participants weren't Unbounce customers, but we were happy to measure pages created with our own builder as well.)
Together, we'd run the selected page through Google's "Test My Site" tool and record the results.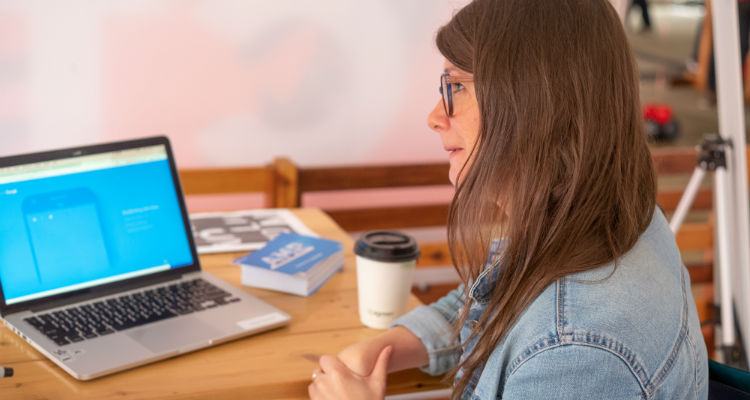 An attendee uses "Test My Site" at CTAConf 2018. Unbounce wanted to know, how fast are you?
Our numbers beat the benchmark by a significant margin. That's not shocking considering CTAConf is a digital marketing conference. The average load time was 10.27 seconds, five seconds faster than Google's 2018 benchmark.
But it wasn't all good news, and just how bad it got surprised us:
Only 1.6% of the 188 attendee landing pages we tested at CTAConf loaded in three seconds. Not a single one we tested loaded faster than that.
Ooof. That hurts, especially since Google says 53% of visitors bounce after three seconds.
This means even savvy marketers are not getting the opportunity to convert because a majority of prospects bounce before the content ever loads. Imagine stressing over the color of a button or the length of your headline copy only to discover most people who click on your ad will never even see the resulting landing page.
It's no wonder, then, that Google is putting increased pressure on marketers to meet their standards in 2019. They can't afford to be serving up a heaping spoonful of frustration with each search results. And neither can you.
Major players are already sprinting ahead
Even if Google weren't forcing our hands, it's hard to imagine a business that wouldn't benefit from allocating resources to ensuring their website loads like lightning. Major web brands like Etsy and eBay have long been transparent about the importance of speed to their business, and many more companies are waking up to it.
TELUS, one of Canada's largest telecommunication companies, committed to improving user experience across their web properties in a series of recent blog posts. According to the blog, this initiative to improve performance and speed is "aligned with what Google was really saying: Improving the customer experience is paramount."
We reached out to Josh Arndt, Senior Technology Architect and Performance Program Lead at TELUS Digital, who explained why this move made a lot of sense: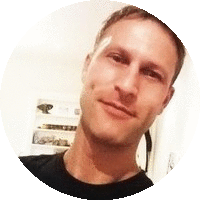 Customers expect to be able to do what they want in a way that fits their life. While users come to our website for the content, speed – or lack of – may be the first point of friction in their digital journey. Our goal is to remove friction and make their experience effortless and rewarding. As such, performance and other web quality characteristics will always be on our roadmap.
TELUS recognizes that speed—or a lack of it—serves as the unofficial gatekeeper to their content. In this context, page speed is a natural priority, even if it's one many of us have been collectively ignoring.
Our manifesto, or what page speed means to Unbounce
As the market leader in landing pages, Unbounce recognizes that being capable of extremely fast speeds represents a significant advantage for our customers. Turbo-charged landing pages result in more traffic and higher engagement, boosting conversions and helping PPC campaigns win increased ad impressions for less.
We've been happy to make it our priority into 2019.
AUTHOR'S NOTE.
As part of this initiative, we created
The 2019 Page Speed Report
, which gives you the skinny on what consumers say about slow sites. And what your fellow marketers are doing about it.
Check it out.
Technical challenges
Over the past few months, our developers have been optimizing Unbounce pages for the recommendations made by Google's PageSpeed Insights. This bundle of technical improvements (we call it Speed Boost) automatically takes care of many of the technical details that can be a hurdle to improving performance, especially if development hours are tight or (let's be realistic here) non-existent.
Speed versus beauty
Another sticking point when it comes to speeding up is that few marketers feel comfortable sacrificing visuals for faster load times. Image file sizes have increased to match the larger display resolutions and higher pixel density of modern mobile devices, one reason the average page size has doubled in the past three years.
With the addition of support for ultra-light SVG images and the recent integration of the free Unsplash image galleries right within the Unbounce builder, we're helping marketers keep things looking slick without weighing down the landing page.
And we're working toward creating even more optimization opportunities in the near future, including the Auto Image Optimizer, which automatically compresses the images on your landing pages. (You can decide how much or little compression you want.)
The result will be Cheetah speeds—no, scratch that, cheetah-with-a-rocket-strapped-to-its-back speeds—but without the need to sacrifice either visual allure or creative control.
AMP + Landing Pages
When it comes to improving page speeds on mobile devices, accelerated mobile pages (AMP) set the gold standard by offering load times that are typically much quicker on a 3G connection—and under a second on 4G.
AMP implementation also has a democratizing effect, which Facebook advertising expert Mari Smith points out: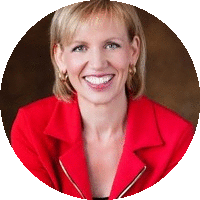 If you wait too long to ensure speedy landing pages, your competitors will zoom right past you…It's a total race right now. Specifically, with the pending issues around net neutrality, page speed could become far more important than it already is.
Considering that 70% of the world uses a 3G or slower connection—and that the repeal of net neutrality means more internet users in the US might find themselves in the slow lane—designing for older devices and slower connection speeds means connecting to more potential customers. AMP is a big plus in this regard, and that's one reason publishers were among the first to adopt it.
Implementing AMP typically involves learning the nuances of AMP's specialized markup, including a restrictive version of HTML and a truncated JavaScript library. Pages are delivered by the Google AMP Cache, a proxy-based CDN which helps them load even faster. And, all-in-all, to be validated requires closely following the strict design principles laid out by the AMP Project.
Speed up or disappear
No marketer can afford to ignore page speed in 2019. Mobile speeds can have a dramatic effect on paid advertising spend and your conversion rates, and Google's actions so far show that the search engine is cracking down on the slow-to-load across all devices.
What does the future hold? I don't pretend to have a crystal ball, but here are a few educated guesses:
If mobile loading times don't get much faster, then we can expect more pressure from Google. This could take the form of further changes to indexing or Google Ads, another round of benchmarks, or the addition of new features and tools.
There's a growing sense of urgency among marketers, and the major players are already moving to improve their loading times. Even if you're in the small business space, these things tend to have a trickle-down effect. If you don't work to improve your performance, chances are your competitors will.
As development on AMP continues, the standard will gain new flexibility while maintaining optimal speeds. It's already overcome early limitations, and it's likely we'll see adoption rates accelerate across all industries.
Since 2009, we've seen some remarkable developments in mobile technology, including widespread adoption of touchscreens, the rollout of 4G cellular capabilities, and voice-based search. But the web itself hasn't always evolved to match—instead, it's gotten slower and heavier. (Haven't we all?)
In 2019, though, that will begin to change, for all of the reasons discussed above. The web will speed up and slim down, and those who don't match the new paradigm will be left behind.
Thankfully, if 2019 is The Year of Page Speed, then you've still got opportunities to start speeding up in advance. Let us know your plans in the comments below.