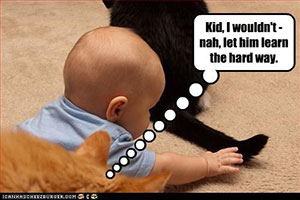 Making mistakes and learning from them is an essential part of mastering the art of landing page optimization. I've found that out the hard way.
The good news is that there's no reason you have to make the same mistakes that I did.
In this post, I'll let you in on 3 basic landing page optimization mistakes that have cost me a lot of conversions. Moreover, I'll give you simple tips that'll help you avoid making these mistakes yourself.
1. "Optimizing" With No Clear Conversion Goal In Mind
Knowing what your goals are is essential to achieving success in any realm. Landing page optimization is no exception.
If you want to create a high-converting landing page, you need to start by defining the conversion goal of your landing page. After that, you need to build a landing page treatment that revolves around your conversion goal.
If your goal is to get prospects to fill out a lead gen form, your landing page should be laser-focused on getting them to fill out that particular form. If your goal is to get potential customers to buy a product, your landing page should be laser-focused on getting them to buy that product.
How I used to get it wrong
I used to do this wrong all the time, but there's one story in particular that comes to mind.
I was working on an LPO project with a designer and the page we were working on was copy-heavy and very boring, so we decided to do a redesign. We were very proud of our work and felt 120% certain that our new landing page would rock – simply because we thought it looked a lot better.
Luckily, we tested the page in the real world. Because as beautiful as it may have been, the landing page treatment actually hurt conversion significantly: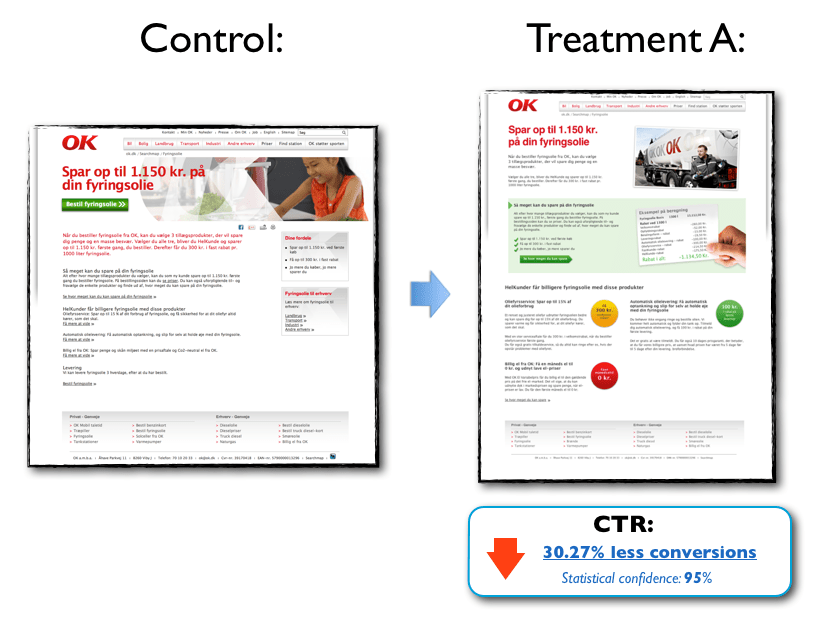 Click image for fill size
The product in this case was heating oil, and our goal was to generate leads for the client. Now, deciding who you are going to buy heating oil from is a big decision for most people and a beautiful landing page is not enough to make more people say yes.
Unfortunately, in all the excitement we forgot about the conversion goal and the target audience and went off on a design trip that resulted in a page that actually scared off more leads than it generated.
A simple way to avoid this mistake
Define a clear conversion goal before you even start thinking about optimizing your landing page and keep it top of mind in every step of the optimization process.
When your design draft is done, go over the individual elements one at a time and ask yourself, "How will this element help prospects make the right decision?"
If the answer is, "Hmm, I'm not sure – but it looks cool!" you may want to consider whether that element should even be on the landing page. As my friend Roger Dooley says:
"If it isn't motivation, it's friction."» Tweet this «