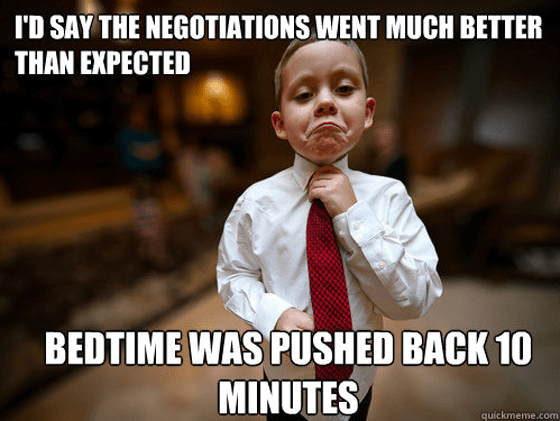 Remember when you were a kid, and your design skills were measured by your ability to color in between the lines? Even the smallest accomplishments made you feel empowered. The word "why" was the most important question in your vocabulary — and you didn't need any data for a meaningful answer.
You had no idea what marketing even was — and yet you were a sales mastermind. In under 30 seconds you could convince your parents to buy you that perfect toy or delicious candy bar. Even though the Internet didn't even exist, you were born to be an online marketer, conversion strategist, or UX designer. You just didn't know it.
Kids see the world from a simple, yet elegant perspective. That's what's inspired this post — a throwback to the profound life lessons that make us smarter, healthier, and wiser business people. Inspired by a six year old's world view, here are eight invaluable lessons to learn about your marketing strategy and landing page.
1. Everyone's a Skeptic
"Are we there yet? Why do we have to do it this way? Why do I need to eat that?"
Kids ask questions nonstop. It's how they learn and become wiser. You have to reach them in a language that they can understand. You have to convince them to trust you.
Six year olds are much like online audiences.
Expect your prospects to be asking lots of questions. Expect them to be distilling your landing page into core takeaways that are applicable to specific needs. They're accustomed to a lot of online spam, so they may approach your brand with a grain of salt.
As a marketer, your job is to get to know them. Build trust. Find common ground through human and personable language. Talk like you're having a constructive dialogue with your toughest critic — an inquisitive six year old.
Why Should I Do Business With You?
Right answer: "Because we care about what you need and want to help you make the most out of what you have to succeed."
Wrong answer: "Our semantic targeting features yield the highest ROI in the entire industry."
2. Incentives Make the World Turn
What happens when you ask a six year old to do chores at 6 AM on a Saturday morning? Imagine the worst frown that you have ever seen. Now, imagine waking a six year old up at 6 AM on a Saturday to do chores before a big trip to Disneyland. You'll see the biggest smile you've ever seen.
When developing your landing pages, make sure to have incentives that resonate with your audience's core objectives and needs. Feature a promotional offer to encourage prospects to do business with you, or feature an e-book on your lead gen form. Give them an incentive that they can't refuse.
Why Should I Do Business With You?
Right answer: "Because we'll give you some freebies to learn something new, grow professionally, and help you look good to your team!"
Wrong answer: "Because I said so."
3. Fun & Games > Serious Face
When you think back to your kindergarten days, what memories stand out to you? The boring class where you memorized names of animals? Or the fun times that you had with your childhood best friend at recess?
Six year olds and adults alike need to be emotionally engaged. There's a time for seriousness (like the boardroom), but when you're crafting a marketing message for your landing page, be sure to keep it balanced. Don't be afraid to use playful fonts or share fun customer stories.
Why Should I Do Business With You?
Right answer: "Because we're aggressive enough to deliver results, laid back enough to listen, funny enough to laugh at our mistakes, and insightful enough to complement your team's dynamic."
Wrong answer: "[insert black and white Excel graph here]"
4. Unwanted Surprises are Terrifying
Remember the good old days of the Internet when landing pages consisted of flashing red text, surprise sound effects, scrolling marquee fonts, and all of the above? It's almost like your sixth birthday party, when your parents decided to surprise you with the most horrific clown that you've ever seen.
Surprise your prospects with unwanted, obtrusive landing page elements, and they'll bounce faster than you can say "scary clown." Keep your landing pages simple, and make user experience a top priority.
Why Should I Do Business With You?
Right answer: "Because we respect landing page design with intuitive calls to action that describe exactly what will happen when clicked, we use CTA's like: 'Subscribe to Newsletter', 'Download ebook', and 'Register for Webinar'."
Wrong answer: "Click Here!!!"
5. Cool Surprises are Fun
You may have hated the clown from the previous year, but remember your seventh birthday when your parents and friends hosted a surprise party? That was cool. You were completely taken aback, but you felt special and completely loved.
Make your prospects feel like a valued part of your business' community. If they've signed up for your email list or submitted their information to a lead gen form, send them a surprise offer. Think beyond your landing page to cultivate your email list into an engaging customer retention channel.
You could send a follow-up offer in the form of an exclusive offer, free content download, free trial, or consultation — pick what works best with your business. Set your brand apart from your competitors by giving your prospects a fun surprise, completely out of the blue.
Why Should I Do Business With You?
Right answer: "Because we want to make you happy."
Wrong answer: "Because we know what's best for you."
6. Simplicity is Elegant
There's no doubt about it — our world is one of complete information overload. The world of a six year old? Not so much. Give your daughter an iPhone, and she'll be an expert photographer in 30 seconds or less. Give your son the choice between the most popular video game on the market and a cardboard box, and he'll probably pick the cardboard box.
Kids have an amazing ability to transform the simplest things into profound works of art, pillow forts, and games. Give them a pencil and piece of paper, and the possibilities are endless.
Believe it or not, your landing pages need to be that simple. As a marketer and consumer, you very well know that the power of choice can be quite difficult to maneuver. When writing your landing page copy, make the choice simpler by giving your consumers the information that they need up front. In simple, every-day, jargon-free, human language articulate your company's value proposition.
Why Should I Do Business With You?
Right answer: "We boost customer loyalty by bringing your existing customers back to your website, especially if they've expressed interest in a product that you're selling."
Wrong answer: "Our search re-targeting solutions offer sophisticated semantic targeting models."
7. People Need Structure
Kindergarten is everybody's introduction to the real world. It's where kids learn the meaning of structure — methodologies for learning to read, timed recess, how to play kickball right, how to draw stick figures that actually look good. By the time we're adults, we outgrow this model, but we leverage basic building blogs to reach the top-most professional heights. What we've learned in math helps us to build sophisticated code. What we've learned reading has helped us become amazing analysts. Our group presentations have made us superb leaders and communicators.
When people see your landing page, they are learning about your brand for the first time. Don't expect them to know exactly what to do and where to click. Provide enough guidance to walk them through this first experience so that they can make the decision to work with you. Empower your prospects to learn more and click by implementing compelling copy, an intuitive call to action, design, and color scheme that walk them through the moment of landing through the point of conversion.
Why Should I Do Business With You?
Right answer: "Walk through this video demo, and you'll see exactly why we're the best design agency."
Wrong answer: "Our products speak for themselves. Can't you figure it out?"
8. Every Visitor has the Potential to Become a New Friend
Prospects from all walks of the Internet will find your landing page. Eiter through word of mout, by accident, through a chain of affiliate or referral links. No matter how much you target your campaigns, you'll find new customers in unexpected ways.
It's like when you met your first best friend. You met her in preschool when you happened to be dressing up in hula skirts and rainbow wigs. You met her at snack time on the first day of kindergarten when your teacher made you sit next to her, even though you didn't want to. You got into a fight with him over favorite ice cream flavors on a school field trip. You never expected these people to stick with you, but they did. For decades, they've been a part of your life, and it all stemmed from a random, chance-moment.
Expect your landing pages to be digital introduction points to the same bonds. Expect customers to come out of nowhere and take you by surprise. Don't brush people off. That marketing analyst will one day be a marketing director or VP. That marketing analyst might also have a multi-million dollar budget to do business with you. You really never know, so keep an open mind.
Why Should I Do Business With You?
Right answer: "Why not?"
Wrong answer: "You shouldn't."
---
What life lessons have guided some of your marketing and landing page strategies? Feel free to share your perspectives in the comments below.
---