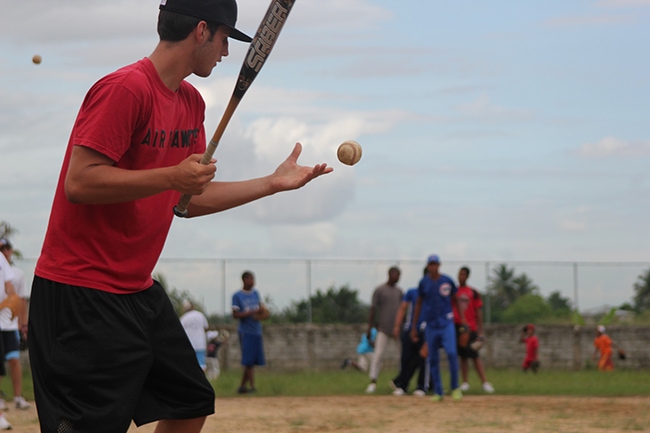 It's a whole new ballgame with these ad feature releases from Google and Instagram.
Image source
.
Recently, Google announced Customer Match, a new method of ad targeting that allows marketers to upload a list of email addresses — which they've been collecting in a CRM or a mailing list — and target ads at those users and audiences similar to them.
If that doesn't really sound so new, well, you're right. Facebook and Twitter have had this functionality for quite a while. Facebook's offering in particular is extremely powerful due to the immense amount of information it knows about each user. In this aspect, Google is playing catch-up.
But it doesn't really matter. The power of being able to target ads across YouTube, Gmail, and Google search cannot be understated. As long as the email address is associated with an account on any of those services, your ads can reach them.
And it's not just users whose emails you already have. Google is also allowing advertisers to target similar audiences based on a Customer Match list. However, they can be targeted on YouTube and Gmail only. Search, at least for now, is excluded.
You can even exclude email lists from campaigns, welcome news to anyone who's had clicks from existing leads and customers eat into their PPC budget during a new lead generation campaign.
Despite these advantages, there's one limitation to Google's Customer Match that doesn't exist in its more social-oriented competitors: to target (or un-target) a matched list, it needs to have at least 1,000 valid entries. Since the likelihood of all of your leads having Google accounts is pretty low, you'll likely need a larger list than this in order to run a Customer Match campaign.
With most of the major digital advertising providers now accepting email lists, the trend line is clear: businesses that prioritize collecting information early and nurturing a prospect into converting are at a huge advantage when it comes to remarketing.
Instagram campaigns now available to all Facebook Power Editor users
While Customer Match is an obvious and belated shot across the bow in Facebook's direction, the social media behemoth has a big announcement of its own. Instagram ads are finally available to all, and better yet, they're accessible through the same tool you use to run campaigns on Facebook: Power Editor.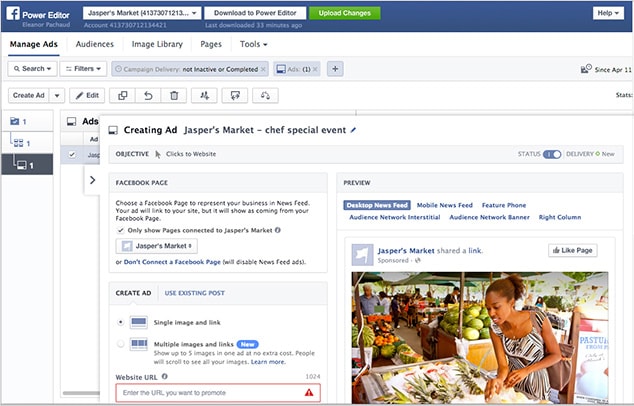 Power Editor, Facebook's self-serve advertising tool for managing many active campaigns at once.
That means all of Facebook's targeting options — including Custom and Similar Audiences — can be used to target ads at Instagram's 400 million (and counting) monthly active users.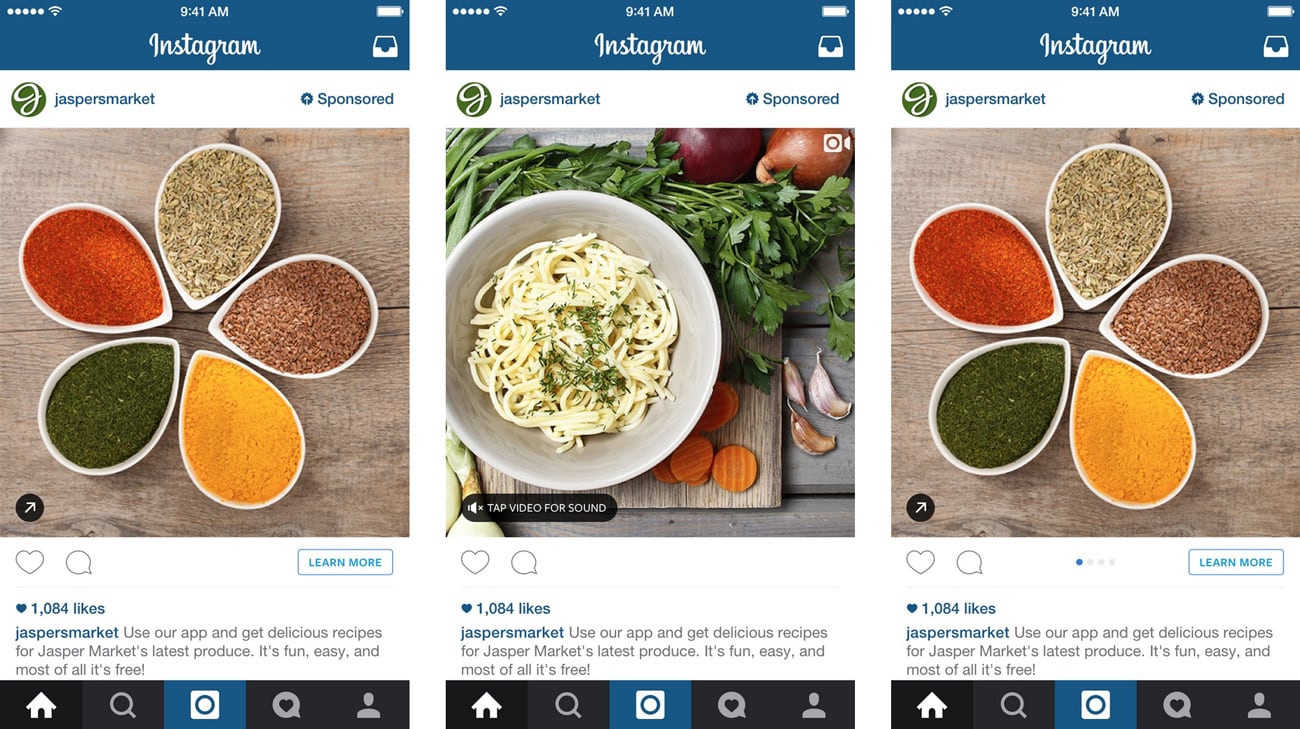 Instagram ads come in a few different formats, all of which allow clickable calls to action that lead to links or apps.
Image ads, which look like a standard Instagram post, except for the CTA.
Video ads autoplay in the feed and can be up to 30 seconds long — double the length afforded to regular users for their own video uploads.
Carousel ads allow you to attach multiple images to the same ad, which can be swiped through by the user. It remains to be seen if they'll follow in the footsteps of web carousels, which users generally don't explore beyond the first slide.
One of the benefits of advertising on social networks is that the advertisements are native; they're presented largely in the same way as user-generated content, within the stream of content that the user is already viewing.
On mobile devices, the impact is amplified further by the fact that these ads take up the whole screen. While this is hugely beneficial — directing attention towards your advertisements is significantly easier — it's also a double-edged sword.
Check out this tweet from developer Marco Arment:
Ads really ruin Instagram. Feels like more of a violation than most ads, maybe because the stream felt "mine", and we had none for so long.

— Marco Arment (@marcoarment) October 1, 2015
A
tweet
from celebrity developer Marco Arment (Tumblr, Instapaper, Overcast) reacting to seeing ads in his Instagram feed.
This is the perception you'll be fighting at every turn.
Perhaps more than any other social network, the Instagram feed has a cadence, a unique feel all of its own. Users have spent years curating their feeds into the perfect digital magazines, tailored around who and what they love.
This means your ads should ideally be beautiful, genuine photographs. And in fact, Instagram has taken steps to enforce that: ads on Instagram can't have overlaid text (which naturally betrays the expectation of a photograph) nor a logo — although a logo printed on a product is A-OK.
More than in any other channel, crafting ads that are carefully tailored and targeted at specific audience segments will be crucial. It's great then, that Facebook's Custom and Similar Audiences allow you to do just that.
The final caveat: while Instagram has already become big business for #brands, it remains to be seen whether that same success will materialize for lead generation and non-ecommerce conversions. Instagram's existing case studies focus almost entirely on ad recall — how likely a user is to remember an ad later — rather than hard conversions. And its unique cadence may make it a tough fit in for certain kinds of products and services.
In the war between Facebook and Google, we're all winners
The success of Facebook's advertising product for both Facebook and advertisers is largely due to the level of targeting specificity that Facebook offers, enabled by its rich user database. eMarketer is already predicting that revenue from advertising on Instagram will reach $2.81 billion in 2017.
Now that Google has responded with a nearly identical offering, the stage is set for volumes of the PPC marketing playbook to be rewritten. More than ever, building customer databases and crafting hyper-specific campaigns — in both their targeting and their creative direction — will be crucial to winning clicks and conversions.