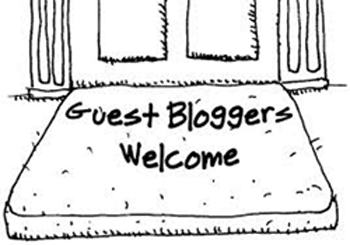 Time for some brutal honesty.
When people read your guest post, most won't click the links in the "About The Author" section at the end of your post.
You probably won't click mine. I'm ok with that.
Of the 10,000 articles, emails and social updates pleading for your attention right now, I'm happy you've made it to paragraph 4 in this. Seriously, Thanks :-)
However, if you do click my byline, you won't land on my homepage…not today, I like you too much for that.
Today, when you visit, I'll roll out the red carpet and welcome you, dear reader, with a guest post landing page.
Why Would You Waste Time With A Guest Post Landing Page?
To me, the byline link is like an invitation for you to visit my online home for an afternoon of drink and good conversation.
If you were to visit my home for a dinner party in the real world, what kind of host would I be without a tour to show you all the great conversation pieces?
Odds are, you won't scroll far enough to read my byline let alone click. But in case you do, I want to make sure my home is tidy, and I'm a good host.
The guest post landing page is my way of showing you around my online home, dining you, and starting a good conversation.
What Are The Elements Of A Good Guest Post Landing Page?
Sticking with the dinner party metaphor, the question becomes, what do you show your guests on the grand tour?
The answer of course is, "Well, it depends on who your guests are."
If you're guest blogging on a site like Unbounce, showcasing your best work on Landing Pages, Email Marketing, or Conversions is a safe bet.
With the guest post landing page, you want to maintain the scent of the site and article your visitor is coming from, while also introducing visitors to your own unique point of view.
1. Acknowledge The Site Your Guest Post was Published
Use the headline to tie your guest post landing page to the site your visitor is coming from.
Some ideas for testing are:
Coming from ___? You're going to love it here.
_____ Visitors always welcome Here!
If you liked that post on ___ you're going to love these.
The idea is to quickly orientate your new visitor and introduce them into the content.
James Agate of Skyrocket SEO demonstrates this matching beautifully on his Raventools guest post landing page.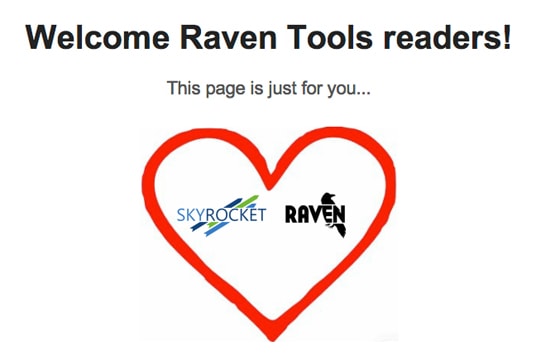 On this page he also adds additional points to the ones he made in his guest post, and the primary call to action is to sign up for his guest posting service.
Which leads me to my next point
2. Design with A Goal In Mind First
I guest post is to introduce new visitors to my philosophies on online marketing.
Others guest post to generate leads, drive traffic, or sell services.
The goals of these landing pages are very different, and that should be reflected in their design strategies. Understanding what the page is intended to do first helps to center your design, as well as the guest article itself.
If you're using guest blogging to build your subscriber base, take cues from the copywriting formula of "Problem, Agitate, Solve."
Ideally, your guest post tunes your visitor into the problem and offers a few quick wins, while your byline and guest post landing page offer more permanent solutions.
With the appropriate keyword research for your guest post, the long term effects of designing this kind of funnel can be significant, considering bigger blogs are far more likely to rank for more competitive key phrases.
3. Use Your Guest Post To Tell A Much Bigger Story
Human beings are addicted to storytelling.
If the guest post landing page is done right, it's another form of storytelling.
Right now you're reading about guest post landing pages. When click my bio link, you'll find links to articles about other unconventional landing pages, a landing page optimization video, and perhaps an article about writing guest posts on popular blogs. All of which have something in common with what you're reading right now.
Why do this?
Studies have shown that the internet is having a negative impact on our brain's ability to store information, due to overabundance and easy access.
However, other studies have shown that storytelling has helped adults learn more complicated information in shorter amounts of time.
By using your guest post as a starting point for a much larger conversation, you're helping your new visitors go down a single, focused path, which in turn improves retention, trust, and all that other stuff we look for as business owners.
As you're building that story, read your existing guest post, then ask yourself, "What would I want to learn next?"
Elizabeth Seda of A Life On Your Own Terms does a really great job of following up this post with this landing page.
4. Add Social Proof To Let Visitors Know You're Legit
You know you'll get great information here on the Unbounce blog, but my site is uncharted territory.
Most people are hesitant to trust new sources. So by adding a handful of items, such as other sites you've published with helps new visitors feel more "at home" with your content.
Social proof, even if it's only on a subconscious level, helps new visitors know they're not wasting their time and that they're still in safe territory.
Wondering what kind of social proof you can add? In this Techcrunch article, author Aileen Lee identifies proof in 5 different categories.
Expert Proof: Mentions from major industry bloggers, or using the logos of other sites you've previously published with lends instant credibility to your work.
Celebrity Proof: Endorsements from celebrities, either mainstream or industry specific, bring a level of gravitas to the table almost immediately.
User Proof: Testimonials, customer reviews, & case studies are extremely powerful if you're using guest blogging for lead generation purposes.
Wisdom of the crowds: Signs that large groups of people are already trusting what you're saying, commonly displayed as email subscriber counts or social media account followings.
Wisdom of friends: Endorsements from friends or other people your visitor might know.
If you're interested in learning more about incorporating social proof, Hubspot has an excellent article that breaks down 10 different ways make your social proof even more effective.
Gary Korisko of Reboot Authentic uses social proof in a few different ways on the guest post landing page he created for Think Traffic. Though there are quite a few things I'd do differently here, I think his use of Expert proof on the right sidebar well.
Be warned however, studies have shown that social proof doesn't always have a positive impact on conversions.
In this article on Visual Website Optimizer, tests showed that displayed that no social proof was better than low social proof, as displaying small social share numbers had a negative impact on conversions.
In another test by the folks over at DIY Themes, they found that removing social proof actually increased conversions to their email list.
In other words, like anything having to do with landing pages, always be testing.
5. Use Media Formats That Best Match The Goal Of The Page
Remember, this landing page quickly orientates visitors to your content as quickly as possible.
For most personality based businesses, or software products, I'd recommend using video give the visitor a feel for what your site is all about.
My friend Amy Schmittauer demonstrates this expertly in a guest post on Dj Waldow's blog.
Though the video wasn't on a guest post landing page, it could be. Add a call to action at the end and an "ethical bribe" in exchange for an email address and you've got the framework for a phenomenal guest post landing page.
If products or software is more your thing, Startup-Videos.com is a great place for inspiration and contact information for various studios and their approximate price ranges.
Don't limit yourself to video though. Depending on your background, alternative media formats like a slideshow might be a better fit.
For example, let's say Jesse Desjardins a popular slide designer on Slideshare, writes a guest post about the impact of bad slide design for public speakers.  Then in his bio, he includes a link to a landing page with the following presentation and a lead capture form.
Can you think of any better way of generating leads than demonstrating your work is the solution to the exact problem you were talking about in the guest post?
I can't.
Bonus: Guest Post Landing Pages Aren't Just For Bylines
Alright we're in the home stretch.
If you've made it this far, I'm hoping you'll take a couple minutes to check out the links in my byline. But what if I suggested that the byline isn't the only place you could use this strategy?
Using everything we've talked about throughout, you can also use the guest post landing pages for links within the body of the article.
Placing contextual links within the article, especially framed with strong phrasing, evokes curiosity, and typically drives more clicks than a byline.
Acknowledging the referring site, showcasing relevant media, highlighting social proof – all focused on a clear goal – adds an element of personalization that statistically speaking, creates a unique experience & improves conversions.
Your Turn
I'd love to get your take. If you're adventurous enough to click a guest author's byline, what would you like to see?
Free downloads? Phone numbers? Something else?
How will you use the guest post landing page strategy to take over the world?
---