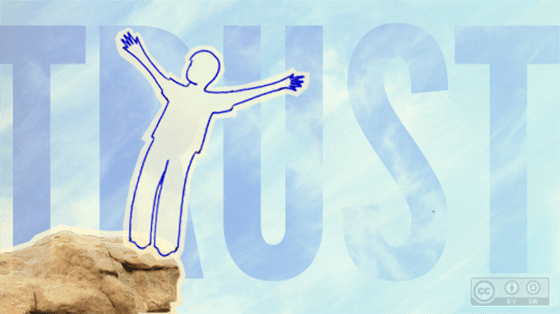 A video can help your prospects take the leap of faith. Image by
Libby Levi
.
Great landing pages have one goal: to get visitors to take action. And whether that's subscribing to a newsletter, submitting contact info or signing up for a service, you first need to establish trust with your audience.
Well, in case you haven't heard, producing a video is one of the most effective ways of doing just that. Video is becoming increasingly popular as a medium to reach potential customers and is often praised for its great return on investment.
When used correctly, video increases consumer trust, conversions and communications. Read on to find out why this is and how you can leverage the medium to make a great first impression.
The right kind of attention
Before you can establish trust, you first have to grab your visitor's attention.
According to PhD psychologist Susan Weinschenk, we've been programmed since our hunting days to pay attention to movement and noise. So when both our auditory and visual senses are stimulated during the act of watching a video, our attention and focus are heightened. Additionally, we pay extra mind to people in videos because we are hard-wired to search their faces for recognition.
These factors aside, when visitors see a video on a page alongside text, they usually gravitate toward the video. In fact, Forbes Insights found that 60% of people prefer watching video to reading text. It's easy to understand why – videos are more entertaining, easier to view on mobile devices and simpler to absorb.
Show, don't tell
Why is it that videos are easier to understand than text?
For starters, the human brain deciphers images simultaneously, while language is decoded in a slower sequential order. To put it in numbers, we process visual information a whopping 60,000 times faster than language.
Not only do we process information faster through videos, but we also more readily understand nuances like humor and sarcasm, which are commonly lost in text. When we are observing gestures, tone of voice and images in videos, we are actually processing social and emotional information on a deeper level, which leads to a greater understanding of new concepts.
This greater understanding will help viewers learn more about your company and can influence their purchase decisions. In a recent study, Animoto discovered that 64% of viewers find it helpful to watch videos to learn more about companies. Nearly all the respondents (96%) find videos helpful when making purchase decisions online.
Pretty promising numbers, right?
What's trust got to do with it?
Aside from being informative, videos are also proven to leave a positive impression and a sense of trust.
In Animoto's study, 71% of respondents agreed that watching a business video left them with a positive impression of a company. Perhaps more notably, 58% considered companies that produce video content to be more trustworthy.
Previous research can attest to this. In a study on trust and different forms of media, researchers found that video elicited the highest levels of trust over audio, photos and text.
Participants in the study were offered advice in different forms of media, and asked to select the medium that represented the "expert" advice. Participants stated that they trusted the non-expert advisor in the video more than the expert advisor in other media, regardless of level of expertise.
5 tips for optimizing your landing page video
While videos are inherently effective at increasing conversions rates, there are some things you can do to get the most out of your investment. Here are five tips for creating videos that inspire trust (and convert).
1. Limit the copy around your video
Research has shown that the more choices people have, the longer they take to make a decision. If watching your video is the main action you want visitors to take on your landing page, then avoid distracting visitors with other options on the page.
With conversion being the goal of landing pages, you want visitors to do this quickly and easily without having to sift through additional information.
2. Optimize videos for SEO
It is 50 times easier to reach page one of Google search results with a video than with a web page, likely because many businesses are neglecting to optimize their videos properly. And because competition for video is low, there are simple measures you can take to get the greatest ROI.
Take the time to research and create clear keywords, titles and descriptions for each of your videos so that the content of your video is clear to users and search engines alike. Additionally, creating a video sitemap – a text document embedded with your specific video tags – will help Google find and index your videos.
Taking these steps can boost your website's SEO and increase the chances of your landing page getting found.
3. Keep the video short
Wistia found that videos that were 90 seconds in length had a much higher drop off rate than videos of 30 to 60 seconds. Their study reveals that the longer the video, the shorter the engagement rate. While viewers watch approximately 81% of a 30 second video, they only watch approximately 62% of a 90 second video.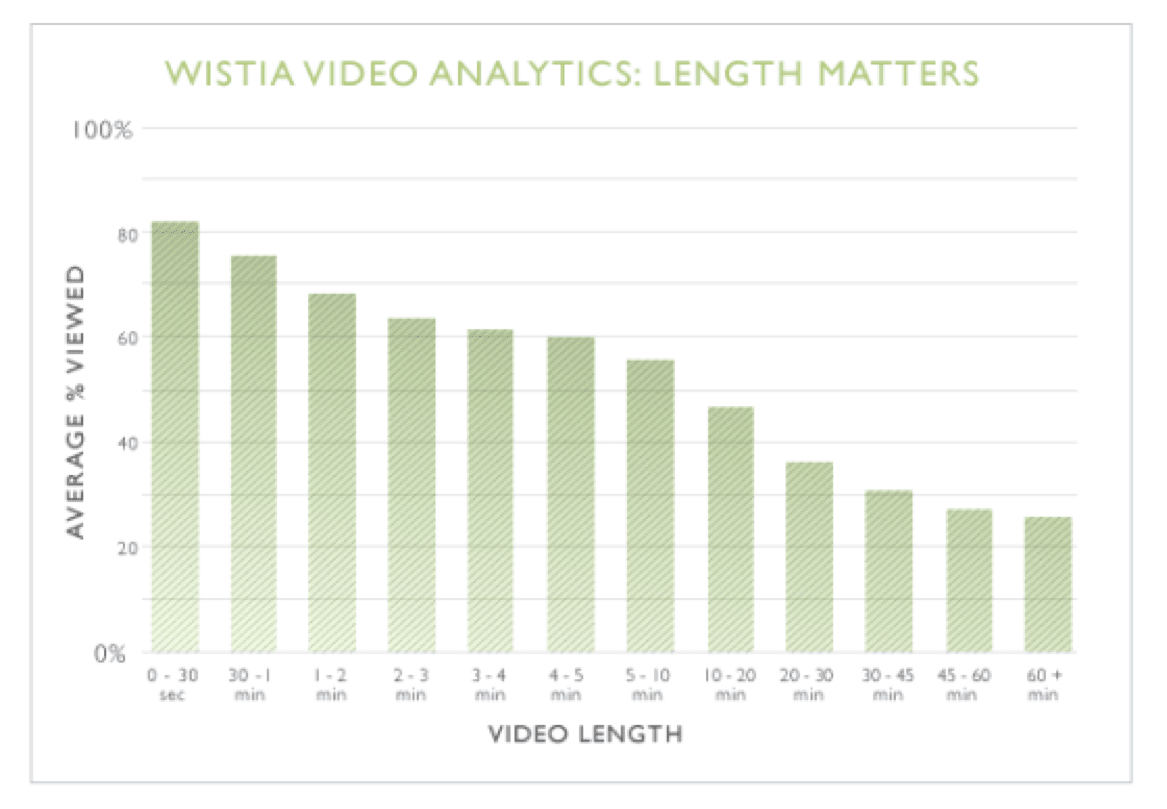 Wistia's graph on video length shows that as video length increases, average percentage viewed decreases.
When it comes to your conversion rate, 30 seconds can make a big difference. Keep it short and sweet.
4. Place the video top and center
Eyeview Digital ran tests to find the optimal placement of videos and found that videos placed on the top and center of landing pages outperform videos on the bottom of the page.
When they A/B tested landing pages for online trading site eToro, they saw that the variation with a video across the top received a 32% higher conversion rate than the variation with the video on the bottom right.
eToro's landing page with video on bottom right.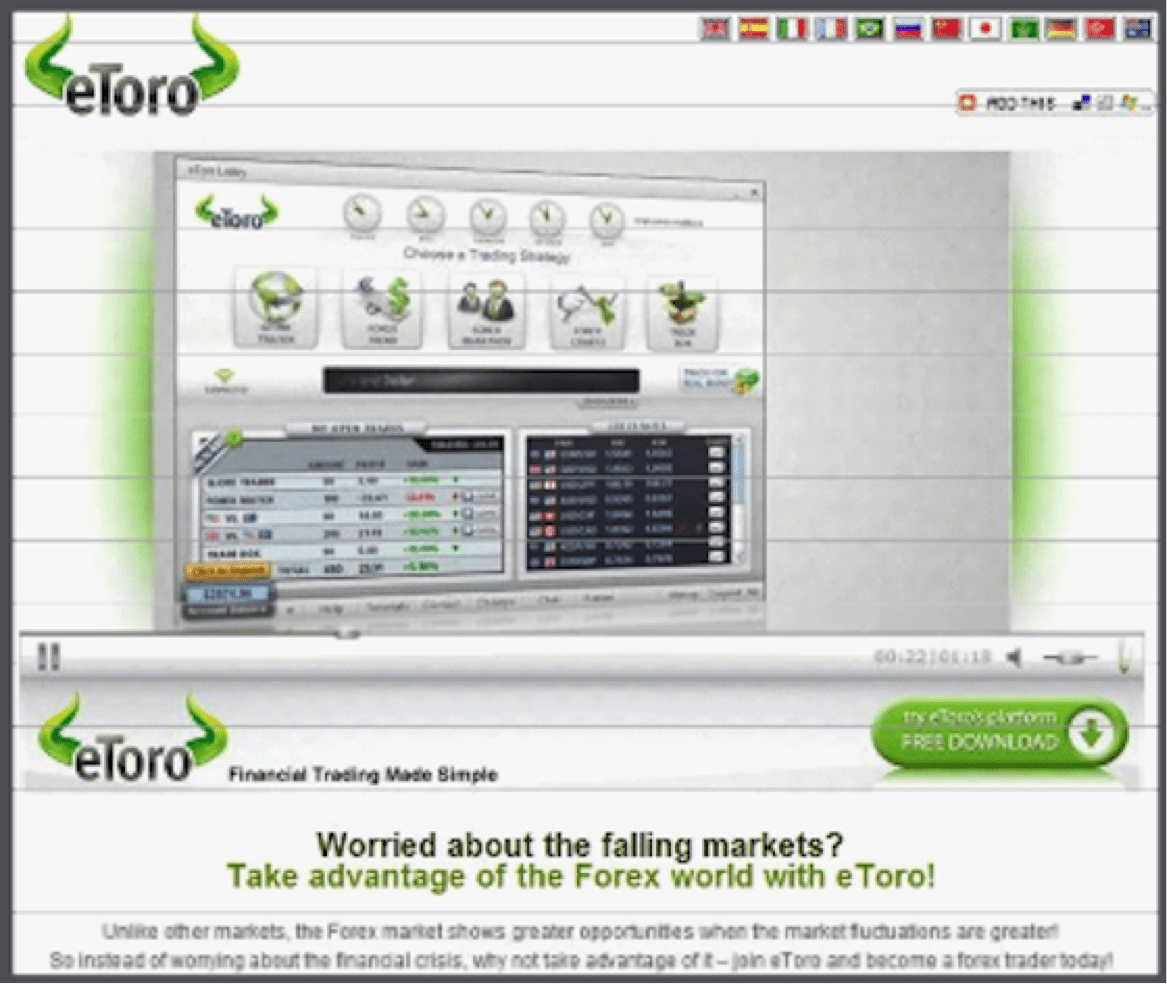 eToro's optimized version of landing page with top center video.
Eyeview Digital presumes that when visitors see videos on the top center of the page (which replicates YouTube's positioning), visitors assume that the video will bring entertainment and information. On the other hand, videos in the bottom right are associated with ads and receive fewer views.
5. Add post-roll animation
In another test, Eyeview Digital found that adding post-roll animation to a video on TutorVista's landing page resulted in a conversion lift of over 86%. A moving arrow that pointed visitors to the "subscribe" link made it very clear what action they should take.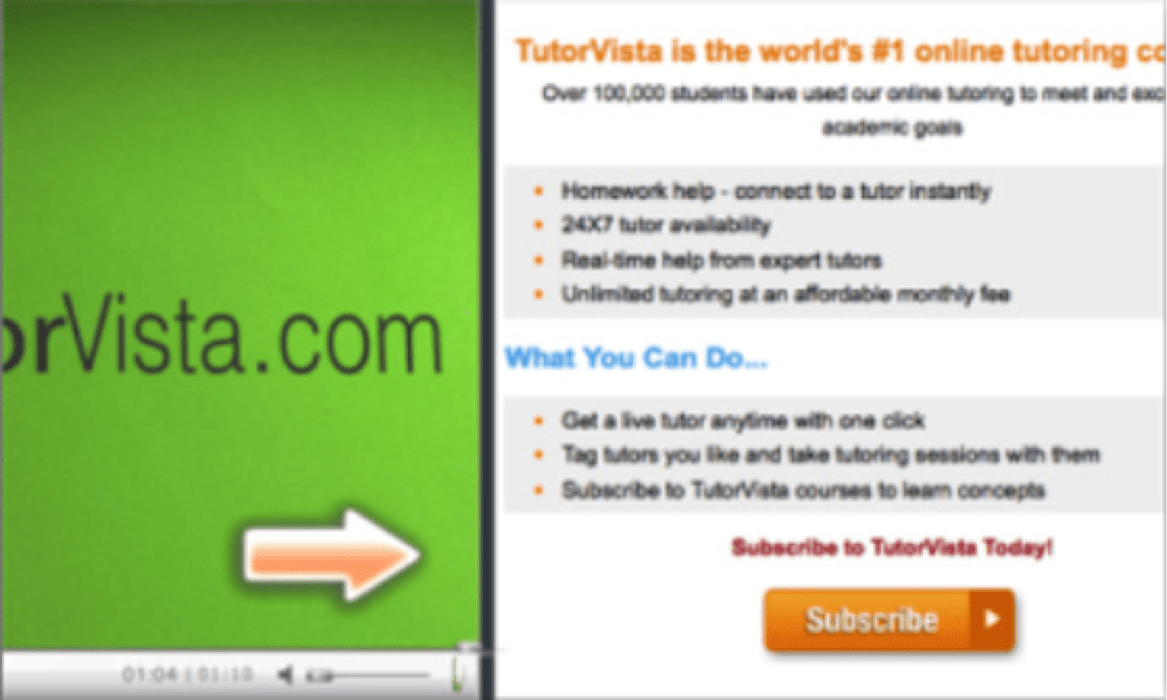 TutorVista's landing page without post-roll animation.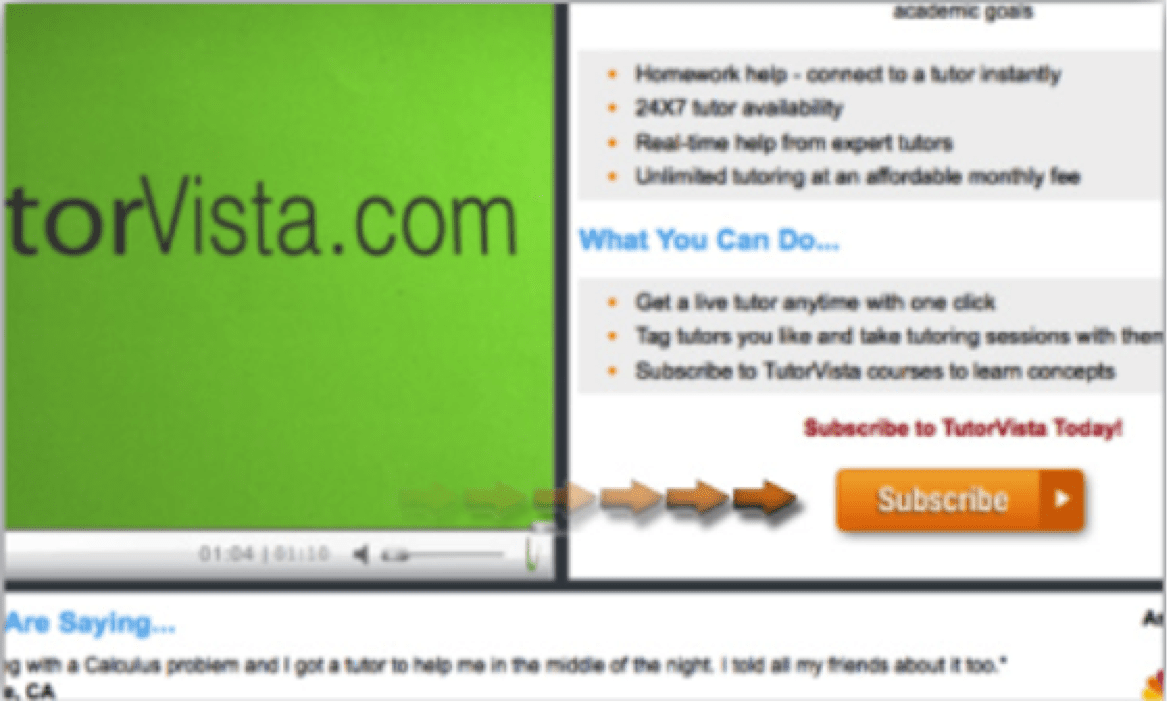 TutorVista's optimized version of landing page with post-roll animation.
While you may find different results on your own landing page videos, it's a great variable to test.
Keep calm and video on
It's no secret that many visitors prefer watching videos to reading text. Videos are attention-grabbing, easy to comprehend and make it easier for us to connect to a business on a personal level.
If you're wondering if your video should be cheeky or funny, don't worry too much about it. Studies show that customers watch instructional and product/service videos just as much as humorous videos.
After all, your goal isn't to make the next viral video. Your goal is to get your visitors to take action.
All you need to do is keep your video informative and simple… and don't forget to smile!
---