Imagine yourself browsing social media or the internet in your spare time. Are you using a computer or phone?
Chances are you chose the second option, or you know plenty of folks who would. After all, according to Semrush, 280 million Americans—that's 84.2% of the population—use their phones to access the internet. And that's in the United States alone. So, if your advertising strategy doesn't involve mobile platforms, you're missing out on millions of opportunities to raise awareness of your brand and boost your revenue.
Why not give advertising on a mobile ad platform a shot?
Let's talk about what mobile ad platforms are and the top four mobile ad platforms to try in your advertising strategy.
What Are Mobile Ad Platforms?
A mobile ad platform is a network where you can publish digital ads that display on mobile websites and apps. Most of these platforms let you choose from pricing models like cost per mille/impression (CPM) and cost per click (CPC).
The Top 4 Mobile Ad Platforms
You'll find a wide range of mobile ad platforms that offer different ad formats and publishing spots on the internet. Here are the four best mobile ad platforms to try.
1. Facebook Ads Manager
Despite its name, Facebook Ads Manager manages more than just ads for Facebook—it handles Instagram ads, too. Ads Manager ads appear in Facebook and Instagram feeds, and often have designs similar to each platform's standard posts.
The ad formats available on Facebook Ads Manager include:
Boosted post: A Facebook or Instagram post, converted to an ad
Image and video ad: An image or video paired with a link to your landing page
Carousel: A series of up to 10 images or videos with links that you can swipe to browse
Stories/IGTV: Advertising content you can upload to Facebook or Instagram Stories or Instagram TV (IGTV)
Shop/Collection: Product advertisements that link directly to your Instagram or Facebook Shop
Instant Experience: A full-screen ad experience with multiple images and links
One of Facebook's stand-out advertising features is its dynamic creative ads. These ads test different combos of copy and images with specific audiences, then display the highest-performing results to people who resonate with them.
Here's what the typical Ads Manager ad looks like on Facebook: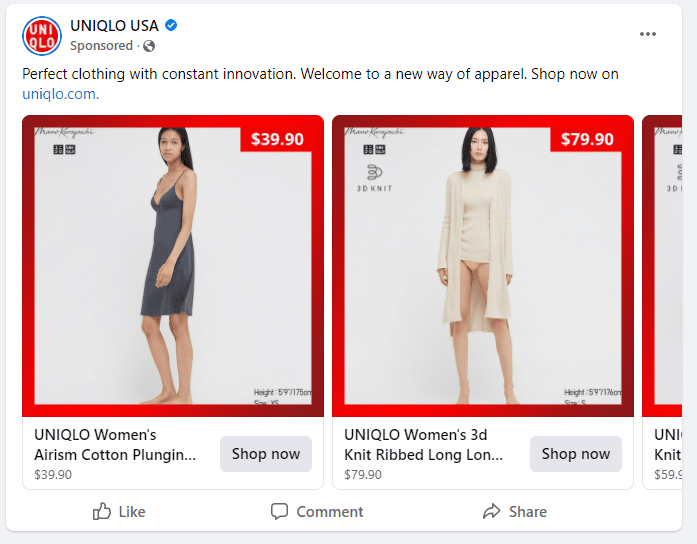 This ad uses the carousel format. Check out how you can advertise multiple products at once for viewers to swipe through.
Now, let's see how a carousel ad looks on Instagram: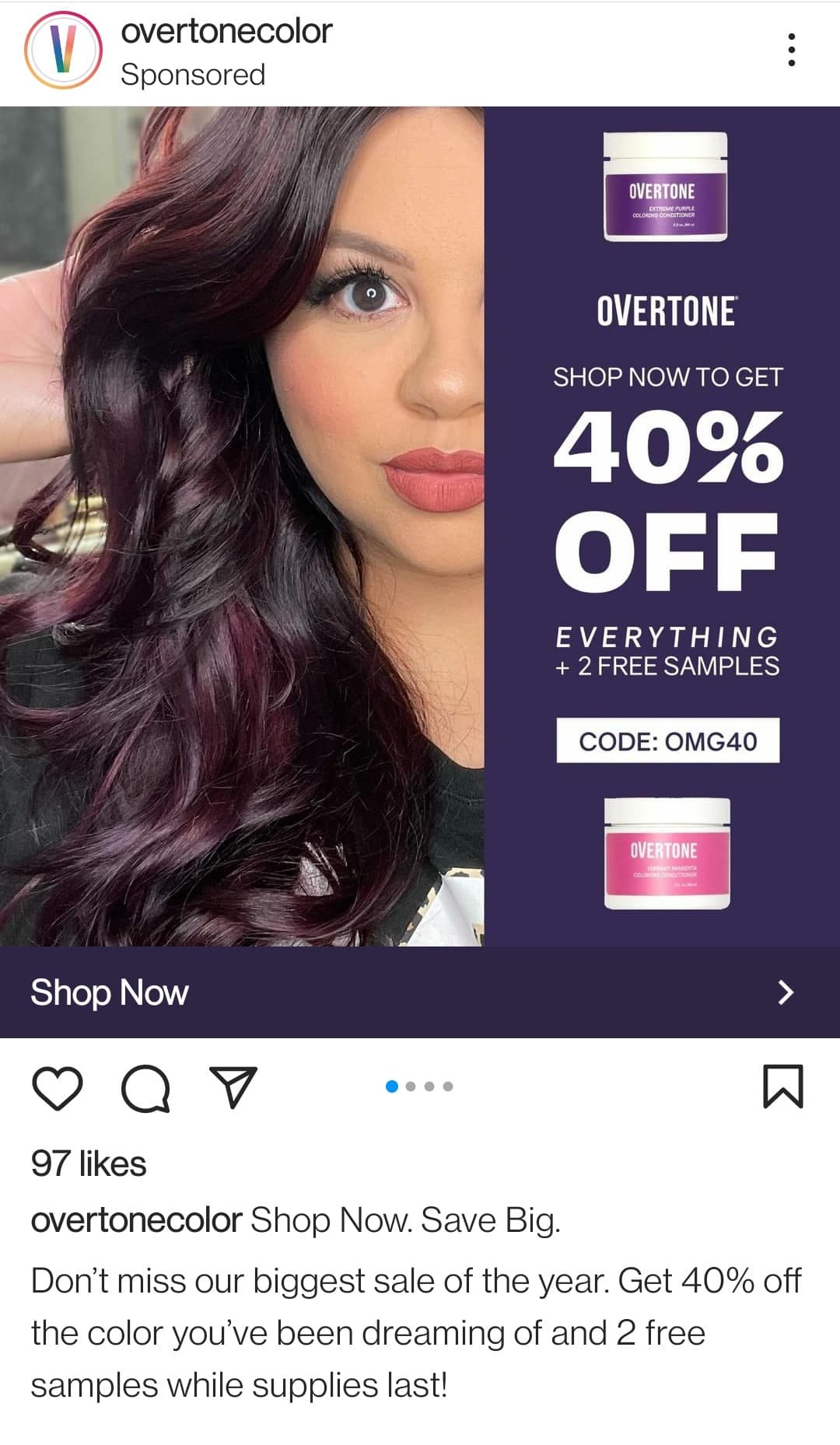 Carousel ads look a liiittle different on Insta—instead of showing many links at once, they act kinda like multi-image Instagram posts. The four dots right below the image show that you can scroll through four different carousel items.
2. Google Ads
Google Ads also has a name that doesn't tell the whole story. The platform manages ads on Google Search results, websites and apps that use the Google ad network, and YouTube.
This platform offers the following ad formats:
Search: Ads that appear right above the search results for a relevant keyword
Shopping: Product ads that viewers can shop through the Google Shopping menu that appears at the top of related search results
Display: Visual ads that appear on websites and Google platforms
App: Advertisements for your app on the Google Play Store, Google Search, and YouTube
Local: Ads for advertising your business in your local area that appear on Google Maps, Google Search, the Google display network, and YouTube
Discovery: Ads shown in YouTube, Google Discover, and Gmail feeds
Video: Video ads with clickable elements that play before, during, or after YouTube videos
Google's top advantage is its sheer scale. It has more than 90% of the U.S. market share for mobile search, and the Google Display Network reaches 90% of worldwide internet users. Plus, Google Ads cover search results and Google platforms like Maps, apps, and websites.
Look how Google Shopping and Search ads appear at the top of the page when you search for sunglasses using Google: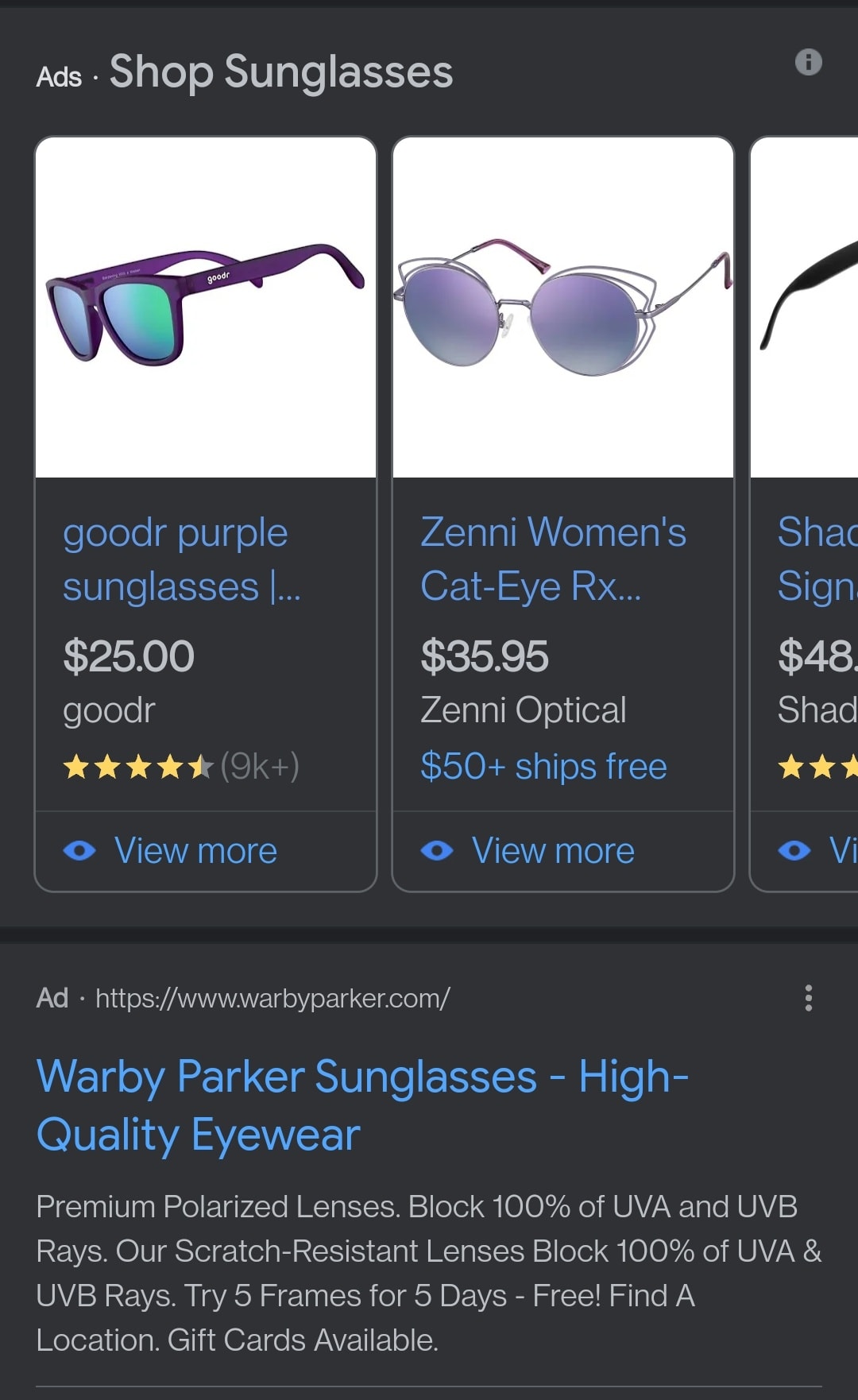 Businesses who pay for Google Search ads get prime real estate—if they know the right keywords to target.
3. Twitter
Compared to the other platforms on this list, Twitter Ads is more straightforward. All ads you create through this platform appear on Twitter only.
Twitter ads come in these formats:
Promoted ads: Promoted tweets and specially formatted in-feed ads like carousels as well as Twitter Moments (curated tweet collections)
Follower ads: Prompts to follow your account shown in the Twitter feed, "Who to follow" section, and Twitter search results
Amplify ads: Pre-roll ads for Twitter Amplify videos and sponsored Amplify publisher partnerships
Twitter Takeover: Premium ads that appear at the top of Twitter's Timeline and Explore tabs
Twitter Live: Promoted live streams for events like watch parties and product launches
As of 2021's third quarter, Twitter has 211 million active users. Since Twitter only uses its ad network, Twitter Ads are your only shot at reaching this worldwide audience.
Here's an example of a Twitter Promoted ad with a video: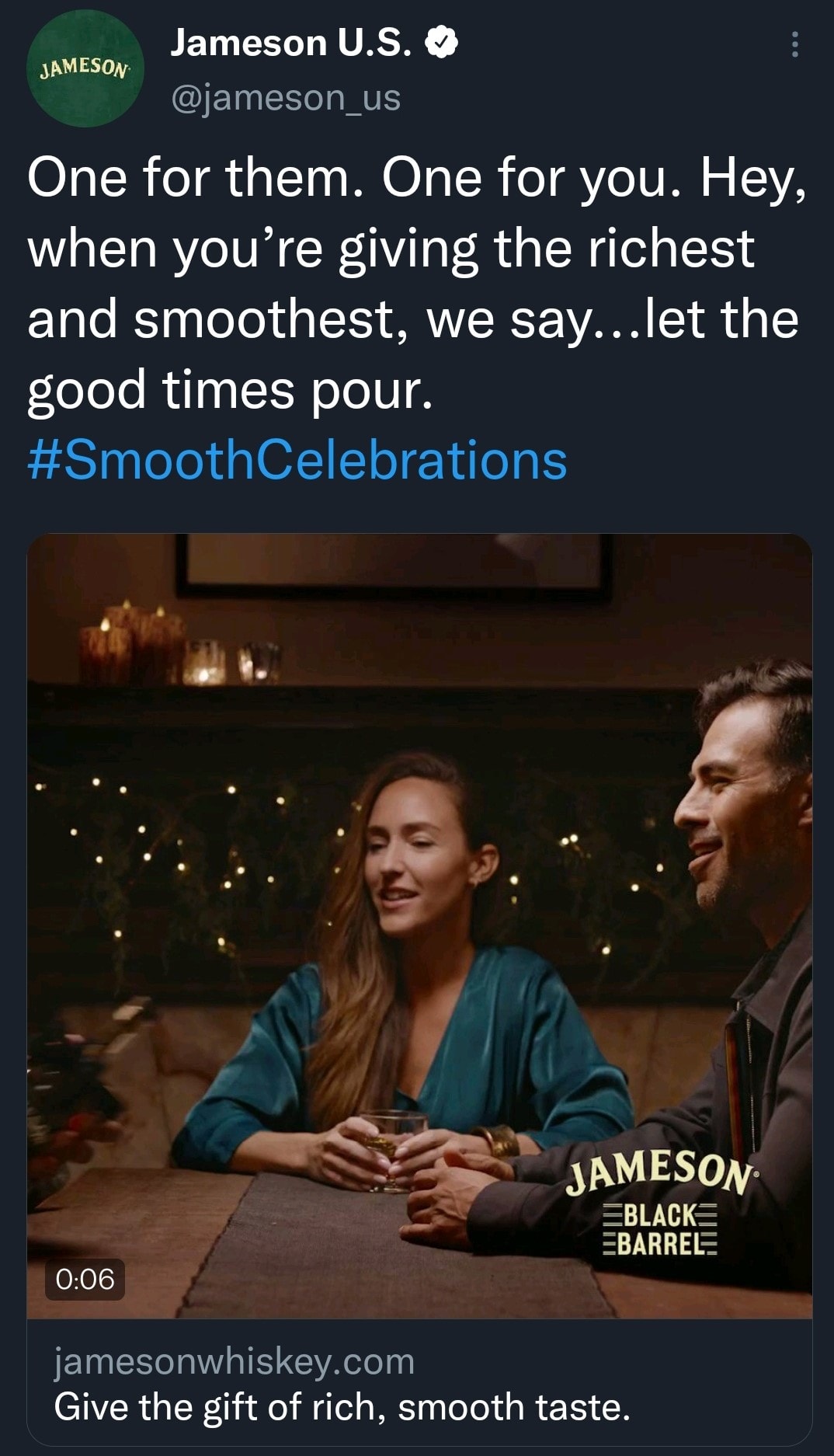 This video ad looks pretty similar to a regular Twitter video post, except for the link below the video. Just enough to stand out from the rest of the viewer's timeline without feeling out of place.
4. Microsoft Ads (Bing, AOL, Yahoo)
Microsoft Ads manages the ads that appear on Bing, AOL, Yahoo search results, and the Microsoft ad network. These ads work similarly to Google Search ads, but they have unique features and ad formats.
The formats for Microsoft Ads include:
App Install: Ads for installing your app that direct the user to the right app store for their phone (Apple App Store or Google Play)
Expanded Text: Text advertisements that appear in search results
Dynamic Search: Expanded text ads that target search queries based on your website content
Bing Smart Search: Text ads with landing page previews that appear in Bing Smart Search
Microsoft Audience: Ads that appear on the Microsoft Audience Network—Microsoft's native ads for websites like Outlook.com and MSN
Multimedia: Visual ads that appear in the top bar or sidebar of Microsoft partner search results
Product: Product ads featuring an image, product title, and price
Responsive search: Search ads that mix and match the titles and descriptions you provide to find the best combination
While Microsoft Ads has a much smaller search market share than Google, it lets you target audiences less likely to use Google platforms. Plus, it tends to be more cost-effective than Google Ads.
If you search "dark chocolate" on Bing, its Product and Expanded Text ads appear similarly to Google's Shopping and Search Ads: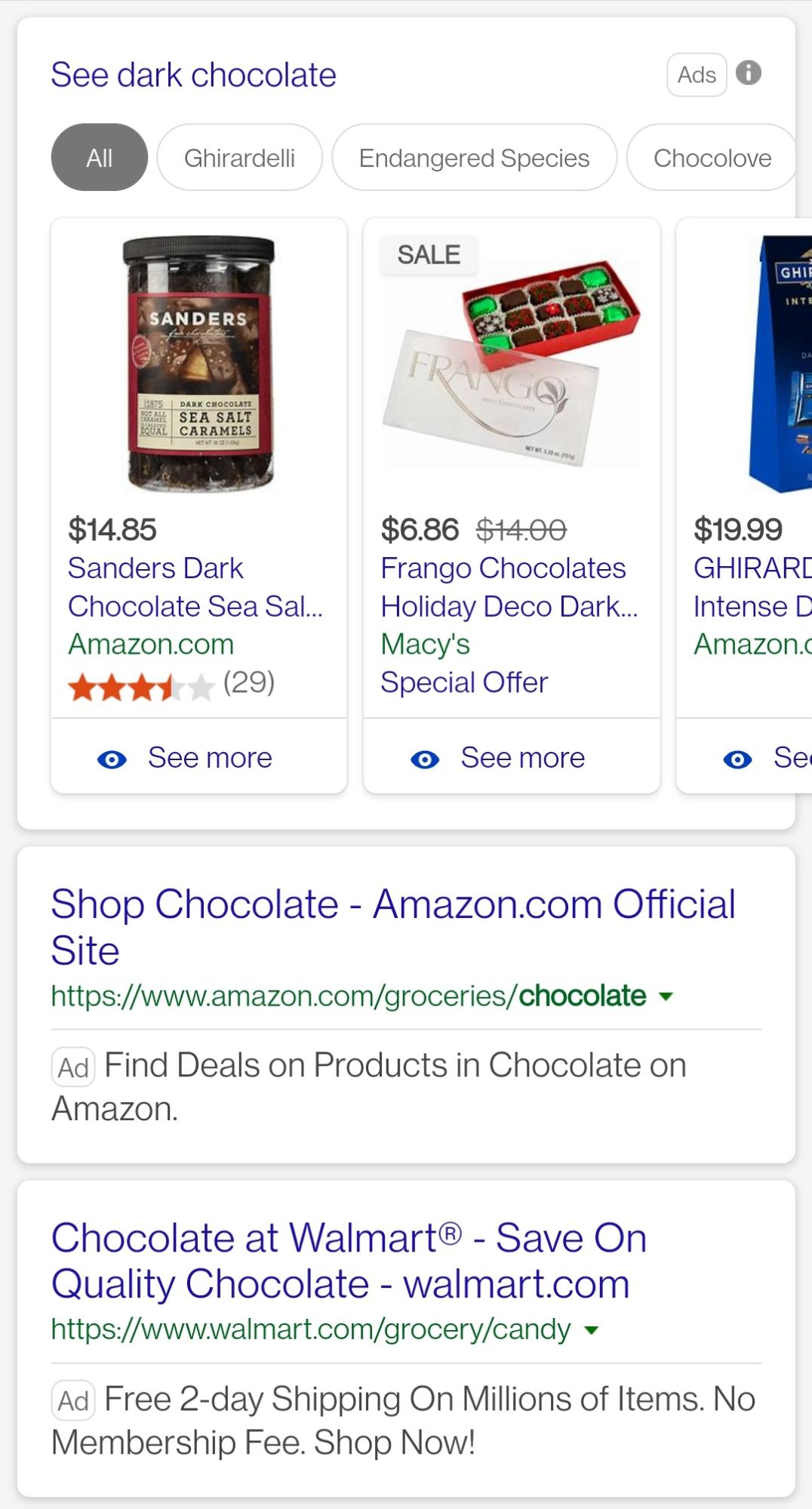 As you can see, the top advertisers are major names like Amazon. Your ads will need to perform well and target the right keywords to appear high in the results.
How to Choose the Right Mobile Ad Platforms for Your Business
Lemme first make an important point: You don't have to stick to one mobile ad platform. You'll be better off targeting ads on multiple platforms so you can cast a wider net. As you just learned, each platform displays ads in different places, so you should mix and match according to your audience's online behavior.
But, how can you tell which platforms your audience prefers to use? Go to your website's Google Analytics and navigate to Acquisition > Traffic acquisition. Then, check your referral sources by typing "referral" in the search box above the bottom section.
Here's where you can experiment. You can double down on the platforms that already send visitors your way. Or, if you think you could target a new audience, you can try advertising on platforms that don't send you much traffic (yet).
After choosing your mobile ad platforms, keep an eye on your ads' performance. Do you have a good cost-per-action? If you find yourself spending more money on an ad platform than you're earning from it, make sure you're using the right one in the first place. You might need to switch if you're not seeing great performance even after optimizing your keywords.
Seal the Deal With a Mobile-Friendly Landing Page
The landing page your audience visits after they click your ad matters as much as the ad itself. Make sure that your mobile ads send viewers to a mobile-friendly landing page with clear design and copy. It's easier to build a mobile-responsive landing page when using a mobile-ready landing page builder. Unbounce's Smart Builder uses responsive templates and grids to handle the heavy lifting for you.