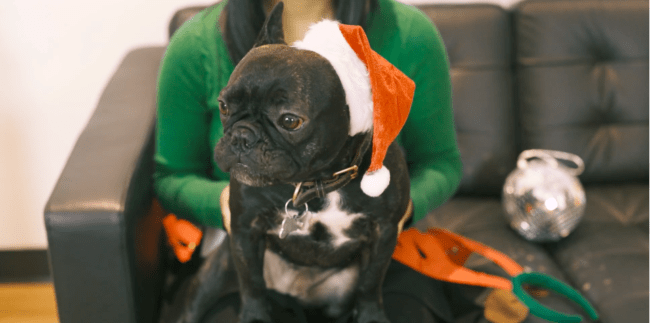 Working at Unbounce has its perks. But the best perk by far is working with some of the most talented, friendly people dogs.
There's Darwin, Gonzo, Winnie, Tribble, Stella, Luna, Billy, Kiki, Carter, Izu, Mango, Leo, Ted, Bruno, Molly, Captain, Falcon, Timmy, Hambone and Lola… just to name a few.
Now you might think the life of an Unbounce office dog is all fun and games, but they're expected to hit their targets just like the rest of us. In fact, they've been working tirelessly on a holiday campaign just for you.

So if you're running campaigns and need to get a hold of us during the holidays, we're offering email support during our office closure! Simply send us an email ticket and the lovely peeps in Customer Success will get back to you. Check out our hours below:
December 24
8AM – 6PM PST / 11AM – 9PM ESTDecember 26 – December 30
8AM – 9PM PST / 11AM – MIDNIGHT EST
December 31
8AM – 8PM PST / 11AM – 11PM EST
January 2
9AM – 9PM PST / NOON – MIDNIGHT EST
January 5
5AM – MIDNIGHT PST / 8AM – 3AM EST
December 25 & January 1
CLOSED
And while we love delighting you all year long, we're taking a little break from our regular publishing schedule to spend some time with our loved ones. But don't fret, we'll be back in action come the New Year.
So happy holidays, from our family to yours! And may you be blessed with conversions galore this holiday season!