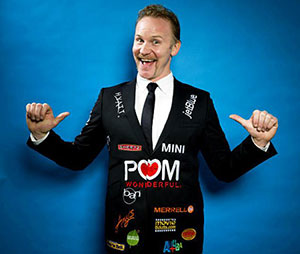 Marketing is one of those few disciplines at the crossroads of art and science, giving us license to glean inspiration from pretty much anywhere.
This convenient truth allows us to continually learn and grow as professionals and has empowered smart marketers to turn even the harshest critiques of our industry into effective counter-messaging – Dove's decade-long campaign for Real Beauty being a prime example.
In the spirit of learning from different perspectives, here are 11 documentaries that delve into marketing as well as intersecting topics like technology, design and entrepreneurship. They'll make you think, laugh and maybe even want to change a few things.
1. The Century of the Self
Do you ever get a sneaking Orwellian twinge when you're targeting your audience? Well, in "The Century of the Self," director Adam Curtis credits the influence of the Freuds (Sigmund & Anna) and their descendant Edward Bernays for the somewhat creepy origins of contemporary advertising and PR.
Join him for a powerful 4-hour jaunt across the 20th Century as he chronicles the dawn of mass media and the history of communications as you've never heard it told before. Those who make it all the way through this fascinating educational journey might just start being able to see the Matrix…
Stream: Episodes 1, 2, 3 and 4.
Released: 2002
Length: 4 episodes, 60 minutes each
Buzzwords: Public Relations, Psychographics, Focus Groups, Freud, Bernays
Why marketers should watch it
Possibly in an eyeballs-propped-open Clockwork Orange aversion therapy kinda way, but definitely in an eat-your-broccoli way, this is a comprehensive, no-holds-barred history that helps anyone in media, marketing, communications, PR and advertising understand how creepy we can get when we stop being relevant.
2. The Persuaders
This insightful episode of PBS' Frontline establishes the underlying paradox of the persuasion industry: the more you advertise, the more clutter and noise you create, the noisier you need to be to cut through that very clutter as you keep advertising in an ouroborean cycle of despair. Rinse and repeat, ad nauseam (see what I did there?)
Douglas Rushkoff uses the journey of Delta's ill-fated Song Airlines launch as the backdrop to explore lifestyle branding, product placement and political advertising.
Packed with such fascinating psycho-social soundbites as Clotaire Rapaille's take on how cheese is perceived as alive in France, but dead in the U.S. (Schrodinger's cat must be jealous) and interviews with thought leaders like Naomi Klein, "The Persuaders" may be a decade old but it still resonates today.
Buy or Stream: Stream on PBS, Buy on Amazon.
Released: 2004
Length: 90 minutes
Buzzwords: Seamless, Reptilian Hot Button, Emotional Branding, Lifestyle Brands, Narrowcasting, Canvassing, Segmenting
Why marketers should watch it
It'll make you think differently about your marketing mix and overall strategy. Unless you worked for Song airlines, in which case you may just come away with a case of PTSD.
3. Art & Copy
As opposed to the first two entries on this list, which are fairly critical of the persuasion industry, "Art & Copy" is a veritable love letter to advertising's best and brightest campaigns and leaders.
Director Doug Pray interviews marketing greats like Mary Wells Lawrence, Lee Clow and Dan Wieden to get their inside takes on such seminal campaigns as "Just Do It", "I [heart] New York", "Where's the Beef?", "Got Milk?" and more.
Pray gives us valuable insight into the kind of work that propels a brand into conversations, the history books and the future – all in one fell swoosh.
Stream or Buy: Stream on Netflix, buy on Amazon.
Released: 2009
Length: 89 minutes
Buzzwords: Advertising, Inspiration, Creativity, Design, Copywriting
Why marketers should watch it
If you enjoy "Mad Men" but wish you could see more of the often based-on-real-life campaigns, "Art & Copy" will be right up your alley.
4. Helvetica
In telling the story of the Helvetica typeface (née Die Neue Haas Grotesk), director Gary Hustwit covers the history of modern typography and design in a stylishly crafted work of subdued filmmaking that is in itself a joy to behold.
Renowned designers such as Massimo Vignelli and Matthew Carter leaf through beautiful portfolios of their work as they wax poetic on aesthetic philosophy, methodology and the font du jour.
Over the past 50 years Helvetica has grown more and more pervasive, filling our sign-posted streets, subways, ads, labels, books and websites with its sleek and simple rounded edges.
Now let's just hope nobody makes a documentary about Comic Sans… Oh no! A student already did.
Stream or Buy: Buy on Amazon
Released: 2007
Length: 80 minutes
Buzzwords: Typeface, Typography, Fonts, Design, Helvetica
Why marketers should watch it
Anybody trying to turn their product or service into a household name will learn a lot from the font that took over the world. And bonding with our designer colleagues over such topics as kerning can only lead to great things.
5. This Space Available
This colourful documentary zips through several cities around the world (11 countries on 5 continents!) in under an hour to show how different communities are responding to increased visual pollution from outdoor advertising.
The coverage of Sao Paulo is particularly striking since the city banned absolutely all outdoor advertising in 2006, making it a compelling case study for reducing so-called visual pollution. Given the audacity and artistry of the billboard takeover activists showcased in the film, it's a deft touch that they provide a downloadable colouring book for us to enjoy as well.
Stream or Buy: Pay to View on Daily Motion.
Released: 2011
Length: 52 minutes
Buzzwords: Billboard Ban, Outdoor Advertising, Public Ad Campaign, Visual Pollution
Why marketers should watch it
Ever since Sao Paulo, many other cities are talking about billboard bans or stricter regulations. With online users doing the virtual equivalent with ad-blocking software, it'll be increasingly important to campaign in context.
6. Not Business As Usual
Not Business As Usual Documentary from institute B on Vimeo.
The rise of the B corporation is finally giving entrepreneurs a hybrid alternative to the for-profit and non-profit models, allowing them to start businesses that have social as well as financial missions.
In "Not Business as Usual," director Lawrence Le Lam profiles several registered B-corps in Vancouver, including Lunapads, a company whose recyclable feminine hygiene products benefit the environment in North America while their Pads4Girls program and sister company AFRIpads helps girls in Uganda stay in school with the right supplies.
This kind of full-circle thinking epitomizes the "Triple Bottom Line" commitment, where People, Planet and Profit are all factored in to a company's success.
Stream or Buy: Free to watch on Vimeo.
Released: 2013
Length: 61 minutes
Buzzwords: B-Corporation, Triple Bottom Line, Conscious Capitalism, Social Enterprise
Why marketers should watch it
It may inspire you to change how you do business, or at least how you look at your KPIs.
7. Miss Representation
"Miss Representation" tackles the limited and limiting portrayal of women in the media, correlating the proportional dearth of female business, political and media leaders to continual objectification, both onscreen and off.
Throughout the documentary amazing role models of all ages and genders shine as they detail their own experiences candidly. And with interviewees with the likes of Condoleezza Rice, Nancy Pelosi, Katie Couric, Rachel Maddow, Margaret Cho and Geena Davis you can see why Oprah Winfrey herself picked up the distribution rights to the film.
Three years on, the The Reputation Project continues to build a community around the film's mission and director Jennifer Siebel's next project promises to address the corresponding negative impacts of gender stereotyping for boys.
Stream or Buy: Stream on Netflix, Buy on Amazon.
Released: 2011
Length: 89 minutes
Buzzwords: Gender, Objectification, Post-Feminism, The Representation Project
Why marketers should watch it
We can all do a better job offsetting pink/blue gender bias by marketing more savvily (and ethically) to both women AND men.
8. How TV Ruined Your Life
Sadly few people this side of the Atlantic are (yet) aware of Charlie Brooker, a British satirist and professional grump who you might swear was Jon Stewart's older, more disgruntled brother.
Across the pond he's taking détournement to new levels of postmodern glory with such series as "How TV Ruined Your Life". Brooker intersperses real footage with fictional vignettes to fuel an über rant on the topic of the day and expose how media has completely distorted our perception of it.
A great example of this is in the fourth episode on love, in which a fictional couple's doomed romance is parsed as a developing news story to both comedic and revelatory effect.
While some of the references he draws from are very market-specific (read: ultra-British), the narrative pay-off is worth every twist and turn through each of the six episodes in the series.
Stream or Buy: Currently only available on YouTube (Episodes 1 (Fear), ,2 (The Lifecycle), 3 (Aspiration), 4 (Love), 5 (Progress) and 6 (Knowledge).
Released: 2011
Length: 6 episodes, 30 minutes each
Buzzwords: Media, TV, Advertising, Satire
Why marketers should watch it
There's nothing like sitting back and letting a Charlie Brooker tirade wash over you after a long, hard day not being allowed to shout at those getting in the way of your killer marketing initiatives.
9. POM Wonderful Presents: The Greatest Movie Ever Sold
"Super Size Me" director Morgan Spurlock gleefully immerses himself in the world of integrated advertising by documenting his journey pitching product placement to brands and agencies in "The Greatest Movie Ever Sold."
In addition to increasingly energetic pitches, he takes us on trips to a post-outdoor-advertising-ban Sao Paulo and a school seeking extra funds by displaying ads to their students.
The real fun is in seeing the industry from Spurlock's whimsical, outsider point of view and enjoying all his outlandish promotional efforts like his NASCAR-inspired branded interview outfit, all very much in keeping with the buy-in, sell-out spirit of this cheeky film.
Stream or Buy: Stream on Netflix, Buy on Amazon.
Released: 2011
Length: 87 minutes
Buzzwords: Integrated Advertising, Product Placement, Branded Entertainment, Madison & Vine
Why marketers should watch it
Not only the film itself, but the way Spurlock approached marketing and PR for the release was predictably ingenious, making the whole package quite the case study. Meta, much?
10. Internet Rising
Every new medium is initially glorified by early adopters, only to be considered mundane a generation or two later.
The early telephone prompted comparisons of the "disembodied voice" to the voice of God and now we barely take voice calls anymore.
The internet has experienced a similar trajectory, from Marshall McLuhan's early analogy comparing accessing the body of human knowledge with an act of holy communion to our current application of that lofty ability to liberally distribute cat pictures.
"Internet Rising" is a striking reminder of the medium's real impact on security, privacy and media as a whole. In keeping with the subject matter all interviews with leading experts are conducted digitally. You may just briefly miss the sound of your 28K modem.
Stream or Buy: Available for free on YouTube.
Released: 2011
Buzzwords: Noosphere, Collective Unconscious, Security, Cyberspace, Second Life
Why marketers should watch it
Between launching that new site, app or PPC campaign it can be really inspiring to stand back and remind ourselves just how awe-inspiring the internet truly was, is, and will be.
11. Transcendent Man
Inventor, best-selling author, futurist and vitamin pill-popper Ray Kurzweil is the compelling subject of this intimate documentary.
The film explores his genius accomplishments (including pioneering text-to-speech software and flatbed scanners), his personal obsession with conquering death in response to his father's loss, as well as his long string of successful, controversial and unknowable futuristic predictions.
Kurzweil takes overachieving to a whole new level in his dedication to doing everything in his power to make it to The Singularity, a metaphor borrowed from physics to describe the point where artificial intelligence will trump its biological cousin.
Perhaps the recent success of the film "Her" indicates that our society is more readily grappling with the concepts he's spent decades championing.
Stream or Buy: Stream on Netflix, buy on Amazon.
Released: 2009
Length: 83 minutes
Buzzwords: Genetics, Nanotechnology, Robotics, The Singularity, Artificial Intelligence, Biotech, Transhumanism
Why marketers should watch it
Forget next quarter or next fiscal, taking a moment to think about a future beyond the upcoming iPhone release is great for perspective. Even if you think projections are poppycock.
What documentaries have inspired you as a marketer? If we missed one of your favs, please let us know in the comments!