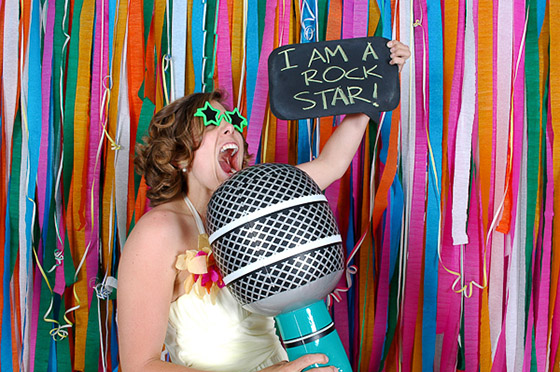 Keep these quotes in your back pocket, and you'll be a marketing rockstar. Like this girl ^ (
image source
)
Can these short snippets of marketing wisdom make you think differently about your work?
This is our 2013 collection of the best of the best marketing quotes we uncover on a weekly basis on our Facebook page.
Some quotes touch on conversion and A/B testing, others talk about social media and content marketing. We've also included a few timeless quotes from the likes of Thomas Edison and Walt Disney, which you might want to keep in mind as you plan your marketing for 2014.
1. Brian Massey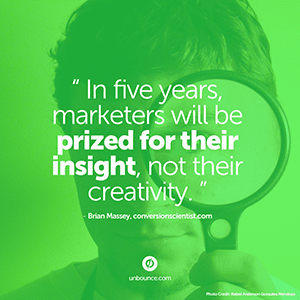 Brian Massey is THE Conversion Scientist at Conversion Sciences and he has the lab coat to prove it. His rare combination of interests, experience and neuroses were developed over almost 20 years as a computer programmer, entrepreneur, corporate marketer, national speaker and writer. He attributes this quote as a riff on what Scott Brinker has been talking about for years.
2. Thomas Edison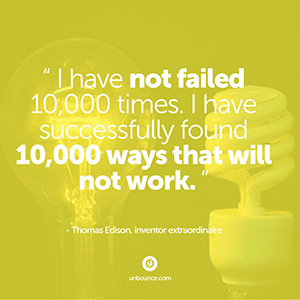 Thomas Alva Edison, inventor extraordinaire. You might be thinking, what does Thomas Edison have to do with conversion? Well, Peep Laja over at Conversion XL pairs this quote nicely with the real goal of A/B testing.
3. Facebook Mantra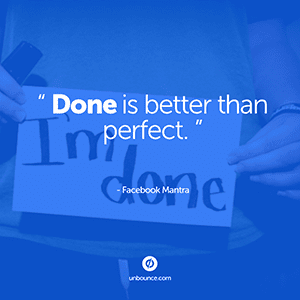 Often times marketers think they have to produce perfect landing pages. But that's not the goal or point of A/B testing. Conversion rate optimization is built on continuous improvement, iteration and making something better than it was before. This quote reminds us of that. Check out Eric Siu's post, 23 Tips on How to A/B Test Like a Badass (No. 18 is Don't Be Perfect).
4. Ryan Engley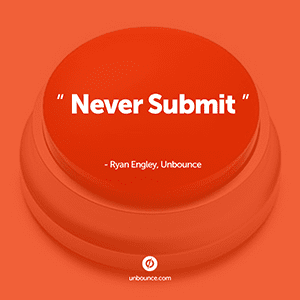 Here at Unbounce HQ, we have a large poster in our front lounge emblazoned with this quote from our customer support director Ryan Engley. Remember, your call-to-action button should never, ever say "Submit," which doesn't tell potential customers anything about what's going to happen when they click on it.
5. Patrick McKenzie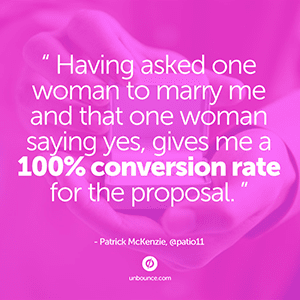 Patrick McKenzie, owner of software company Kalzumeus, explained CRO with a charming anecdote about his wife! (insert *aww* here). Check out the rest of Patrick's SearchLove London presentation Eating CRO: Real World Case Studies.
6. Ramsay Leimenstoll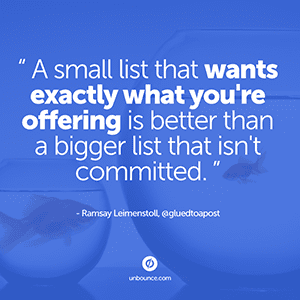 Ramsay Leimenstoll is the Marketing manager over at keep&share. We discovered her quote on Twitter and it reminded us of the controversial blog post, Why Every Smart Email Marketer Should Ask Readers to Unsubscribe.
7. Anne Holland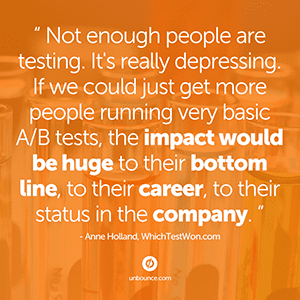 "Just test. Just test already." And once you test, test again. Anne Holland is the founder of Which Test Won, a site that teaches marketers about A/B testing and conversion rate optimization. Anne herself has been conducting tests and publishing research into what works best in marketing for more than 20 years.
8. Gary Vaynerchuk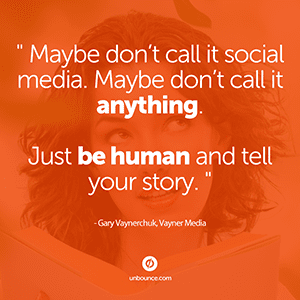 Gary Vaynerchuk is Co-Founder and CEO of the social media brand consulting agency Vayner Media. He speaks, writes, lives and breathes social media – no, wait – human stories and interaction (see what I did there?). Read more about why Gary hates the term "social media."
9. John Bonini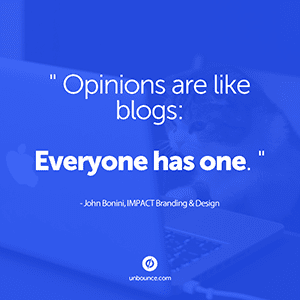 John Bonini, Marketing Director at Impact Branding & Design, wrote a thought-provoking piece every content marketer should read. He highlights the difference between marketers and journalists, hyperbole and jargon, experience and words. Find out how you can go beyond blogging and become a great storyteller.
10. April Dunford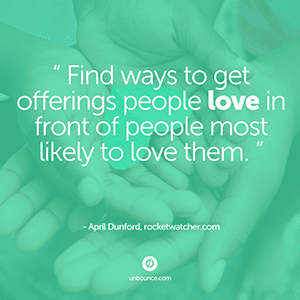 April Dunford helps startups do great marketing. Point blank. This quote was a gem featured in HubSpot's 'Learning Loveable Marketing From the Experts' piece.
11. Walt Disney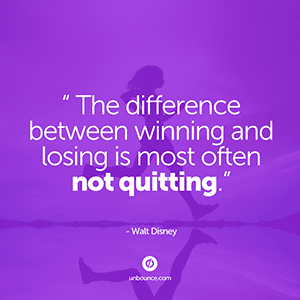 We've taken this timeless quote and looked at it through a conversion lens. Little did Disney know that his wise words would inspire conversion rate optimizers. Lesson learned: Don't Quit. Keep optimizing. And always be testing.
12. Joanna Wiebe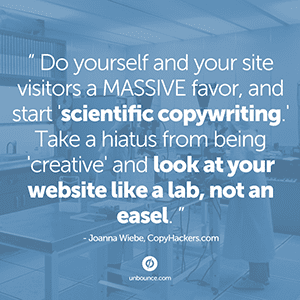 Joanna is a conversion-focused copywriter and the founder of Copy Hackers, where startups learn to write copy. This quote originates from a blog post entitled Headline Formulas and the Science of CRO Copywriting" Watch a lively Unwebinar about writing copy that demands action
13. Seth Godin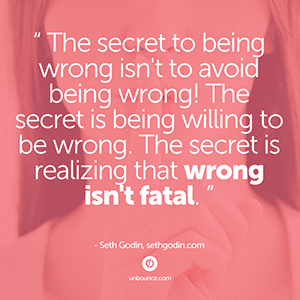 Seth Godin is the Godfather of Marketing. He's written more than 17 books and has one of the most popular his blogs in the world. How many subscribers? It's no surprise that his words are scattered across the internet and this post wouldn't be complete without a quote from him. This one is a timeless gem that gets to the core of why we A/B test and why you should too.
14. Siddharth Deswal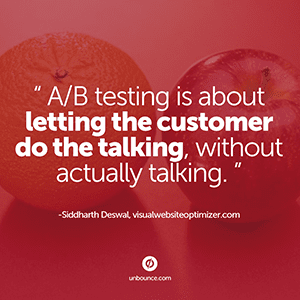 Siddharh Deswal from Visual Website Optimize wrote an awesome piece entitled 7 A/B testing mistakes you need to stop making in 2013. This quote comes from Mistake No. 2: "You listen to your boss or the HiPPO more than the data." Siddharh talks about the importance of building and developing a testing culture which values real analytics over personal opinion.
15. Michael Aagaard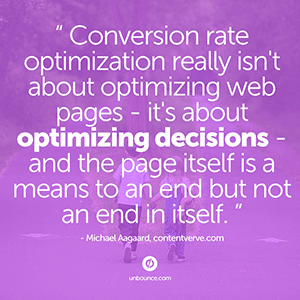 Back in early 2013, Michael Aagaard and Oli Gardner ran a split test on an Unbounce PPC landing page that resulted in a 90% increase in click-through-rate by changing one word in the button copy. What was that magical one word? They changed the possessive determiner from "You" to "My." The quote is a direct takeaway from the A/B test and is something you should remember when you're testing your own landing pages. And here's another quote for the books: "The biggest change on the page doesn't necessarily result in the biggest lift."
Check out the A/B Test Case Study
16. Anonymous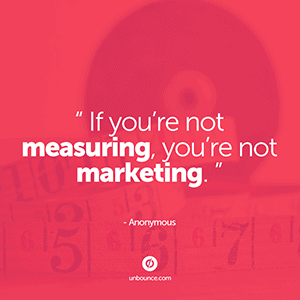 Sometimes the best quotes have unknown sources. This quote ties together Dan Taylor's article on The Next Web where he emphasizes the importance that metrics, measurements and analysis have on your marketing decisions.
Did you know that 57% of marketers point to "measurement, analysis, and learning" as one of the biggest hurdles facing their organization?
17. Peep Laja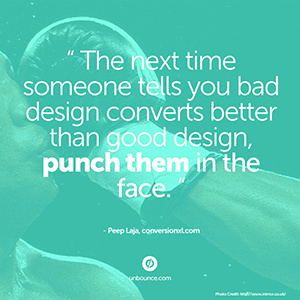 Back in July, we sat down with Peep Laja, Founder of CRO agency Markitekt and the popular blog ConversionXL for an unwebinar, The 10 Ways You're Screwing Up Your Landing Page (And What To Do About It).
During the live Q&A portion of the webinar Peep gave attendees some brutally honest conversion wisdom. Peep's 'tell-it-how-it-is' approach is just the kind of tough love you need to improve your landing page conversion rate.
18. Lance Jones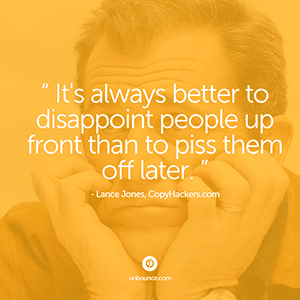 Lance Jones is a conversion consultant and the other half of Copy Hackers, a company that helps startups and marketers convert like mofos. If you like this quote, read more where it came from here.
19. Jonathan Lister
One of the keynotes at Content Marketing World 2013 was given by Jonathan Lister, VP of Sales Marketing at LinkedIn. Liester and LinkedIn believe that to be helpful is to be relevant. Read a synopsis of Lister's keynote on Top Rank
How have you helped someone lately?
20. Oli Gardner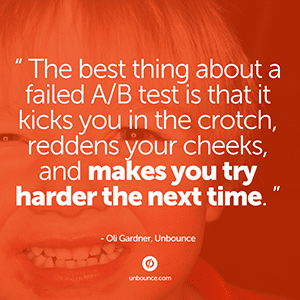 "HiPPOs are idiots. Stay out of the zoo when it comes to optimization ideas."
"Testing is the most fun & yet disappointing adventure in optimization. Getting told you suck hurts, but occasionally your tests prove that you rule."
"The customer isn't always right. But if you don't listen to them, your product won't be either."
Unbounce Co-Founder & Creative Director Oli Gardner is the king of crafting awesome conversion quotes without even knowing it. The examples above are a case in point.
PS – If you have something quotable to say that should be included in our collection of marketing insights, tweet us @unbounce and you might get your words on a fancy colorful background in 2014.
---