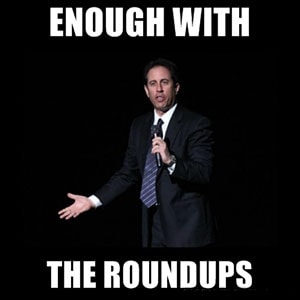 So we've arrived at that awkward time between Christmas and New Year's when I never know what to write.
As marketers, we want to remain top of mind and keep the "conversation" going with the "community" we've so lovingly developed over the year. But we also realize people have better things to do with themselves than think about our products and services – like, I don't know, spend time with their loved ones.
Here at Unbounce we even had a pool going to bet on how many – or should I say, how few – new trial starts (our key marketing metric) we'd get on Christmas Day. No one was particularly bullish.
Ever since I joined the team in early November I've been thinking about how to wrap up the year on the blog. Like you, I've read a bajillion roundup posts over the past few weeks – Top 10 This of 2013, Top 5 That in 2014, The Year in Search, The Year in Charts, The Year in James Franco (seriously).
On this blog it was the Year of Big Content and the Year of Webinars. I was thinking of going meta and doing a year-end roundup of year-end roundups but even that's been done. #thereisnothingnewunderthesun #ecclesiastes #hebrewschoolFTW
So instead, I'm just going to offer a new year's resolution. Not a prediction. Just a humble holiday wish:
Wait for it…
My new year's resolution is that 2014 will be the year that marketers get back to marketing.
That's it. Nothing about robots or 3D printing. It may even sound a little trite, but I honestly don't think marketing is something marketers take for granted anymore.
Let's face it. Marketers don't have the best rap. On the public trust spectrum, we rank somewhere between lawyers and congressmen. In popular culture, we're depicted as manipulative villains or, at best, dapper but soulless anti-heroes.
It's why that Marketers' Anthem video that circulated recently hit a nerve for many of us. Beneath its tongue-in-cheek facade, it hinted at something so rarely found in marketing circles: Pride.
It's not hard to understand why marketers need a little pick-me-up. Earlier this month AdAge published a piece entitled "Who's Next to Fall? Unilever's Massive Job Cuts Put Other Marketers on Notice." The story noted that Unilever's slashing of more than 800 marketing positions came on the heels of Procter & Gamble firing roughly 1,000 marketers. To what does the author attribute these reductions? What else? The rise of Big Data:
"The heightened focus on marketers and their related costs will spur marketers to better use analytics, [marketing analyst] Mr. Dibadj said. It's no longer just about justifying media budgets or outside expenses — now it's about marketers saving their own jobs."
In other words, big data is the gravitational force pulling back the tide on marketers to reveal who's been swimming naked all along. The only marketers who will survive this reckoning are those who view analytics as an asset rather than a threat. Better yet, the thinking goes, smart marketers will survive by becoming more than marketers – hence the myriad articles about why marketers need to learn how to code.
Of course, Unilever and P&G are corporate behemoths. In the SMB and startup worlds, where "lean" is a necessity and not an aspiration, marketers don't need to be lectured about data, performance and professional agility.
But while the tech-set has set the bar when it comes to creative, cost-effective and smart marketing, they haven't exactly embraced marketing per se. Instead, they've invented a new term for it: Growth Hacking.
Growth Hacking was coined by Sean Ellis back in 2010 in a post on his Startup Marketing blog. He described a Growth Hacker as "someone whose true north is growth. Everything they do is scrutinised by its potential impact on scalable growth." Growth Hackers, according to Ellis, need to have a "burning desire" to connect your product with your market. They're entrepreneurial, creative, disciplined and analytical. Oh, and they should always be testing.
I don't know about you, but to me that just sounds like a smart marketer.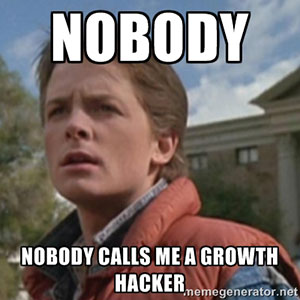 The term Growth Hacking seemed to crop up everywhere in 2013 (including the agency world) and clearly resonates with people. I'm not here to pooh-pooh it (I'll leave that to this guy and these dudes).
There's also nothing wrong with marketers adding coding skills to their quivers, or getting intimate with analytics. Mitch Joel calls this having sex with data. I call it professional development.
All I'm saying is that perhaps it's time stop rebranding ourselves and start shifting our creative energies back toward our clients, our companies and the solutions we're marketing for them.
Wouldn't that be something to be proud of?
Whether you call yourself a Marketer, a Growth Hacker, a Ninja or an Elf, we wish you a very happy New Year. See you in 2014!