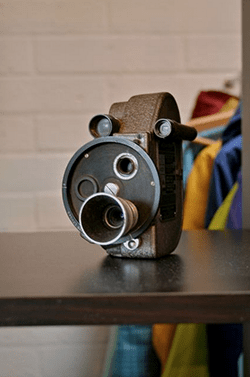 In a world of constant change, it's important for businesses to remember that when it comes to attracting an audience, 'short' and 'worthwhile' are the two most valuable words to keep in mind. By focusing on your customers' daily needs and concerns, video marketing becomes your strongest asset. But with 100 hours of video being uploaded to YouTube every minute, 5 tweets per second containing a Vine link, 150 million users on Instagram and 675 million people tuning in to watch Vimeo videos – how do you break through the clutter?
How can marketers leverage video to generate leads, engage customers, show off their brand, and 'humanize' their content to appeal to more people?
This post will break down the leading video marketing platforms including Vine, Instagram, YouTube, Vimeo & Google Hangout. Learn how to use each network effectively, compare the pros and cons, and check out which companies are doing it right (providing you with the inspiration you need to crush it!)
Vine
Vine is an app that's thriving heavily in the realm of short, creative blips of video content. Its system is set up in such a way that it is dependent on its users. It's a community-minded mobile application that allows interaction between users and audiences, exclusively, to engage and bounce ideas back and forth, with the potential of promising more exposure for those involved in sharing. "Brand Vines are shared 4x more than other online videos, and 5 Vines are shared every second on Twitter," says Heather Taylor, a vice-president at Ogilvy.
It's essentially a trade-off, because it's focused on individual ideas and creativity as well as your audience. It's no mystery that its users are exploring various avenues to grab the attention of followers and stack up the "likes", using speed to their advantage. And you should too.
Vine Quick Tips
Think community. Simply consider what you would want from a business in terms of community interaction. Engage and participate often.
Be creative and practical. People want videos that are useful and entertaining, and they want to know how you cater to their interests. Try a "how-to" or demo of your product – or present something interesting related to your brand.
Leave them wanting more. Whether your humorous, engaging or inspiring, make sure your quick clips bring people back to you.
Be authentic. This should go without saying for all social media, but don't try to hard sell your products here. Show off what you stand for. Share "why" you exist and what makes your team successful.
Brands doing it right
GE's '6-Second Science'
Lowe's 'Fix In 6'
GE's "6-Second Science" and Lowe's "Fix In 6" series' are great examples of using Vine right. Instead of droning on about business, these brands show us something fun, interesting and helpful. This approach increases customer activity and showcases what a brand has to offer without seeming like a cheesy infomercial.
More great Vines go to Brands on Vine
Pros
More creativity due to 6 second limit
Embeddable
Launched Jan 2013, early-in = good time to get on
Cons
No filters
Short length
Pornography ridden
Quickly getting crowded
Instagram
Instagram is a marketing platform that, like Vine, allows brands to advertise in a more traditional yet technologically-friendly way with photos and short video clips. According to Simply Measured, 59 % of the world's top brands are now active on the app. It's cost-effective and easy to use, which is extremely valuable when you're trying to get fast exposure in a creative way.
"The primary reason brands take to Instagram, is to create a 'community and culture' channel, in which brands show what it is like working at their companies." – HubSpot
The app famous for filtered photos has hit a few milestones since its introduction three years ago: as reported by The Wall Street Journal, the platform reached 150 million users at the start of September, a 50% increase since the last update in February of this year. Instagram gains one new user per second.
It's no surprise that Instagram is so popular for both brands and consumers. HubSpot reports that 40 % of people respond to visual content versus written and videos generate 3x the amount of inbound links than written posts.
Instagrammers are using hashtags in video sharing to promote favorites, contests, and to make posts more searchable with keywords. Because of that, brands can formulate a more specific setting for their fans to share photos, giving themselves the upper hand with a ton of user generated content.
Instagram Quick Tips
First of all, complete your profile. Don't skip any steps, and be sure to link to other social sites and your own page.
Interact! Find users that are talking about your business or related fields. Follow and comment.
Be visible. Show off your products, introduce employees and show behind the scenes, But don't appear to be the used car salesman. Be consistent but avoid seeming like spam.
Be personable. Engage with users as actual people with personality and not the wizard behind the curtain. People want to connect with brands that seem human.
Use hashtags. Instagram search is only for hashtags, so if you don't tag your content, it pretty much hits a dead end beyond your followers.
Brands doing it right
GE is great at using hashtags: "Watch this time-lapse of fan blades being installed on a #GEnx #engine, filmed last week at our #GEInstaWalk in Peebles, OH. #GE #AVgeek #Video #Technology"
Social Media Examiner tells us that Sharpie has reaped a harvest of 89% market share, thanks to the use of social media. Check out how Sharpie is using Instagram to revive 'boring pens' into something teens can get behind.
More great Instagramers: GE, Nike, Whole Foods Market, Target & Starbucks
Pros
Filters
15 sec of videos vs 6 sec
Videos are editable
Stabilization of shaky shots
Owned by Facebook therefore more potential connections
You can choose your own thumbnail
Cons
No looping option
No embedding capabilities
Can't add text within the app
YouTube
So how do you use the world's largest video sharing site and No. 2 search engine to successfully market your business, with over 72 hours of content being added every minute?
First, ask yourself, "Is YouTube right for my brand?"
When it's not right
If it's product-focused content that seems more like a sales presentation geared toward pushing people through the sales funnel, then try a paid hosting service like Wistia or Vidyard. Or If you're looking to build links to your pages, YouTube is not the way to go. Embedded videos only connect back to the platform, not your site.
When it's right
You should really only consider having a YouTube channel if your customers or whoever they're following are watching videos related to your field. According to comScore, 90% of online shoppers find brand videos helpful when making a purchasing decision and 65% of consumers will visit a brand's website after viewing a video to learn more.
It all depends on the industry, the content, and the goals you have for your business. Use what you feel will promote growth.
Viral videos and views </h3
Viral isn't the only way to go with video marketing (and, honestly, it's going to be pretty hard with the amount of video pumping into YouTube every second). Caring for and catering to the needs and interests of your audience is what's important, and that's what you should focus on when creating content that will have a lasting effect on your viewers and clients.
YouTube can do some work on its own, but most of the time it's left up to the video's ability to drive consistent viewing traffic.
Youtube Quick Tips
Make quality a priority. Since it's a longer format, be sure to use high quality video. Team up with a pro to shoot and make sure you get great audio.
Use keywords. Be consistent and put keywords in video descriptions, tags, and titles to increase search results. Always include a link to your site in the video description, for traffic and SEO. Google's got this algorithm in their search engine that makes it over 50% more likely for a site to rank higher in their search results if it contains video content than if it doesn't.
Start with great content. Give more thought to how-to's, explainer videos, and tutorials to engage more with clients and prospects. Keep the connection with your audience by "including" them in community opportunities. Share presentations, footage from conferences or marketing events, and make them feel like they're part of what you're doing. Use video for interacting with viewers. Share customer feedback to solidify your legitimacy. Choosing the right content to display in your video marketing allows your audience to know more about what you're doing, based on the informative, entertaining, or advertising nature of the finished product. This can improve recollection, increase credibility, and support overall perspective.
Monitor Content. Google is working toward a channel ranking. That means that you can figure out what's on your channel that's causing the rest of your content to lose value. If something is performing poorly, you better remove it because it's hurting you.
Have a Call-To-Action. End your video by giving viewers a choice in what direction to take.
Share! Once you've figured out what needs to be in your video and you've produced it, set it up to attract more attention. Get it on the YouTube platform, and then share it with your other social media accounts.
Connect. Reach out to other businesses and audiences that are business-minded as well. Check out Facebook business pages and LinkedIn profiles.
Strategize. Make online video and YouTube part of your marketing strategy to increase visibility, build trust with your audience, and turn potentials into consumers. Build a video SEO strategy and build your channel from scratch.
Brands doing it right
Allstate is doing big things with their branded YouTube channel. It's completely custom and really showcases the great spots they have, including the Mayhem ads we're all so fond of. They've also linked their Twitter feed for increased engagement.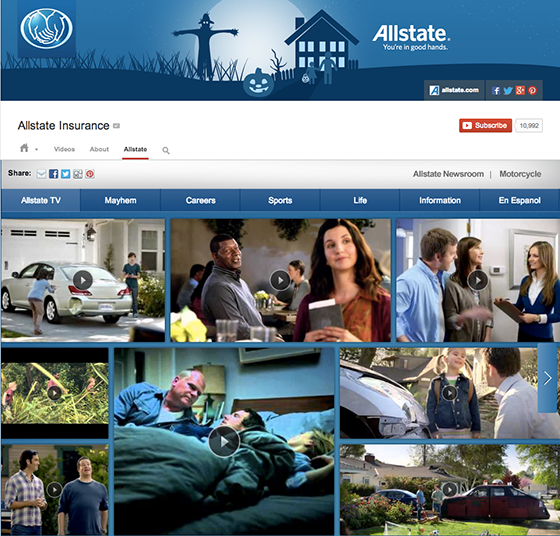 More Great Brands on YouTube: Old Spice, PartSelect, Zappos, Blendtec
Pros
Works cross-platform
Great for SEO
Always free
Entertainment / Educational focus
Cons
Ads
Competitor can be in 'related videos'
Crowded
Not as strong/uplifting community
Vimeo
YouTube is probably your first choice when it comes to video marketing since it has the most traffic, but have you ever considered a different platform? You may have better luck with a less trafficked, more loyal community.
As Jamie Cartwright puts it in his article on B2C, "Vimeo screams professionalism in the same way that LinkedIn does." I couldn't put it any better way.
Vimeo is a niche community of people (filmmakers, their fans and quality content producers) and is the opposite of YouTube. Call it…refined. If your target audience is the creative crowd, Vimeo might just be the place to be. The viral potential is much lower, but the video quality and presentation is much higher than its counterparts. Videos are better organized, easy to find, and typically of much higher quality – the type of quality your brand should be. And when it comes to quality, Vimeo has had that on their mind since inception. They were the first video sharing site to support consumer HD.
There are many advantages to Vimeo – Namely, when your video is finished playing, 'related videos' from your competition aren't shown. On top of that, Vimeo is ad-free and your customers will appreciate that! They've also removed all commercial, gaming and non-user generated content and continually monitor to keep it that way. No cat videos getting in your message's way!
Quick Vimeo Tips
Build community over mass consumption. If you're marketing on Vimeo, make sure to interact with the people leaving comments on your videos. Why? It'll increase the chances of viewers returning and sharing, and may result in collaboration or lead generation.
Customize. As far as the player goes, the aesthetic is top notch and it's completely customizable with a paid account. Use this to your advantage by making the player color match your brand. You can even add your logo on top of your videos.
Maintain integrity. If you're producing truly viral content (Dollar Shave Club, etc) and you've had success before – I'd likely go with YouTube, but if you're producing quality, informative content and you want it to be displayed with integrity give Vimeo a try.
Consider getting paid. If you're a company who's looking to be paid for your video, there's also Vimeo On Demand. Its direct-to-fan distribution includes Vimeo's video player, easy-to-use tools, and a passionate audience. Creators can put their content online, generating exposure to help them find and connect with audiences, and make a 90/10 revenue split.
Brands doing it right
This Honda campaign is stunning. Honda worked with Vimeo and Wieden+Kennedy to produce this full page takeover that is synced with the video. The experience goes way beyond just the gorgeous and entertaining video.
More great Vimeans: Lincoln Motor Company, Nokia, BMW, HTC
Pros
Niche community of quality-seekers
Higher video quality
Customizable, ad-free player
Choose your own thumbnails
Host on custom domain
Cons
Smaller community, less visibility
Must pay to host videos that promote products/services
Slower uploads for free accounts
Search results often turn up nudity.
Google Hangouts
There's so much more to Google Hangouts than remote video communication with clients and partners. This free platform allows you to host interactive video conferences with up to 10 participants – staff, clients, partners and people all over the place. During the Hangout, everyone's free to post comments or questions and share screens, all in real time. No need for travel, you can build strong relationships and connections right in front of your screen.
Google Hangouts is extremely versatile. Answer customer service questions with a real-life person, collaborate with teammates and clients, share screens to help problem solve and push new content to keep customers wanting more of your brand!
Google Hangout Tips </h3

Position yourself as the expert. Host live-streaming webinars and conferences with no more than a laptop and webcam. No need for expensive software or syncing audio. All your broadcast content is automatically uploaded to your YouTube channel ready to be shared.
Be Raw. There's no pressure to deliver a polished product because it's based on live video. However, if you're looking for some editing capabilities, Google Hangouts On Air allows you to record and share online.
Generate Leads. Strengthen connections, provide answers and create solid leads. Better leads means more conversions.
Gain visibility. Use the platform for SEO ranking. With Google's search engine algorithm, and YouTube's popularity level, your content is 53x more likely to end up in search results (Forrester, January 2010). Integrate Hangouts On Air into your marketing strategy. Keep pushing out meaningful content and connect with users.
Utilize the capabilities. Hangouts isn't just for marketing yourself or talking with your remote team. Use it as a tool to help your business. Connect and collaborate. Share and experience together.

Brands doing it right
https://www.youtube.com/watch?v=pM03tmoZ1Qk
There are a lot of businesses out there that are already experiencing the benefits of using Hangouts and Google+. Cadbury really stands out. They utilize their G+ account to share exclusive content that fans can't get anywhere else. Google reports by promoting their hangouts, Cadbury's follower base grew by 150,000 people. Read the full case study here or here.
"What's different about a Hangout is that it's eye-to-eye, face-to-face contact…We can't directly connect with every person who buys our chocolate, but we can connect with some of them. Then more people see the Hangout, and feel they're part of the experience. It's a new frontier." –Jerry Daykin, Social Media Community Manager at Cadbury
More great Hangouts: H&M, Dell & Mashable
Pros
Versatile (meetings, webinars, chats, etc)
Gain visibility and SEO ranking
Live-streaming capabilities
Ability to keep private
Cons
Limited number of participants in conferences
Google+ has relatively small reach (but is gaining momentum)
---
Focus on using video marketing to increase visibility and share content that's full of flavor, excitement, and practical tips to engage your audience. What's your aim? Figure that out, and then build your viewing around it. Try thinking of each platform as a potential audience, and develop your marketing strategy based on what you're wanting to accomplish with each one. You'll probably have to spend more time in the creation zone and gather a following, but you're more likely to draw people to your business with a unique branding personality. Be authentic!
PS – Tweetables
Throughout this post there has been some hands down awesome video stats. As a bonus, we encourage you to share them with your followers so you sound super smrt. And don't worry, you can change the tweet text before it goes out :)
---