We learned from the 2010 sci-fi classic Inception that it's nearly impossible to plant an idea in someone's head (even for professional dream architects).
This is bad news when you're on the hook to deliver a high-performing landing page for a new product or service. If no one is searching for your offer, then no matter how brilliant your page, it's much harder to get the traffic you need to validate, test, and scale.
Even Google, the search engine powerhouse, can't create demand where none existed before.
…Or can it?
SEO and paid search get so much attention, it's easy to forget that Google's coverage actually extends far beyond organic and paid SERP listings.
Not only does Google's advertising network reach 90% of internet users, but the cost can also be pennies on the dollar compared to other platforms (like social). And by using Google Ads' advanced targeting options, you can attract the perfect audience to your landing page and offer.
The opportunity to drive targeted, affordable traffic with Google Ads is massive—even if no one is entering your product or service into a search box. Here are four types of Google Ads that will deliver a real bang for your buck.
---
1. Drive Desire with YouTube Ads
More than a billion people watch over 30 billion hours of YouTube each month. Since Google owns YouTube, you can easily reach a very targeted audience with your video ads.
The Opportunity:
YouTube ads are a great way to drive awareness of your new offer by providing context and visuals in a way that text ads can't. Targeted ads not only earn views, they can bring new engaged audiences to your landing page, ready to buy.
Here's a client screenshot of their video campaign performance. With a low average cost per view (CPV) of only $0.05, the $25:1 ROAS absolutely justifies the investment.
You have several options for video ads, including bumper, outstream, and video discovery.
The most popular format is skippable in-stream. These ads are skippable after 5 seconds, and advertisers are only charged if someone engages with the ad, watches to the end, or watches past 30 seconds (whichever comes first).
With YouTube Ads, Watch Out For:
The first 5 seconds of your ad are critical for hooking your viewer. If your ad takes too long to tell your story or introduce your brand, your target audience will skip it.
If we're being honest, though, you probably don't have a "first 5 seconds" of a video ad to optimize. Creating video ads is expensive and time-consuming. It's easy to de-prioritize and procrastinate production even if you know "it's important."
Fortunately, you don't need a million-dollar ad to grab your audience's attention.
The video software company Wistia tested the impact of production budgets on performance by creating 3 ads at dramatically different costs ($100K, $10K, $1K). They found that a big-budget ad can actually backfire by feeling too polished.
So, remember, the best ads are those that connect with the audience, and that can be done on almost any budget.
Get Started with YouTube Ads:
To run YouTube ads, select the Video campaign type in Google Ads.
Your videos will need to be hosted on YouTube. You can use unlisted videos, but they can't be private. You can find complete instructions for launching YouTube Ads here. 
Keep in mind that even if your videos are just halfway-decent, they'll do more to grow awareness than not running videos at all.
Editor's note. Amy focuses on using video to drive visitors who aren't aware of your product or service to your landing pages, but you might also consider targetting people who're already actively searching (if you're not already). Joe Martinez has some killer advice on how to use custom intent audiences. Worth a read if video is your thing!
2. Be Newsworthy with Discovery Ads
Discovery campaigns are Google Ads' newest campaign type (and the unofficial competition to Facebook's feed).
The Opportunity:
Until recently, social media channels had somewhat of a lock on serving hyper-targeted ads directly in a user's news feed. But Google's ramping up its options, and its Discover feed serves content to 800 million users based on their interests.
You can reach targeted users as they consume personalized content on Discover, YouTube, and Gmail with Discovery ads, featuring your product alongside other curated topics based on rich signals (such as web activity and location).
With Discovery Ads, Watch Out For:
Machine learning attempts to serve the right ad to the right user at the right time, but that doesn't mean you can be "hands off."
Notice the ads above. I was served a discovery ad for a Business Analytics degree around the time I was researching MBA programs, so this ad feels very relevant to my interests.
The laundry ad, however, is a definite miss (punctuation mistake included). The promoted laundromat is 30 miles from where I live; so, even if I were "in-market" for a laundromat (which I'm not), the distance would be a deal breaker. 
Google gives you the tools to reach your ideal market, but it won't tell you that your geography is wrong or that your targeting is too broad. This is true for all ad formats, but it's a needed reminder when Google suggests its internal signals will do the heavy lifting of targeting.
Get Started with Discovery Ads:
Because Discovery ads are still in Beta, your first step is to work with your Google rep to get whitelisted. These ads also have their own campaign type, so select Discovery.
Follow these instructions for Discovery campaigns. Avoid ad disapproval by paying close attention to the image requirements, which are slightly different than they are for other ad types on Google Ads.
---
3. Get Email Opens (with No List) Using Gmail Ads
You don't need a big list (or any list at all) to send targeted email promotions with high open rates.
The Opportunity:
With more than 1.5 billion active users worldwide, Gmail is one of the most popular websites in the United States. You can reach your target readers at the top of their inbox and only pay when they open your ad, which expands like regular email.
While you can no longer target keywords within Gmail content, you can still use "audience keywords" and many other personalized targeting options to capture your ideal audience's attention and direct them to your landing page.
With Gmail Ads, Watch Out For:
When ads are served in Gmail, you're charged for the click that opens the email to expand your message, not the click that drives to your landing page (those clicks are free). This can be very confusing to marketers!
Also, be aware that only free Gmail accounts receive Gmail Ads: if you're primarily targeting B2B clients using the paid G suite (or non-Google email) accounts, you may want to skip this method.
Get Started With Gmail Ads:
You don't need to set up a dedicated campaign to run Gmail ads. Discovery ads (above) and Responsive Display ads (below) both automatically give you coverage in Gmail inboxes.
If you'd like more control over the way Gmail ads run, including using custom HTML files, you can do that by creating a dedicated Gmail campaign after you select Display.
Remember that you're writing for an inbox, so write a headline that feels like a subject line, not a headline. "Grocery delivery on your schedule" works. "Packed with protein" doesn't.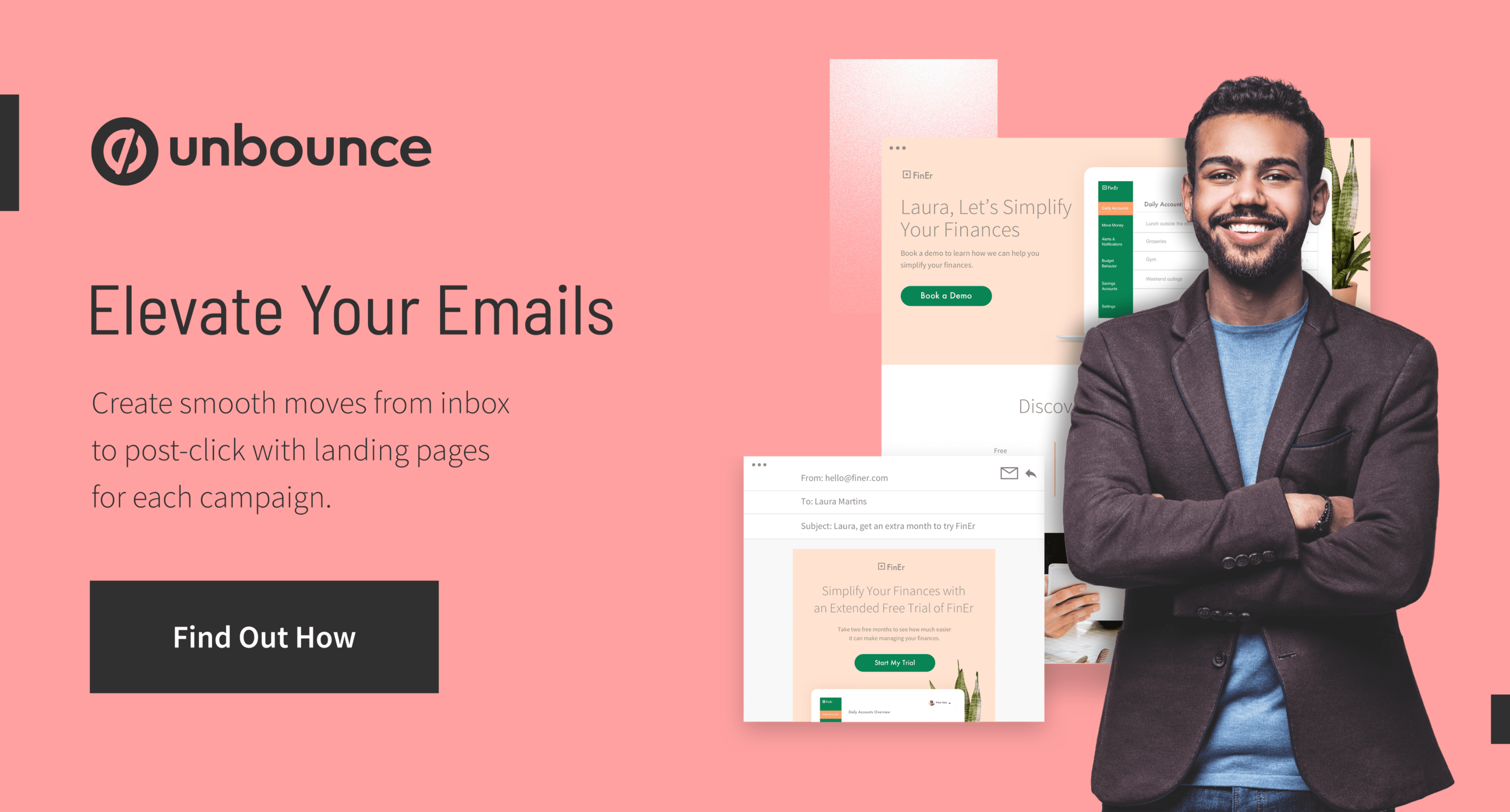 4. Amplify Your Offer with Responsive Display Ads
Responsive display ads are the default ad type for the Google Display Network. They let you easily create ads that can meet the publisher specs of the 2 million sites included in the network.
The Opportunity:
With Google's automated responsive display ads, you can input multiple assets for a single ad (15 images, 5 logos, 5 videos, 5 headlines, and 5 descriptions).
Google will adjust and optimize the size, appearance, and format of the ad to fit the available inventory on the publisher site, meaning you don't have to create multiple ad sizes of each creative variant.
Here are examples of how a responsive display image ad, text ad, and native ad can look on a mobile device:
With Responsive Display Ads, Watch Out For:
If you're like most advertisers, you don't think the pure text ad (shown above in the center) is great for branding. Unfortunately, there's no way to opt out of that or any other ad combination using RDAs.
If you need full branding control for your ads, image ads would be a better choice. They're more work to set up but allow you to ensure brand guideline compliance.
Get Started With Responsive Display Ads
Responsive display ads are easy to create. Select the Display campaign type and follow these instructions to set up responsive display ads.
With responsive ads, you'll have one URL for any headline-image-description combination, so use assets that can work interchangeably.
---
Keep Bad Traffic Off Your Landing Page
Now that you know the types of Google Ads you can use to grow awareness and interest for your offer, let's review how to make sure you get the right traffic.
The best ads and landing pages won't drive conversions if you're reaching the wrong audiences. Worse yet, unqualified traffic will skew your conversion rates and make it harder to improve your landing page.
You can layer audience and content targeting to reach new relevant audiences with precision, including:
Demographics
Affinity
In-market
Custom intent
Topics
Placement
Content keywords
Display expansion
Refine your targeting strategy, so you don't waste budget or capture the wrong audiences.
As we saw in the laundromat example, just because someone is in your county doesn't mean they want to drive an hour for your coin-op laundry service.
But tighten the geography to a 5-mile radius, and serve ads to people who are actually in-market for laundromats, visiting the websites of your competitors, or researching how to fix a broken washer/dryer… and suddenly you've got some viable targeting.
Enjoy the Fruits of Early-Funnel Google Ads
Ads targeted to the right audience at the right time can create awareness where none existed before. This ultimately drives organic searches, builds effective remarketing lists, and creates a new audience to reach.
Smart paid marketing not only solves the problem of generating landing page traffic, it also closes the loop on our inception problem, planting the seeds of future loyal audiences.