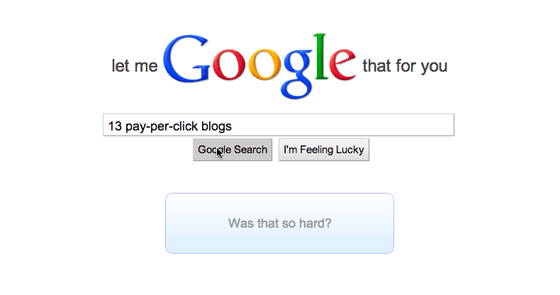 According to Wikipedia,
To Google [goo·gle – transitive verb, often capitalized] means using the Google search engine to obtain information on something or somebody on the World Wide Web.
Sounds easy right?
Not so much. We actually found it really hard to find *good* PPC blogs. And that's what makes this collection even more special.
To make it super useful, we added extra data to each blog's description including authors, social reach, how often on average they produce new content and what you can expect.
Whether you manage a multi-million dollar marketing budget or are looking to invest $0.30 on your first click, you'll want some guidance from the folks who've been there before.
So let's get to it.
In no particular order, here are the internet's best PPC blogs. If you know of any more, please add them in the comments section.
PPC Marketing Blog No. 1: PPC Hero
Authors: The PPC Heroes
Twitter Followers: 10,000+
Updates: Daily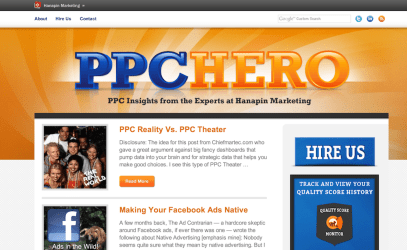 What to expect: From basic how-tos to sophisticated bid automation techniques, PPC Hero talks about it all. The beauty of this blog is that its writers are fearless. They test adventurously and aren't afraid to speak their minds. It's the perfect way to learn without taking risks yourself.
PPC Marketing Blog No. 2: Google Adwords Blog
Authors: Google
Twitter Followers: 90,000+
Updates: Weekly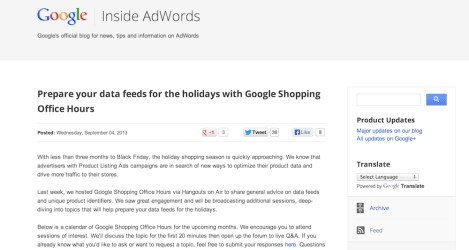 What to expect: Straight from the source to your marketing team — Google will help you prepare your data feeds for the holidays, walk you through new product launches, and teach you techniques for better understanding your customer conversion funnels. Be the first to know when a major change happens. Educate your team.
PPC Marketing Blog No. 3: SearchEngineWatch – PPC
Authors: Various 
Twitter Followers: 56,000+
Updates: Weekly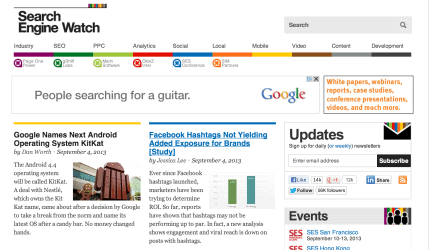 What to expect: If you're an online marketer, Search Engine Watch is a must-read. The website covers a range of customer acquisition strategies from content marketing to SEO and social media. PPC is very much a part of this ecosystem and is a topic that Search Engine Watch covers up to a few times per week. Detailed how-tos and thought leadership are both the norm for this blog. The best part? They make sure that all their content is actionable.  And hey, if you're up to it, you should write for the blog too.
PPC Marketing Blog No. 4: Aquisio Blog
Authors: Acquisio Team
Twitter Followers: 3,500+
Updates: Weekly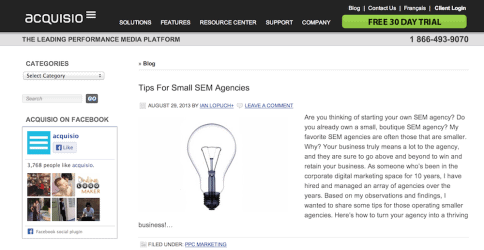 What to expect: At any given time, you probably have hundreds of PPC questions running through your minds. The problem is, you may not have a buddy with whom to share your thoughts out loud. Will greed ruin Facebook ads? Are you thinking about starting your own small PPC agency? Should quality scores be your priority or most important goal? This blog takes a deep dive into every PPC marketer's mind. Why not ping this vendor with the questions you're facing too? We bet they could help!
PPC Marketing Blog No. 5: WordStream Blog
Authors: Larry Kim, Zina Kayyali, Andy Stefano, & Team
Twitter Followers: 16,503
Updates: Weekly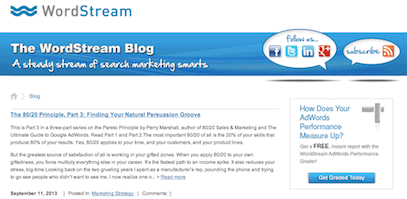 What to expect: WordStream publishes a range of content related to content marketing, mobile advertising, sales, and affiliate marketing.Within this mix, team member Larry Kim publishes solid blog posts on PPC. We love this blog's perspective, that PPC is a part of an even larger marketing mix.
PPC Marketing Blog No. 6: Clix Marketing
Authors: The Clix Marketing Team
Twitter Followers: 701
Updates: Weekly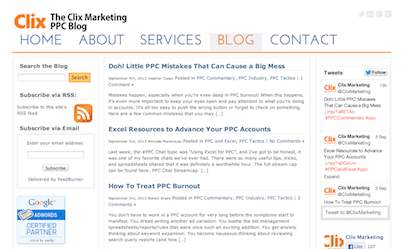 What to expect: Clix is run by an internet marketing jack of all trades. In other words, this team has witnessed full-spectrum PPC strategies. In the world of PPC blogs, this one is a hidden gem. But we'll bet that it won't be hidden for long. There's so much actionable stuff here. Whether you're looking for Excel tips or strategies for dealing with PPC burnout, you need to share these resources with your entire marketing team. Inspiration overload = awesome.
PPC Marketing Blog No. 7: PPC Chat
Authors: Matthew Umbro, James Svoboda, and Paul Kragthorpe
Twitter Followers: 2,500
Updates: Weekly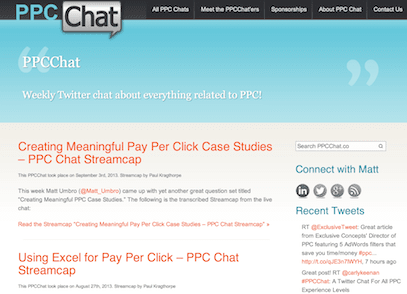 What to expect: Sometimes blogs just aren't enough. You need that human-to-human interaction. You need to talk it out. When you feel that conversation void in your heart, look no further than PPC Chat. The name is self-descriptive. Follow this blog, and you can participate in weekly Twitter chats about PPC. And if you miss the live chat? Read the streamcap instead.
PPC Marketing Blog No. 8: Bing Ads Blog
Authors: MSFT & Guest Bloggers
Twitter Followers: 20,500+
Updates: Weekly
What to expect: Bing's search marketshare is approximately 20%. Especially if you're aiming to reach a general consumer audience, this platform is one that your SEM team cannot afford to ignore. Strategically speaking, if you're not sure where to get started, this blog will guide you there.
PPC Marketing Blog No. 9: PPC on Quora
Authors: Quorans 
Quora Followers: 2,000+ Followers
Updates: Monthly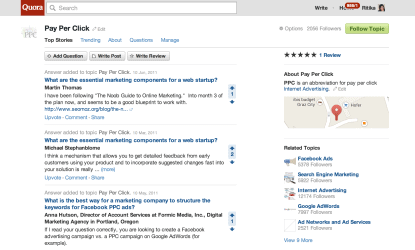 What to expect: It's not cheating, we swear. Even though Quora isn't a blog, we think you'll find phenomenal reading material here. Ask a question, or pop in to see what the rest of the PPC community is talking about. This topic forum is also a portal to other Quora discussions on Facebook ads (5,000+ followers), Search Engine Marketing (5,500+ followers), Internet Advertising (12,000+ followers), Google AdWords (7,500+ followers), and ad networks/ad services (2,500+ followers). Holy cake pops, that's a lot of people!
PPC Marketing Blog No. 10: Certified Knowledge
Authors: Brad Geddes
Twitter Followers: 8,000+ Followers
Updates: Weekly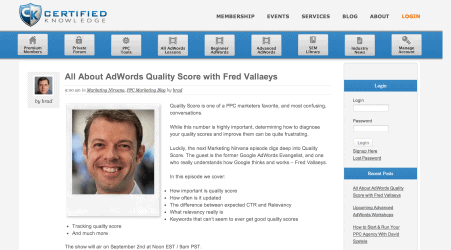 What to expect: Certified Knowledge is a comprehensive, membership-based community for PPC insight. This blog is jam-packed with workshop details and interviews with some of the industry's top experts. In addition to the blog, you'll have access to private forums, PPC tools, AdWords video lessons, beginner tools, advanced strategies, an SEM library, and industry news.
PPC Marketing Blog No. 11: PPC Associates Digital Marketing Blog
Authors: The PPC Associates Crew
Twitter Followers: 1,000+ Followers
Updates: Daily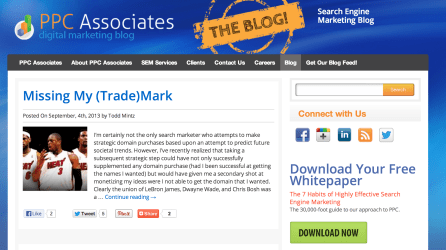 What to expect: This blog will keep you entertained for hours. And when you feel like you need a change of pace? Download one of the free PPC Associates guides on effective habits of search marketing and Facebook advertising strategies. Learn how to reach your social audiences, why you should bid on your branded keywords, and how to emphasize the narrative behind your advertising.
PPC Marketing Blog No. 12: The Trada Blog
Authors: Anna Sawyer
Twitter Followers: 5,000+ Followers
Updates: Monthly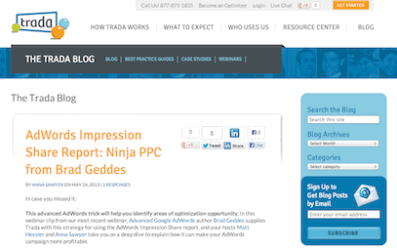 What to expect: Trada is a platform that gives marketers and website owners access to a community of PPC experts who do the daily work of campaign setup, buildout, research, and optimization on your paid search campaigns. Check out blog posts related to popular tools and why companies like Walmart can afford to spend a $15 cost-per-click on a $10 stapler. (Hint: it's because of a crucial marketing concept called lifetime value). This thoughtful bog is a must-read.
PPC Marketing Blog No. 13: TenScores Blog
Authors: Christian Nkurunziza
Twitter Followers: 150+
Updates: Monthly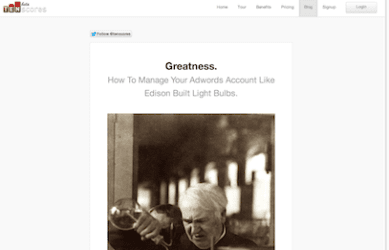 What to expect: The company's co-founder (Chris) doesn't write that often, but when he does, it's awesome. This blog is committed entirely to quality scores, a real pain point for many online advertisers. You could call this blog a "hidden gem" or "up and comer." Label it what you want. The bottom line is that you need to check it out. And while you're at it, check out his Google AdWords quality score tracking tool, too.
Now it's your turn. What are some of your favorite PPC resources, blogs, and articles? Share them with your fellow readers here. Happy bidding, folks.
---
Did I miss any rockstar PPC blogs? Add them in the comments section.
---