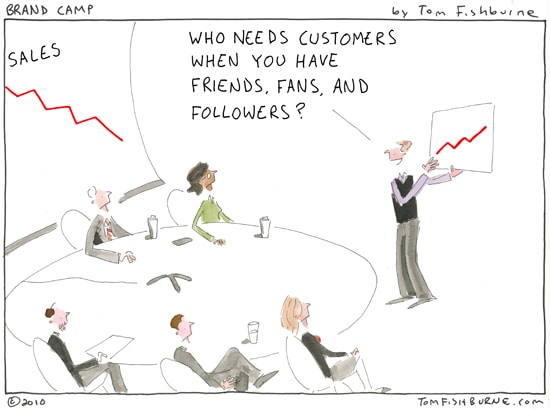 Marketers, I feel you.
Social networks are growing, but it only feels harder to reach who we need to.
On Facebook, brands have to wait until a fan interacts with their page or sends them a message before the conversation can really begin. And Twitter feeds move so fast that it's impossible to get a valuable word in edgewise.
Our once-active fans are seeing less of our content, tempting us to look elsewhere for that precious social media ROI.
When no one is engaging with your content, it's tough to make an impact on the bottom line. So, where else on social can we look to build an email list or make a sale?
Google+. Yes, that Google+.
We hear a lot about the importance of building relationships using social media, but what we really want to know is how to drive conversions.
Believe it or not, Google+ now garners higher engagement than Twitter and Facebook. And with a monthly active in-stream user base of over 300 million, keen niche communities, recent updates to make image sharing a richer experience and new features like Helpouts and Shoppable Hangouts (in beta), Google's much-maligned social network is poised to serve both B2C and B2B markets well.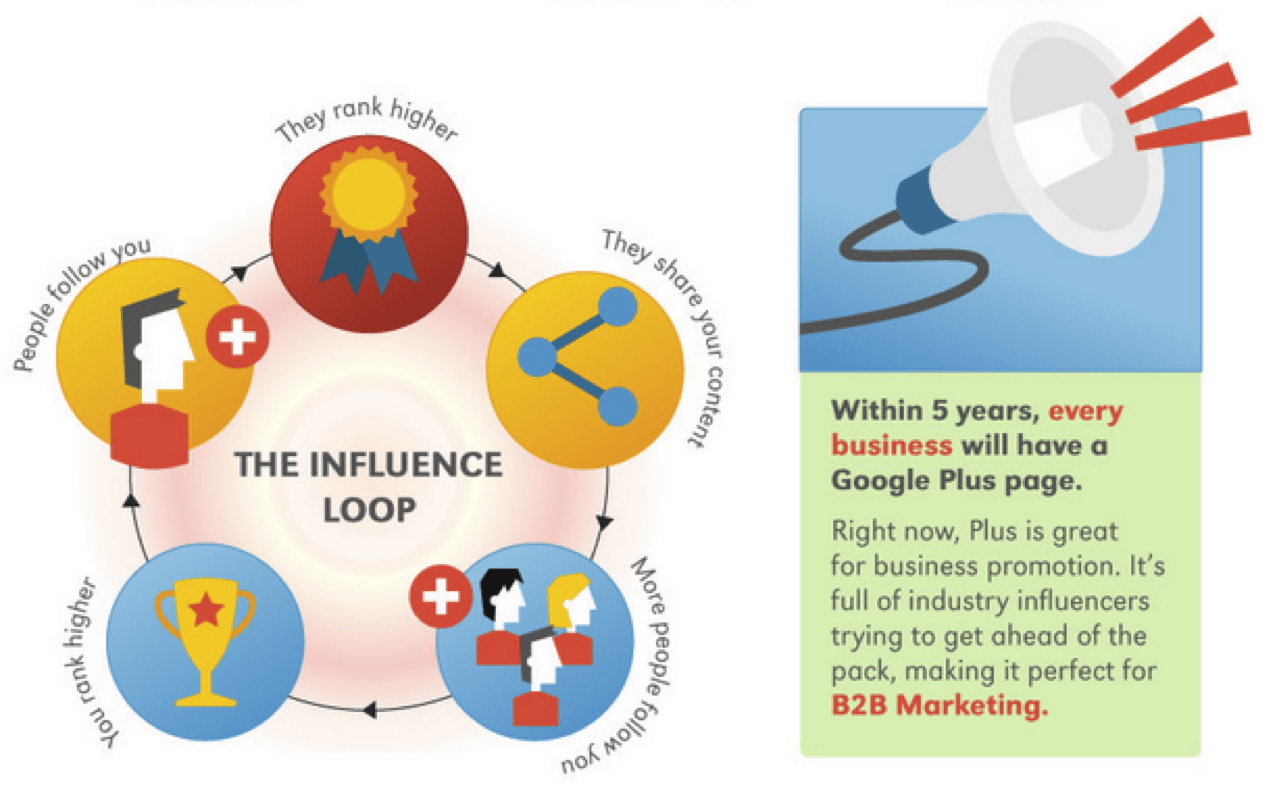 Google+ could be where your biggest influencers are hiding.
Image source
.
I took a look at what some of the most successful entrepreneurs and business leaders on Google+ are doing to increase their conversions. Now, I'm sharing some of their most innovative tricks with you to take back and test on your own G+ page.
1. Link to a landing page from your Google+ posts
Eye-catching features like large visuals and formattable text make Google+ posts the perfect link delivery vehicle for your lead gen landing page.
Web consultant Stephan Hovnanian knows a lot about Google+, as the author of Google+ Pro Tips. Recognizing that there was high demand for beginner tips, he put together a thorough Google+ Profile Optimization Checklist, created a lead gen landing page to download it and got busy sharing.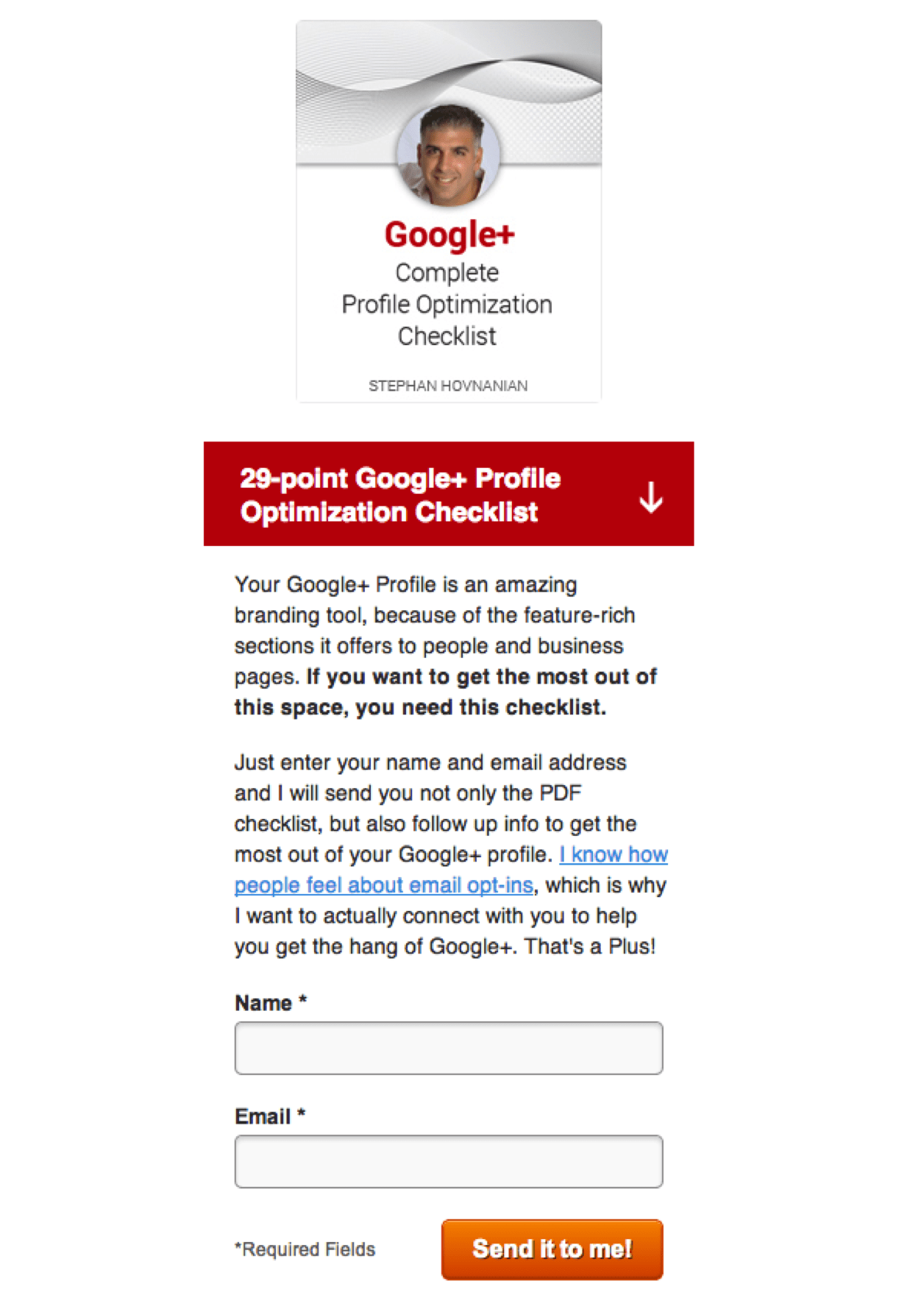 Stephan experimented with different approaches when sharing the page on Google+: just providing the link, using a shortened version of the link, posting it on his About page and linking to it from other books he authored on the subject of Google+.
In less than three weeks, he had over 200 people download the book and sign up for his email list (the vanity URL performed best, in case you're wondering).
Stephan's advice for newcomers on the platform:
"Make sure you take advantage of the story section of your profile to link to your best resources and landing pages. Then you can reference your profile as a resource in comments on other people's posts. You'll expose yourself to a larger audience that will get to know you better and want to follow you."
2. Build lasting relationships and co-promote content
Remember when I mentioned that relationships are key in social media? Well, users who are killing it on Google+ have perfected the art of making new BFFs.
Ryan Hanley is one of those guys; his Hangouts On Air series "Content Warfare" recently hit #3 in the iTunes store among the top podcasts for content marketing, mainly because he's built up a strong personal connection with his base of loyal fans.
Circled by over 10,000 people (that's how they say "followed" on Google+), Ryan can be found all over the space. Seriously, I don't know how the guy manages to keep on top of all his conversations. Not only does he produce amazing content of his own, he also actively promotes what others are doing.
He directly attributes the success of his show to having dynamic, insightful guests. Once a guest appears on Content Warfare (and sometimes even before), Ryan makes a conscious effort to openly endorse that person and share their other ventures.
For example, Tom Morkes was on Ryan's show in November, yet the two continue to push each other's content, months later.
This combination of initial show appearances and content sharing leads to a cycle of discovery between Ryan's network and his guest's, ultimately leading to new email subscribers, listeners and circle members. 
I straight up asked if this was something pre-arranged, and Ryan assured me that he has supported those that support him, no questions asked. This human approach is undoubtedly an important and recurring theme on Google+.
Like many others, when Ryan first signed up for Google+, he had a profile but no activity (big mistake, he admits). Since using Hangouts On Air to record and broadcast his podcast as well as inviting guests to appear, he's seen a huge jump in the viewership of his show:
"Google+ traffic contributes my highest Time on Site metric as well as Subscriber Conversion Source. The more quality traffic I can get from Google+ to my website, the more subscribers I capture. It's that simple."
Side note: Driving traffic to your website instead of a landing page? Pssst… Ryan, I think you might need to take a look at #1 again!
3. Get your expert customers to generate leads for you
Using your CRM software (or looking through whatever feedback you're able to gather), see if there are opportunities to engage customers you know are satisfied with your product or service and are likely to recommend you. Be proactive with outreach and don't be shy about asking "awesome customers" to write a positive review for you on Google+.
This next example from Webquacker, an Australian SEO company that offers creative digital marketing solutions, sparked the original idea for this post.
I had noticed that Google+ traffic to the Unbounce website was displaying a higher conversion rate (New Trial Starts) than any of our other social referral resources and wanted to see if other businesses were having the same luck. Our Google+ traffic was converting at 12.9% vs. LinkedIn (8.3%), Facebook (8.2%) and Twitter (5.9%).
A quick search uncovered the story of how Webquacker got its first lead (and sale!) on Google+:
Without prompting, Webquacker's existing client Dentist@330 weighed in on a post in the Australia G+ Network Community and recommended Webquacker to a man named Yasser, who was looking for a WordPress expert: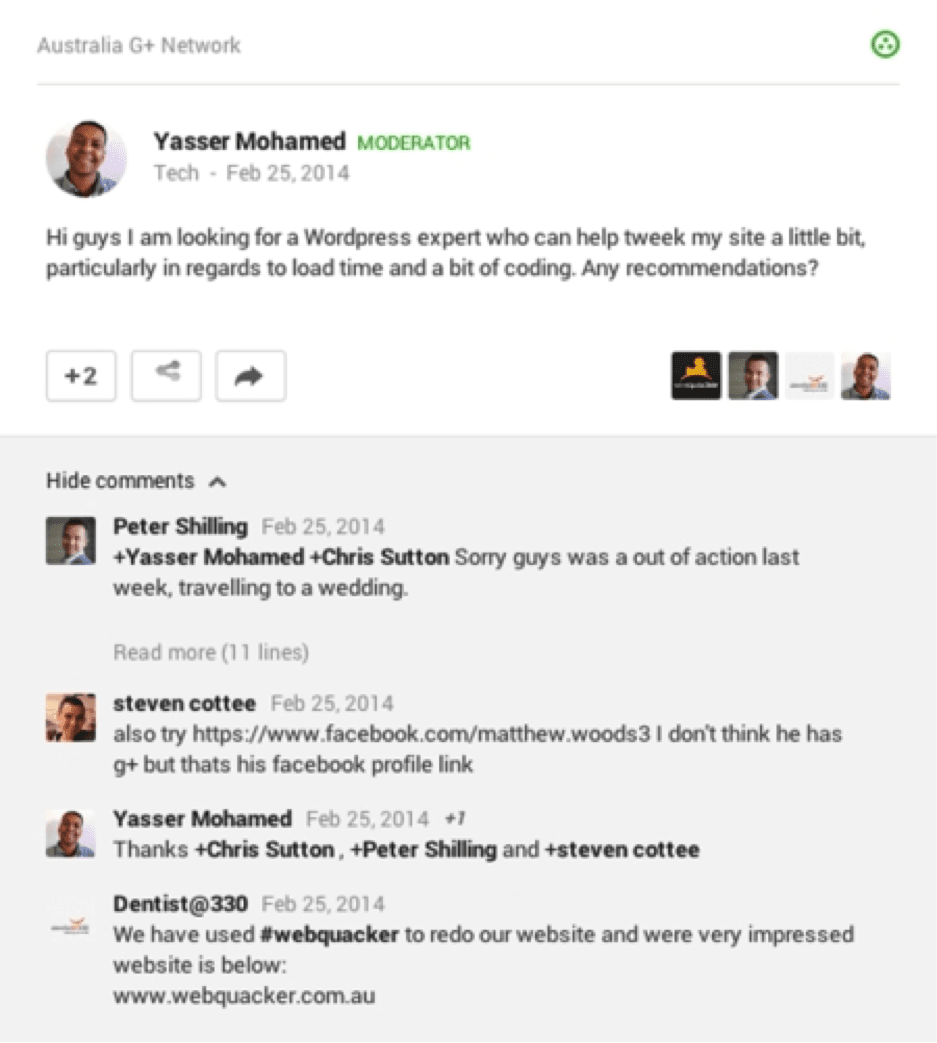 Within less than a day, Yasser became Webquacker's newest client, and went on to become a glowing advocate for the company. This one referral secured Webquacker over $1,000 in new revenue.

I love this story for two reasons:
It shows the value of having engaged, supportive customers and the power of online word-of-mouth referrals; and
It demonstrates how Webquacker is a brand with fantastic social listening skills.
Webquacker's Digital Strategist Kapil Jekishan first identified Google+ as a potential channel for new business after about 3-4 months of using the platform:
"Only once I jumped in on conversations did I see the opportunity to build real relationships and the fact Google+ has an open nature, which doesn't require someone to follow you in order to have a conversation."
4. Sponsor a Hangout On Air
Wade Harman is the king of relationship marketing. And he should be — that's what his Hangouts On Air (HOA) series is all about!
What sets Wade apart is his ability to turn key relationships into business opportunities: he signs on paying sponsors for his show. Wade's approach to monetizing his HOA does not only benefit himself, but has also resulted in perks for his viewers and amplification for his sponsors.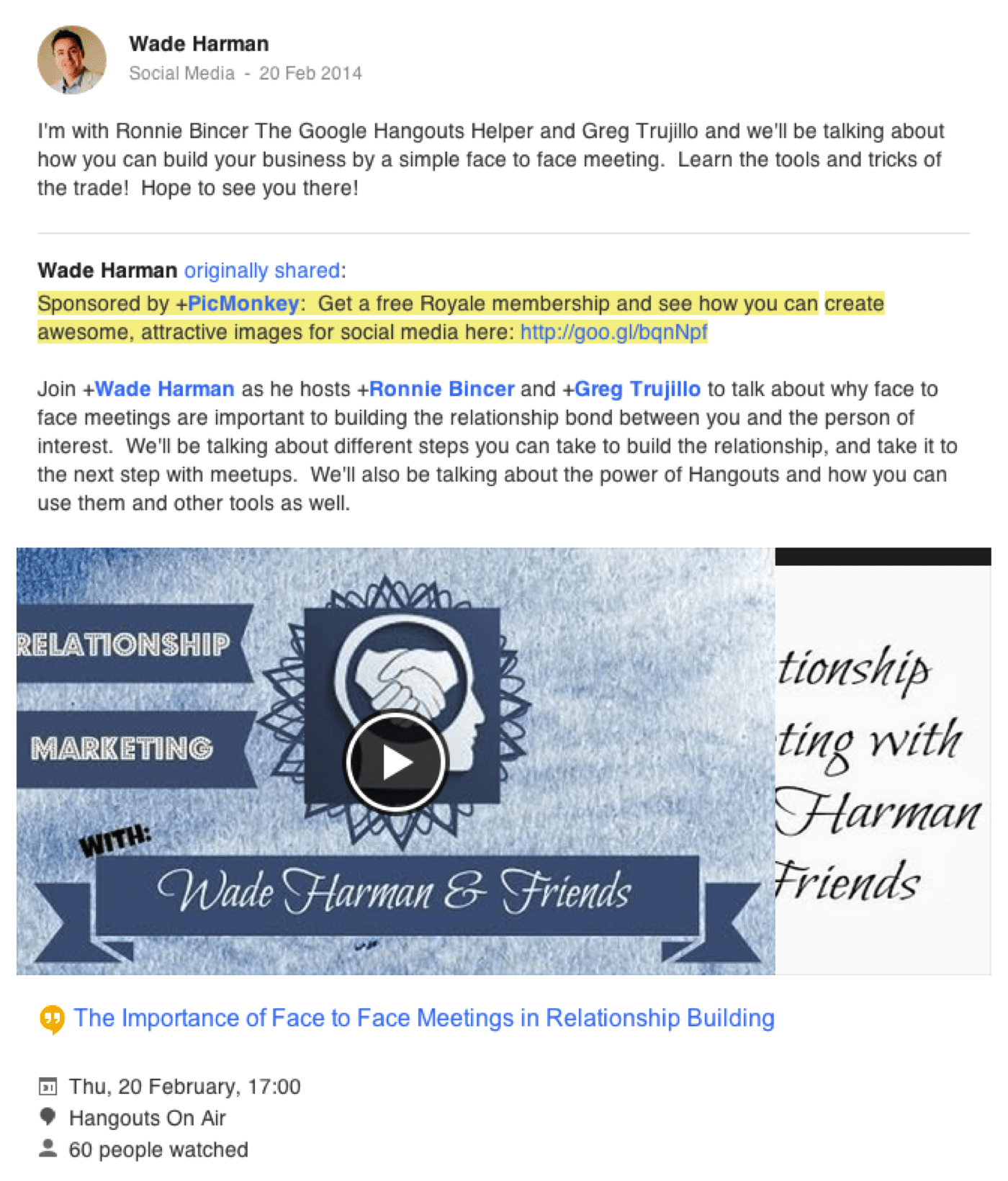 By partnering with brands that want to increase their exposure on Google+, Wade is able to help those that are a good match for his viewers grow their business by repeatedly mentioning and featuring them each week. He's helped brands like PicMonkey and NOD3X gain traction on Google+ by boosting both engagement and sign ups. Wade is adamant that true, reciprocal relationships go a long way on Google+ and are instrumental in his success:
"You can't do this by yourself. You need to find like-minded people and connect with them, help them, and promote them! Become a servant so you can eventually get served yourself."
5. Host your own HOA
Earlier I told you how Ryan Hanley, host of the popular show Content Warfare, often features guests on his show (which I often watch). On one of those episodes, Jason T. Wiser and Mia Voss appeared together to talk about how to "Host Google Hangouts Like a Boss." 
Jason hosts his own booming online strategy show (hence his appearance on "Host Google Hangouts Like a Boss"). His YouTube channel for On Track Tips has more than 1,100 subscribers.
However, Jason doesn't limit himself to focusing solely on subscriber numbers. He has become a pro at repurposing content. The way HOAs cross-post to YouTube gives Jason's content a longer "half-life" than most other social media pieces:
"It is not the numbers that are the greatest reward of Hangouts, it the loyalty factor. The comments, Twitter engagement, and YouTube replays are what really make this platform so powerful. My interview with Peg Fitzpatrick has been viewed over 900 times with an average retention of 14 minutes on a 30 minute interview. This is an amazing number!"
Jason gains an average of nine leads per show, and 15 new YouTube subscribers. Since the start of his interview-style HOAs, he's quadrupled his original subscriber count on YouTube and grown his circle of show invitees to just over 2,000.
Because he is attracting highly targeted and loyal viewers, many have converted into long term clients — so much so that he recently had to pause new shows for the rest of the month just to catch up on client work.
How can you make the most of your HOA appearances, whether as a host or even a guest? Lead your viewers to a landing page that encourages sign ups. Jason is famous for "the big red button" — the CTA for his email list.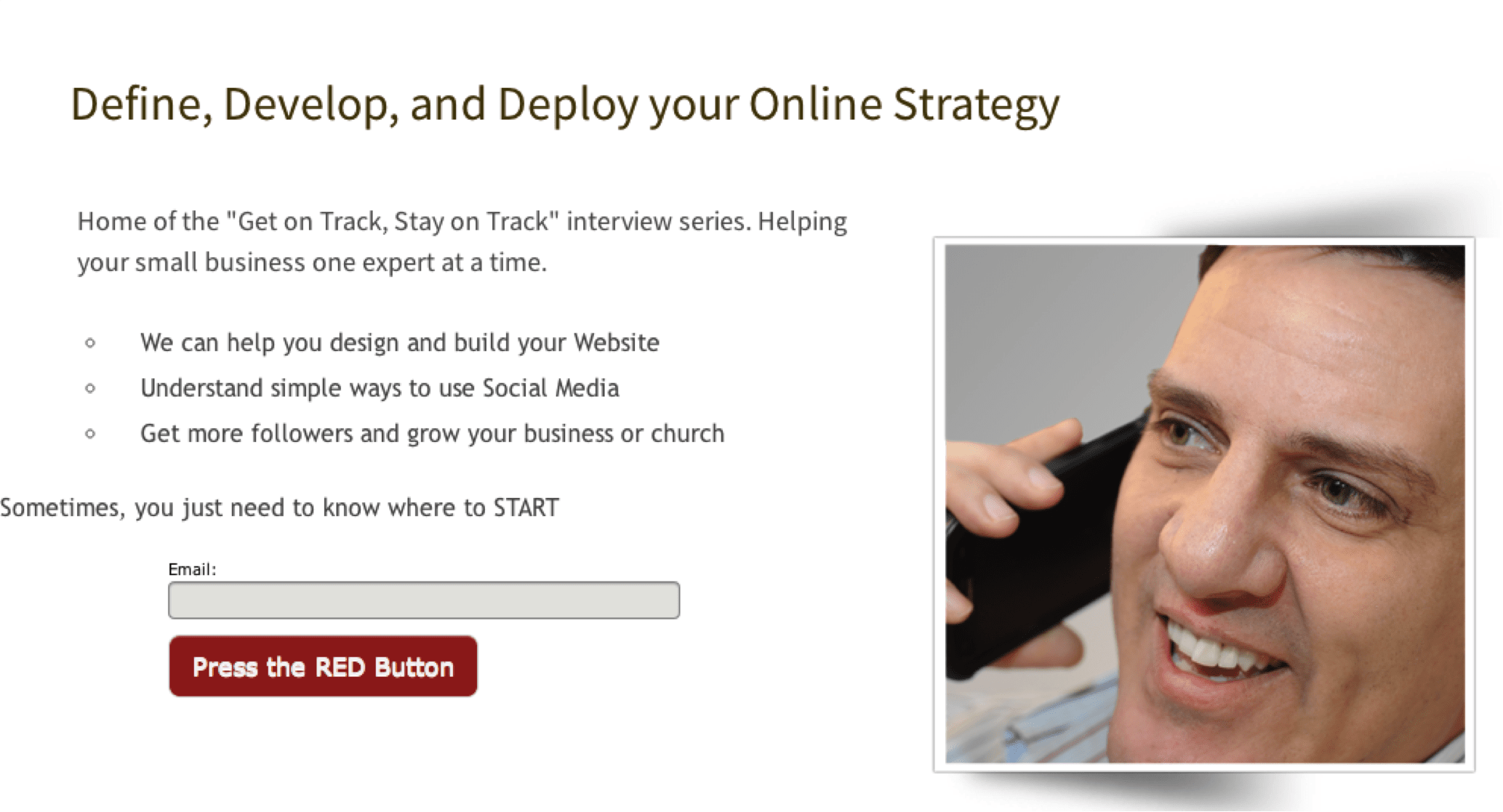 Lead HOA viewers to a dedicated landing page to encourage sign ups.
6. Submit your HOA to a directory
You've heard that HOAs can help you grow your presence on Google+, so now you have your own show — but nobody's watching. How can you get more viewers? A great start is to submit your show to a directory such as HOAshows.com.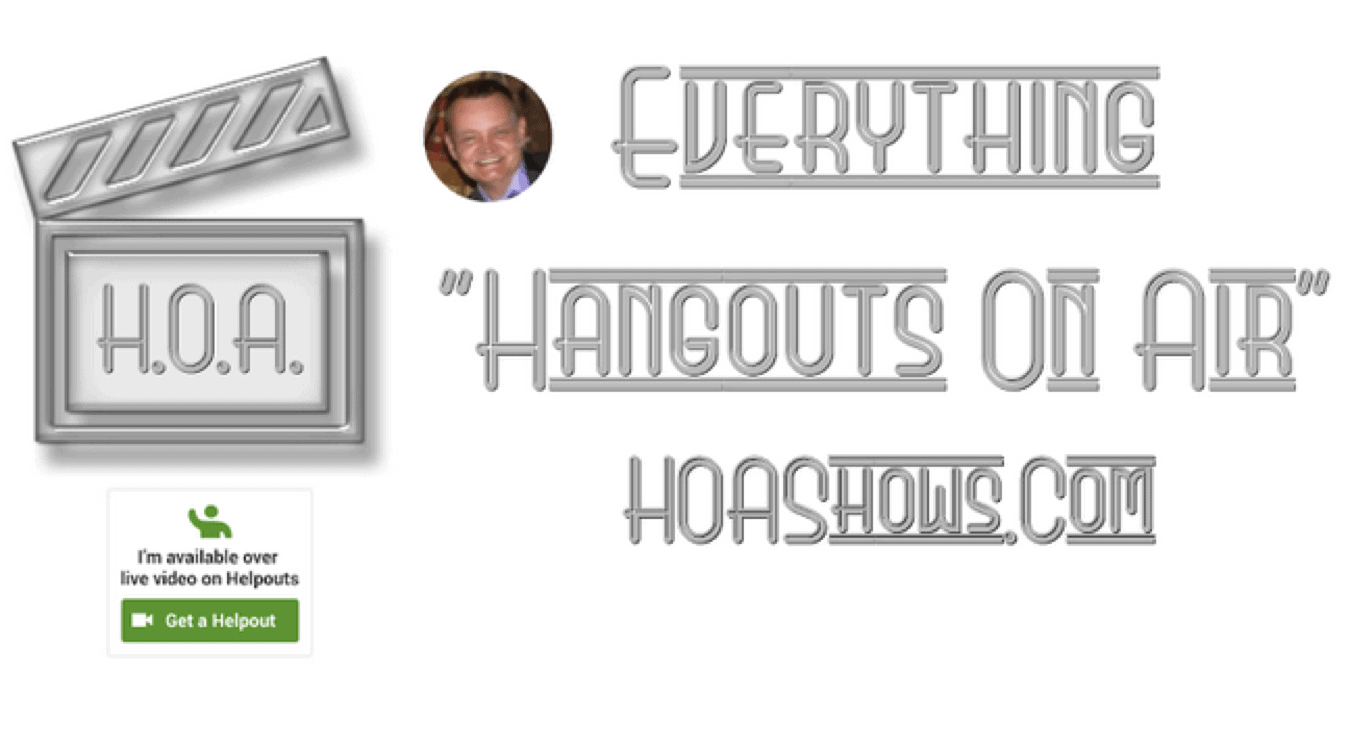 Submitting your show to a directory such as HOAShows can help increase viewership.
Like many successful ventures, Mark Seydel's HOAshows was born out of a pain he had as a newbie on Google+: he was drawn to watching Hangouts On Air, but found it challenging to discover new ones that were relevant to him. By creating his directory, Mark became the first one to hear about a brand new show while also making a name for himself on Google+.
Every day, he posts the day's schedule to the 9,000 people who have him circled. Now known as the HOA guy, Mark gives advice on a subject he surprisingly knew little about only a few short months ago.
Today, his directory is ranked #1 on the Google SERPs for the keyword "HOA shows." Here's Mark's top tip for readers wanting to improve their own HOAs:
"Watch other successful shows and critique them as you go. You'll learn what pieces you want to incorporate into your show while ruling out others that don't fit."
Putting it into practice
If any of these tactics seem like hard work to you, it's because they are. That's the whole point.
With any social network, including Google+, you can't just set it and forget it. With forceful spam blocking and passionate community members as gatekeepers, Google+ should be approached with a humble attitude. Be ready to put in the time to actually talk to people. (Scary, I know!)
Whether you decide to organically build relationships or dive right into sponsorship, you'll discover there are an abundance of ways to strategically and effectively use Google+ in your marketing campaigns. All you need is a little elbow grease and a friendly smile.
Like any new channel, the initial time investment might be high, but once familiarity sets in, you'll wonder why you didn't start sooner.
Laurie Laizure of Customized Walls once explained her ideal approach in the comments of a Google+ Business Spotlight episode:
"Get to know people, build a relationship, and then quietly convert them to the sale if they're interested in your product. No pressure."
What's your "secret weapon" when it comes to using Google+ as part of a marketing campaign? I want to hear about it in the comments!