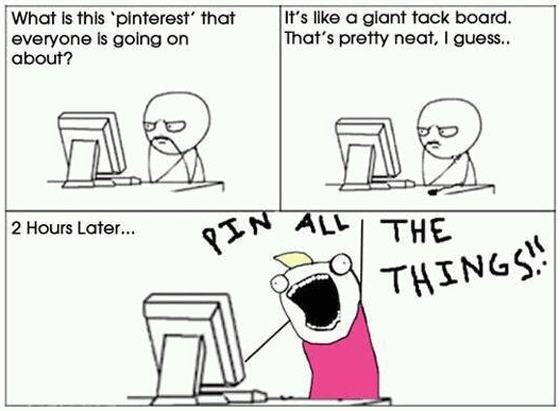 Pinterest is here. And despite what many of you may think, it's about more than pretty pictures. Pinterest is growing up, and it's open for business.
Answer me this:
If you're wondering if marketing on Pinterest is worth the time…
If you want cold, hard stats so that you know where to focus your social media efforts…
If you want to sound like a Pinterest Marketing Nerdstar…
Then stop looking.
Here is the most current data about the state of Pinterest and how marketers are using it to grow their businesses, in the form of 20 pinteresting marketing stats:
---
1. Pinterest traffic has doubled since May 2012
Making it the 4th largest source of traffic after Google, direct traffic, and Facebook. (source: Shareaholic) Add Pinterest to the top social media sites that you should continually monitor and update. I love the one by Bonobos.
---
2. 25% of Fortune Global 100 companies have Pinterest accounts
(Source: Burson-Marsteller) Relatively low compared to YouTube and Facebook, but when you consider the age of Pinterest (2.5 years), it's actually quite impressive and is a number that should continue to climb.
---
3. Pinterest users are 79% women
(Source: Pingdom) If your target market is primarily female then Pinterest is definitely for you. However, the number is starting to balance out across the sexes, with the female user base being 92% not long ago.
---
4. Zappos users are 13x more likely to share a purchase on Pinterest than on Twitter
(Source: Bloomberg) Consider adding the "Pin It" buttons to your website to get your users working for you and increase your viral coefficient.
---
5. Pinterest's share of all site visits in North America increased 5,124% between July 2011 and July 2012.
(Source: Experian) Remember the early days of Facebook and Twitter? Use this opportunity to get an early start on your competitors by leveraging Pinterest as soon as possible. The time for innovative business practices on Pinterest is now.
---
6. 40% of the Interbrand Top 100 Brands are on Instagram, vs 51% on Pinterest and 64% on Google+
(Source: Simply Measured) Don't be surprised if Pinterest passes Google+ in 2013.
---
7. 57% of Pinterest users interact with food-related content, the #1 category of content
(Source: Compete) Companies in the food industry should post pictures often to their Pinterest boards. And include a link back to their website in the description of the pinned photo. Adding a call-to-action to your photos will help your content pay off.
---
8. Pinterest buyers spend more money, more often, and on more items than any of the other top 5 social media sites
(Source: comScore) We live in a visual world. Inspiring customers with photos and video will do wonders for your bottom line. By the way if you need professional photos or video, check out SmartShoot.
---
9. U.S. consumers who use Pinterest follow an average of 9.3 retail companies on the site
(Source: Shop.org) Compared to 6.9 retailers on Facebook and 8.5 on Twitter. Sounds like an early WINterest to me.
---
10. Pinterest pins which include prices receive 36% more likes than those which do not
(Source: Shopify) Pinterest is now the 3rd most popular social network site in the world, and retailers can leverage its popularity to significantly increase traffic and sales.
---
11. Pinterest accounts for 17% of social media driven revenue on Shopify, up from 1% in 2011
(Source: Shopify) Need some inspiration on how to structure your Pinterest account? Check out how Shopify does it – they even have a Chuck Norris board.
---
12. Customers referred to Shopify by Pinterest are 10% more likely to make a purchase than those from other social media sites
(Source: Shopify) Couple this with the Zappos stat earlier and you have more proof that Pinterest drives real sales.
---
13. The average order on Shopify by customers referred by Pinterest is $80, compared to $40 for Facebook
(Source: Shopify) Sorry for all the Shopify stats, but I think they are interesting. It's worth pointing out that Shopify reports that customers spend more and are more likely to purchase on Pinterest than any other social media site.
---
14. Pinterest generates over 4x as much revenue per click (attributable to first touch) as Twitter and 27% more revenue per click than Facebook
(Source: VentureBeat) It's becoming clear that Pinterest is for sales, Twitter is for news and Facebook is for friends.
---
15. 81% of U.S. online consumers trust information and advice from Pinterest
(source: BlogHer) This is likely attributed to the strong community that Pinterest has built.
---
16. Pinterest is now the 3rd most popular social networking site behind Facebook and Twitter
(source: Experian) Retailers should focus more of their energy on Pinterest than Twitter and Google+.
---
17. Pinterest drives more referral traffic than Google+, YouTube and LinkedIn combined
(source: Shareaholic) Copyblogger has a great post analyzing Pinterest traffic.
---
18. 47% of U.S. online consumers have made a purchase based on recommendations from Pinterest
(source: BlogHer) Encourage customers to share after their purchase when they are most likely to do it.
---
19. 78% increase in social sharing and 218% increase in social traffic after Indigo launched Pinterest sharing tools
(source: VentureBeat) Tip: It's time to remove Digg and add Pinterest to the social share buttons on your site.
---
20. Moms are 61% more likely to visit Pinterest than the average American
(source: Nielsen) Retailers such as Babies R Us, Wittlebee, and Gilt are great examples of boards that target the mommy demographic.
---
Tweetables
Share these stats with your followers. And don't worry, you can change the tweet text before it goes out.
---
---