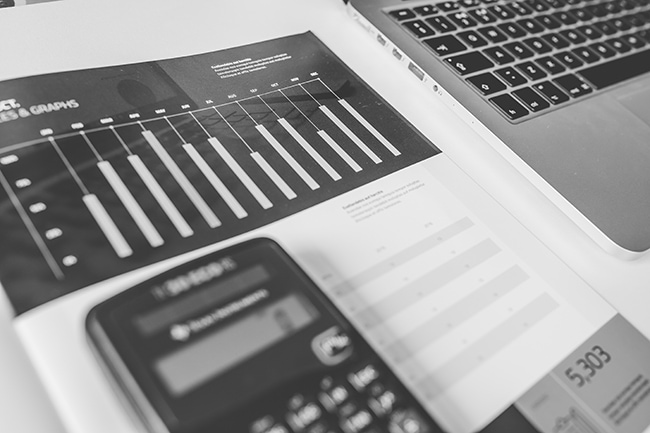 Do your homework before you run your social media marketing campaigns and you'll save a lot of time and effort in the long run.
Image source
.
Social media is quickly becoming the most time-consuming marketing channel. All the posting, responding to comments, discovering new networks – it never ends.
Wouldn't it be great if you could shave off some of those manual labor hours? The key to streamlining your social media marketing lies in your data and analytics – gaining insight into what works and then doing more of it.
But social media analytics can be a pain in the butt if you don't know what you're searching for. You've got to know which questions to ask, and how to find the right data from the right reports in a short amount of time.
In this post, I'm going to cover four questions that cut to the core of social media analytics. With each question, I'll show you the exact data sources and reports needed to get in and out with insights for your marketing team.
You'll find out how to answer the following questions:
Which posts are driving the most value for my business?
Where does my content perform best?
When is the best time to post?
Who else is sharing our content?
NOTE: Before you can use this guide, you need to ensure two things:
You're tracking Goals and conversions in your Google Analytics account. (Here's how to set up Goals, and here's how to set up tracking for conversions.)
You're tagging all outbound URLs with Google's URL Builder. (Here's how to tag URLs, if you didn't already know.)
1. Which posts are most valuable to my business?
Which networks are most lucrative for your business? Which posts contribute to your bottom line?
To find out, you'll want to look at total conversions (goal completions) by social network, and determine which social networks are contributing to conversions on your site or landing pages.
Report #1: Aggregate social conversions
Where it is in Google Analytics: Acquisition > Social > Conversions
What's in it: A breakdown of each social network and associated number of conversions.

The social network conversion report shows which network drove goal completions on your website.
What the report will tell you
This report is great for a quick analysis of which social networks are driving the most valuable actions on your website.
To get a bird's-eye view of conversions over time, click through on the network to view a timeline of conversion by date.
Report #2: Campaign conversion report
Conversions by network is important, but we'd also like to get more details on which specific posts are driving conversions. For that, we need to look at "campaign" traffic, or URLs we specifically tagged.
Where it is in Google Analytics: Acquisition > Campaigns > All Campaigns
What's in it: This report looks at links that were tagged individually with the URL builder parameters, along with a ton of associated engagement and conversion metrics.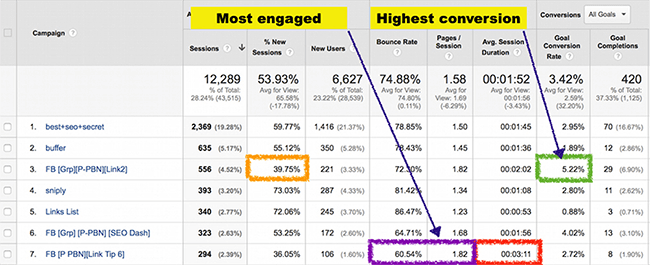 There's a lot of information in this report. Orange box: Am I marketing to the same people over and over? Purple box: Do people stick around to read multiple articles? Red box: How long are people sticking around for? Green box: What percentage of visitors complete a goal on my site? (Click for larger image.)
What the report will tell you
Sessions: This metric tells you which posts are driving the most traffic.
% New Sessions: Return visits show whether people value your content enough to come back for more. If your percentage of return visits is high, you want to be sure that engagement metrics are as well (low bounce rate, high time on site).

On a different note, a high percentage of return visits could be a sign that your distribution channel isn't reaching new audiences. If your campaigns are delivering fewer new visits as time goes on, it's time to find new places to push your content or grow your existing community.

Bounce Rate, Pages/Session: Use these metrics to determine the quality of the traffic driven to your site, but don't get hung up on bounce rate! Traffic from social media is inherently disruptive – you're pulling them away from a place where they enjoy spending time. It's not uncommon for people to leave without looking at more pages.
Avg. Session Duration: Instead, look at bounce rate in conjunction with average session duration. As long as session duration is high, bounce rate is less relevant – it shows that your content was fully consumed but the visitor chose to return to the social network.
Goal conversions: Like with our first report, you can also see which posts drove goal completions on your website or landing pages.
2. Where does my content perform the best?
Certain blog posts will perform better on Facebook than on Twitter.
Similarly, different types of content (tactical blog posts, quizzes, infographics, giveaways) perform differently on different social networks. The following report will help you identify which type of posts (and which post formats) jibe well with users on a particular network.
Where it is in Google Analytics: Acquisition > Social > Landing Pages; Add Secondary Dimension "Social Network"
What's in it: Entry pages and corresponding performance on social media.

Make sure to add "Secondary dimension: Social Network" to the Landing Page Report. It'll help you connect specific pieces of content with performance on social networks.
What the report will tell you
Use this data to optimize content creation by network.
For example, my data tells me that video posts on Facebook drive a ton of traffic and long visits. On Quora, video posts don't perform well, but links to long-form content do. This helps me understand which type of content to create and the most effective means of distributing it.
3. When is the best time to post?
Forget what you read online (well, except for this). Your audience is unique. We need to use your data to find optimal times to post content.
No matter which social media network you're examining, don't just look at clicks. Be sure to couple that information with data you dug up earlier, such as visits, time on site and conversions on your site or landing pages.
Report #1: Networks with built-in analytics
The following strategy can be applied to any network with built-in analytics. But as an example, let's have a look at how to do this in Twitter, which has a killer analytics platform that tracks impressions and engagements from every tweet.
From the home screen, click your profile image and select "Analytics."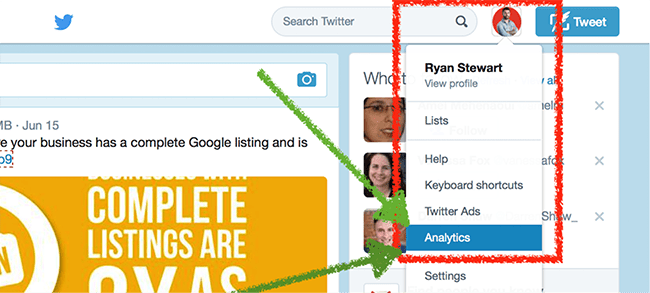 From the Analytics home screen, click "View all tweet activity."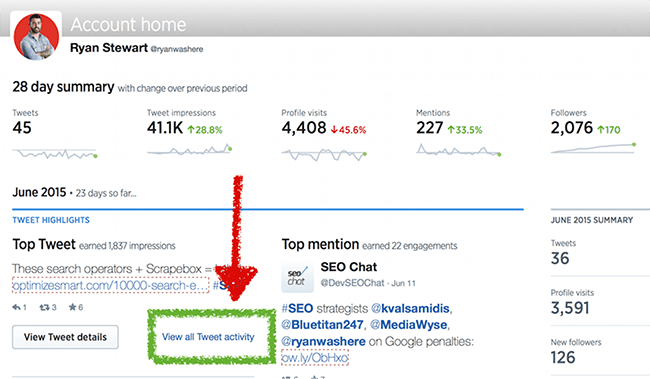 Look through your top and worst tweets.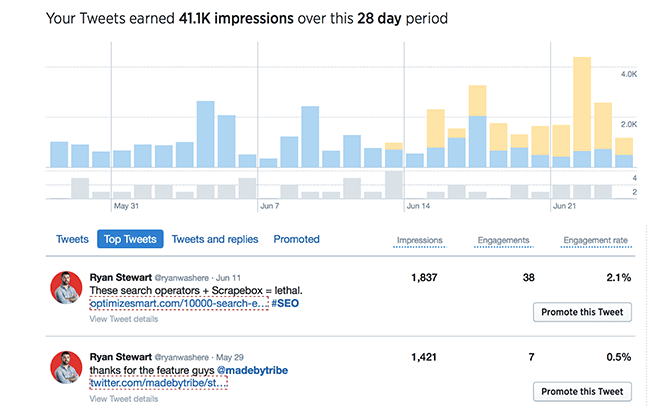 Screenshot from Twitter's analytics platform (desktop view). You can view your top tweets and check a number of corresponding engagement metrics.
Dig into your content by asking questions like:
What day did you post it?
What time did you post it?
What time is your audience most active (i.e. when did you get the most impressions)?

Screenshot from one of my top tweets. Clicking through gives you detail into performance over a specific time period.
This data is not only crucial in finding the best time to post, but can help you answer other important questions:
What type of content gets the most engagement?
Do hashtags increase engagement?
Do images grab attention and drive engagement?
These questions will help you understand the best time and the type of content that performs the best.
Report #2: Networks without built-in analytics
For networks without built-in analytics, you need to get creative and find means of keeping your own data. As an example, let's look into tracking behavior on Reddit, which is notoriously difficult to crack because it has no analytics to consult.
A huge key to Reddit traffic is posting to the right subreddit at the right time. When you click through to a subreddit, it tells you how many Redditors are currently online.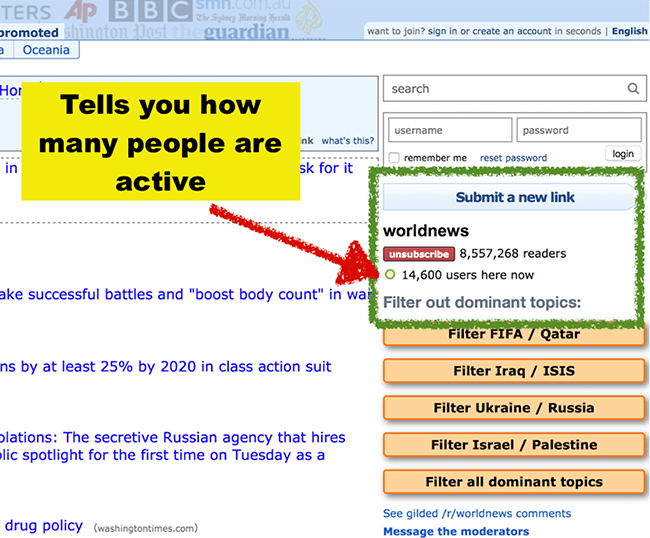 For seven days, I checked my target subreddits and recorded how many people were online at three different times.

I know, it's a pain, but it helped me make smarter decisions about when to post. Before using this strategy my Reddit posts would only drive a few visits at a time.

After deploying this method, I was able to time up my delivery to get maximum views on my content – that one post drove 1,691 visits.
4. Who else is sharing our content?
Your reach becomes exponential if people are motivated to read your articles then share them from their own social media accounts. Plus, keeping tabs on who is talking about your content allows you to jump in and engage with new potential customers.
Where to start?
Report #1: Tracking organic mentions and shares
Where it is in Google Analytics: Acquisition > Social > Data Hub Activity
What's in it: The posts from social media users. This report only populates from Google's partners (Facebook, Twitter, Pinterest are not included).

What the report will tell you
This report gives you the opportunity to see who is sharing your content, allowing you to jump in on the conversation. I consult this report to quickly view comments or questions and respond with further insights.
Report #2: Tracking the performance of organic shares
If you're doing a good job creating content, other people will drop links to your site.
Since you're now tagging all your outbound links with UTM codes (you are, right?), the remaining social traffic will come from inbound links (i.e. people sharing your content).
Where it is in Google Analytics: Acquisition > All Traffic > Source/Medium; Under "Secondary Dimension" select "Landing Page"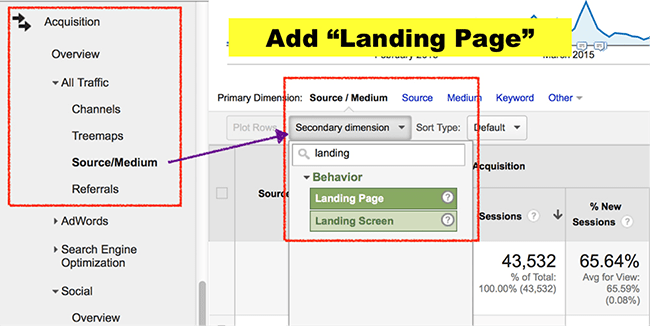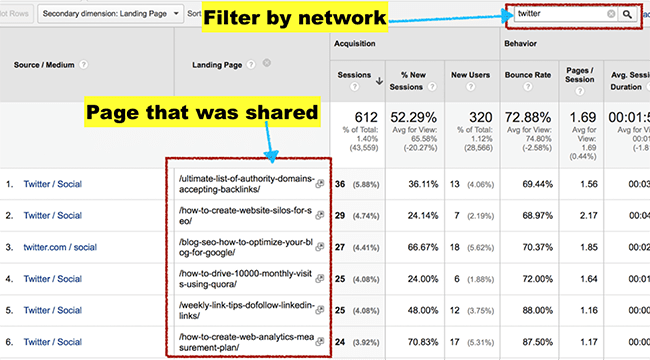 Make sure to filter by network to hone in on specific data.
What's in it: This report shows you the pages being shared on social network. Focus on untagged campaigns to determine organic shares
What the report will tell you
Find out how and where your content is being shared. Use this information to optimize content distribution across social networks by understanding which pieces of your content are being shared organically.
Discover the engagement metrics of organically shared content. Sometimes content you promote doesn't perform well – this data can help you determine whether using influencers to promote your content is worth the cost.
So, when does the time saving part come in?
You're probably rolling the heck outta your eyes right now, aren't you?
I get it – this looks like a TON of work.
But think about the insights you'll gain. You'll learn:
Which social networks drive traffic, conversions and goals for your business. More importantly, you'll know the ones that don't. You no longer have to waste time on them.
What type of content (images, hashtags, infographics, videos, links, etc) performs the best. You can now optimize everything you post to drive more action.
The optimal time to post your content. You no longer have to guess – just click a button and schedule it.
It's cliché, but anything worth doing takes effort. However, it doesn't have to take time. Leverage your data to drive insights and automate your social media marketing efforts.