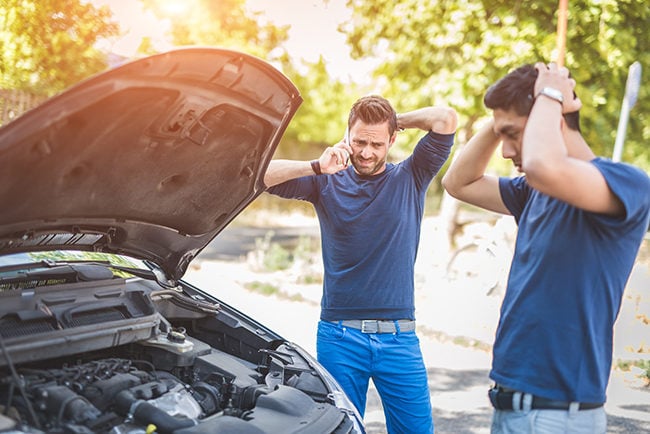 Don't wait until it's too late. Check and maintain your conversion rates often, just like you would your car. Image via
Shutterstock
.
A major faux pas I often see with conversion rates is that businesses only seem to to address them when alarms are triggered.
Conversion rates require ongoing maintenance and should be regular focal points in your optimization and marketing efforts. Like a vehicle engine, they should be checked and maintained regularly.
When conversion rates aren't what you had expected, it's not uncommon for marketers and business owners to start making knee-jerk tweaks to on-page elements, hoping to lift conversions through A/B testing. While there may be some benefit to tweaking the size of buttons and adjusting landing page headlines and CTAs, there's a great deal more to conversion optimization.
You must take a scientific approach that includes qualitative and quantitative data, rather than an à la carte strategy of piecing together what you think might be most effective.
Before making any changes to your landing pages, ask yourself these 10 critical questions:
1. Is there an audience/market fit for the product?
Analyzing the market for your product is something you do in the early stages of product development before launching. It's part of gathering initial research on your audience and what they want or need. When you experience conversion problems, you may want to revisit this.
Use keyword tools, and platforms like Google Trends to discover the volume of interest in your particular product. If the traffic shows a steady or growing interest, then how well does the product in its current form align with the needs of the people searching for it?
Revisit your audience research and review the needs and problems of your customer. Make sure your product addresses those needs and provides a solution. Then look to how you position the product to ensure customers can see the value.
2. How accurate is your audience-targeting strategy?
There's nothing quite as frustrating as watching hundreds of people visit your product or landing pages, only to be left with empty carts and no opt-ins.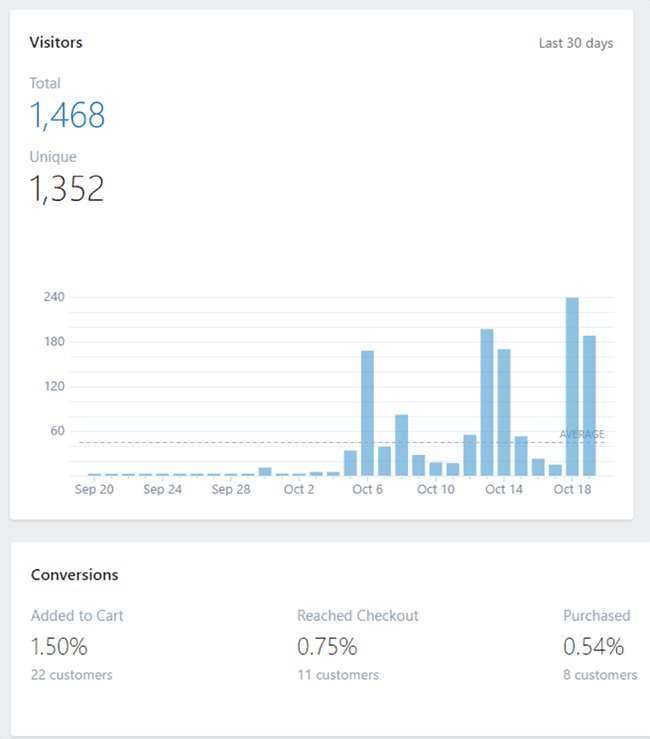 It's not easy to figure out what's holding them back, but one of the first questions you should ask is whether you're targeting the right people.
You may very well have a great product for the market, but if you're presenting it to the wrong audience then you'll never generate significant interest. This holds true for major, established brands as much as new startups.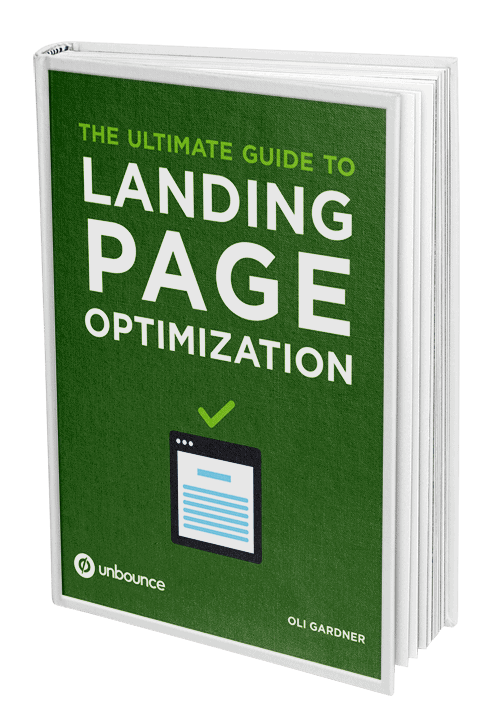 Don't start A/B testing without reading this ebook!
Learn how to build, test and optimize your landing pages with The Ultimate Guide to Landing Page Optimization.
By entering your email you'll receive weekly Unbounce Blog updates and other resources to help you become a marketing genius.
3. Has trust been established?
Asking people to hand over personal and financial information on the web requires a huge leap of faith. You need to establish trust before asking them to add a product to their carts and complete the checkout process or even to give you their email address.
One study from Taylor Nelson Sofres showed that consumers might terminate as many as 70% of online purchases due to a lack of trust. People may really want what you're selling, but if they don't trust you, then they'll never convert.
There are several ways to establish and grow trust, which include: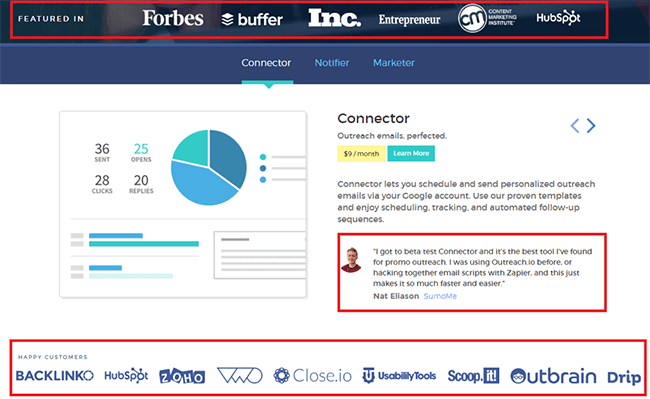 Testimonials, notable recognitions and brand affiliations help to build trust among prospective customers. Image via
ContentMarketer.io
.
4. Do customers understand the benefits and value?
For customers, everything comes down to value, which is the foundation of your unique selling positions (USP.) You can't just convince someone to buy something through conversion tricks like big buttons and snappy graphics. If they don't understand the product's value or how it might benefit them, then they have no reason to buy.
You have to communicate the value of your products accurately and succinctly, breaking down what you're selling to the most basic level so your customer sees the benefits, rather than just the features.
Here's a great example that I took from Unbounce: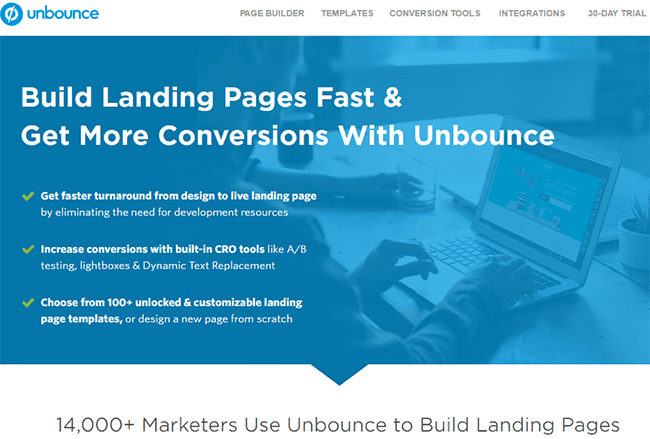 This landing page put a big the value proposition right up front, mixing in high-impact benefit statements that help seat the value with the audience.
5. What is the purchase experience really like?
It's important to understand the journey your customer has to follow in order to reach the point where they're willing to convert. While your landing pages or ecommerce site might look clean, the next step toward a conversion could make the whole thing come crashing down.
Providing top-notch user experiences across all devices is imperative, which includes minimizing the number of clicks necessary to complete the transaction.
Complicated site navigation and checkout processes are among the top causes of cart abandonment. Test your conversion paths internally, and consider trying out a service like UserTesting.com to get unbiased consumer feedback on your UX.
6. Where are the leaks in the funnel?
Figuring out where people exit your site can be a good indicator of why people leave —– at the very least, it can help you narrow down where to start your investigation. Working backwards from the exit point can uncover friction points you didn't even know existed.
Open your analytics and monitor the visitor flow. Pay close attention to where traffic enters, the number of steps users have to take while navigating from page to page, and trace the point where they typically exit.
Chart your own journey through your website while examining the on-page elements and user experience. Be sure to compare visitor behavior with your funnel visualization to determine when a leak is actually a leak.
7. What are the biggest friction points?
Friction in your sales funnel can be defined as anything that gets in the way of a conversion, either by slowing it down or stopping it completely. Some friction points might include:
Slow load times
Too many form fields
Too many clicks to complete an action
Hidden or missing information (like withholding shipping or contact information)
Poorly written copy and readability issues
Garish design
(For additional insights into possible friction points in your own funnel, this article from Jeremy Smith, posted on Kissmetrics is a wealth of knowledge.)
You can reduce friction on your own site by taking small steps and testing them to see how they alter your conversion rates. Ask as few questions as possible, avoid overwhelming the customer with too many options, aim for clean and pleasing designs and hire a pro copywriter to make a stronger connection through words.
One of the simplest examples of improvement through the removal of friction comes from Expedia.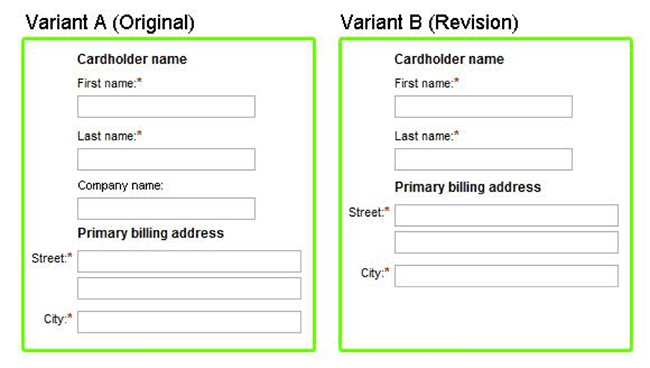 One seemingly insignificant change can have a dramatic impact on conversion.
Image source
.
By removing the "company name" field — just a single field on the submission form — Expedia made it easier for people to complete the form. That reduction in friction led to a $12 million increase in profit.
Given the size of Expedia and the volume of traffic they see, you could expect to see a lift like this through A/B testing. Changes don't always being about such dramatic results, but you'll never know the potential unless you start testing to remove those friction points in your funnel.
8. How do my customers feel about the process?
When you have concerns about your conversion rates, often the best place to turn for insights are the consumers.
Use feedback tools like a consumer survey to reach out to current customers, as well as those who abandoned their carts midway through the shopping experience. Ask them to provide information on why they made a purchase, why they chose not to, difficulties they experienced while on your site, feedback on design, etc.
This approach not only provides quality insight into what could be the likely cause of poor conversions, but also shows customers (and potential customers) that you're making an effort to improve your site based on their feedback.
9. What does the data say?
Whenever possible, you want to make changes based on the data you've accumulated. Don't focus solely on the conversion metrics of your website; analyze the data from your social ads and insights, visitor flow, bounce rates, time spent on page and more. Let the data drive your actions; otherwise you're just firing wildly into the dark and hoping to hit your target.
Whether we're talking about the ROI for content marketing or boosting ecommerce sales, data always matters. When you make changes, measure the new data and monitor those changes against the original. It's the only way to know if you're headed in the right direction.
10. How are my competitors selling this?
While I always warn people not to follow their competitors, you should still be aware of what they're doing to leverage competitive insights garnered from their market research.
If your conversions are plummeting for specific products or services, look to the competition. How are they positioning their products? What are they doing differently to hook and engage the target audience? Draw comparisons and see how they align with the insights you've gleaned from your data to determine which elements you should test and improve upon.
Over to you for the questions
Now it's time to look at your funnel and start asking the tough questions:
Do you need to re-verify product/market fit?
How accurate is your audience targeting?
Does your audience trust you?
Do your customers understand the benefits and value?
What's the purchase experience like for the customer?
Where are the leaks in the funnel?
Are there major friction points killing conversions?
What feedback can customers offer about the process?
What does your data say about the conversion process?
What are your competitors doing right?
Remember to pay close attention to the numbers and make your changes based on data — not assumptions.