You've got your team. You've got your product. What else does your business need to succeed?
Right—customers. Every company runs on the people who use their product or service. But it can feel a lot harder to get new customers than to build your team or design a product. It's not like you have free money to give away to draw 'em in.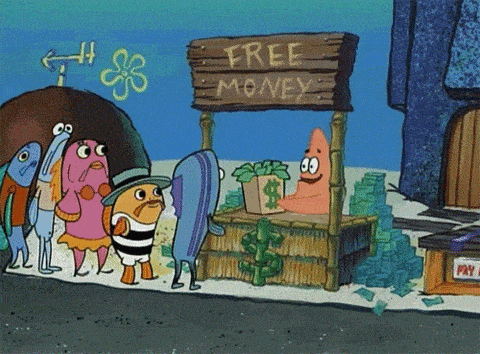 Yeah, we know you don't have a whole bunch of cash to give away, so you'll have to rely on good ol' digital marketing to do the heavy lifting for you.
I've got you covered. This blog post will teach you five foolproof digital marketing practices to get new customers.
First Things First: Define Your Target Customer
Before you dive into digital marketing, you've gotta figure out who your ideal customer is. When you know the type of person who'll enjoy your product, you can tailor your marketing to their tastes. Use these audience research methods to find your target customer:
Customer interviews and surveys
Social media monitoring
Competitive analysis
Google Analytics and site performance reports
Audience research tools like Spark Toro and Buzzsumo
In other words, look at who likes your product now or people who like products similar to yours. With this info, you'll be able to keep these factors in mind as you design your digital marketing campaigns:
The platforms your customers use to look at marketing content.
The benefits that will resonate the most with your customers.
The language you should use in your marketing communications to make your customer feel understood.
5 Digital Marketing Tactics for Getting New Customers
Try these five digital marketing channels to add more customers to your conversion funnel.
1. Lead generation
Lead generation is the practice of generating leads—people interested in your product who could become buying customers. Its goal is to gather their info in a contact list to nurture your relationship with 'em through emails, promotions, and other communications.
One popular lead generation method is using a lead capture landing page. These pages offer your audience something like a resource or newsletter in exchange for their contact info.
Lead capture landing pages give you the chance to offer early information or access to upcoming products in return for an email. Look how Clover does it: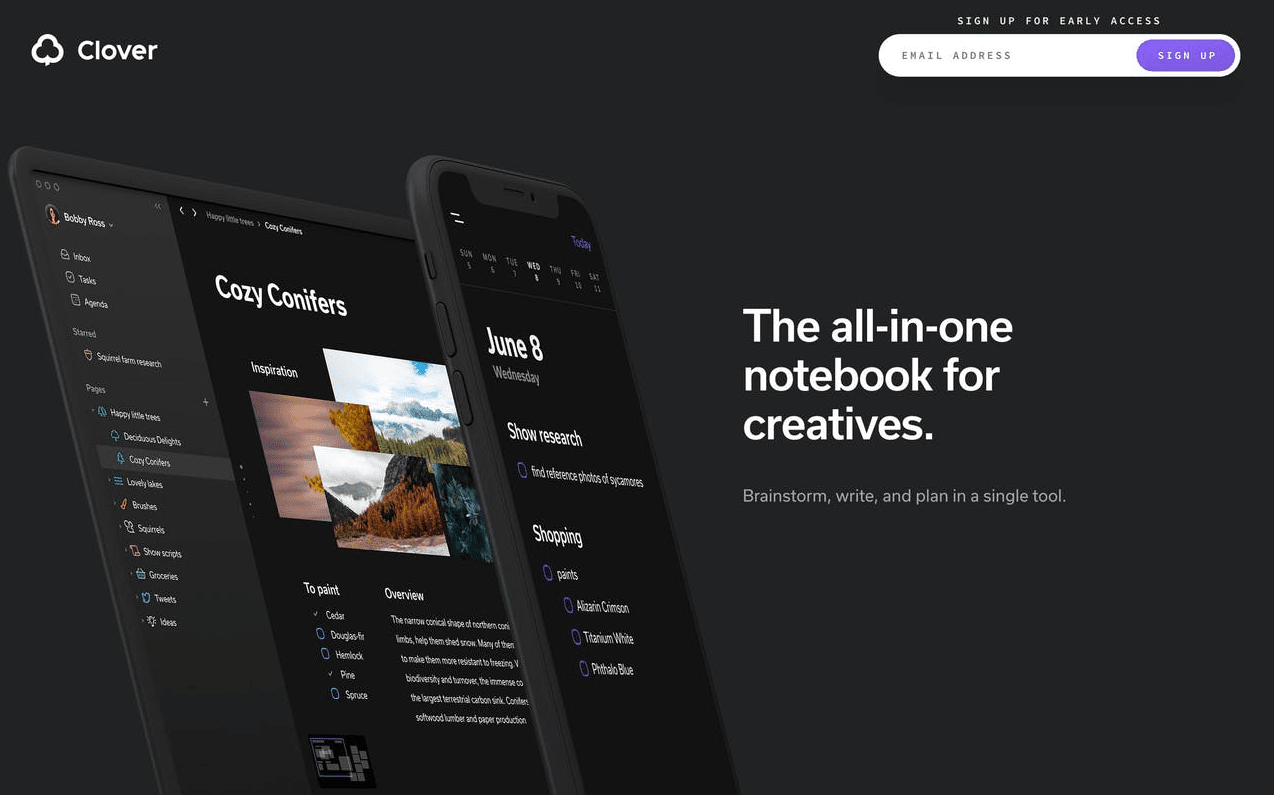 Anyone who entered their email in the email address field at the top of the page got to use Clover early. Meanwhile, Clover built a list of leads early in their product's lifecycle.
2. Content marketing
Content marketing involves creating content like articles and videos to generate awareness of your brand. Most content in content marketing doesn't aim for a hard sell. Instead, it builds your brand's authority by educating customers about a relevant topic.
If you're lookin' for an example of content marketing, you're reading one right now. This blog post helps businesses market to their customers and boosts awareness of Unbounce.
But content isn't just limited to blog posts. You can also create sharable resources, interactive quizzes, or in-browser tools. For example, Unbounce publishes The Conversion Benchmark Report every year, providing data-backed insights for marketers.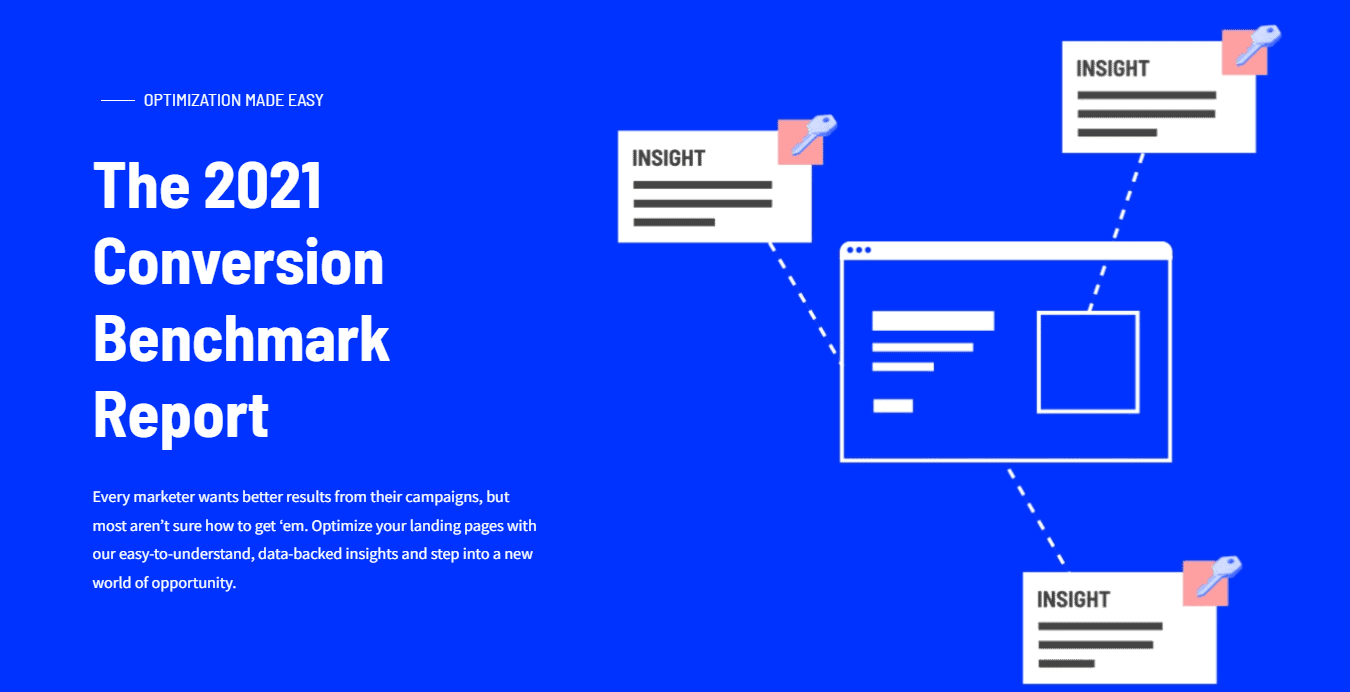 Before you create any content, go over your audience research again. Then, brainstorm topics that overlap with their interests and your product. Content based on these subjects will build your authority in your industry while keepin' potential customers hooked.
As customers get to know your industry and product through your content marketing, they'll gain more confidence in your brand. Then, once they're ready to buy in your market, you'll be on the top of their list.
3. Email marketing
It might seem like email's a dead marketing channel because of social media's rise to fame, but that's a misconception.
In 2020, 77% of marketers saw a boost in email engagement. This trend makes sense in today's digital media climate. With so much information out there, emails let you personalize messages in a controlled environment. Since people who receive your emails signed up for 'em in the first place, they're more receptive to what you have to say.
What should you write in your emails? The world of email marketing offers endless possibilities, including product plugs, business updates, and informational content.
Dog shampoo company Rowan used email to spread the word about their product bundles: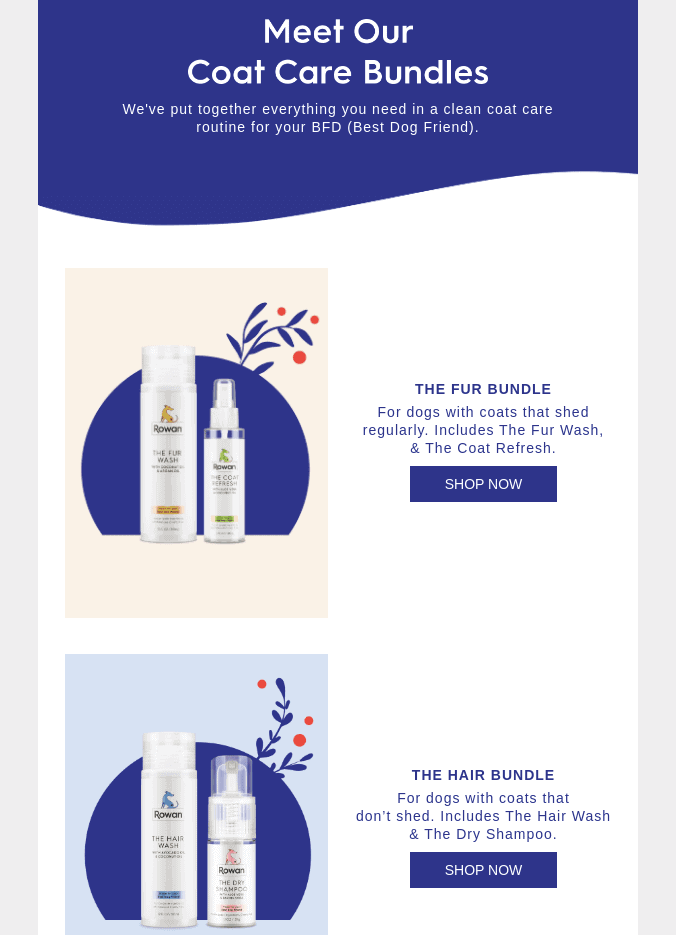 To get your email list started, create an email sign-up landing page. These landing pages are a type of lead generation landing page with design considerations for email sign-ups like:
A layout that puts the sign-up fields front and center
Copy that explains what readers can expect from your emails
A benefits-focused call to action
A lead magnet that gives people the last push they need to sign up
4. Social media
Social media marketing offers tons of opportunities to raise awareness of your brand and build an audience. People use social media for an average of 2 hours and 25 minutes every day. They could spend some of that time learning more about your business.
Choose your social media channels based on your audience's preferences. For example, you might wanna shoot for Facebook instead of TikTok if your customers tend to be older. Feel free to use a variety of channels, but don't spread yourself so thin that you aren't posting enough content on 'em.
Once you create a consistent presence on your social media channels, partner with other businesses and influencers in your industry, promote each other's products, and host fun events like giveaways to reach out to each other's audiences.
Keep your social media content consistent with the rest of your brand's content. Check out how method sticks to their brand style by keeping every word lowercase in their sentences: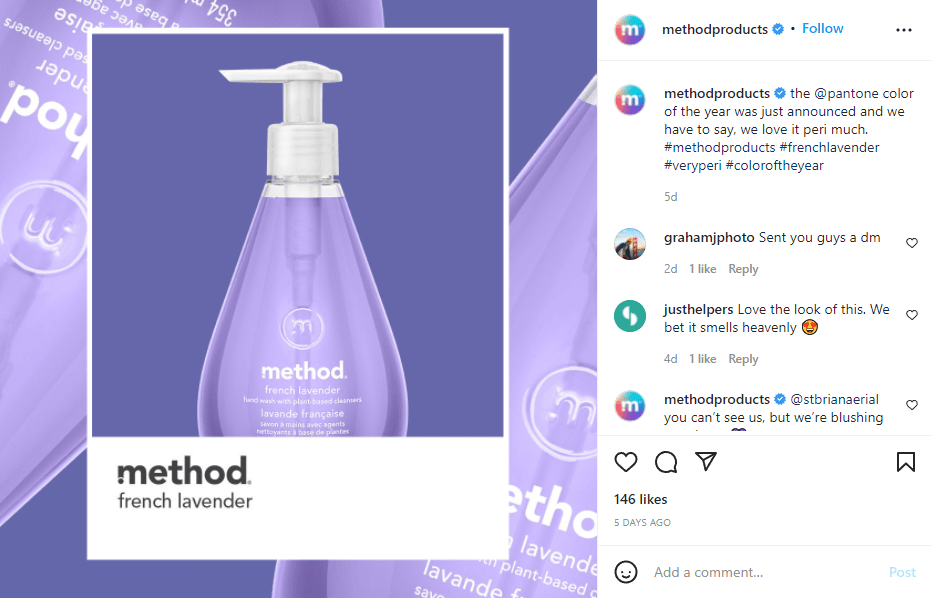 5. Paid advertising
Paid ads are excellent for getting your brand in front of new faces because they use a different algorithm from social media and unpaid search engine optimization. You've just gotta know what platforms and keywords to use to attract the right audience.
Choose your ad platforms based on what your audience likes to use, but feel free to mix and match more than one. Try out different platforms to figure out which ones bring in customers willing to buy your product.
Today's ad platforms, like Facebook and Google, focus on delivering ads that fit in with the overall experience on their platforms. Look how similar Google Search ads look to other Google Search results: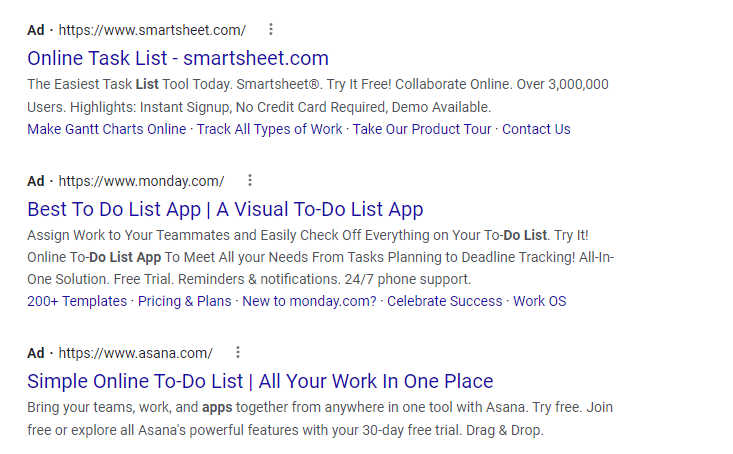 But by being at the top of the list, search ads raise brand awareness by as much as 80%. When you create your paid digital ads, choose your keywords carefully and consider your target audience for the best chance of getting eyes on your ads.
After you optimize your ads, get your ads' landing pages in shape, too. You do have a dedicated post-click landing page, right?
Line Up Your Landing Pages With the Buyer's Journey
A lot of the digital marketing you'll perform to get more customers will involve landing pages. You've gotta make a good impression on potential customers who click your ads and emails with these pages.
When creating landing pages for potential customers, align them with the customer's stage in the buyer's journey. New customers will fall in the awareness stage, where they need to get to know your brand before being sold anything. Keep your landing page content educational and ask 'em for their contact info at most—no hard sales yet.
If you wanna make sure you're sending the right leads to the right landing pages, give Smart Traffic a try. It'll match visitors to landing pages that fit their behavior to supercharge your conversion rates.