For years, Unbounce has relied on webinars to bring in new customers.
But times have changed and attention spans are dwindling. In a frenzied digital world of streams and notifications and news feeds, people are changing the way they consume content. And we see that clearly in our webinar attendance rates:
Of every 100 people that register for our webinars, 31 attend on average.
People are busy, and not everyone has the luxury of dropping their work to attend a mid-day webinar. What if your audience wants to absorb content in the same way they choose to consume it in their leisure time — on demand?
Everyone loves binging a series on Netflix or spending hours spiralling down a black hole of YouTube videos, so why not make consuming marketing content just as easy and gluttonous?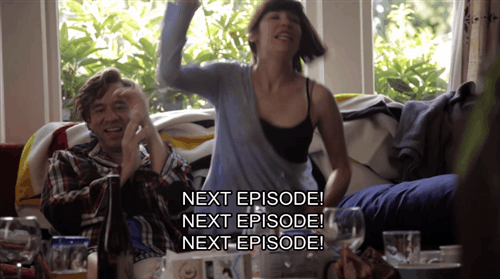 At Unbounce, we've been experimenting with edu-taining, pre-recorded video content. (Yeesh, what a mouthful.)
So far, the experiment has paid off: one on-demand series with 12 episodes has become an ongoing source of leads and has brought in 87% more product signups than webinars over the course of four months.
Is it time to kill the webinar and replace it with the on-demand style of video consumption? Read all about the campaign we ran and you be the judge.
The big idea
If you've ever run a webinar, you know that they're a ton of work. We wanted to see if there was a way to decrease effort while increasing leads and product signups. And to be completely transparent, we were also looking for opportunities to talk about our product in a meaningful, genuinely helpful way — in a way that would have our audience picturing themselves using it.
We bounced around the idea of producing pre-recorded videos for our audience, which we saw as having a few benefits over webinars:
They give you more time to focus on high-production value and fancy video editing
They allow the presenter to talk on screen directly to the audience, as opposed to (less human) full-screen webinar slides
They relieve much of the stress caused by technical glitches associated with live webinars
They're a great way to focus on showcasing your product with explainer videos and demos — showing spectators why they should buy your product
They have the potential to bring in leads and product signups for months without much active effort after the initial launch. No more breaking your back only to rely on the ROI of a very specific time slot
With all of those sexy advantages in mind, The Landing Page Sessions was born: an on-demand series hosted by our co-founder, Oli Gardner.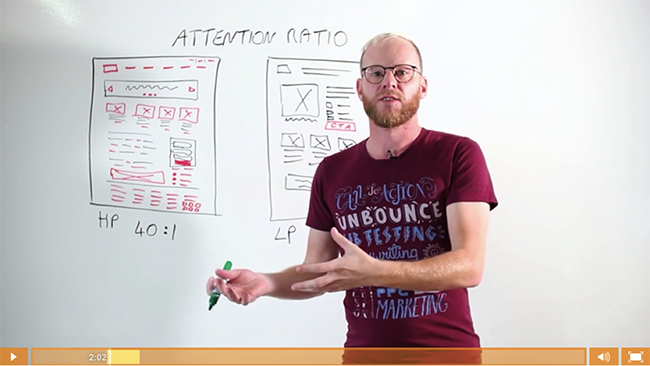 The series ran for 12 glorious, 20 minute-ish episodes where Oli not only deconstructs a fan-submitted landing page, but their entire campaign.
Iterating off of past multimedia content projects, we knew that our audience wanted to learn more about what happens before and after a visitor arrives on a landing page. So we looked at traffic sources such as PPC ads and email copy, and dissected whether they matched the design and tone of the landing page they led to.
We also offered hands-on landing page optimization advice by showing spectators suggested changes right in the Unbounce landing page builder: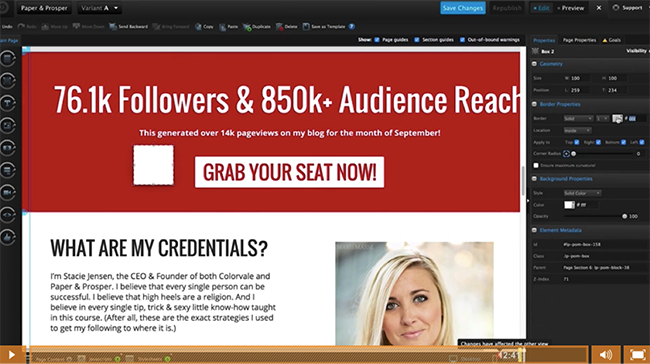 To get the show in front of a larger audience, we paired up with some of our favorite companies: partners sponsored an episode (or the entire show) in exchange for email blasts to their audience. (Shout out to Wordstream, Wistia, KISSmetrics, Usability Hub, Inbound.org, Optimal Workshop, and Sprout Social!)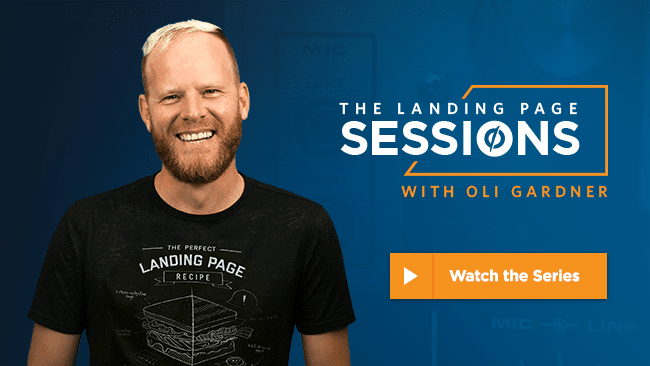 Conversion opportunities galore
We knew that showcasing the builder probably wasn't enough to get people to make the leap and become a customer. If watching Oli use the builder gave people an itch they wanted to scratch, we wanted to make signing up quick and easy:
We prompted people to sign up for a demo of Unbounce by placing this CTA right under each video: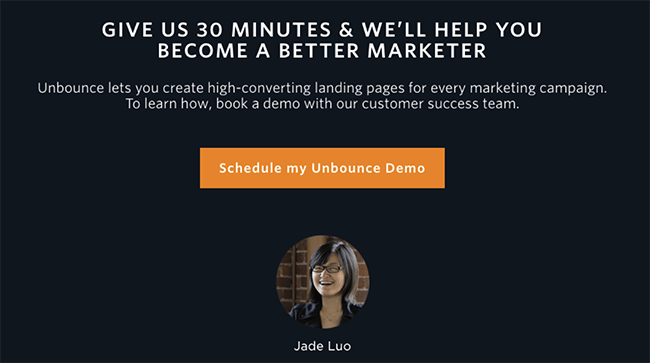 When Oli mentioned the Unbounce builder or was using it to solve a problem, we used Wistia annotations (which pop up directly over the video) to prompt people to sign up: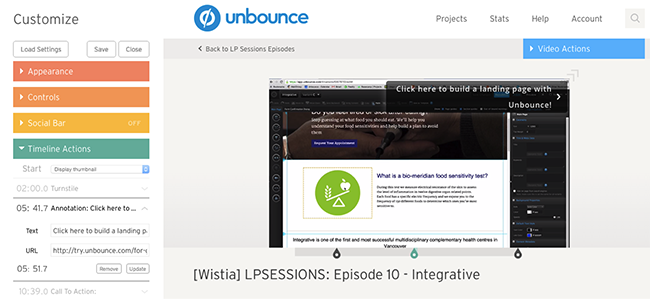 We also put a call to action at the end of every episode to encourage new sign ups from high-interest watchers who made it all the way to the end of the episode: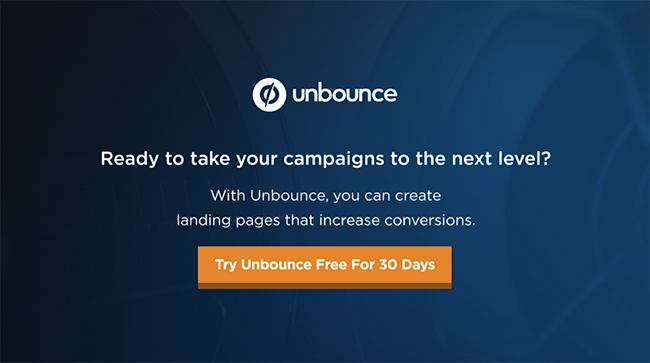 We also wanted opportunities to capture leads who didn't convert right away: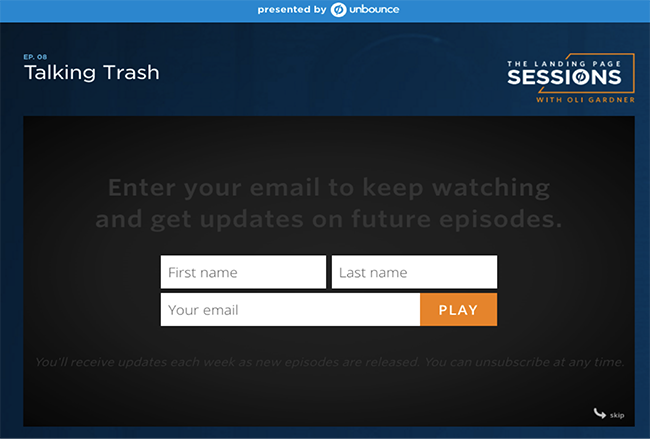 We continuously drove traffic to the show through partnership co-promotion and paid advertising: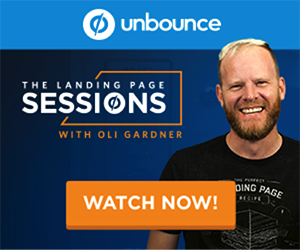 Finally, we implemented an exit overlay on the series' microsite that was very specific to the content of the page: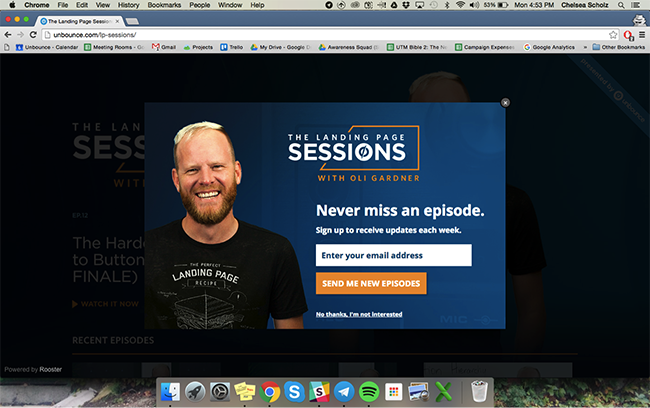 If users have not already signed up for updates, an exit overlay is triggered inviting them to be added to the list.
Results of the campaign
Our goal was to collect 1000 new email leads and 25 new product signups from the first season approximately 3 months from launch.
How'd we do?
We crushed the goal with 2,300 leads and 88 new product signups.
Compared to our webinars, that's 87% more product signups on average.
This isn't to say Unbounce is going to pull the plug on webinars, which still work well for us in terms of providing tutorials to customers and collecting leads.
But when it comes to showcasing our product contextually and nudging people toward a trial of our product, it seems that our audience enjoys consuming content at their own pace.
This was one of the highest performing campaigns Unbounce has ever run within its time frame and for the amount of effort it took. We've set the bar high for our second season and can't wait to do it all again.
Is product marketing the new content marketing?
This campaign was successful for a number of reasons. It allowed us to share content in a more humanized, personal way. It enabled us to create delightful, high-production videos that showcased our product in a way that enabled viewers to picture themselves using it.
But it also allowed us to empower our audience by giving them the freedom to choose when they wanted to consume our content. And our viewers thanked us with their business.
A pretty win-win situation if you ask me.