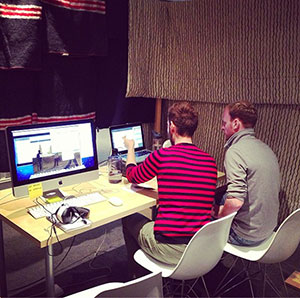 Maybe you think webinars should just die already. Be thrown on the content scrapheap along with 99% of infographics. I hear you. When Ryan, our Director of Customer Success, and I first considered hosting webinars, the horribly dry, technically adequate pitch sessions I'd attended were fresh in my mind. Some marketers might think of webinars as overrated or outdated.
I think it's time to start taking webinars seriously.
We did, and our webinar registrations grew from 190 to nearly 3200. In 2013, webinars became our most powerful marketing channel, surpassing our blog, our ecourse and even our ebooks.
(PSSST! We recently hosted a webinar about webinars, get the recording.)
In this post I'm going to give you a really powerful step-by-step formula for marketing webinars using 4 landing pages and 3 emails (no big deal, right?). Of course we don't stick to this formula religiously. We're always testing new ideas. As should you. #alwaysbetesting
Before you start coming up with topics to cover, you'll want to get clear on what your goals are.
For us, giving our community an opportunity to learn and ask questions in real time was really exciting. We were also looking to distribute our content in new ways.
But the true objective of our webinars from a marketing perspective was to increase interest in Unbounce and ultimately, increase revenue.
The 15 Steps to Killer Webinar Marketing
In this (pretty epic) post you will learn how to:
Establish a Compelling & Actionable Topic
Find & Woo Expert Guests
Craft Your Marketing Copy
Build (& Test) the "Register for the Webinar" Landing Page
Never Miss a Post-Conversion Opportunity
Build (& Test) the "Offering" Landing Page
Tailor Your Social Marketing
Secure Your Audience with the Invite Email
Prep Your Guest
Send the "Last Chance" Email
Host Your Webinar
Fine-Tune Your Webinar Recording
Build the "Watch the Recording" Landing Page
Send the "Follow-Up" Email
Convert Your "Register for the Webinar" Landing Page into a "Get The Webinar Recording" Page
Before the Event
1. Establish a Compelling & Actionable Topic
The best way to choose a webinar topic is by gathering feedback. Find out what your customers and potential customers want to learn, then deliver beyond their expectations. Speak to those on the frontlines: your customer support team, community manager or, better yet, your customers.
For best conversion results, keep the topic tied to your product or offering. That way, when inspired attendees leave your webinar to carry out the advice they were given, your solution is the first one they'll think of.
2. Find & Woo Industry Expert Guests
Who does your community look up to? Who do they aspire to be like? Wooing a seasoned speaker often involves proving that you can bring them business.
Explain the reach of the marketing you'll be carrying out to drive people to the webinar. Give past webinar registration/attendance numbers. Lure them in with the promise of your qualified audience. Always lead with what's in it for them.
What if you don't have a huge audience or track record? Sometimes experts who have made their name writing thoughtful content are looking for ways to practice their speaking in a professional, but more intimate setting. If you're really strategic about it, offering them the chance to make an offer to your super-qualified and captive audience could be enough to sway them. Alternatively, remember that not every webinar needs a guest or speaker from outside of your company, in fact, an in-house expert can be a great place to start.
3. Craft Your Marketing Copy
Take the time to carefully craft the marketing copy for your webinar. You (and your guest) will use this on landing pages, email invites and social marketing. A few tips:
The webinar title should answer the question, "What will I get by giving you an hour of my time and attention?" The more actionable the title, the better. The best performing title we've used for an "Unwebinar" was 10 Landing Page Mistakes You're Probably Making and How To Fix Them
Include a short description followed by 3-4 bullet points of exactly what the attendee will learn from attending
Your guest should be introduced in a way that qualifies them as the best in their industry. Including a photo helps personalize them, and helps visitors familiar with them recall that they already know and trust this expert
4. Build (& Test) Your "Register for the Webinar" Landing Page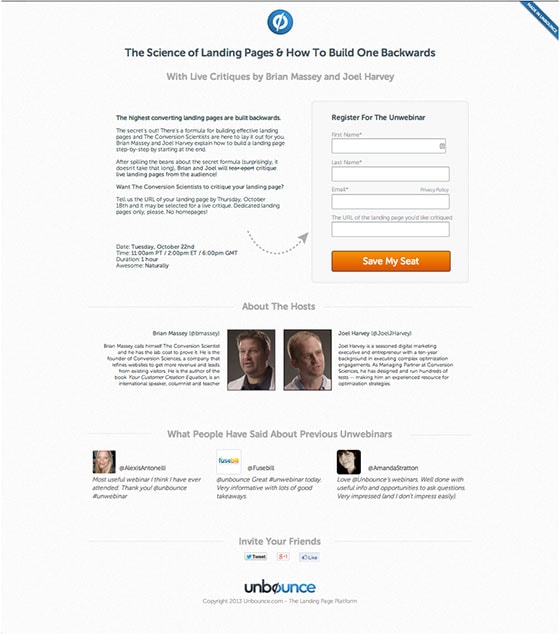 Click image for full size
Don't use your webinar tool's landing page. It doesn't speak to your brand, probably doesn't look that great and you can't optimize it through A/B testing.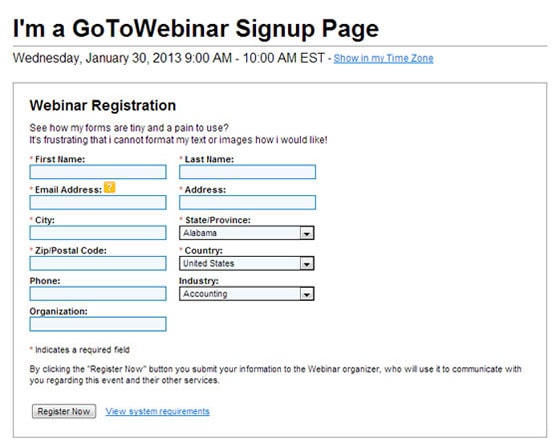 We use an Unbounce landing page to collect registrant info and connect it via Zapier to send their info to the GoToWebinar platform, which we use to host our webinars.
We've been A/B testing the same basic landing page design for every webinar we've held. Our registration pages now convert at 60-70%, that's a 150% increase in conversions over the standard GoToWebinar page!
Use the 5 elements of a high-converting landing page:
Unique Selling Proposition – Your actionable webinar title
Hero Shot – Your expert guest and bio
Benefits – What will people learn from the webinar
Social Proof – Testimonials about the guest or your previous webinars
Call-to-Action – Your registration form and button
PRO-TIP

Asking people to participate in advance (by submitting questions, for example) is a great way to help build out the webinar content and get extra "buy-in" from registrants.

For our Science of Landing Pages webinar (above) we asked registrants to submit a landing page for a live critique, received 500 landing page submissions and saw our highest attendance rate yet.
5. Never Miss a Post-Conversion Opportunity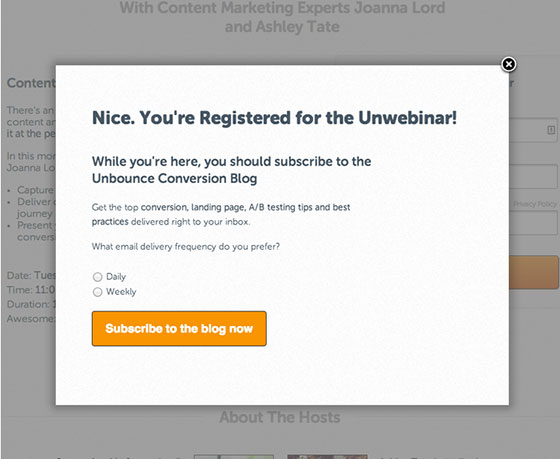 Confirmation pages (aka "Thank-you" pages) are a seriously undervalued marketing opportunity. The people who reach your confirmation pages are super qualified and willing to engage with your content.
After the conversion, when they're still hot for you, offer more.
By including a form to subscribe to the Unbounce Blog on our webinar registration confirmation page we grew our subscriber list by 60% in just 2 webinars.
KISSmetrics turned webinars into their #1 acquisition channel using a similar post-conversion tactic.
Post-conversion strategy is a beautiful thing. Sing it, Oli.
6. Build (& Test) Your "Offering" Landing Page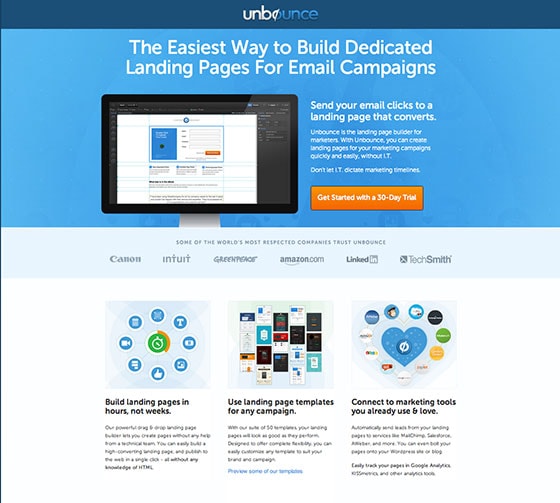 Using the same 5 elements you used above for your "register for the webinar" landing page, build another landing page, but this time, rather than promoting a webinar, you're promoting your business.
New business is after all what we're all looking for. This page will be used strategically throughout your webinar campaign.
PRO-TIP

For the best visitor experience possible, reinforce why visitors have landed there, where they came from and that they're in the right place.

In the case of the example above, this "offering" click-through landing page was for a webinar about email marketing. We used "email marketing" copy in both the headline and sub-heading to ensure a strong message match between traffic source – our webinar marketing – and landing page.

Primary Headline: The Easiest Way to Build Dedicated Landing Pages for Email Campaigns
Secondary Headline: Send your email clicks to a landing page that converts
7. Tailor your social marketing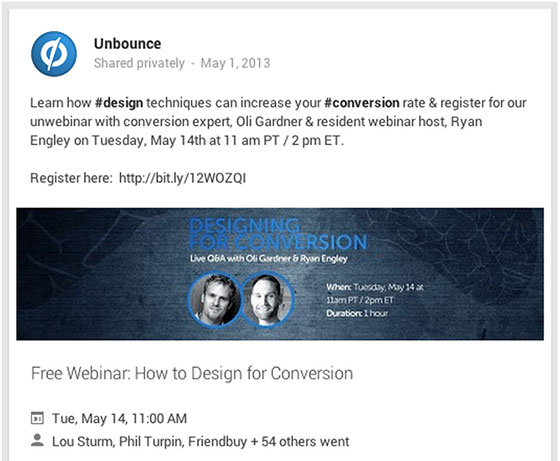 Every social channel has its own benefits and should be handled individually. Blasting every channel with the same message in the same way from your fancy social publishing tool won't cut it.
Use a hashtag on Twitter before, during and after the webinar (ours is #unwebinar) to engage with the community and gather some great testimonials for future webinar marketing.
Create a Google+ event – the notification gets pushed to every one of your followers – and post in any relevant G+ communities you're associated with. You can also take advantage of the giant cover photo space by uploading a promotional banner linked to the registration landing page.
Encourage your LinkedIn connections to spread the love about the webinar 1-2 weeks prior to the event and find a non-spammy way to post about it in relevant marketing groups.
And then there's Facebook. Two weeks prior to the event, try uploading a new cover photo promoting the webinar. And then a week or so before the event, you can post a thought-provoking quote from the expert guest – linked to the registration page, of course.
8. Secure Your Webinar with "The Invite" Email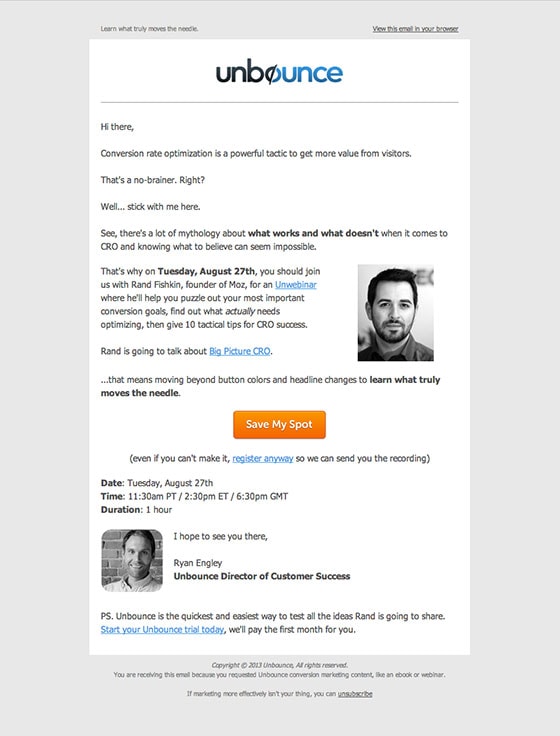 Email is the single most effective way to drive interest in your webinar. 70% of all our webinar registrations come via our invitation emails. Your webinar invite email will have 3 points at which a conversion is made:
The subject line needs to be concise and attention-grabbing enough to have someone open the email, but still describe what the webinar is about. We test our email subject lines on almost every email we send. You should too.
The body copy should be concise and deliver the benefits of attending the webinar. We find that using humor is a great way to hold someone's attention, but the tone you use will depend on your business.
The Call-to-Action (CTA) linking to your registration landing page should be easy to see and front-and-center. The text should describe what they'll get when they click the button – we often use "save my seat."
PRO TIPS

In every webinar email we include the following text: "Can't attend the webinar? Register anyway and we'll send you the recording." We include this in some of our social sharing as well. Sure, it could hurt attendance since people won't worry about missing it when the day comes, but registration (lead gen) improves dramatically, and no one feels like they're missing out just because of their busy schedule.
Use a "PS" in your email. Links included here are often the most clicked of any link. We use the "PS" to link to our "offering" landing page, which gives visitors more information about our product.
9. Prep Your Guest
Set Expectations. Your guest might be accustomed to being on webinars, but everyone runs theirs a little differently. Be clear on the webinar schedule. Ours typically run like this:30 min before start time: Host and guest start testing audio levels and software
Start time to 5 min: Welcomes, housekeeping and intros
35 min to 45 min: Guest takes over for presentation
Final 10 to 20 min: Questions from attendees and wrap-up
Help with the Slides. Prepare slide templates for your guest in their preferred format (Keynote or PowerPoint, for example). Once they're done adding their content, offer (or better yet, request) to go over them. This gives you a chance to provide feedback and clean up any little errors you spot.
Have a Dress Rehearsal. How many times have you had a Skype video chat go wrong? Now imagine adding screen sharing software, broadcasting capabilities, and a slide presentation. Add a second presenter with their own assumptions, script, knowledge of software (or lack thereof) and agenda. Mitigate the inevitable technical hiccups by doing a dry-run a week before the webinar date. Use the same software and hardware you plan to use. It also really helps to get a third person to join the dry run as an attendee to confirm they have no audio or video troubles.
10. Send the "Last Chance" Email
Don't underestimate the power of urgency. About a third of all our webinar registrants sign up from the email we send the day before the webinar. It's important to segment your list carefully so you aren't spamming anyone (kittens die after all).
We only send the "last chance" email to those who never opened the invite email. Make it clear that this really is their last chance to learn about all the amazing stuff you'll be teaching them.
The Event
11. Host Your Webinar
Gather your dream team. Your setup will be partially determined by what webinar software you're using, but we have no less than 5 people involved during a webinar.
You can merge the last 3 roles below in your early webinar days like we did (ahem moi), but be ready to break them out when your number of attendees picks up.
Webinar Dream Team:
The Host is focused on engaging the audience and guest, interjecting at opportune moments to ask thoughtful questions and keep momentum up from start to finish.
The Industry Expert Guest is presenting their heart out.
The Sidekick (sometimes furiously) answers attendee questions that come in via the chat box and gathers good questions for the presenter to ask.
The Community Manager monitors the webinar hashtag on Twitter and fields questions from attendees. They are also a great person to gather up any URLs mentioned during the webinar for sharing immediately and in the follow-up email.
The Manager keeps a bird's eye view, keeping an eye on audience attentiveness (a real-time meter in GoToWebinar which can give tons of insight into what's working and what's not), an eye on Twitter and the GTW question box in case any red flags are raised, and an ear on the audio quality and pace. If anything looks amiss, The Manager finds a way to fix it and/or passes info along to the presenters or sidekick.
We've also found it useful to use GoToWebinar's survey feature when attendees leave the webinar to gather feedback by asking if they found it helpful, and to see which topics attract the most qualified leads.
PRO-TIPS

Make sure you press the "record webinar" button. You won't make that mistake twice. We often have more than 1 person record the webinar from separate locations.
Offer something more to do after the webinar is over. This is something we picked up from our friend Nemo at KISSmetrics. At the very start of our webinars we let attendees know that for anyone who is interested, we'll be offering a demo of Unbounce after the webinar is over. On average about 40% of attendees stick around and continue to ask questions. Brilliant. Don't forget to link to your "offering" landing page!
Curious about what webinar equipment to get? Ryan talks about what equipment Unbounce uses for Screencasts and Webinars.
After the Event
12. Fine-Tune Your Webinar Recording
The recording of your webinar is one of the most important pieces of webinar marketing. Don't forget, you've promised the recording to everyone who registered and there's no doubt that you'll be asked a handful of times before, during and after the webinar when you'll be sending the recording (never fails).
If any glaring mistakes were made during the webinar, now's your chance to edit those blemishes out, or you can add special effects, splash pages, or CTAs into your video. When you're happy with the video, upload it to your video player of choice (YouTube, Vimeo, Wistia, etc.).
13. Build the "Watch the Recording" Landing Page
Even though the recording may be hosted by YouTube or Vimeo it's important to create a landing page with the recording on it. On this page include the title and description of the webinar, a nice large embed of the video, and a CTA linking to your "offering" landing page.
This "webinar recording" landing page is where you'll send webinar registrants and attendees in your webinar follow-up email.
(Stay with me, lead gen magic coming soon…)
14. Send the "Follow-Up" Email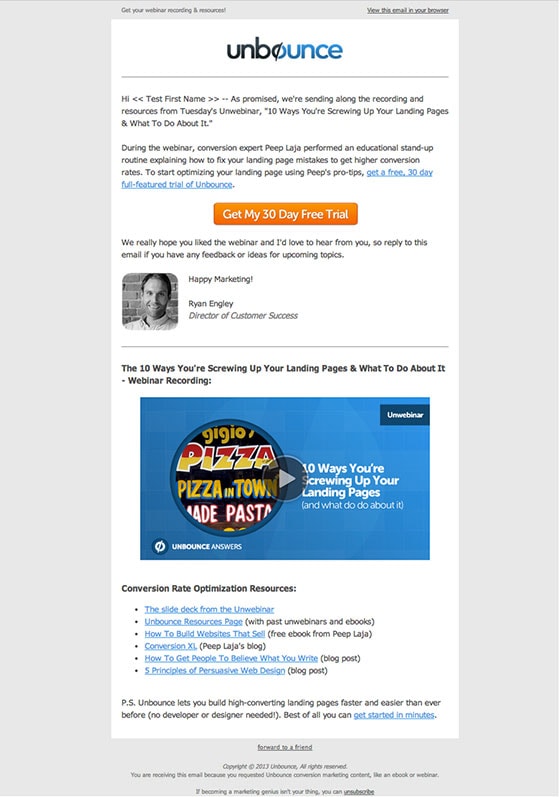 If there's one thing we know about webinars, it's that people want the recording. So give them what they want via email. And be quick about it!
Move your list of registrants and attendees from GoToWebinar (or whatever webinar tool you're using) to your favorite email marketing tool. There's a number of ways you might want to segment your list so you can send them relevant email. For instance, "attended" vs. "did not attend", "asked a question", "raised their hand when you asked if they wanted a product demo"… you get the idea.
Though we've tried many ways to slice and dice, we segment our list simply by "lead" vs. "customer". This allows us to add a call-to-action to our "offering" landing page in our follow-up email to leads, but not to customers.
In your follow-up email you'll include:
A quick recap – How the webinar went and what was covered
The webinar recording – This links to the "webinar recording" landing page you created above
The webinar slides – You'd be surprised how many times we've been asked for these
Resources mentioned during the webinar – Gathered by your community manager
A request for feedback about the webinar – Start a conversation!
A promotional offer from your guest (if any)
A CTA linking to your "offering" landing page (if leads)
PRO-TIP

Email your guest too. Share the recording link with them. Ask them how it went. Shower them with compliments – they deserve it.
15. Convert Your "Register for the Webinar" into a "Get The Webinar Recording" Landing Page

Now's the time to repurpose your webinar registration page as a landing page where people can sign up to watch the recording.
In your landing page tool, duplicate the "register for the webinar" page and on the new variant change the copy to reflect the new goal, your new call-to-action: "Get the webinar recording." Send those who complete the form to the "webinar recording" landing page you built (in step 13).
By using the same URL for your "Get the webinar recording" lead gen landing page as your initial registration page, all the promotion you did prior to the webinar will now link to your new "get the recording' lead gen page.
PRO-TIP

Link to your "Get the Webinar Recording" lead gen landing page from your website's resources library to keep your webinar alive forever.
Results

Do we gauge the success of our webinars by the number of new customers each webinar drives? Of course we do. But to look only at that metric would be short-sighted.
We strive to make each Unwebinar an educational, entertaining experience for our audience and something that helps strengthen Unbounce's position as the landing page leader. Here's how we know our webinars are working:
Attendance – Our monthly Unwebinars receive an average of 2,400 registrants and 550 attendees.
Attendee Satisfaction – We've been able to gather a number of quotes from Twitter that we can use as social proof. Of the attendees surveyed in our last Unwebinar, 80% said the event was the highlight of their day.
Survey Results – Through GoToWebinar's surveys, we've found that 41% of our webinar attendees are qualified leads.
New Customers – Without giving away the farm, let's just say webinars have been the #1 marketing channel for new customers this year. They're a big deal!
Hopefully, if you've made it this far, you've been given more than a few ideas for your next webinar. Any tricks you've tried that I missed? I'd love to hear about what's worked (or not) for you in the comments.