Growth Hacker + Content Marketer = Content Hacker [Where the ladies at?]
By now, you've heard of growth hacking. Introduced by startup marketer Sean Ellis, growth hacking is a startup marketing methodology that turns clever tactics into fast-paced growth.
Content marketing is all about growth, too.
Creating, publishing and sharing valuable content with your audience is a surefire way to gain traffic and increase revenue. But with its rising popularity, content marketing alone may not be enough. We need to take a page from the growth hacker's playbook.
We need to become content hackers.
Two Classic Content Hacks
Hotmail
What turns content marketing into content hacking? It's all about leveraging user behavior and the content you are sharing for major growth. It's a new twist on an old story.
One of the earliest examples of growth hacks came from Hotmail in the late nineties. In order to grow its user base, the Hotmail team added the intriguing bit of text "PS: I Love You. Get Your Free Email At Hotmail" to the bottom of every email Hotmail users sent out.
The link directed the reader back to the Hotmail homepage. Many signed up for a Hotmail account of their own, making this a viral way to spread the word about the email service.
In less than a year, Hotmail would boast more than 12 million email accounts, thanks, at least in small part, to this clever little growth hack.
Guest Blogging
While it has recently come under fire by the powers that be at Google, guest blogging is another great example of content hacking. With roots established long before social networking gained momentum, guest blogging was one of the first ways that bloggers were able to create link-backs to their own blogs, providing tremendous Google juice.
This early method for building buzz and sharing an audience was an epic growth hack that still has value if used properly.
Content hacking isn't new, but it emphasizes our need to look beyond the traditional publish-and-share model of content marketing.
Too often, we fail to measure and optimize our marketing methods to better enable the traffic and growth that we need to compete.
As more and more startups and brands jump into the content marketing game, they need to seek out new ways to drive customer growth, not just more content.
Here are 10 content hacks that we can all start using right away:
1. Create Stronger Calls To Action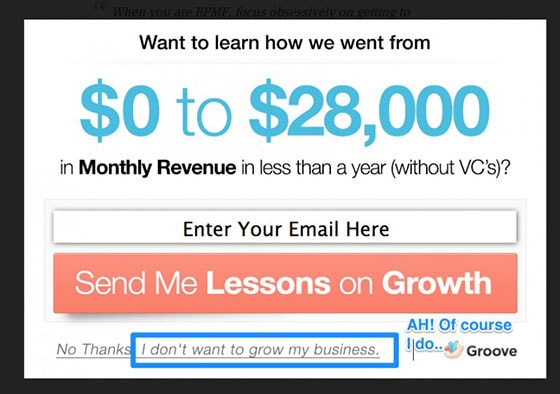 A great example of a strong, clear call-to action is Groove's popup. Who would say no to growing their business?
The lesson is simple: Make your call to action something that your audience can't refuse.
The entire Groove blog is a content hack in itself (like several other startups, they've begun to publicize their metrics in a compellingly transparent way) but this call to action was a part of the reason they grew their blog's email list to more than 5,000 subscribers in just five weeks.
2. Gamify Your Blog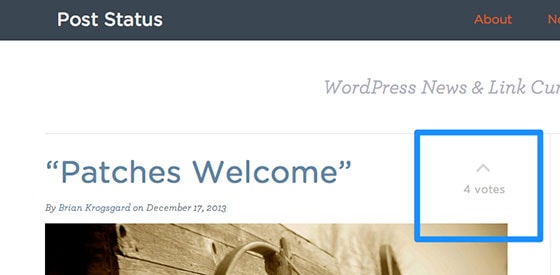 Gamification is a subject unto itself, but it takes advantage of a key growth hacking tactic – tapping into people's desire to publicize what they do and what they think.
Humans have a strong desire for connectivity and personal sharing, which is what makes sites like Facebook and Twitter work. Why not take advantage of this for your own blog?
One of the ways that you can do this is with a WordPress plugin called Love It Pro.
This simple plugin allows visitors to "vote" on your posts with a simple button. You can showcase your most loved posts in a sidebar widget or prioritize them on your homepage.
This simple gamification tactic will make your content all the more sticky.
3. Make Sharing Easier
Content marketing and growth hacking have the same goal: Increasing revenue » Tweet this «
One of the best ways to hack your content is to make it more shareable. Of course, we all have share buttons at the top or bottom of our page but how are we enticing readers to share our content?
One way is to create simple click-to-tweet messages inside the actual blog posts, providing readers with a call-to-action to share our post with the world.
Through the use of some custom WordPress code or a free plugin, we can create tweetable quotes throughout our posts that prompt readers to share our content as they read.
The Markerly widget is also a good plugin for making any text or images on you page shareable.
4. Offer A Free E-Course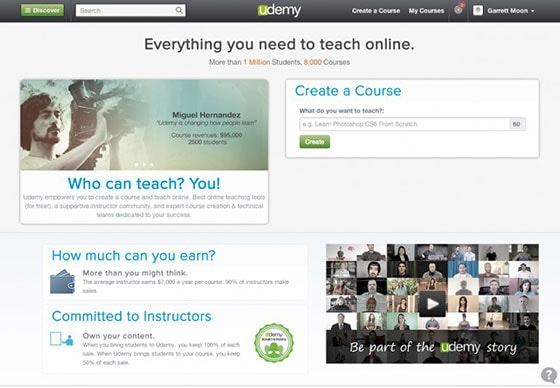 Content hackers learn to stretch their content as far as it will go.
Creating content that you can reuse in multiple different ways is a great content hack. For example, you can turn a blog series into an ebook or ecourse.
Online education is currently undergoing huge growth. Sites like Udemy or Skillshare allow you to create step-by-step courses for your audience.
You can choose to give them away for free or sell them for a profit. Either way, ecourses are a great way to hack more life out of the content you've created.
5. Test Share Button Positions
Where are the share buttons on your page? Are they above or below the fold? Believe it or not, it makes a difference. AddThis (one of the leading social sharing tools) suggests that social share buttons placed above the fold perform the best for most sites.
Of course, this isn't always the case so it's important to try out a few different arrangements. Conducting a simple A/B test should get you the information you need.
6. Write 25 Awesome Headlines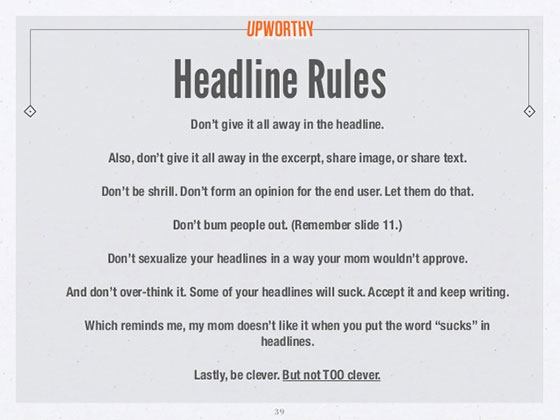 It may sounds like old news, but your headline is one of the most important aspects of your content. If you mess it up, you lose your chance at a conversion.
Upworthy knows a thing or two about headlines. In their slide deck The Sweet Science Of Virality they emphasize the importance of the headline again and again.
More importantly, they emphasize the value in writing a minimum of 25 headlines for each post. Then they A/B test several different social posts using some cleverly crafted Bit.ly links (see slide #56). When they have a clear winner (and there usually is one), they launch.
The full Upworthy presentation is excellent and definitely worth a look, a bookmark and possibly even a print out. It's that good.
7. Create Longer Copy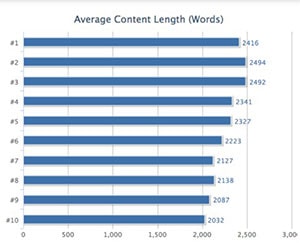 Blogger Neil Patel recently published a great post about search rankings and post length on his blog.
In his research, he discovered that the "average content length for a web page that ranks in the top 10 results for any keyword on Google has at least 2,000 words."
The conclusion here is simple: Longer copy is rewarded by Google.
8. Grow Your Google+ Audience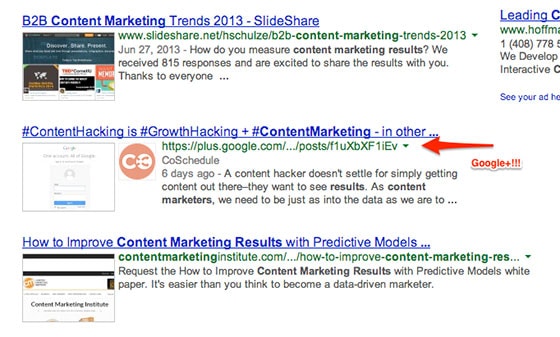 Search is now social and one of the best ways to get noticed on search is to get noticed on Google+, Google's very own social network.
Many brands have a presence on Google+ but place little priority on the social network. Now may be the time to change that.

The more people that have you in their circles, the more likely you are to show up in search results.
SEO these days is all about social connections and great content, so getting as embedded as you can in the Google+ network is a no-brainer.
9. A/B Test Your About Page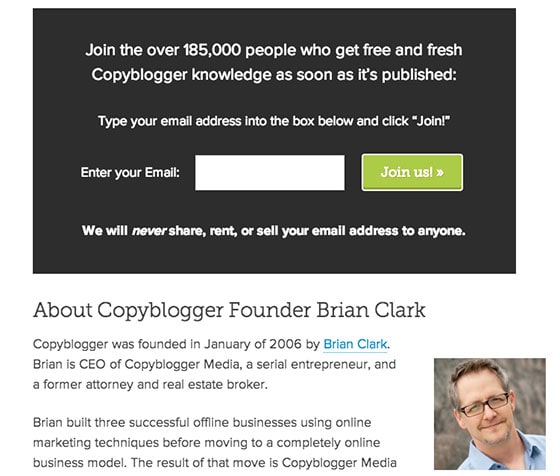 Your "About Us" page is one of the most visited areas of your website. Unfortunately, it's often one of the most ignored – especially when it comes to a good call to action.
Use some of the advice from this article to create a second version of your About Page and test out your changes with Optimizely, a service that helps you with A/B testing.
For some inspiration, take a look at how Copyblogger places an effective call to action right in the middle of their About Us page (above).
10. Get More Aggressive
Too often we fail to be as aggressive as we can be when it comes to collecting leads and emphasizing calls to action. Many of us are wary of pop-ups and page overlays that can occasionally feel over the top.
The content hacker doesn't let this sway her. She knows that users are far more tolerant of these kinds of things than we might think. Adding a simple popup to my own site on a few of our "evergreen pages" more than doubled our ebook downloads.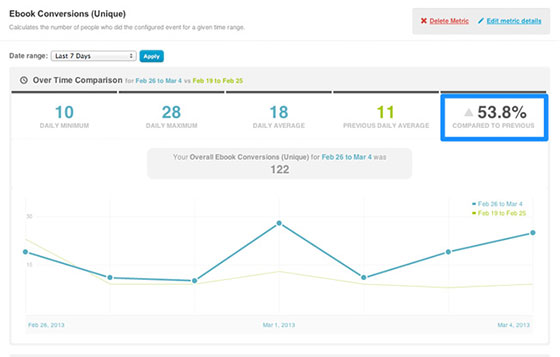 Check out OptinMonster, an excellent plugin for WordPress that creates a simple and customizable popup on your site.
It looks great and can integrate with all of the major email providers. If you decide to grab a license, be sure to purchase the "user intent" option, which will prompt a user with the CTA right before they leave the page. That's the ideal time to pounce.
Infographic: The Characteristics Of A Content Hacker
The content hacker is a new animal, one that combines the skills of content marketing with the mindset of growth hacking. Here's an infographic that breaks down what this means:

Are you a Content Hacker?