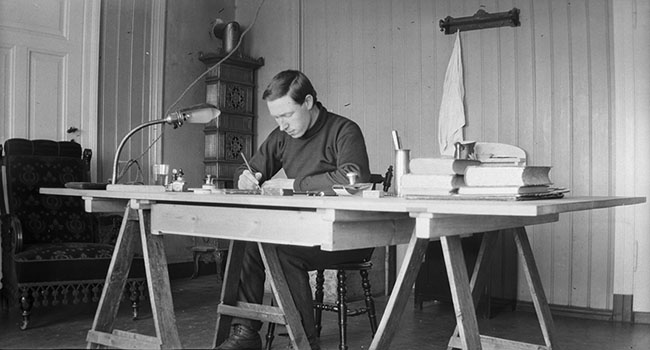 When your content is mediocre, it's nearly impossible to get people to pay attention.
But when your content is amazing, it's easy to promote it. It's easy to drive traffic. And it's much easier to pull in qualified leads.
To create amazing content, we're going to steal a technique from Brian Dean.
It's called the Skyscraper Technique, and it's based around creating content so valuable that it "towers" above your competitor's content – hence the name.
This is what gives your content a competitive edge, making it easier to get social shares and backlinks.
The technique involves three main steps:
Find content that's already proven to get social shares and backlinks
Publish content that's better than anything else out there on that topic
Promote it to drive traffic and capture leads.
Simple enough? Let's break it down.
1. Find content that is proven to perform well
To find content that is tried-and-true, we're going to start with a tool called Buzzsumo.
Buzzsumo is a search engine that finds the most highly shared content for any given search term. It even provides the exact number of shares per article on each of the major social media networks.
Here's an example:
If I do a search for "landing page design"…

… Buzzsumo pulls up all of the landing page design articles with the most social shares:


If the most shared articles on a topic have a lot of social shares (in the ballpark of 500+), that topic is proven to be popular. This means that if you create a piece of content on that topic, it's already predestined to get social shares.
So here's what you're going to do:
First, do a search on Buzzsumo for a topic you would like to write about. If the top articles have received a good amount of social shares, make a list of the most shared articles and read through each one.
As you're reading, jot down two things:
The information that is mentioned over and over again in each article. This is standard information on the topic. Therefore, it should not be left out of your content, otherwise your content will be incomplete.
The crucial information that most of the articles are not addressing or are only touching on. This is one of the components that will set your content apart.
I prefer to keep track of this in a spreadsheet, like so:

Then gather data from Topsy
Editor's update: Topsy is now defunct and we haven't found anything to replace it yet. Let us know in the comments if you know of a similar tool.
Next, we're going to use another useful tool called Topsy.
Topsy is a search engine that shows you all of the top tweets for a given search term. You can also filter your searches by influencers, links, tweets, photos and videos.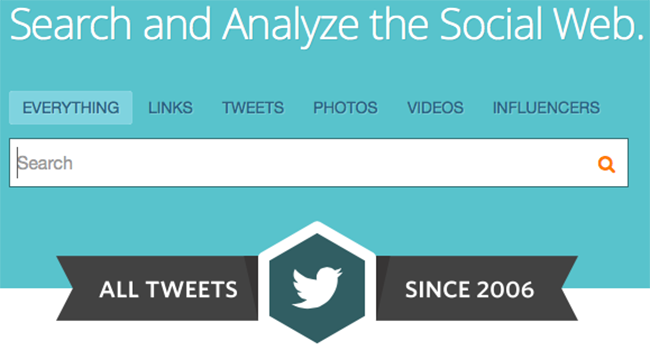 For example, if I do a search for "landing page design," Topsy pulls up the top tweets within a specific date range:

You'll want to use Topsy to find all of the tweets related to your keyword. Then, you'll want to see which related articles influencers are tweeting about. To do this, get another spreadsheet ready:

Search for articles that are getting a ton of tweets. Then, filter your search by "Influencers" to see what people with the largest social media followings are tweeting about. To do this:
Use the sidebar option to filter by influencers.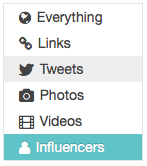 Then click on the "Mentions" link below each influencer to see what content they're sharing.

Grab those URLs as well, and jot down which influencers are sharing this content.
Next, follow the same steps you did with the articles you found using Buzzsumo. Take note of 1) the information that's mentioned over and over again and 2) the crucial information that is being left out or neglected.
Then grab some data from good ol' Google
Finally, we want to find content that is proven to get backlinks and rank in Google. Get a third spreadsheet ready for this step and then:
Type your keyword into Google and grab the URLs of the top 10-20 search results (skip Wikipedia pages and such).
Plug each URL into a backlink checker, like Ahrefs or SEO Spyglass. Copy-paste each URL that has received a good amount of backlinks into your spreadsheet.

Depending on your niche, this threshold could be over 10 backlinks – or it could be over 50. You can't say without looking at it relatively. Look at how many backlinks the top ranking articles are getting, and compare those numbers to the lower ranking articles. This will give you an idea of what an impressive number of backlinks looks like.

Lastly, go through each one and take note of the same two pieces of information you did with the previous articles.
And what are you left with?
By now, you know which types of articles are proven to get social shares, backlinks and rank in search engines.
But you also know:
What information must be included
Which information will set your content apart
What content the most influential people/companies are sharing on this topic (and who they are!)
Not bad. But now it's time to make your content better than anything else out there.
2. Create amazing content that's better than the rest
Since you read through all of the most shared articles, you have intimate knowledge of the best content on your chosen subject.
Now it's time to make your content better. Your goal should be to create the number one resource for this information.
How do you do this?
Well, you have a number of options:
Make it longer. As long as you're making every word count, more information = more value. Longer content also gives off a higher perceived value, because it has a "wow factor" that makes people more likely to share it. For example, if most of the current articles give 5-10 tips, include 15-20 tips in your article, and you could induce that "wow factor."

In terms of ranking in Google, this study found that at least 1,500 words is a good starting point for ranking on the first page (and thus receiving more backlinks).

Make it actionable. Think of your article as a dinner recipe. Give people step-by-step instructions on how to accomplish what you're teaching.

Link to tools and credible sources that will help them out. Give them everything they need to master the topic at hand. The more tangible value people get out of your content, the more likely they'll be to share it on social media.

Make it visual. Include screenshots, diagrams, pictures, and videos to help explain your topic. Not only does this make your content more useful, it can increase its perceived value as well.
Make it user-friendly. Consider user experience as you create your content. Include in-text navigation links so people can jump from one section to another. Create a table of contents at the beginning of your content and a link within each section that brings people back to the top of the page. (Here's a nifty guide for including in-text links.)
All of these things provide added value on top of the information you're teaching people.
This makes your content more shareable and more linkable. And what do shares and links get you?
That's right!
Traffic, subscribers and leads.
3. Promote your content to get social shares and drive traffic
Now that you've got so much awesome content, it's time to push it out into the world. Here are four traffic generation channels you can try:
Twitter
Forum marketing
Quora
BuzzBundle
(Tactics for using these channels for lead gen are broken down – in detail – in my previous Unbounce article, A Step-by-Step Guide to Generating Leads with Your Content.)
These strategies will help you generate consistent traffic with your content. However, if you want big bursts of traffic, you need a little muscle play.
Now, if you don't have a large social media following, email list, or high-powered connections, it can be tough to make this happen.
The solution is to harness the followings of other people, even if you don't have a personal connection with them. All you need to do is reach out to social media influencers in your space and ask them to share your content with their followers.
I know. You're not the asking type right? You're used to making things happen under your own control? I'm the same way. But you've got to suck up your pride and nurture some humility, because you absolutely don't want to miss out on the results this can bring you.
Reach out to influencers you've mentioned in the past
If you have included additional sources in your content, you've likely mentioned and linked to some of these influencers already.
Here's an example from one of my articles: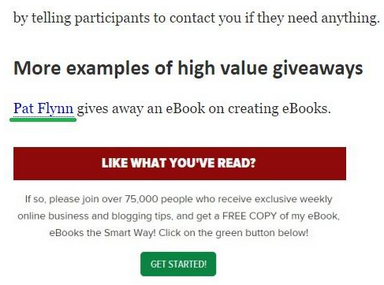 Go back through your content and find more places to naturally feature other influencers. These mentions are going to be your ticket into the influencer's inbox.
Next, pull together a list of influencers to contact about your content, starting with the people you've already mentioned.
Send them an email that goes something like this:
Hi [NAME],

I'm new to the internet business world, but I've learned a lot through your writing.

I'm venturing out on my own now, and I've started a blog/business as a content marketer. I love writing about this stuff, and I just wanted to throw my latest article your way. It's an in-depth tutorial on lead generation:

http://YOURWEBSITE.com/YOUR-CONTENT

I mentioned [COMPANY] in the first tactic, and used your ebooks and internet marketing course as an example of a high value giveaway people should aim for.

If you think people could learn a lot from it, and if you have a second, would you mind sharing the article for me?

If not, no worries. I'm just trying to get it in front of people's eyes, and hopefully, give them an actionable guide to help grow their businesses.

Anyway, thanks for all of the great content you've put out. You've given me an amazing foundation to help me build my business.

Have a good one,

Michael
This is the exact copy of an email I sent out to an influencer a while back (minus the capitalized words), and they ended up sharing my content:

This person has over 170,000 followers.
Reach out to your Topsy influencer list too
Then, pull out the influencer list you created from Topsy, and send an email to these people, mentioning that:
You like what they're doing
You noticed they shared a specific article
You just created a similar piece of content you think they might enjoy, and would they mind sharing it if they have the time?
However, don't think that just because you ask, an influencer will share your content.
In general, the following criteria should hold true:
Your content should be related to their area of interest
You should have expressed genuine interest in who they are and what they do. You're not just trying to use them
Your content should be extremely valuable, because by sharing your content, they're saying that it's good enough for them to endorse. If it's not good enough, they won't endorse it
That's why it's so important to create amazing content. No matter how nice your email is, if the content doesn't deliver, they won't share it.
I suggest going through a similar process every time you create content that's intended to drive traffic and generate leads.
The overall quality of your content will skyrocket, and so will your traffic, subscribers and leads.
How to create content that improves lives
Content is such a powerful marketing asset because of the impact it makes in people's lives.
When you help someone solve their problems for free, they associate you with the solution. You become the one that helped them out when they needed it. In their minds, you're the person or business who shared the secrets of your profession with them – for nothing in return. That's a valuable gift.
That's when people start to see you as a teacher rather than a business – and your content's immense value starts doing the marketing for you.
People are naturally skeptical of businesses and their motives. But people trust teachers. The more valuable your content, the more they will trust you. And they won't just trust you. They will trust the quality of your products and services.
So, how do you create content that improves lives, while achieving the business goals you're striving for?
You genuinely care about the people your business serves. Cultivate a drive to genuinely help them solve their problems. This becomes your first and foremost goal. It becomes your purpose. Not money. Not sales. Not traffic, leads, or subscribers. But rather, a genuine caring for helping out the people your business serves.
And with the tactics and strategies you have learned here, the rest will fall into place.
After all, content isn't just a marketing asset. It's a way to improve lives.