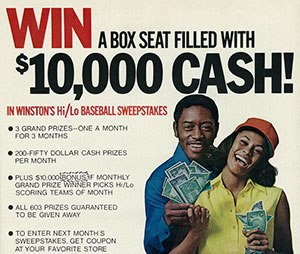 Sweepstakes and giveaways are everywhere these days. Brands are running them through their websites, social media and even in person at events and tradeshows.
Giveaways are popular because they're simple to get off the ground with minimal investment. They're also a really great tool for quickly building your email list and social followings. Unfortunately, most giveaways are poorly run and marketers end up leaving a LOT on the table.
I've witnessed large brands (tens of millions in revenue) have their giveaways completely flop, and I've also seen a young brand — just over 6 months old—make close to $19,000 and have significant social media growth from their first giveaway. I'll get back to that amazing case study a little later.
So what sets the two campaigns apart? Education and execution.
In this post you'll learn how to plan your giveaway, choose your prizes, set up your official rules, prepare your creatives and put your email marketing into place. You'll also learn what you need to avoid when running a giveaway, and how you can track conversions and sales to know if your promotion is generating any revenue.
After reading, you'll know exactly what it takes to run a successful, profitable giveaway.
What is a Giveaway?
Let's start with a quick lesson on the difference between sweepstakes, contests, and lotteries:
Three main things separate these three types of promotions:
Prize: Anything of monetary value
Chance: A drawing where the participant has no control over the outcome
Consideration: A participant is required to make a purchase, pay an entry fee, or expend significant effort to participate.

Sweepstakes: Involves a prize and chance. No payment or significant effort is required to enter.
Example: A restaurant giving away a $50 gift card and choosing a winner at random.
Contests: Involves a prize and consideration. Chance is not involved, and a winner usually is determined based on some form of judging or voting.
Example: A fashion brand trying to increase brand engagement asks their users to submit a video on Instagram for a chance to win a prize. The video that gets the most likes wins.
Lotteries: Involves a prize, chance, and consideration.
Example: Powerball is considered a lottery because there is prize money, a purchase is required, and a winner is picked at random.
The terms "contests" and "sweepstakes" are often used interchangeably while they are in fact two different types of promotions. Sweepstakes usually have a higher entry rate because there is less of a barrier to entry, while contests are great for building brand engagement and awareness.
We'll be teaching specifically about sweepstakes (also commonly called giveaways) today.

Mapping Out Your Giveaways
You want to prepare your giveaway ahead of time so your campaign has the best chance to succeed. Rushed or half-assed promotions rarely produce satisfying results. You're only cheating yourself by being ill-prepared.
Planning
It might seem a bit counterintuitive, but we want you to ask yourself, "should I even run a giveaway?" If your business is in the B2C space, you're prepared to give away an attractive prize that is relevant to your audience, and you can devote your full attention to manage the giveaway, your answer is Yes.
If you are in the B2B space, where your preferred customers are other businesses, sweepstakes become more difficult to market. While you can make a B2B giveaway work, you need a good marketing plan in place to help you execute a successful campaign. Proceed with caution.
Setting Goals
I can't say this any other way: Sweepstakes are not the silver bullet of marketing.
Since many people have never run sweepstakes before, they don't know what to expect going in and they don't even bother to set measurable goals to determine how well their promotion performs.
This is a huge mistake.
At the very least, set one concrete end goal to strive for with the promotion, whether it's a specific number of email subscribers, Facebook likes, or revenue.
Choosing the prize
Your sweepstakes prize needs to be relevant to your business in some way. It should also appeal to the audience you are trying to reach. Everyone can appreciate an iPad, right?
Please don't give away an iPad. Every time we see an iPad giveaway, we die a little inside.
We've seen it time and time again. Brands come up with the glorious idea of giving away an iPad, thinking it will get the most attention, but they don't even consider whose attention they're getting.
I'll tell you whose attention they're getting. Non-qualified leads. Those leads will not turn into engaged, paying, lifetime customers.
Your business fills a niche of some sort; keep the prize tailored to that specific niche. For instance, if you run a house painting business, you can offer something simple like painting one room for free, or maybe kick it up a notch and offer to paint the entire exterior of the winner's house.
Let's say you're marketing an online clothing boutique and you know your average order consists of a pair of pants and two shirts. A simple giveaway might offer a pair of pants, knowing the winner will still probably buy something when they claim their prize.
Much like the painting business, you can drum up more interest by offering something bigger like a new Spring season wardrobe, where you partner with a few of your shop's top clothing brands to co-promote the giveaway.
Qualified leads will come if you give away a prize that is relevant to your business and interesting to your customers.
Need help choosing the right prize? Use this handy Value Proposition Framework to help you make the right choice.
Official rules
Every sweepstakes is required to have a set of official rules to help your promotion comply with local laws. Many companies completely ignore the rules, which puts themselves at risk for legal ramifications.
A surprising number of giveaway entrants will check to make sure the rules are legitimate. These same people also tend to be VERY vocal when the rules seem questionable.
You can use this Sweepstakes official rules template to make sure you're starting off on the right foot.
Prepare creative assets
You owe it to yourself – and your audience – to use beautiful images. Attractive imagery produces an emotional response from the viewer and will help to increase your opt-ins and the amount of people sharing the campaign.
It's not that your product pictures need to be award-winning. You just don't want to scare away potential customers with poor imagery. Here's a good image:
The image is sharp, has proper lighting, vibrant colors and it grabs people's attention. And here's a bad image: