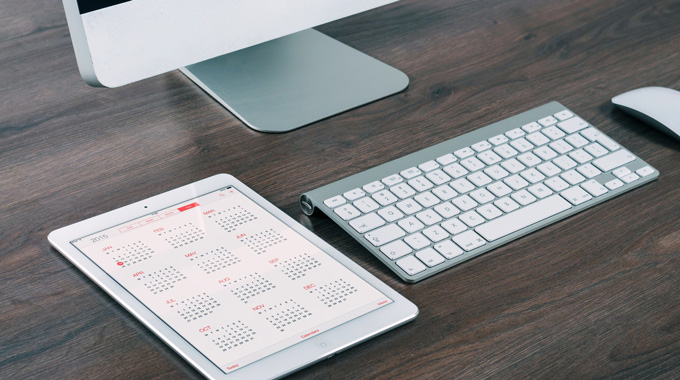 You don't need to hire an expensive CRO team to do great work. Just be ready to clear your calendar.
Conversion rate optimization is about different things to different people. For some, it's simply about haphazardly changing elements on a page until people click more, and then it's optimized! High fives all around!
You should not listen to those people.
If you want to build a real CRO strategy, based on sustainable optimization practices that will help you build a long-term business, ask the real experts. The ones who have staked their reputations and their livelihoods on their CRO knowledge.
This past April 9th, those experts came together to create over 24 hours of free programming, and over 10,000 people attended online and in-person events throughout the world.
We called it CRO Day. Well, we actually called it 2015 International Conversion Rate Optimization Day, but that didn't fit into a hashtag.
With so many of the world's top conversion minds sharing their techniques with the world, we thought this the perfect time to distill their wisdom into a punchy blog post!
Read on to learn what pros like Joanna Wiebe, Brian Massey, Talia Wolf and others think is crucial to building a killer CRO strategy that won't just get you more clicks, but give you a better understanding of your customers.
If you don't have the money, you'll have to make the time

Joanna Wiebe and Brian Massey, pictured at Call to Action Conference 2014
In their Ask Me Anything About CRO session, Joanna and Brian were asked what they felt the proper budget for a CRO team was. Their answer was instant and simultaneous:
One million dollars.
Okay, great. If you have a million dollars to spend on CRO, hit these two up.
On the off-chance that you don't, you can work out a rough budget by multiplying the value of your conversions by a reasonable, estimated increase. Brian explained:
If I increase things by 10%, what is my annual increase in profit? That gives you an idea of what the upside is. So if you say, we could make $200,000 more with a 10% increase, yeah, I'm willing to spend $10,000, $20,000, $50,000 on conversion optimization.
If you can quantify the business impact that will come with increased conversions, you'll have a better idea of just how much you should invest in CRO.
But how do you make CRO work on a small or non-existent budget? Joanna has some choice advice:
Take the budget that you have and apply it to learning. If you don't have a lot of money, you have to have time. You don't get to have no money and no time.
Thankfully, there are tons of free resources available that will help you become a CRO expert. (Like the over 24-hours of freely available content that was recorded during CRO day.)
And as Brian went on to elaborate, there are various free or inexpensive tools for analytics, click-tracking, session-tracking and conversion testing that become incredibly powerful once you've mastered the CRO basics.
For the biggest conversion wins, test content over style
One of the most common CRO anecdotes is that changing the button color will increase your conversions, from anywhere between 5% and 100-billion-percent, depending on who's telling the story.
It's true that visual elements like button colors and background images can make measurable differences, but you're not likely to see a huge impact from just fiddling with graphics. At least, that's according to Ben Hunt, author of Convert!.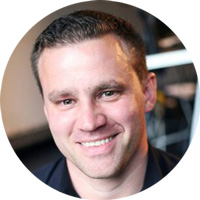 During his When CRO Goes Wrong webinar, he presented the results of 50 A/B tests he had run on both his own site and his clients' sites, and broke down the differences in impact between style changes, content changes and changes that included both.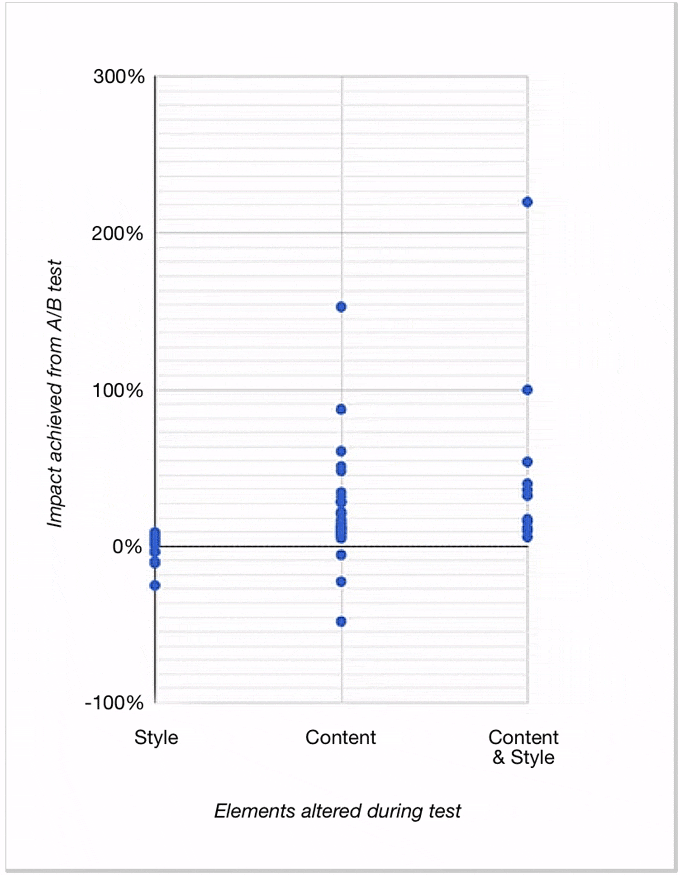 Comparing 50 A/B tests he had run, Ben realized that content changes far outperformed stylistic ones.
What he found was that purely stylistic changes tended to impact a page's conversion rate by a mere 5%, and that he's never reached a double-digit impact with stylistic changes alone.
Color, graphics, typography — does it matter? Yes, a little bit. But look at the content changes. They are typically between 5 and 20% — that's the normal range when you're changing content — and generally positive.
When someone comes to your site, they're looking for real answers to a problem that they can't solve on their own. Your content — be it copy, video, or informational graphics — is what's going to provide those answers. So test it and perfect it.
This isn't to say that strong design isn't critical to having high-performing landing pages. But if you start by perfecting your message, you can then move on to create a design that supports it.
And that's a surefire way to generate bigger wins with less effort.
Always be testing! No, seriously, do it
Once you've tested and discovered elements that perform well, it can be tempting to apply them all across your site and then move on something shiny and new.
While you shouldn't necessarily spend all of your time iterating on basic elements, you should continue to explore new ideas for every element of your marketing campaigns. After all, the web is always changing, and so is your audience.

If anyone knows about page optimization, it would be Adam Avramescu, head of education at Optimizely. He's designed an experimental framework to help ensure that you are always learning from your tests, which he presented in a webinar entitled How To Create High-Converting Marketing Experiences with CCD and A/B Testing, which also included our own Oli Gardner.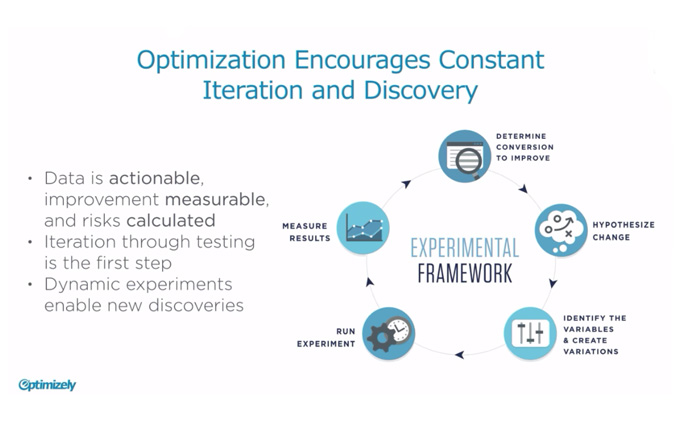 Adam's framework is a cyclical process, with the final step leading back to the first. Let's break down each step:
Determine the conversions to improve based on the KPIs that matter to your business (like your existing conversions, traffic, or revenue)
Form a hypothesis on how the conversion rate could be improved
Identify the variables — elements on your site — that can be adjusted to fulfill your hypothesis, and how they must be adjusted to do so
Run the experiment — an A/B or multivariate test — and wait patiently until you have enough conversions to be confident in the result
Measure the results and, based on what you can glean from them, decide which conversions you should improve next
As Adam says:
Optimization is a journey, not a destination. If testing is something you're doing once, you're leaving money on the table. Instead of testing one thing once, test everything, all of the time.
Learn from your losers

In the Top 5 Obstacles in CRO & How to Overcome Them Hangout, Talia Wolf of Conversioner reminded us that the the purpose of running optimization tests isn't solely about increasing your conversion rate — it's about learning from your experiments.
The whole idea of conversion optimization is not just to increase your conversion rate, per se. You want to be able to scale it and learn from the results of your tests. …

When you're doing CRO the right way and you build hypotheses, and you have a strategy for each test, you are then able to understand the results — fail or win — because they are about your customer.

What does it mean for your tests to be "about your customer"? Bryan Eisenberg of Market Motive suggests that instead of being in the business of selling your products, you should be in the business of helping your customers buy them:
Missed clicks, bounced visits and missed conversions are failures. When we throw ads up there and people don't click, it means that we missed our targets. We didn't understand them. When they click and they bounce right off, we didn't satisfy them.

If they go through and they browse several pages but don't convert, we didn't help them buy. We didn't answer all of their objections, answer all the questions they have in order to feel confident in purchasing from us.
Reframing failure not as a failure to convince, but as a failure to adequately address the concerns and needs of our audience will allow you to understand not just went wrong with a losing variant, but why.
Play the long game
Conversion rate optimization isn't about short-sighted "hacks" to get people to click a button that does whatever. If you approach it from that perspective, you might see some short-term gains, but you'll fail to attract the very best customers for your business. And who are they? These are the questions Joanna recommends you ask yourself:
Who is most likely to buy your product, use it, be happy with it, tell their friends and then come back for more? … Does your value prop resonate with your ideal customer so strongly that they are absolutely willing to part with their money to get what you got?
CRO is a process that you have to invest in. And not just money or your time, but your intellect and your heart. Doing so is what has made the above experts so renowned for their work.
We're only able to scratch the surface here, but if you want access to the 24+ hours of recordings from CRO Day, head over to the CRO Day website. It'll take a while to get through everything, so consider starting with the events mentioned in this article. Trust us — it's worth the time investment.
---