Why do people come to marketing conferences?
Some might say it's for the networking, parties, workshops and insightful talks… or for more wacky stuff, like a money tornado booth, t-rex VR simulations and human inflatable foosball.
But some of the juiciest takeaways come from presentations about A/B tests that thought leaders are running, and how unexpected changes can yield big results.
… However, these aren't always the kind of insights that will move the needle for your business. Without context — without your own data sets — these types of "takeaways" are really just opinions.
Telling your colleagues, "So-and-so changed their button copy to increase conversions, and I think we should do the same!" just won't cut it anymore. As Orbit co-founder Andy Crestodina put it:
Never bring an opinion to a data fight. Because the highest-paid person's opinion (HiPPO) always wins… unless you have data.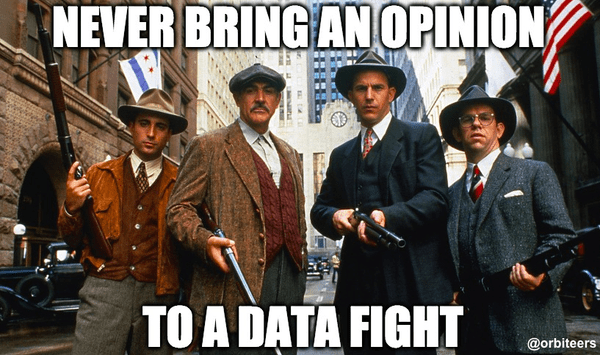 Many of the talks at day one of the Call to Action Conference broke down processes and tips for being a more responsible data-driven marketer: Google Analytics reports you can run and templates for building a tracking plan.
Juicy. Here's a taste.
We've become comfortably numb
Morgan Brown, COO of Inman News, thinks that marketers have become far too comfortably numb with the little data they have access to:
Even if you use Google Analytics, you're still missing out on a large part of the picture.
Clicks, visitors and time on page provide you some insights, but if you can't see your customer from the moment they touch your company — from the beginning to the end of the lifecycle — you're flying blind. But whose job is it to dig into the data to ensure your team isn't flying blind? Andy says it's on everyone:
Analytics isn't something that's just one specialist's responsibility.
That said, it doesn't hurt to build a bomb-ass team to manage your data and growth. Morgan advises against hiring "another marketer." Instead, bolster your growth team with individuals who live numbers — people who treat new customer acquisitions (and customer churn) with the same diligence as accounts receivables/payables.
Eventually, machines will tell us what's important
As advancements in machine learning technology accelerate, we're approaching an era where we won't need to be so hands-on with data.
Machines will identify opportunities and provide testing recommendations for marketers, massively increasing the scale and impact of conversion optimization.
The future of marketing and conversion rate optimization, according to Unbounce co-founder Oli Gardner, is in megavariate testing — mass split tests hypothesized and deployed by machines. CTAs will automatically be positioned to where they're most likely to be clicked. Videos will be placed for optimal interactions.
Imagine a Slack bot that sends you a message with an A/B test recommendation — just type "yes" to switch the test live. That's the future.
But…
We're not there yet, so start hoarding your data
According to Andy, fewer than 30% of small businesses are using analytics — and those who are proactive about collecting data will have the competitive advantage. Morgan urged attendees to track all activity happening on their websites:
Stuff it into a data warehouse and let it sit there. It'll at least be there when you need it.
If you don't have the bandwidth to set up that kind of tracking, Morgan suggests you should at the very least be documenting important user flows — end-to-end tracking of your customer's lifecycle:
Don't settle for anything less than complete waterfalls.
Don't have the time or know-how to set that kind of stuff up? Tough, says Morgan. Bribe an engineer colleague or friend. (… Or, uh, steal Morgan's Tracking Plan Blueprint here.)
Develop a culture of experimentation
Tracking and collecting data isn't enough. Here's how Andy put it:
When you look at your analytics dashboard in the morning, the line goes up and you smile. Or the line goes down and you frown. And then you go back to checking your email. But you need to take action.
Morgan agreed that you've got to just do it. He's found that all rapidly growing companies (think Uber, Airbnb and Facebook) have one main thing in common: a culture of experimentation and aggressive optimization.
Rapid experimentation — and the accelerated learning that comes with it — is key to fast growth.
A good plan violently executed now is better than a perfect plan executed next week. —Patton @morganb #CTAConf <— I need to memorize this! — Annie Cushing (@AnnieCushing) June 20, 2016
Behind every conversion
While it's tempting to get swept up in data and numbers, Andre Morys (founder of Web Arts AG) reminds us that every conversion is the result of user motivation.
Yes, data can tell us a lot in terms of user behaviour, but user motivation is harder to distil down to pure numbers. It relates to an individual's implicit goals (owning a BMW for status) versus their explicit goals (owning a vehicle for transportation needs).
In order to tap into these implicit goals, Andre suggests asking yourself, "Who is your customer? What real problem are you solving?"
Morgan opts for a slightly different route, instead using surveys — such as pricing surveys, net promoter score surveys and customer satisfaction surveys — to get a pulse on his customers and prospects.
Whatever the route you take, it's important to not lose sight of the people behind the clicks.
Because at the end of the day, Morys reminds us, conversions are really just people.
Conversions are people. Wise words from @morys @ #CTAConf @unbounce pic.twitter.com/K69fgR2bHP

— Erin Silo (@ErinSilo) June 20, 2016
Psst. There's one day of the Call to Action Conference left and we don't want you to miss out on any of the learnings — sign up for all the notes here.