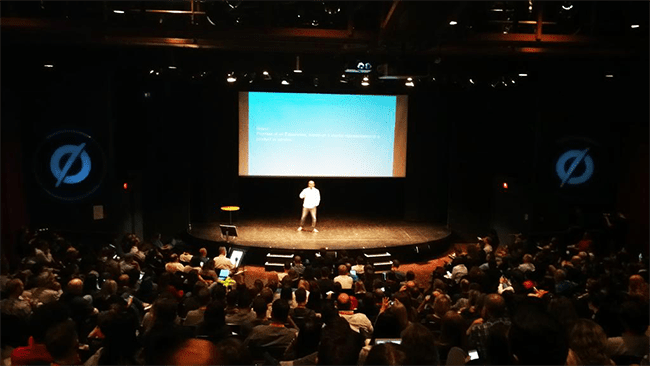 You can build the highest-converting landing page that ever existed, but if you're not thinking beyond that initial conversion, you're flushing your leads down the virtual toilet.
It's a theme that kept cropping up during the first day of our Call to Action Conference (#CTAConf): after you've optimized your landing page, your job isn't close to being done. As speaker Wil Reynolds, founder of Seer Interactive put it:
"Removing friction should be business-wide. It's bigger than a landing page." wilreynolds #CTAConf #cro #tech #inboundmarketing

— Inbound Marketing (@inboundideas) September 15, 2015
In other words, conversion rate optimization isn't just about landing pages; it's about discovering points of friction throughout the entire funnel and then eliminating them. To apply this logic only to a landing page is short-sighted, because every single touchpoint a potential customer has with a company could be critical in closing a deal.
Let's take a look at a couple of ways that our amazing speakers told us about how we can go beyond the landing page and create delightful experiences for our prospects and customers – experiences that extend beyond that initial conversion.
Optimize emails you send after the conversion
After you've got your prospect's contact info, you've gotta have a plan for hollering back. A smart, targeted plan that speaks to prospects in a personalized way.
But as Justine Jordan of Litmus reminded us in her talk, Send Emails that Actually Convert, email personalization isn't just about adding your prospect's name in your email's salutation. We've all gotten emails that say, "Hello <name here>," or "Hi, <null>." Not exactly delightful.
You can personalize beyond a person's name. And one of the ways that you can do that is to personalize your emails based on their actions — or inaction:
For example, if someone has just signed up for a free trial of your product (action), you can send them an email that explains something about how to use the product — something helpful.
Or if someone's trial period is about to expire but they have not yet become an actual customer (inaction), you can send them a helpful hint that might entice them back to try your product.
Justine shared a ton of great examples of personalized email that goes above and beyond these concepts – she receives a daily email from WhattoWear.io that gives her the weather for the day in the city that she's in and suggests what to wear based on what it's like outside.
This level of personalization isn't only delightful – it kicks friction's butt.
Optimize every touchpoint with your customer
In a day jam-packed with great sessions from brilliant speakers, Wil Reynolds' megaton talk, Brand & CRO: Trick or Treat: The Choice is Yours, also forced us to consider if we were applying CRO in all of the right places.
In one example, Wil discussed a SaaS client with a simple demand:
We need more leads! The leads you're getting us suck!
(Well, I said it was simple, not polite.)
Rather than reacting to this by jumping straight into optimizing a landing page or a PPC campaign, Wil instead filled out a bunch of landing pages in his client's vertical (including his client's) and waited for the phone call.
Save for one, Wil's client was the slowest to respond. By the time Wil had explained his needs to three different companies, he was no longer interested in discussing the matter.
The problem was not the lack of leads nor their quality. It was simply that by the time Wil's client reached out to their leads, it was too late. They needed to optimize other aspects of their funnel to get the most of their leads, but never thought to look beyond the landing page.
What comes next?
If yesterday was any indication, day two of the conference is bound to knock everyone's socks right down to their ankles. We're sure to learn plenty of other optimization tips for every stage of the funnel – before and after the landing page conversion.
You can follow along in real time because we're taking notes of each of the presentations. You can get them right here!
---